Last year I popped a few more cuttings of this crassula amongst the Senecio mandraliscae, the bluish blur in the background, aptly named Blue Fingers or Blue Chalk Sticks.
Just the one bloom stalk from the crassula this year, but oh, how these two plants sing to each other. Quite the duet from Ol' Blue Fingers and the Propeller Plant.
The crassula's winged leaves have inspired the common names of Propeller Plant or Airplane Plant. Really makes me wonder about that moment in time when enough people have referred to a plant as, say, the Propeller Plant, for that to become an official common name. Also known as Sickle Plant (falcata means "sickle-shaped"), it was introduced from South Africa well over a century ago.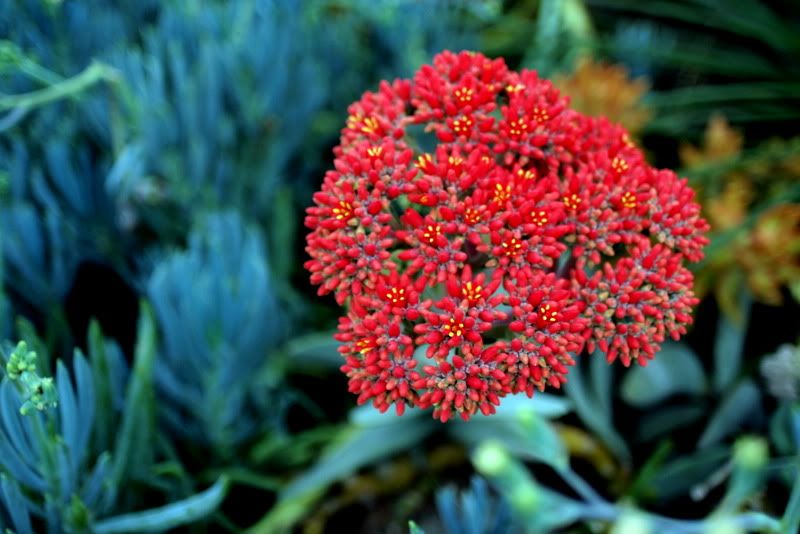 The newspaper delivery person has unerring aim for this bed of succulents, most of which can take an occasional hit, but not this crassula when it's in bloom, or the agaves ever.
Since the newspaper is thrown stealth-mode out the window of a moving car in the early morning hours, there's not much recourse. So no irreplaceable treasures are planted here. The steely blue bumper of Senecio mandraliscae growing around this bed does a pretty good job of absorbing some of the impact. The senecio's insignificant flowers are in bloom now too.
San Marcos Growers says the crassula's correct name is Crassula perfoliata var. minor, a name that's rarely used. This photo of the entire plant is from SMG's website.