(alluding to Joni Mitchell's Rainy Night House) I recently read that Taylor Swift wanted the part in a movie on Mitchell. I see Swift's photo all over the Internet, but it wasn't until Sunday that I finally heard one of her songs on the car radio. Yes, I do live in a pop culture-free bubble, not always by choice. All I'm going to say is, thank god Mitchell refused. (Oh, the travesty!)
Rainy day house's front garden in Venice; dymondia, agaves, sticks on fire, with a hedge of Acacia iteaphylla on the chimney side
I just had one of those Sunday afternoons where an absurd number of destinations are optimistically crammed into a 4-hour window.  The forecast was, again, possible showers.
The clouds did open at Big Daddy's
The itinerary:
And did I mention it was raining? Los Angeles drivers, whenever challenged by the smallest drops of moisture from the sky…oh, never mind.
International Nursery had a $30 protea in a one-gallon in bloom, simply labeled "Orange Protea." Tempting. And not a bad price for the plant, seeing that 7 stems of proteas go for $100 as cutflowers
Merwilla plumbea nee Scilla natalensis.  I always plant new stuff out within a couple days. I hate waking up to the rebuke of homeless plants in nursery gallons.
I eventually dropped the protea for this South African bulb, Scilla natalensis. San Marcos Growers says it's rarely dormant. The leaves are wide, almost eucomis-like. My problem with Scilla peruviana has been placement that allows for its dormancy needs, which means having a big gap in summer.  The peruviana have ended up against the fence under the lemon cypress, not optimal conditions for a sun-loving bulb. It'll be exciting to watch this one's performance.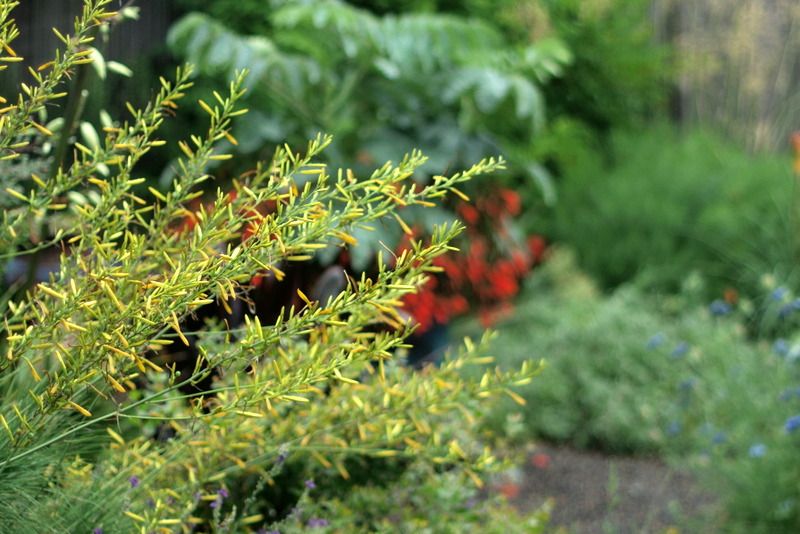 International's Annie's Annuals section is by far the best I've seen at SoCal nurseries. I grabbed a couple Asphodeline luteas again, though I think I've established beyond doubt the asphodels will only curl up their toes for me. I can't remember if I've tried spring planting before though. The asphodel is now rivaling dierama for number of kills in my garden. But memory is still fresh of Asphodeline lutea in Portland, Oregon last summer, photo above.
Pots on spiral staircase at Big Daddy's
Though there's plenty of the ornate, BD has a nice selection of unadorned but aged-looking planters.
I'll take all three of these metal tubs, please.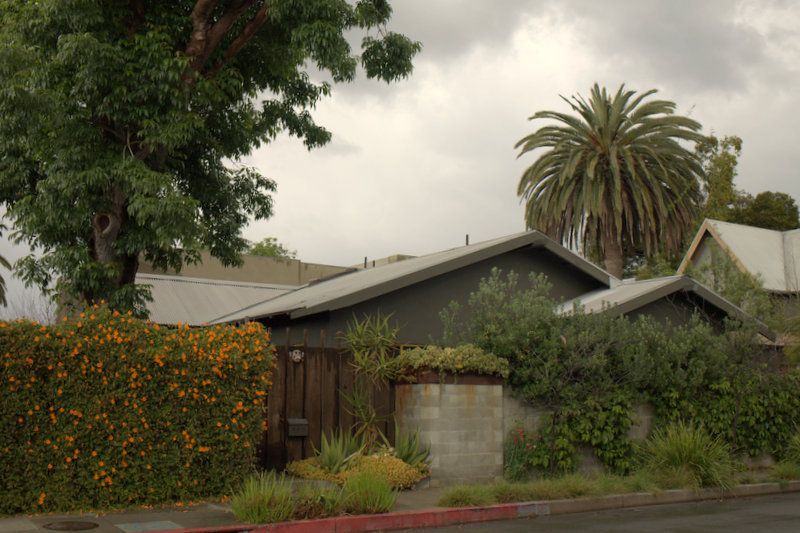 Giving up on fighting traffic enroute to Big Red Sun, I drove through a couple streets in Venice.  Thundery skies and bright orange, thunbergia-covered walls.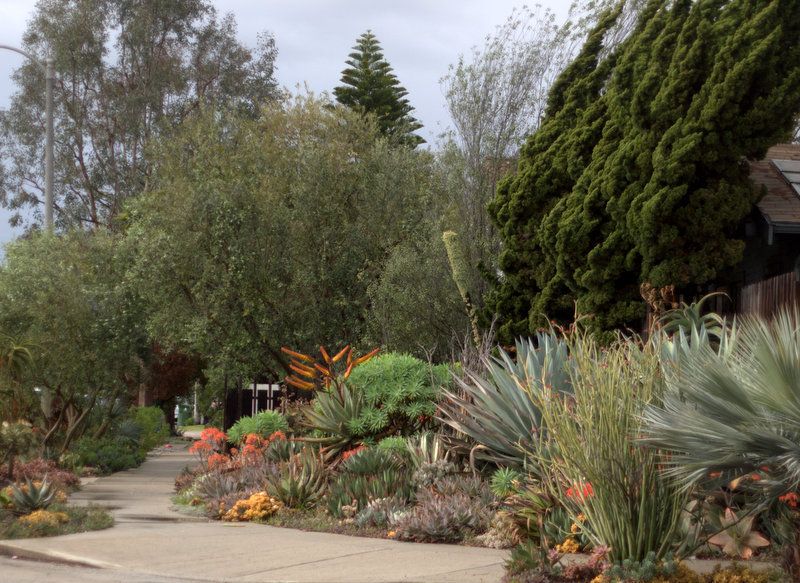 And fabulous streetside succulent gardens like this one.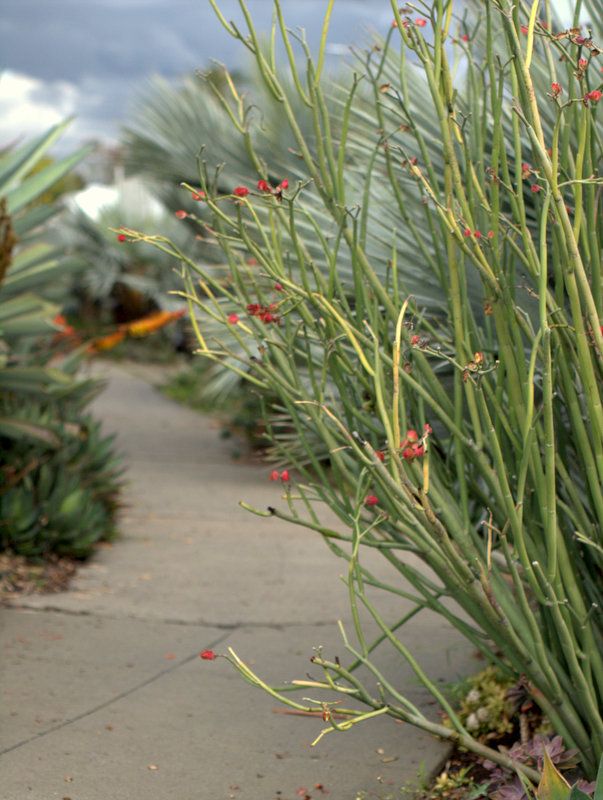 Big clump of the slipper plant, Pedilanthus macrocarpus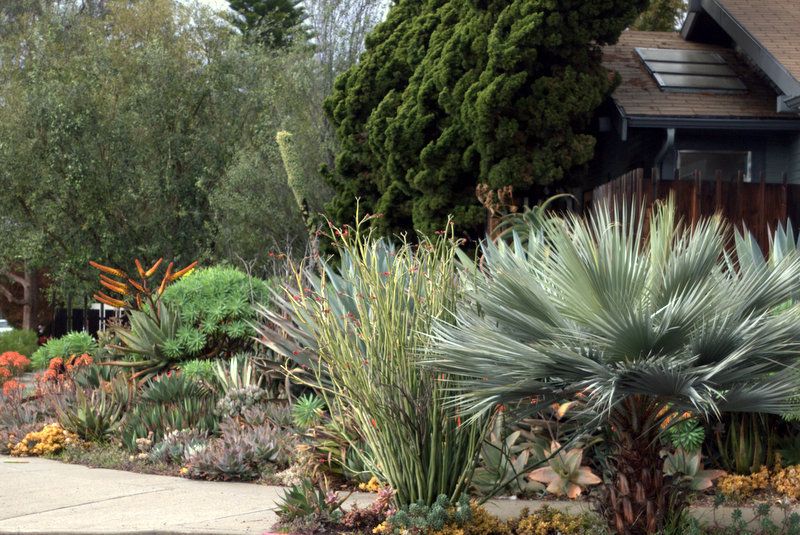 The long parkway was dotted with multiples of the Mexican Blue Palm, Brahea armata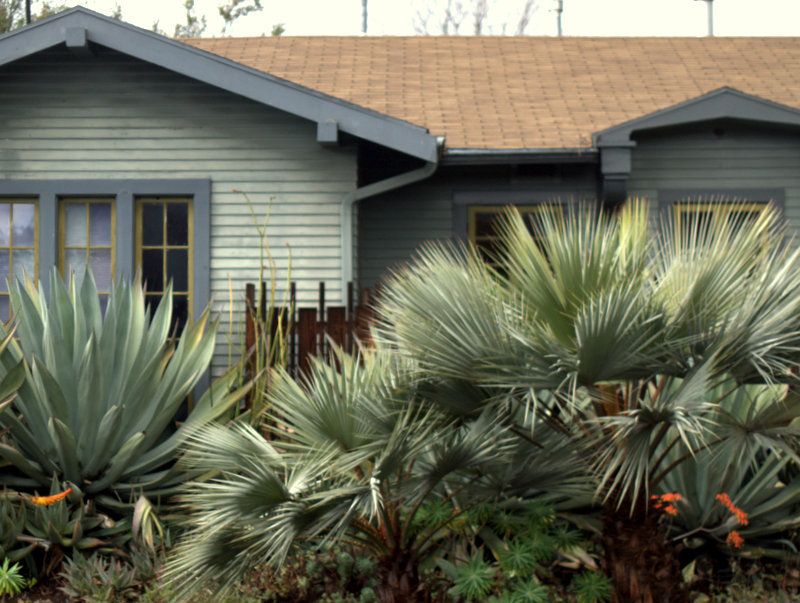 I once came very close to painting my house these colors, an agave grey-blue and mossy green.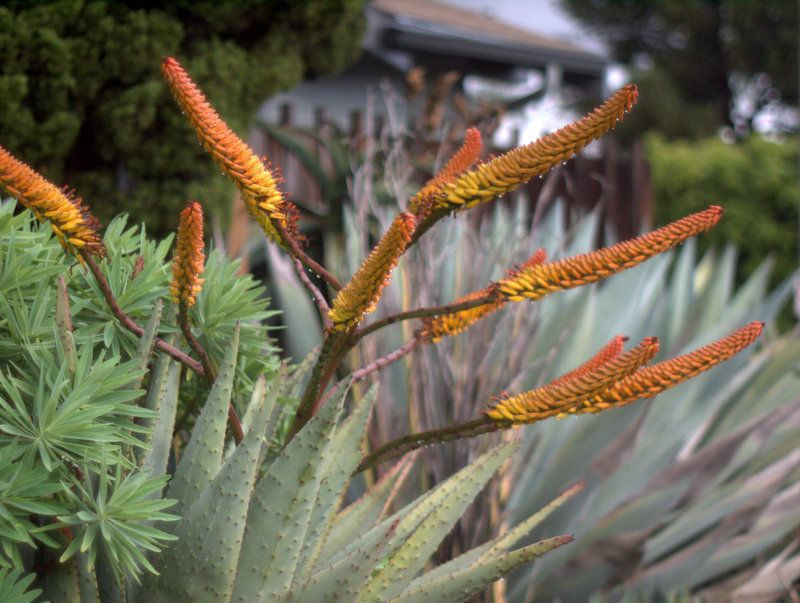 Aloe marlothii
The coral aloe, A. striata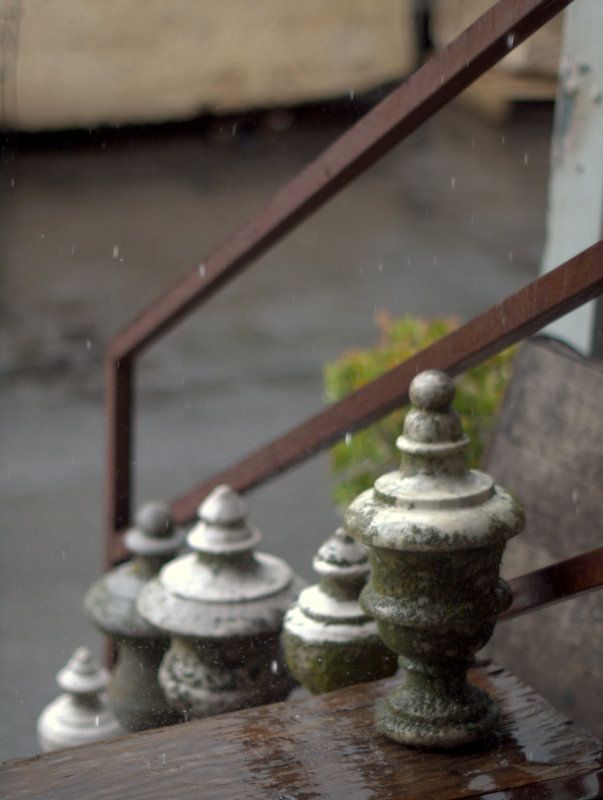 I may not have made it to every stop on the itinerary, but it was still a fine rainy day in LA.