I worked in the "Miracle Mile" stretch of Wilshire Boulevard on Thursday, approximately the 5600 block. In the surrounding neighborhoods, the houses had gardens that looked promising and full of interest, so during a 20-minute lunch I dashed out to have a look. There have been discrete garden design phases in Southern California, and this neighborhood seemed to have examples of quite a few of them. There was a phase for a while where 'Iceberg' roses and 'Silver Sheen' pittosporum seemed to be in every garden, and then things got very serious and monochromatic and shrubby, with myoporum, westringia, and helichyrsum. (I happen to love serious, shrubby gardens too.) There were quite a few excellent, succulents-only front gardens. But most exciting for me, I encountered my first blooming beschorneria in Los Angeles, so I know there's hope for mine, but definitely not this year and possibly not even next year. I forget how massive the rosette is at blooming size, and mine has quite a ways to go still. I couldn't wait for work to end so I could head back out again, this time with the camera I try to always bring along. But work stretched past 6 o'clock, and it was nearly sundown by the time I set out in search of the beschorneria on the way to catching a bus then a train home.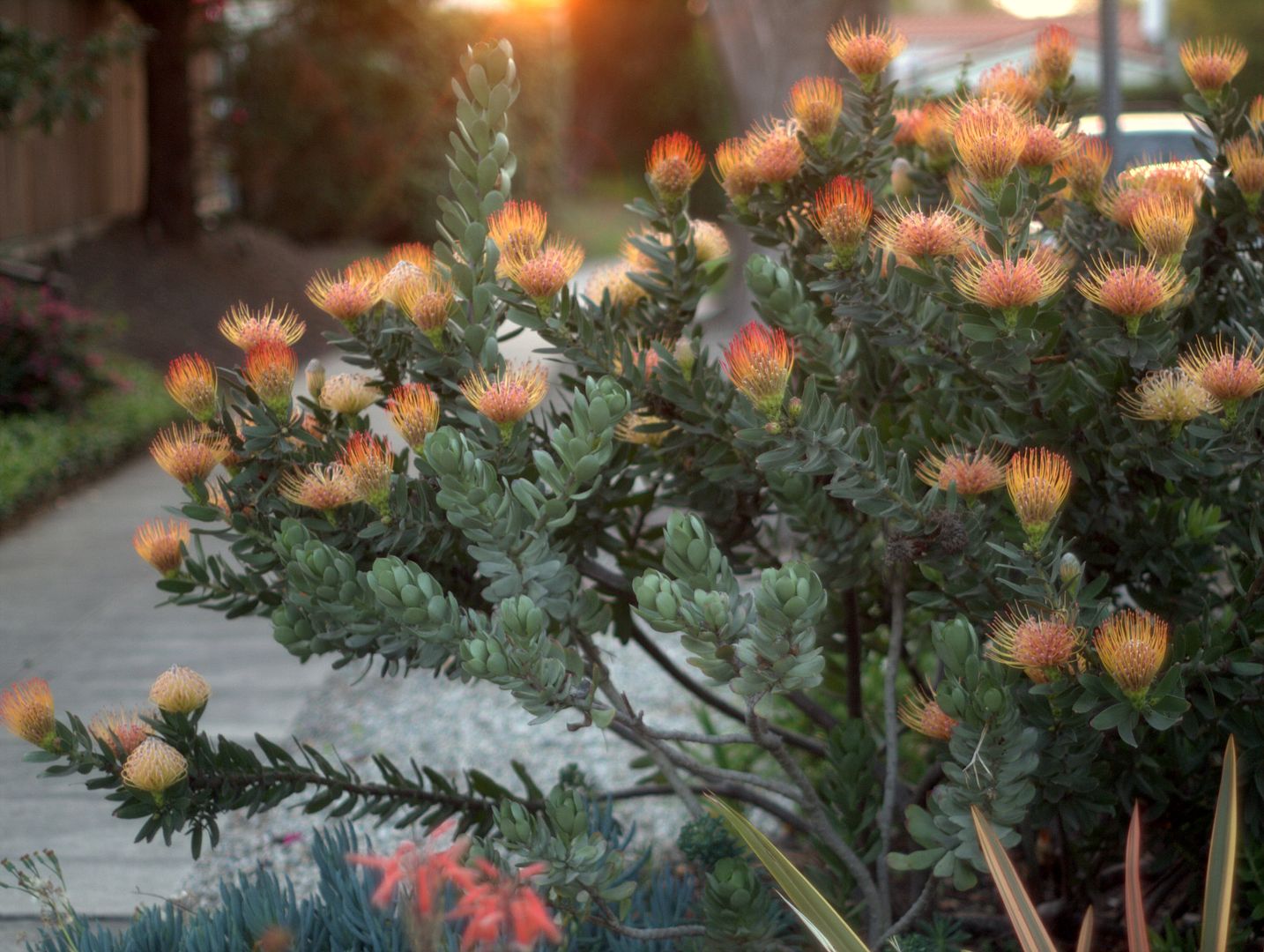 En route to the beschorneria, I found this leucospermum in full backlit glory, rivaling the sunset in brilliant peachy gold.
Genius or accidental, the siting was spectacular, and in a hellstrip no less.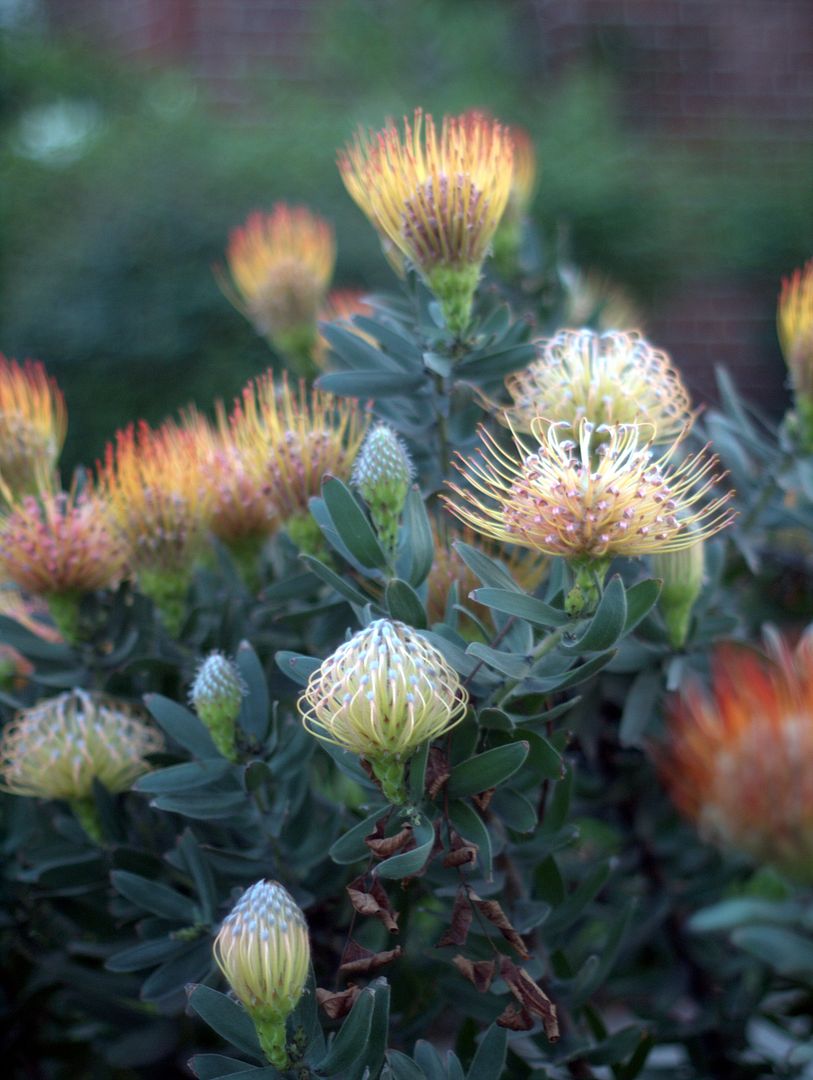 Of all the South African plants in wide use in Los Angeles, a mature leucospermum is still something of a rare sight.
The spoor of a plant nut was evident in the hellstrip. That looks to be a Senecio decaryi jutting out on the left of the leucospermum.
Including a phormium, euphorbias, aeoniums, underplanted with Senecio mandraliscae.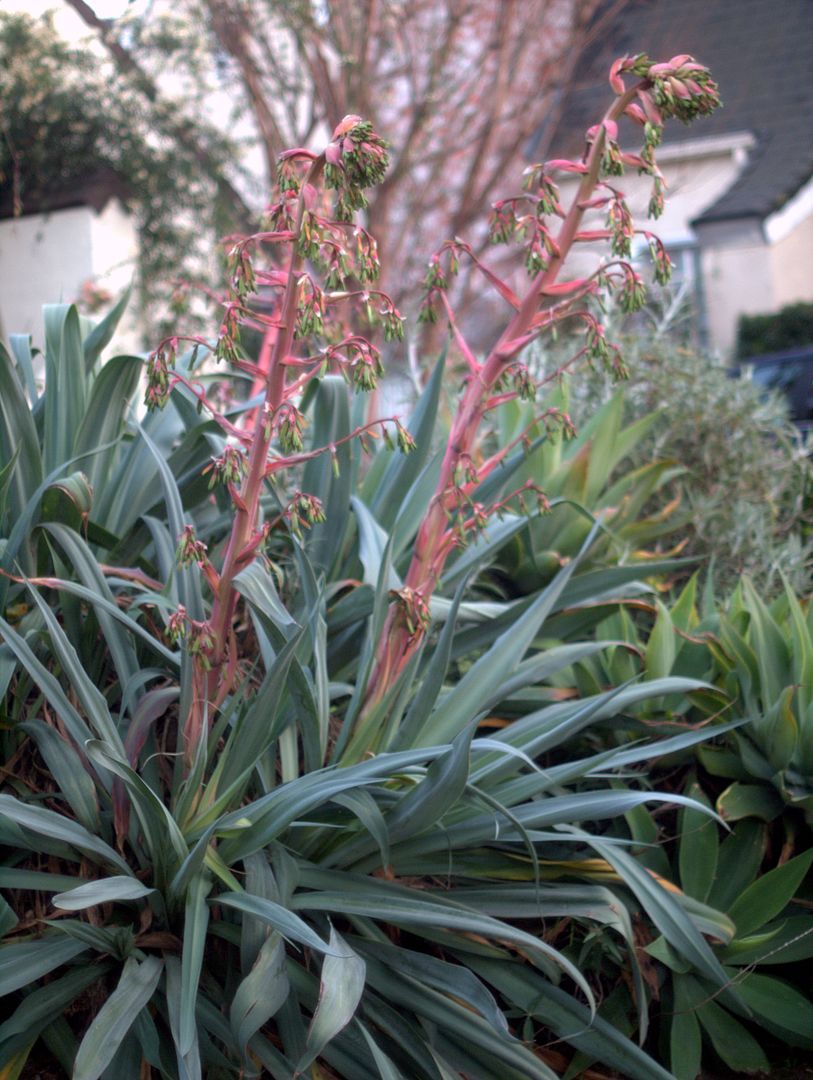 It was almost too dark for photos by the time I found the beschorneria again.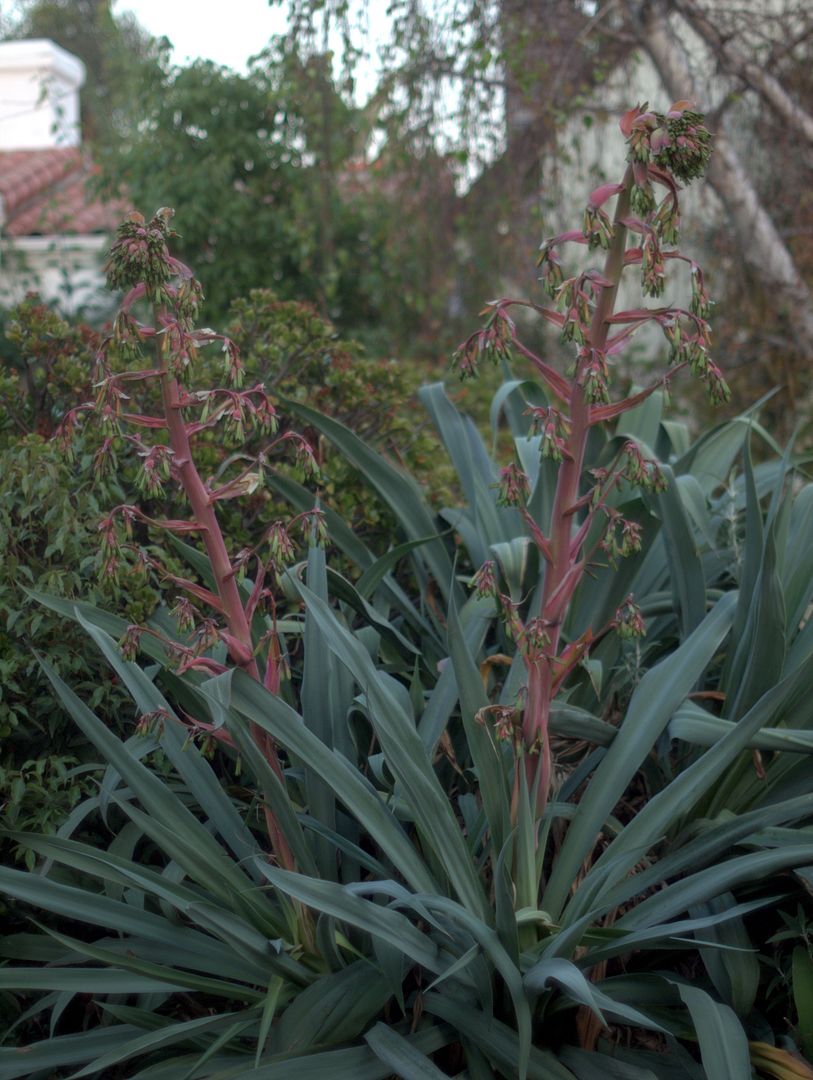 These were right at the property line, overhanging the sidewalk. Beschorneria are frost-tender succulents from Mexico and Central America.
A lengthier revisit to the neighborhoods around the Miracle Mile is definitely in order, judging by the treasures on just two of its streets.
I've always found that interesting gardens are infectious, and where's there's one or two, there's bound to be more.