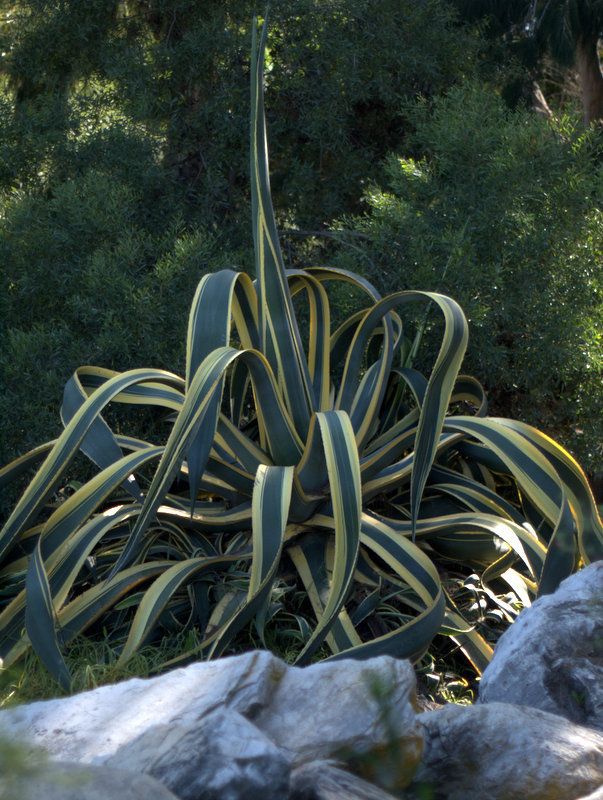 agave at South Coast Botanic Garden, a former open pit mine for diatomite extraction, then landfill, now botanic garden
I should probably split this glut of information into several posts, but if I don't sit down right now and do it, the churning river of obligations that is my life at the moment will whisk me away again.
And there I'll be, bobbing out of sight, heading for tumbling rapids and waterfalls unknown, while important, time-sensitive information goes unmentioned.
So here's the really important news, conveniently placed at the top of what may turn into a very long post:
The Cactus and Succulent Society of America/CSSA is holding its 2015 biennial convention in Claremont, California, at Pitzer College, June 14-19.
There hasn't been a convention in my hometown Los Angeles since 2001, so I'm looking at this as basically a gift from the CSSA to me. (Thank you so much!)
Since 2000, the grounds of Pitzer College have been in the capable hands of Joe Clements, who formerly headed the desert garden at the Huntington.
So, needless to say, the surroundings for the convention will be extraordinary. (You can read Nan Sterman's article on Pitzer for Pacific Horticulture here.)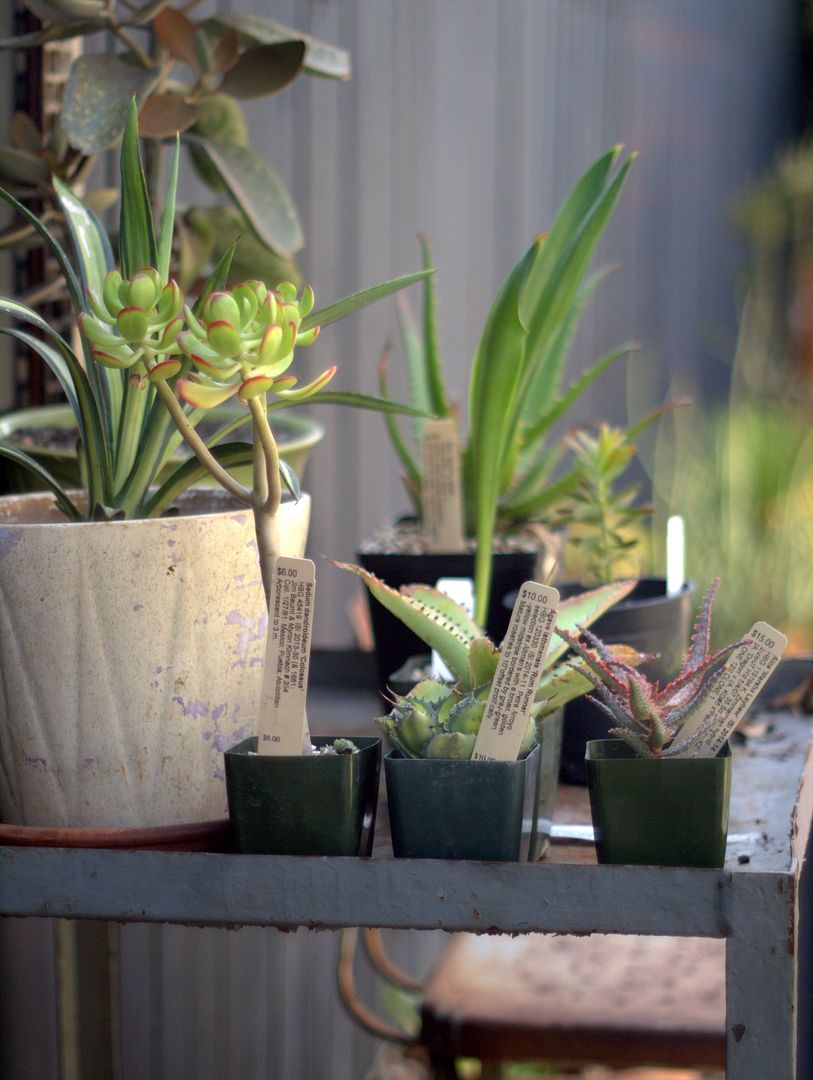 Recent plant sale purchases including Agave guiengola 'Moto Sierra,' Aloe 'Martha Layhew,' Sedum dendroideum 'Colossus' from the Huntington
Also extraordinary is the fact that accommodations will be in the college dorms, double rooms with two twin beds, for as low as $35 a bed per night.
CSSA has seriously addressed affordability, and flexibility will be offered as to specifying your preferred bunk mate, etc., if reservations are made early.
(Early registration ends May 1, 2015.)
more recent plant sale purchases, including Aloe harlana from 3/8/15 So. Coast Cactus & Succulent Society mtg
That all sounds marvelous so far, doesn't it? It gets even better. For the truly plant-besotted, the list of speakers will make you tremble:
Familiar names like Kelly Griffin, Brian Kemble, Panayoti Kelaidis, among dozens of other plant explorers and hybridizers.
From the convention pamphlet:
CSSA 2015 Biennial Convention:
*Expert speakers from all over the world
*Five days of programs on cacti and succulents from around the world
*Wonderful field trips on tour day (Lotusland and the Huntington among the field trips planned)
*A cactus and succulent sale with an exceptional selection of plants and handcrafted pottey (emphasis mine)
*A rare plant auction to benefit CSSA research and conservations
*Opening banquet at the Huntington Library and Botanical Gardens
and so on and so forth.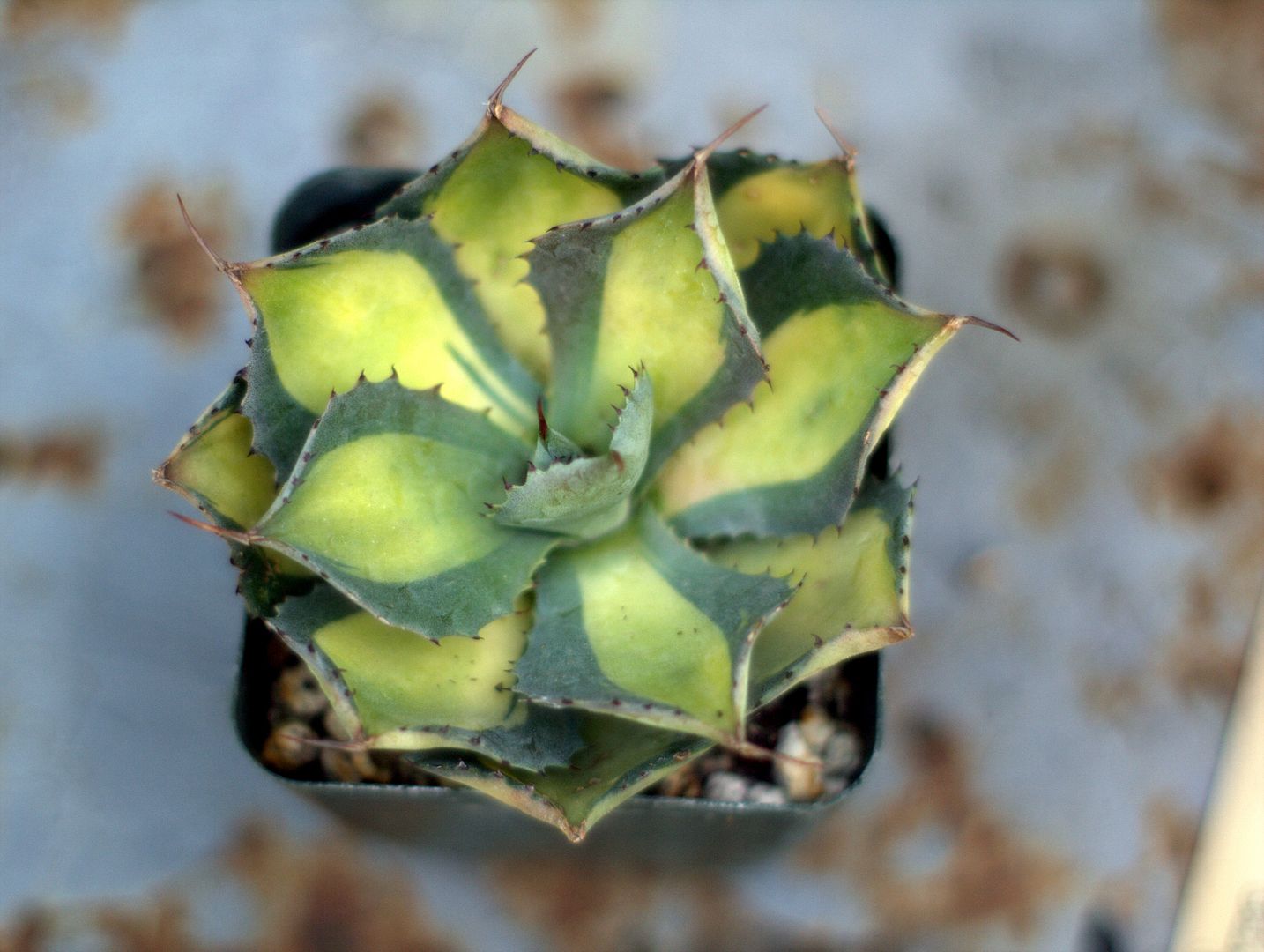 Agave isthmensis 'Rum Runner,' Huntington
Attending plant sales and talks, for me, rates up there with visiting public and private gardens, maybe even higher.
The big spring garden shows get all the publicity, but I find the sales and talks put on by plant societies and botanical gardens incredibly…oh, I don't know, nourishing somehow.
Sedum dendroideum 'Colossus,' Huntington
These events are hosted and staffed by people who live and breathe plants, and they are tireless advocates, evangelists, and proselytizers for the plant world.
In other words, they are our kin, our tribe, just a lot smarter than most of us.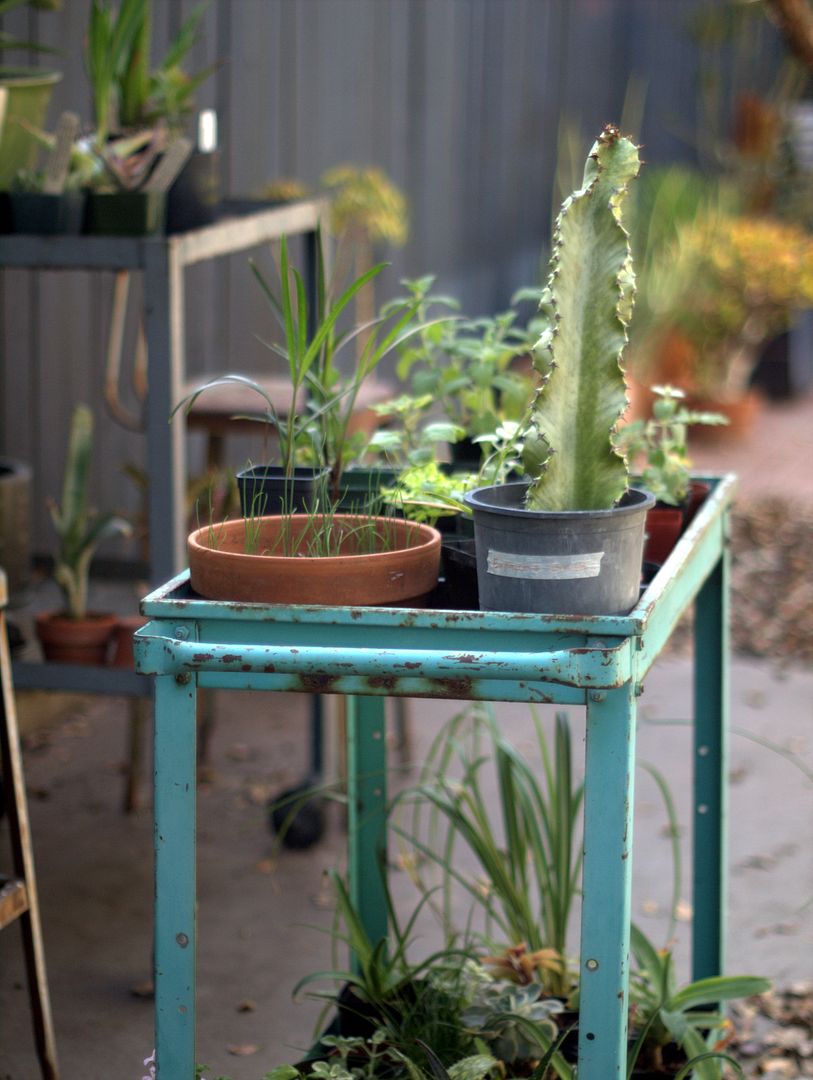 One of the benefits of attending plant society meetings is that the uber rare is fawned over, while the relatively common is literally given away.
That was the case with the Euphorbia ammak on my little cart above, which I grabbed from the "free" table.
I first heard news of the CSSA convention at a talk by Buck Hemenway at South Coast Botanic Garden on March 8.
A few degrees of separation back, I first heard of Buck through Reuben Munoz/Rancho Reubidoux, who posted on one of the plant sales Buck was famous for hosting at his home garden in Riverside. Many of Reuben's plants at the Rancho arrived via Buck. I attended one of those sales and was hoping for news of another one this year. Instead I learned that Buck and Yvonne are moving to South Africa, and he was going to explain why in his talk on March 8. I know why plant lovers travel to South Africa, but move there? Talk to me, Buck. Amid a slide show of spiral aloes, Table Mountain, Pachypodium nammanquanum, rocks blanketed in quilts of Euphorbia caput-medusae, and the extraordinary animals, plants, birds, people, and wineries of So. Africa, Buck explained that, no, it wasn't just the plants and climate that drew him to make a new home for himself and Yvonne. The big lure was the low population density of approx 100,000 in an area the size of the Los Angeles Basin, where all 3.6 million of us try not to step on each other's toes too much. The weather is nearly identical to his former home in Riverside, with the rainfall in Klein Karoo measuring 9 inches per year, but spread throughout the year, unlike our winter rainy season. Also key to the flora's success is that majestic fog that tumbles over the valley anchored by iconic Table Mountain.
The real question now is, as desertification overtakes the Southwest, why aren't we all moving to South Africa?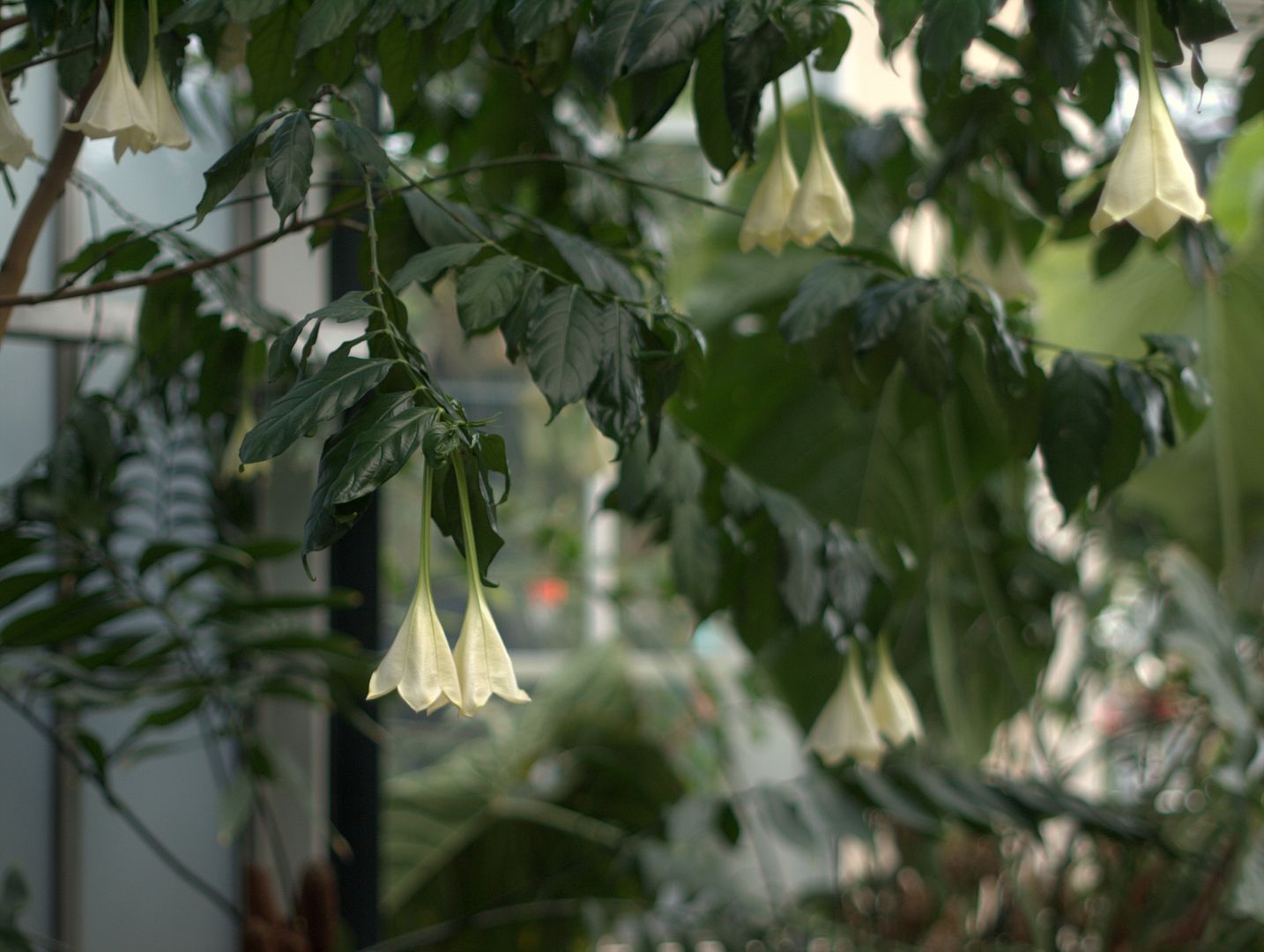 Osa pulchra, Costa Rica
The CSSA convention will include an optional tour of the Huntington, which I visited last Thursday, 3/12/15, to hear Karen Zimmerman's talk on aloe hybrids.
These photos of lush leaves were taken at the nearby conservatory while waiting for the talk to begin, where I took refuge from the 90+ temp. outside.
Karen, a former species-only aloe enthusiast, credits Kelly Griffin (upcoming convention speaker) with converting her to the hybrids.
With her "fantasy" aloe creations, flowers don't matter. It's all about the lumps, bumps, serrated edges, stripes and dots.
I did bring home one of her creations from the sale held afterwards, Aloe 'Martha Layhew.'
Unlike Buck's South African talk full of images of the spiral aloe, Karen confirmed that the Huntington is too hot for Aloe polyphylla.
in the conservatory, Schefflera 'Nova'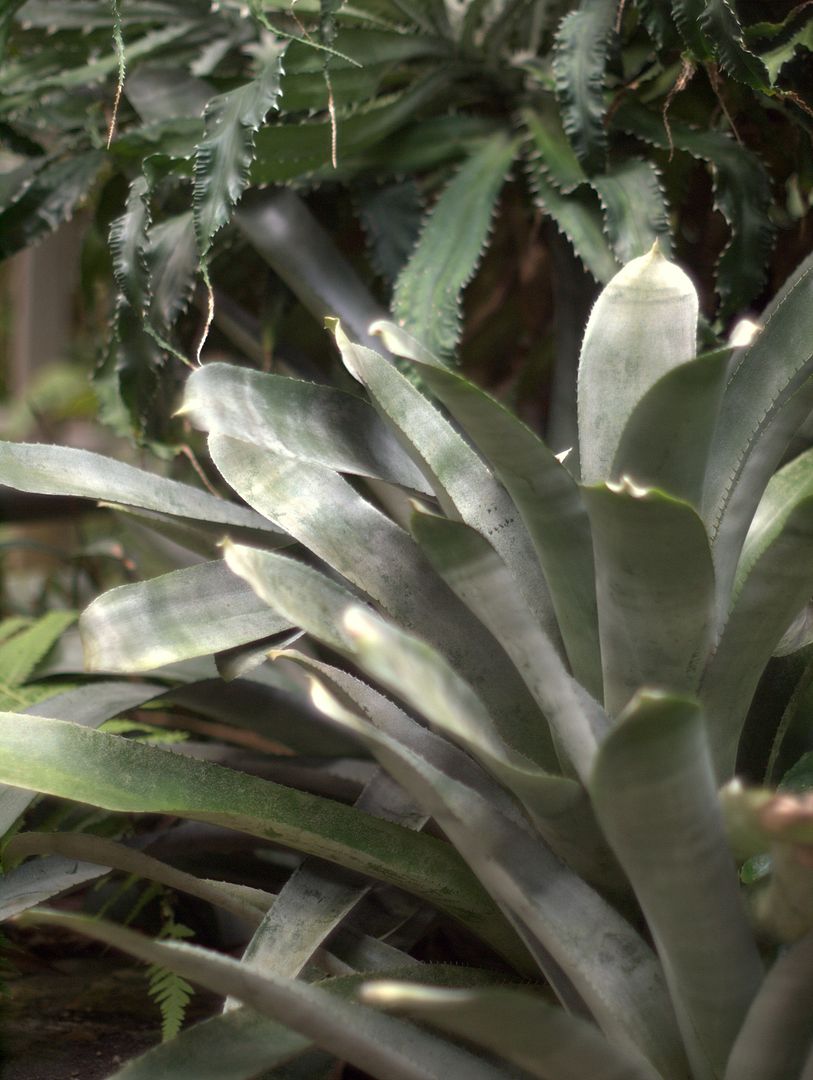 Nice bromeliad, but what's this?
This amazingly plasticine rosette of undulating barbed leaves was unlabeled. Anyone?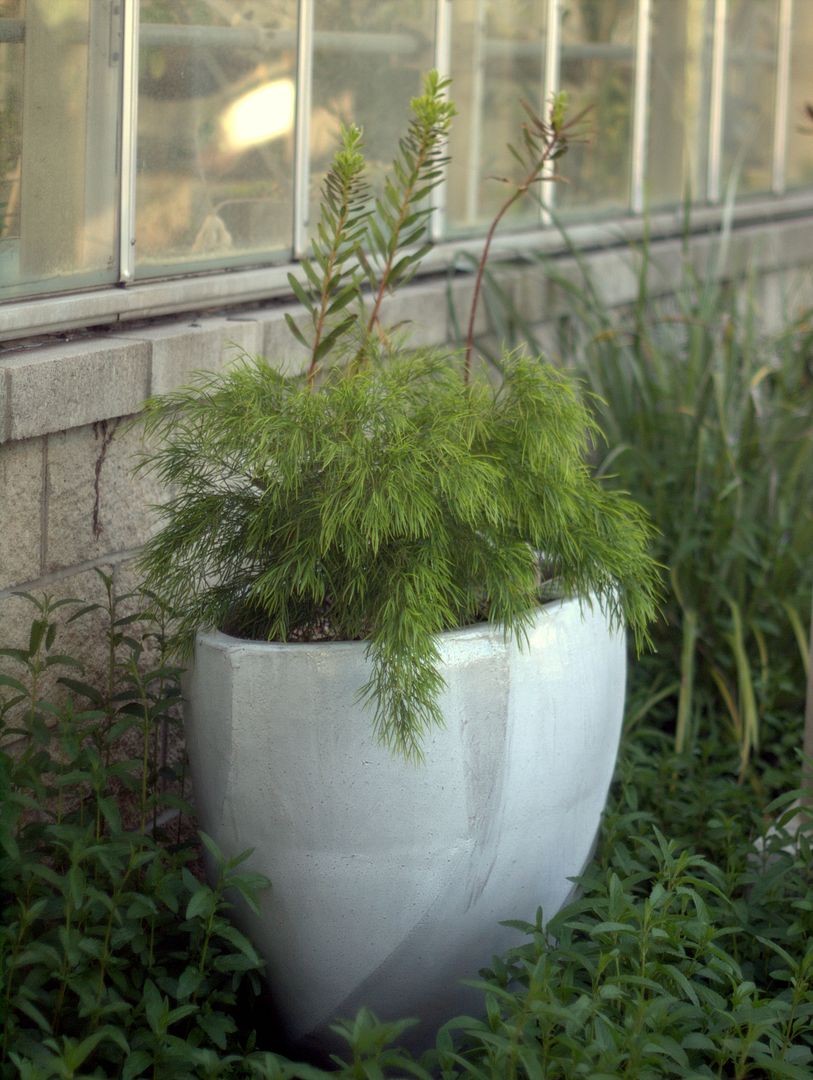 After Karen Zimmerman's talk, we were led on this walkway to the plant sale, past this row of ceramic pots up against the teaching greenhouse.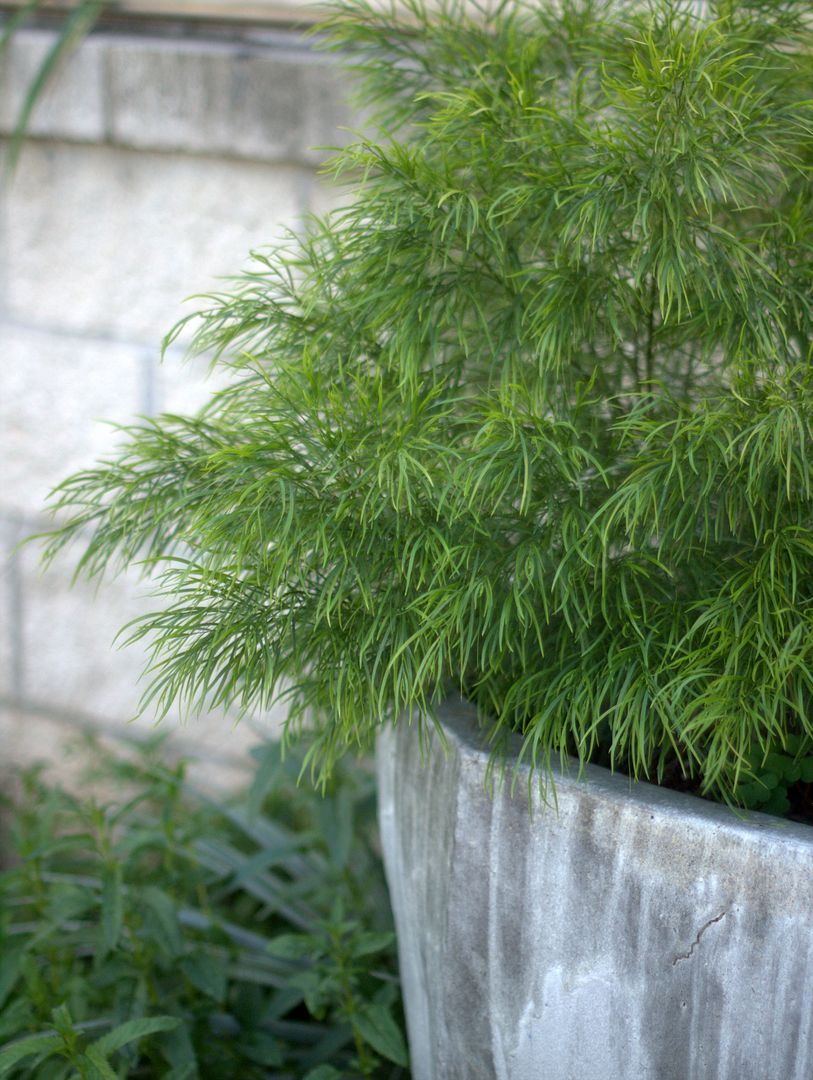 Acacia cognata 'Cousin Itt'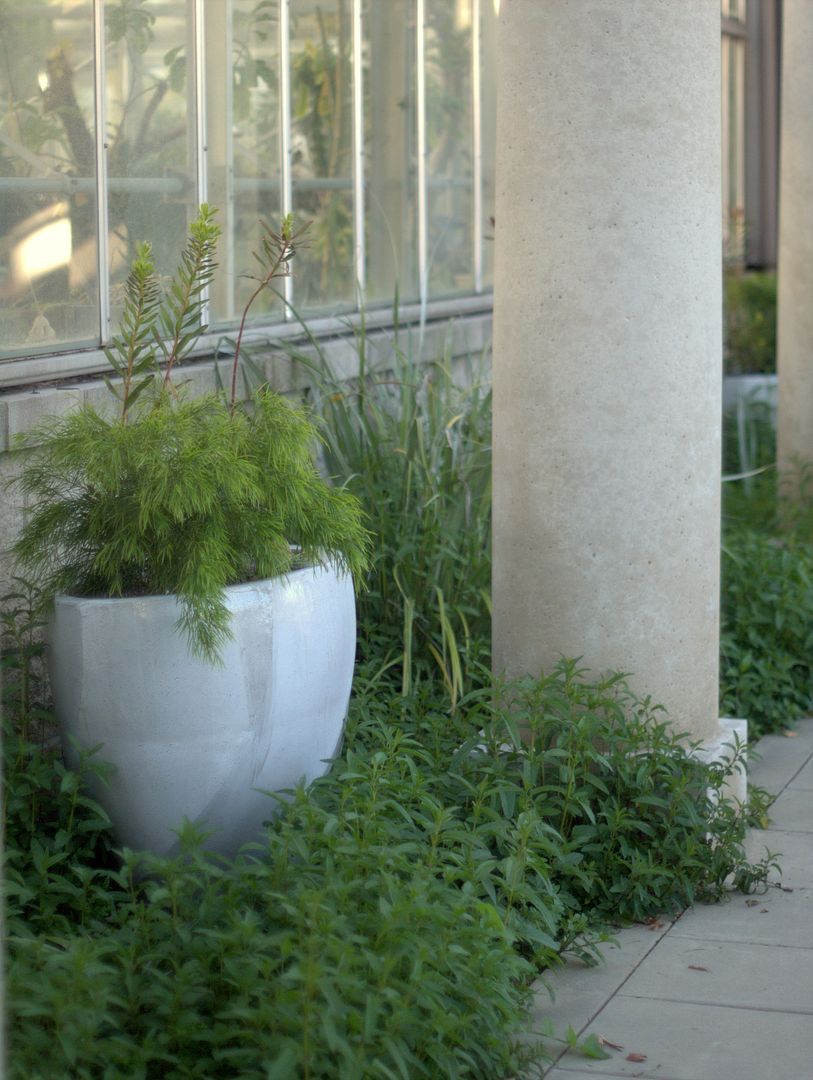 I love plunging large pots into the garden, so this was right up my alley.
The plant growing around the pots may be Salvia uliginosa, which if true is some inspired long-season planting.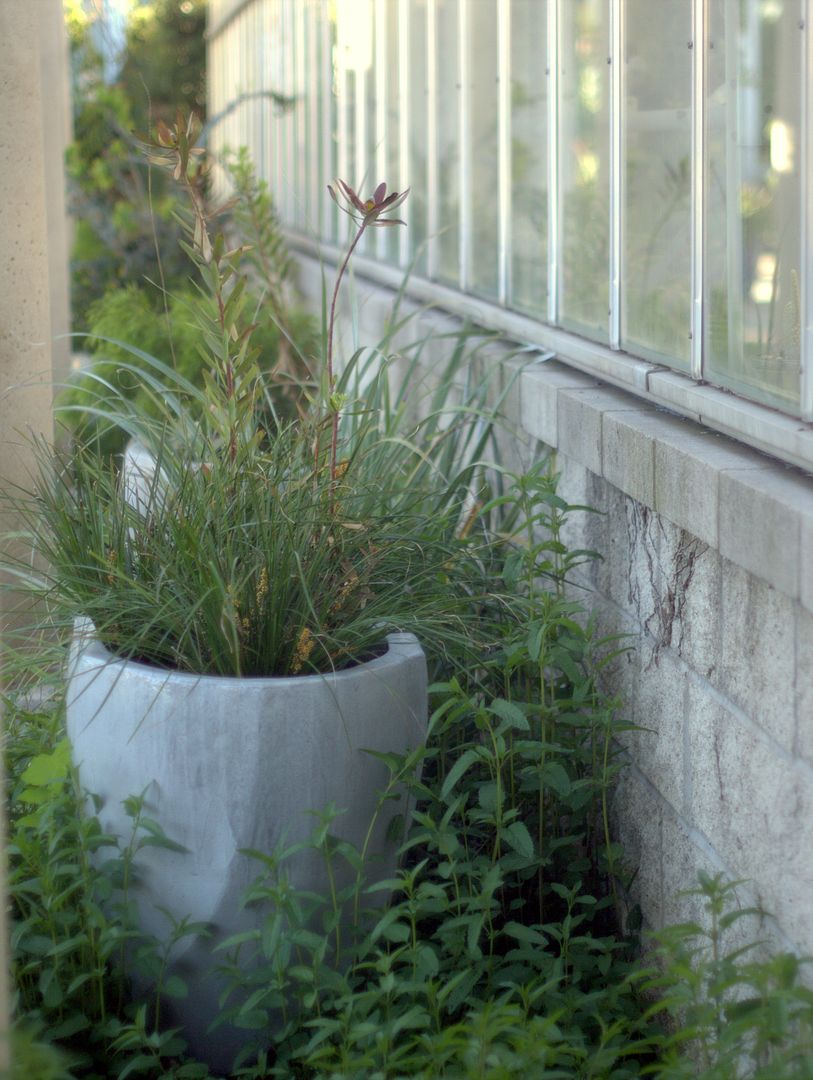 Leucadendron and lomandra in the pot, a glimpse of astelia just behind the pot in the ground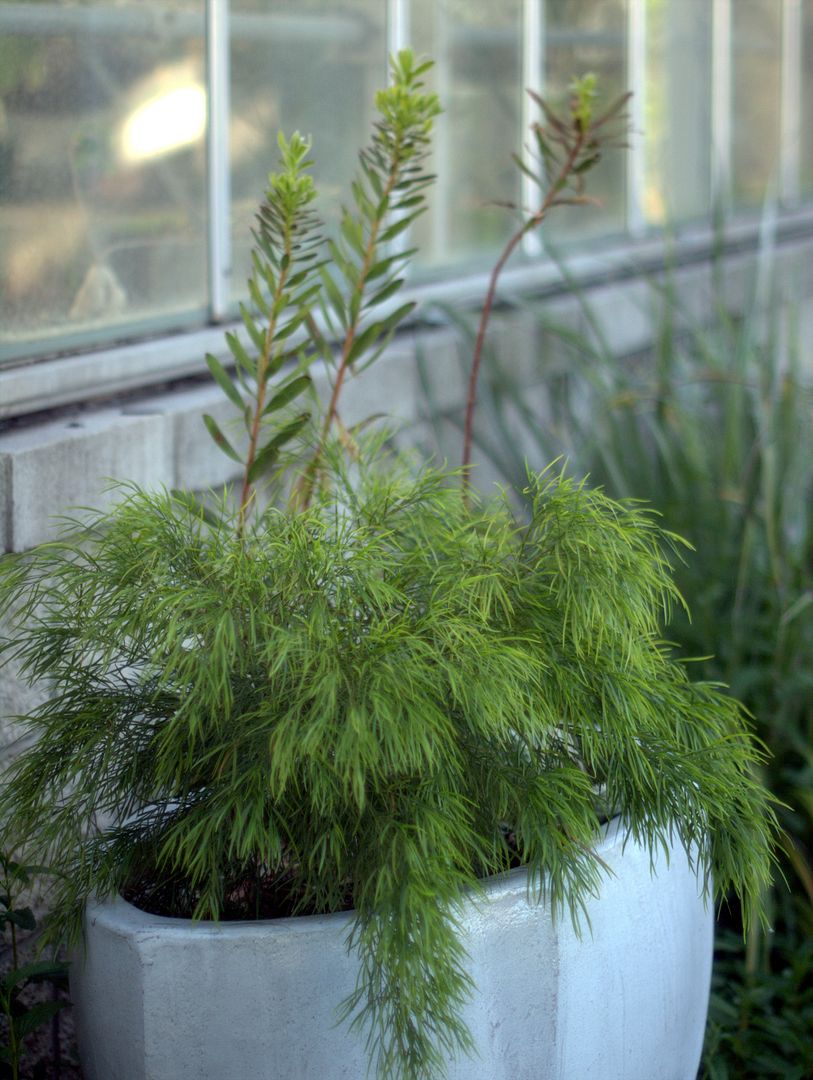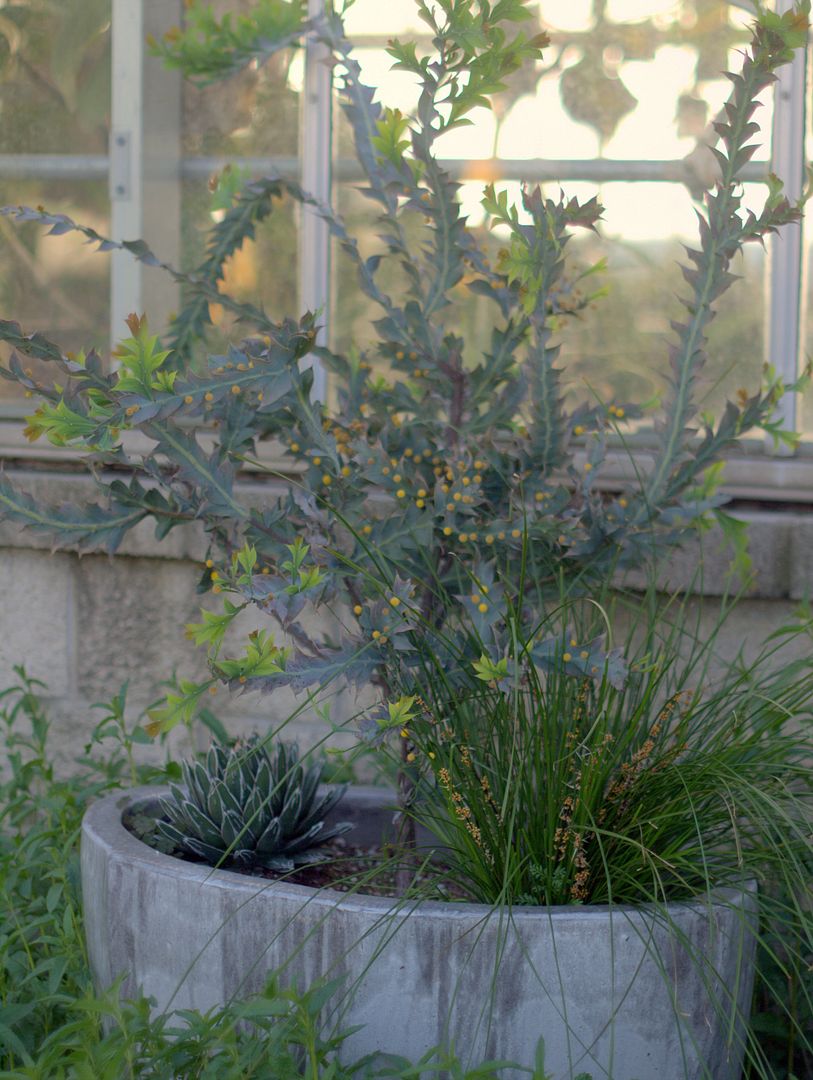 possibly Acacia pravissima
I had to brighten this photo up considerably, but the planting was too good to leave out. Lomandra, acacia, agave.
The plant sale after Karen's talk included many of the aloes she discussed, but surprisingly also quite a fair representation of other riches from the Huntington.
Along with the interspersed photos above, I found a small Leucadendron 'Jester' for $5, the sea squill Urginea maritima at an equally fair price, a silvery-leaved red anigozanthos named 'Backdraft,' brachyglottis.
I was probably one of the last five to leave the Huntington's plant sales tables.
While the checkout lines were still long, I roamed the grounds and greenhouses until the crowds thinned, exchanging my box to hold plants several times for an ever larger size.
Yes, indeed I went a little plant-sale crazy…
The Huntington's big spring plant sale is coming up April 24-26, 2015.