Finally, a chance to spend some time with the blog again. There's been lots of reading to catch up on, after the guv dropped that bombshell. (Pass the almonds.*)
One of the best sources of information I've found was right there on my blogroll, journalist Emily Green's Chance of Rain. In concert with KCET, Emily is writing an amazingly detailed series bristling with helpful links and step-by-step instructions for those wondering what to do with their lawns. Definitely read Emily's After the Lawn series before making a call to any lawn removal company that's eager to snap up your rebate dollars in exchange for wall-to-wall gravel.
Amidst all the finger pointing and accusations, at least we're beginning to talk about our water situation. Ironically, after decades of denial, we just can't seem to shut up about it now.
This entry under the Dot Earth blog at The New York Times rounds up dozens of articles for background reading.
And here's a great interactive map on water use across the state, city by city, courtesy of The New York Times ("How Water Cuts Could Affect Every Community in California")
And who knew that a century-old, squatter's rights mentality governs ground water for agricultural use? Emily Green deciphers the state's arcane water rights here: (Whose Water Is It Anyway?)
So, yes, I've been reading up on the politics of the recent water restrictions. Because it's not like we need more information on how to design dry gardens. Reaching into my bookshelf, I can pull out Beth Chatto's The Dry Garden, a chronicle of the 30-year-old garden she's made in East Anglia, England, supported on rainfall alone.
(Which if I remember correctly is, at 30 inches, at least double our 15-inch average pre-drought.)
Then there's Bob Perry's landmark resource Landscape Plants for California Gardens.
More recently, there's the great California resource Reimagining the California Lawn: Water-conserving Plants, Practices, and Designs
Lambley Nursery in Australia is also planting display gardens sustained on mostly rainwater.
At home I've been tweaking the garden the past few years to accommodate drier conditions anyway, and our water bill is consistently below average. Granted, smaller properties like ours will have an easier time adjusting to restrictions. What lawn we inherited when buying the house was removed over 20 years ago. I've never been emotionally attached to closely cropped, bright green turf.
But both neighbors to the east, who cherish their front lawns, have been quietly irrigating them with grey water for years.
Berkheya purpurea, brought home from Cistus last summer, is a riveting, prickly daisy out of South Africa. One of countless examples, native and exotic, of gorgeous plants blithely indifferent to dry conditions. The literature cites berkheya's habitat as stream banks, so we'll see how tough it really is. Once established, anything tap-rooted has a big advantage.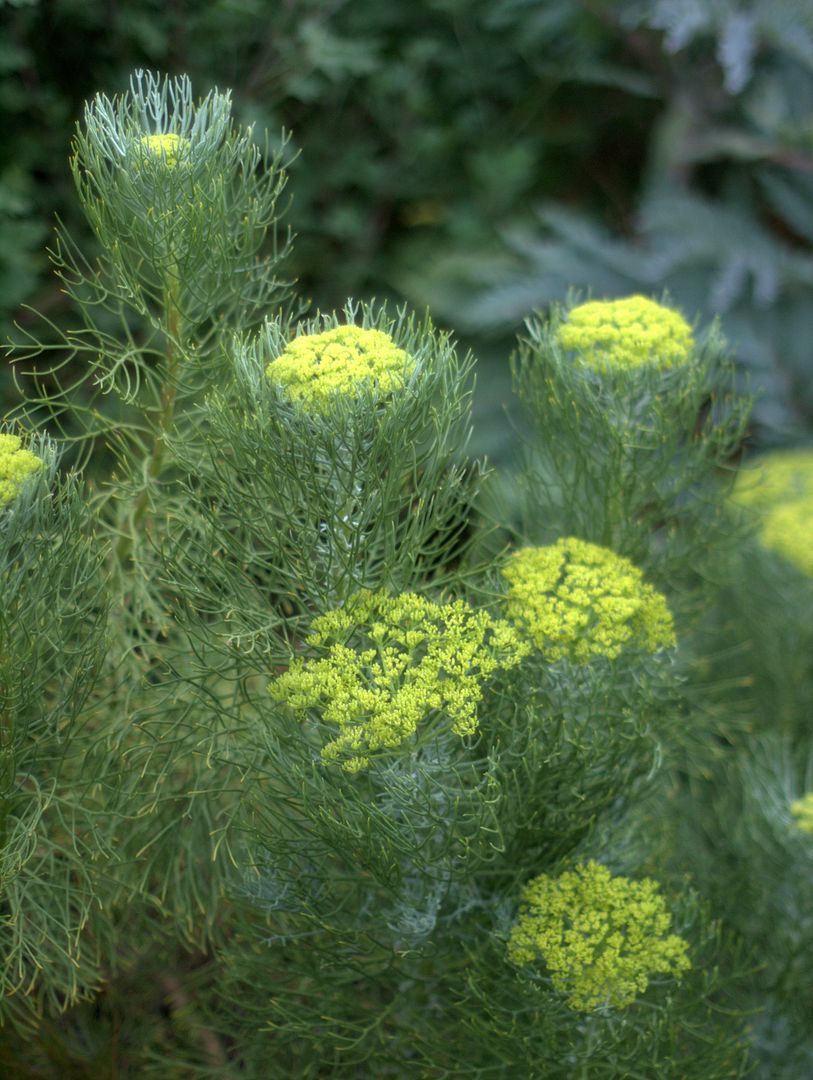 Hymenolepis parviflora, a dry-tolerant shrub with chartreuse umbels. Nature is a genius. In the past few years a lot of perennial/biennial/annual umbels have passed through the garden, the toughest probably being cenolophium, melanoselinum, yet even they needed pampering. This one, however, is the real deal. Hymenolepis is a short-lived shrub from So. Africa that will probably need to be renewed from cuttings in a few years. I'm cool with that.
Lily 'Black Charm.' Fortunately lilies love container life. I find it makes better water sense to grow them in pots to provide the even moisture they crave than in the ground. The bucket collecting water from the shower is a steady source for container plants now.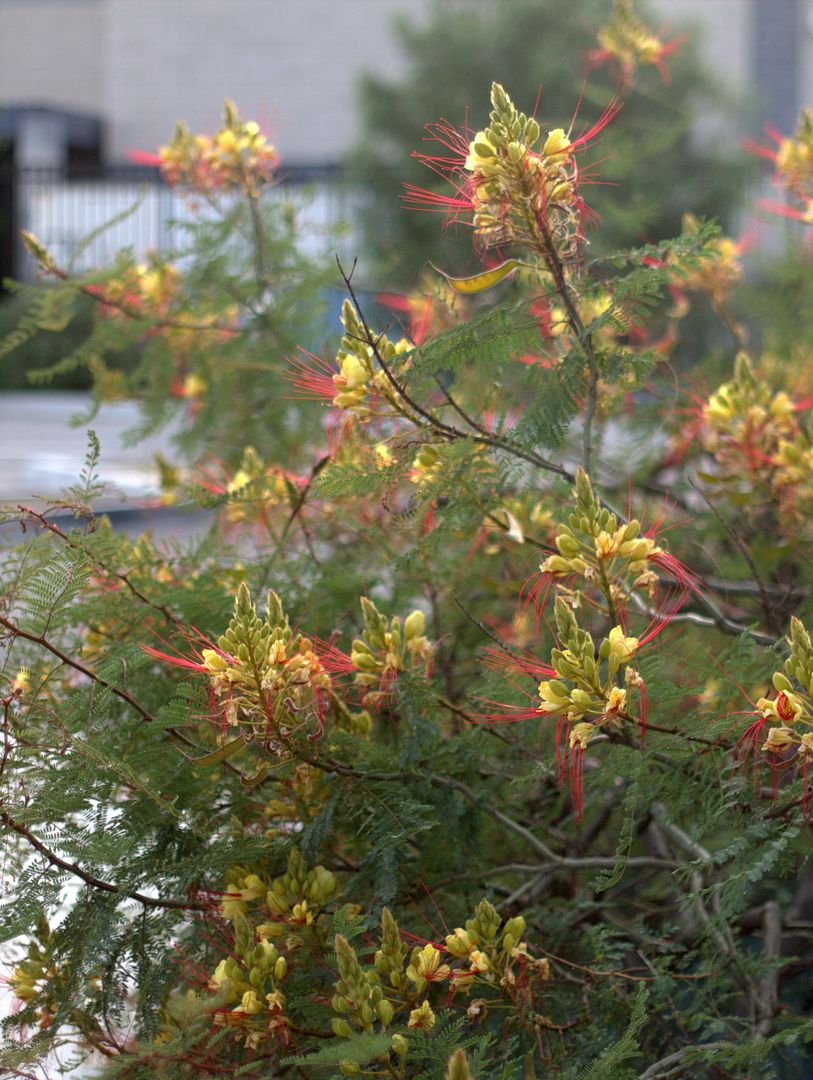 Seeing the Desert Bird of Paradise in rampant bloom wedged into the heat-reflected, bone-dry parkways along Long Beach City College set off a county-wide search for a source.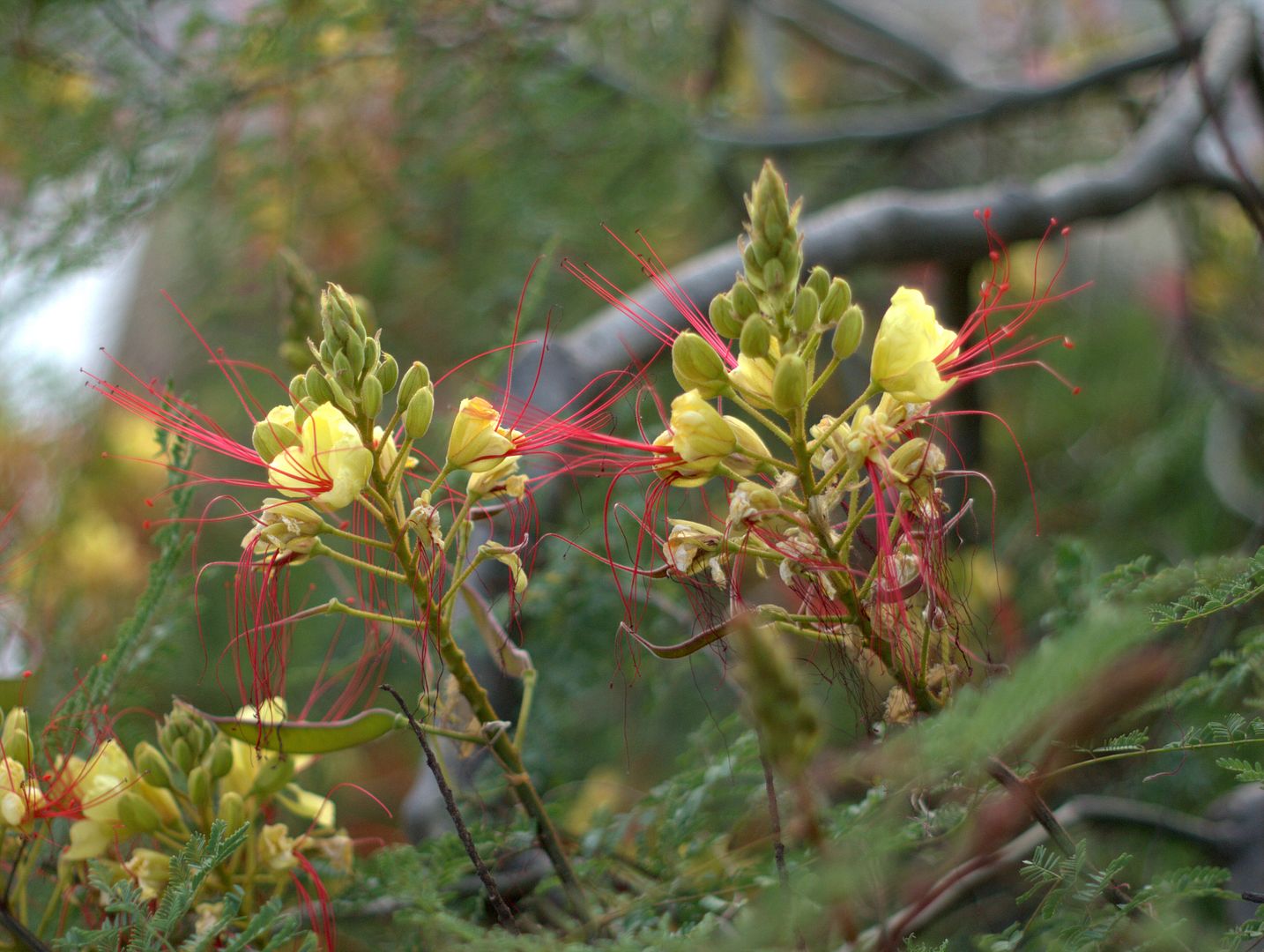 The City College's Hort. Department sold all their stock at their recent plant sale, but one local nursery had a couple plants. I replaced Salvia 'Amistad' with Caesalpinia gilliesii. I know Sunset is marketing this salvia as waterwise, but I'd planted mine far from the hose bib, and it was showing some stress.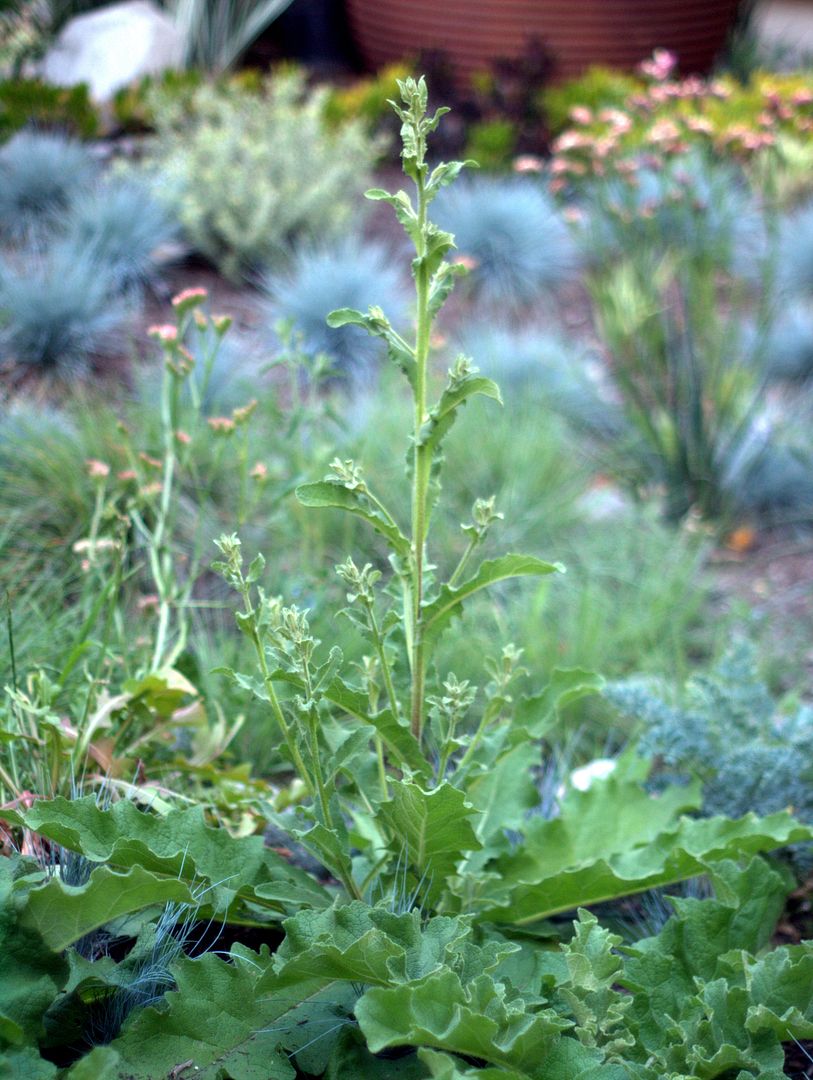 Verbascum in Dustin Gimbel's garden, seed collected on his recent trip to Italy. He gave me two of these wavy-leaved mulleins, possibly V. undulatum. Verbascums are classic perennials for dry gardens.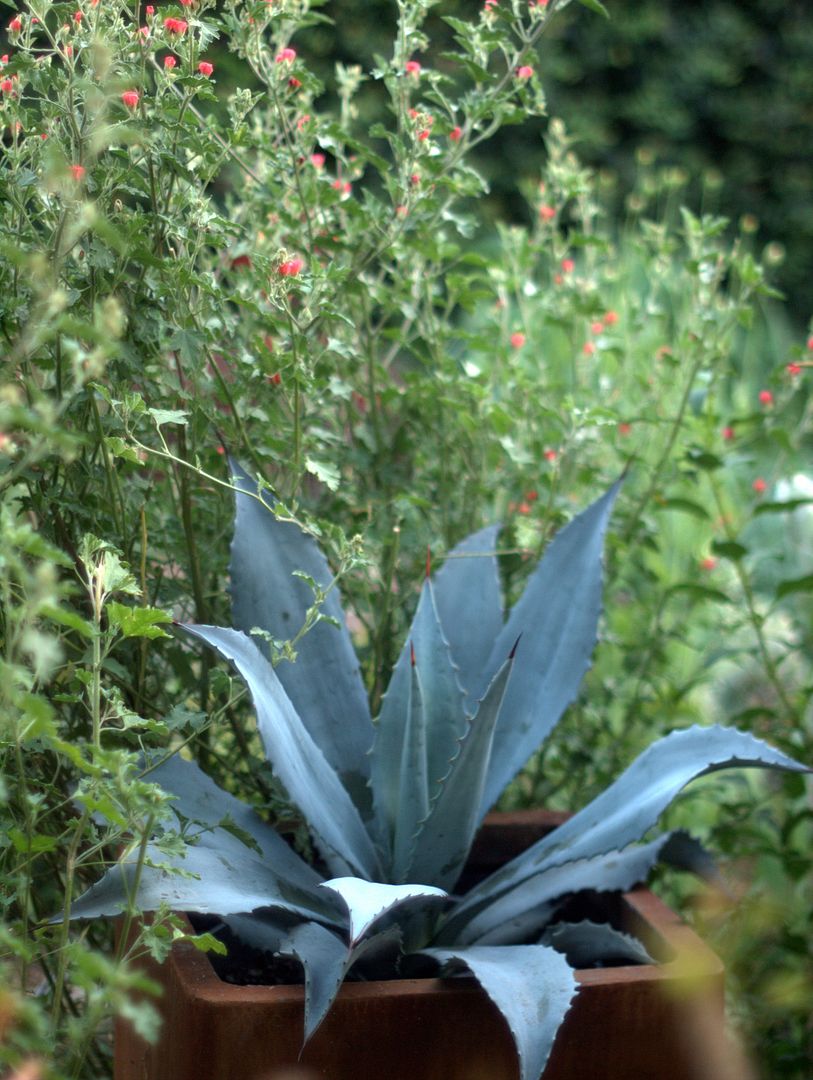 Water garden out, agave in. Formerly a small water garden, now a cache pot for Agave franzosinii. Surrounded by the unstoppable globe mallow Sphaeralcea 'Newleaze Coral,' a hybrid developed at Hopley's in the UK. Planted last fall, I've cut back and thinned the globe mallow three times since mid winter. It's never stopped blooming and, because of its vigor, I purposely avoid adding water.
One last point, an important one to keep in mind. It's no big surprise that trees are a constituency without much representation at the water restriction negotiations table. I vigorously applaud Emily Green's emphasis on prioritizing irrigation for our trees.
"Landscape reform is sweeping California more as an emergency response to drought and less as a considered piece of town planning. Representatives from three of the region's largest water providers, a City of Los Angeles arborist, and a Los Angeles County botanist interviewed for this article all seemed surprised when asked if they had consulted one another about the impact on the region's urban canopy before moving to dry out the lawns in which most of the trees are planted." After the Lawn Part I
*"[A]ccording to estimates by the Public Policy Institute of California, more water was used to grow almonds in 2013 than was used by all homes and businesses in San Francisco and Los Angeles put together. Even worse, most of those almonds are then exported — which means, effectively, that we are exporting water. Unless you're the person or company making money off this deal, that's just nuts." – "Making Sense of Water"