Jumping right in to some of the leaves I've been enjoying this summer. I've posted photos of this astelia before, but I've recently noticed that the astelia and blue vine salvia have a lot to say to each other, and their light requirements are similar too. I'll probably not plant them together, as their vigor isn't a good match, but this month I'm enjoying their shimmering silvery-blue conversation and thinking of other plants that might continue it. Astelia with blue grasses, blue succulents, blue agaves…
I stopped growing miscanthus for some years, fearing for my back when it came time to divide the monsters, but 'Gold Bar' enticed me back into the miscanthus fold. It is just as slow growing as it's reputed to be. I've even read some grumblings that it may be a little too slow growing, but it's possible there's just no middle ground with miscanthus. This one is very manageable, about 3 feet high this summer, its third summer in the garden. Haven't seen flowers yet, but it's building into a slim chartreuse column.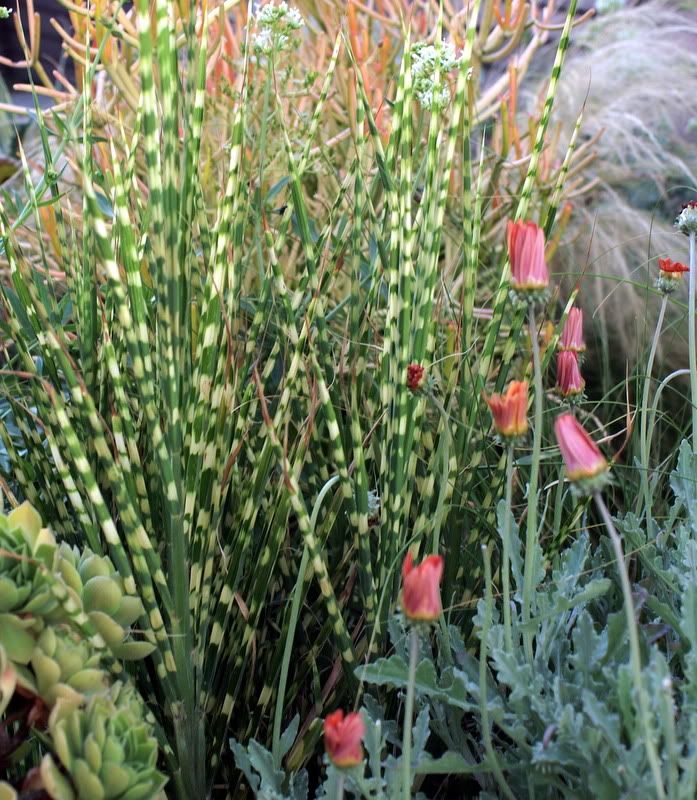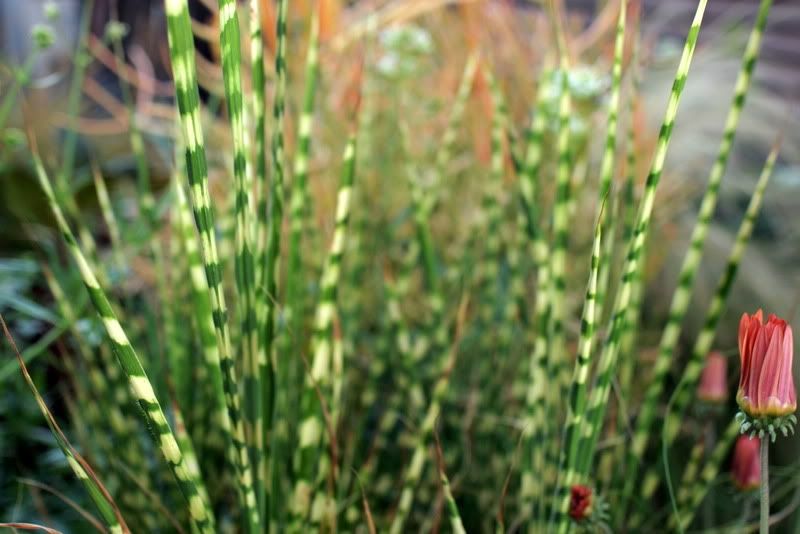 I don't think I've posted photos of my one and only palm before, Dypsis decaryi, the triangle palm from Madagascar, now at its mature size of approximately 20 feet tall, looking up the length of its three-sided, fuzzy, maroon trunk. The triangle palm's fronds are also a frosty blue. When I bought it years ago, it was known as Neodypsis, but I see now it goes by both names.
The little tropical terrace. Xanthosoma 'Lime Zinger' to the right of the aeoniums.
Closeup of the Russelia equisetiformis lutea, the rush-like plant spilling from the pot.
Pseuderanthemum 'Black Varnish' and Colocasia 'Mojito.' The novelty might have worn off on Mojitos, the drink, but 'Mojitos,' the plant, is hot.
Purple rain of tibouchina flowers on the Marguerite sweet potato, which does fine in drier soil. No coleus this year in my garden, but I've been enjoying them on other blogs.
Mixed succulents, including the trailing Crassula sarmentosa.
This Furcraea foetida 'Mediopicta' has taken years to get to this size, just over a foot and a half high. Snails love this one, and lots of damaged leaves have been cut off. This would seem to be a good plant for gardeners in colder zones to overwinter indoors, since it's less sensitive to overwatering than agaves and wants some shade.
Pam at Digging hosts the Foliage Follow-Up, a great chance to celebrate the photosynthetic pillars of our gardens.