One of my boys is experiencing some painful romantic complications, which is frustrating for both of us because in grappling with the problem I necessarily have to accept the fact that my boys are now men. But he hurts, therefore I hurt, which in my case involves wanting to fix it, talk us through it and out of it, when what's needed is for me to back the hell off. Backing off is such a difficult maneuver to master. To practice backing off, and still being fairly new at it, all I could think of was there needed to be some plants involved. Am I right? But it's 7 o'clock at night. The only plants not locked up for the night would be found at the local big box store. That'll do. Because of the late hour, there's nobody else in the nursery department. Perfect. I slowly browse the aisles, marveling at the big banner declaring "Palms are drought tolerant! (when established)." That's exactly the clear kind of communication that's needed in the drought. And then I inspect the palms, hoping to discover a variegated Caryota mitis perhaps. No such luck tonight. Yucca 'Bright Star' in gallon sizes? Dream on. Still not ready to go home, I head into the building supplies section and meander my way over to the lighting. There it is on the shelf, still $15, a price I had previously deemed a little high for an experiment with a very uncertain outcome. I hovered, hand outstretched then snatched back a couple times, until in one quick move I made the grab for the light shade, paid for it, and headed home.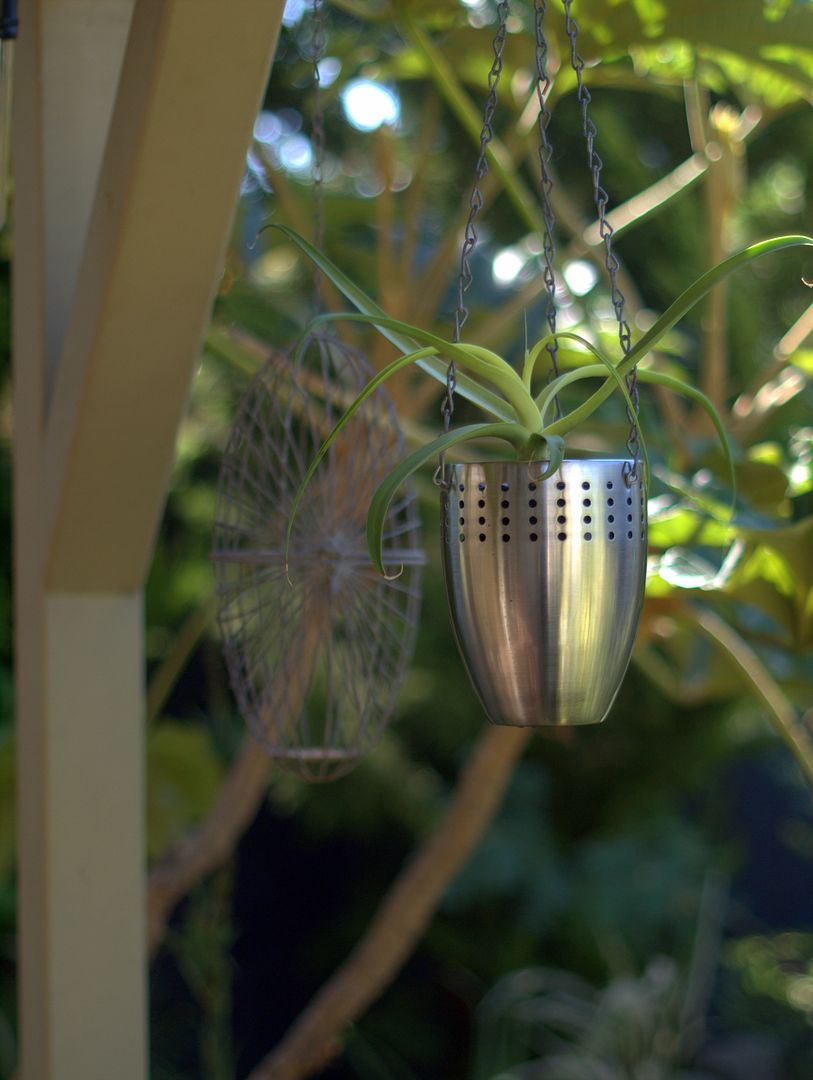 Before heading off to work this morning, Marty helped me rig the chain. This squid agave pup needed to be repotted anyway, so I found a black plastic pot that looked roughly the right size and slipped it in. If only all our troubles could be fixed this easily. I may need to go back and get another one or two before things quiet down.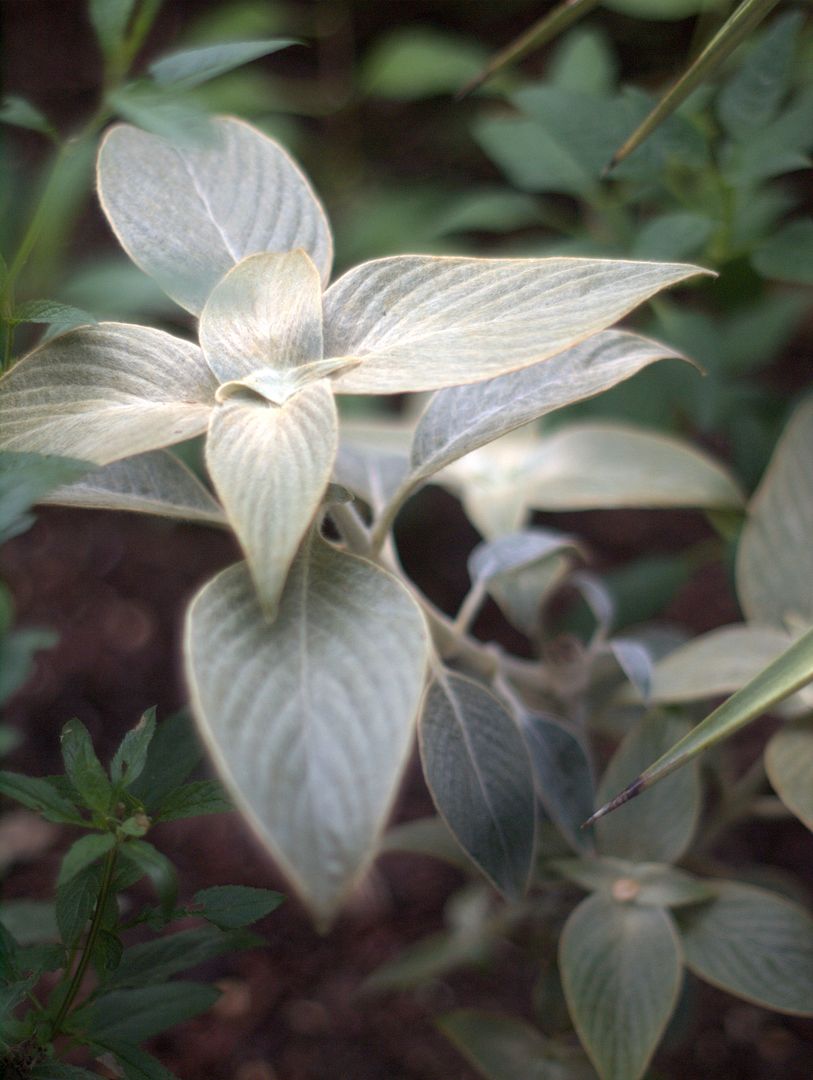 And while we're at the pergola, I might as well take a portrait of the cool plant lurking just outside the brick patio while it's still alive. Dustin Gimbel brought Strobilanthes gossypinus back from a visit to Windcliff. It's got an unusual copper overlay to its furry, silvery leaves. So far it's weathering the 90+ degree temps beautifully, knock wood, with some shade from the hottest afternoon sun. Like bamboo, it's a "mast" plant, which basically means they are on timers set to flower and die out simultaneously wherever they exist in the world.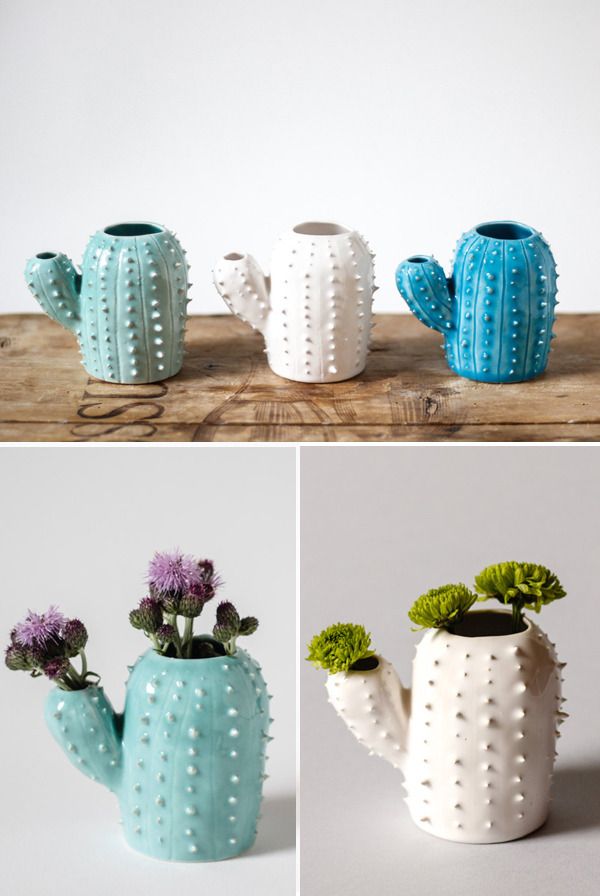 More cheerful stuff, found at The Style-Files.
Now I'm out of cheerful. Oh, wait! This is totally digressing, but it made me laugh, so I'll share. Maybe because of the heat, Ein threw up this morning, poor pup. I know that's not funny, just hear me out. Marty immediately recited "Headache, fever, upset stomach, diarrhea," and I laughed, as he knew I would. Let me explain. We both knew that was the tersely worded contents of the sick-day note his mom routinely sent whenever he missed a day of school. Absences that were usually the result of sheer orneriness, not sickness. His mom liked to cover all the bases. I've no doubt the school was wise to the situation, but who would dare argue with those symptoms? What Marty remembers about his mom truly scares me sometimes. I can't imagine what stories mine will tell about me. I suspect there will be plants involved, though.
Have a great weekend. May I suggest some DIY therapy perhaps?