There's not much difference between July and August, or even June Bloom Day posts, but I suppose it's useful to see what has survived, who's stalwart and who's a wimp. And I have been dropping some new stuff into the garden all summer.
New to me is this Begonia 'Unstoppable Upright Big Fire.' Sounds like the title to a U2 album. I was looking local for Begonia boliviensis but it was unavailable. This UUBF hybrid has dark leaves and large, non-pendulous flowers. I'm not convinced that's an improvement over boliviensis, which has such an elegant, cascading habit.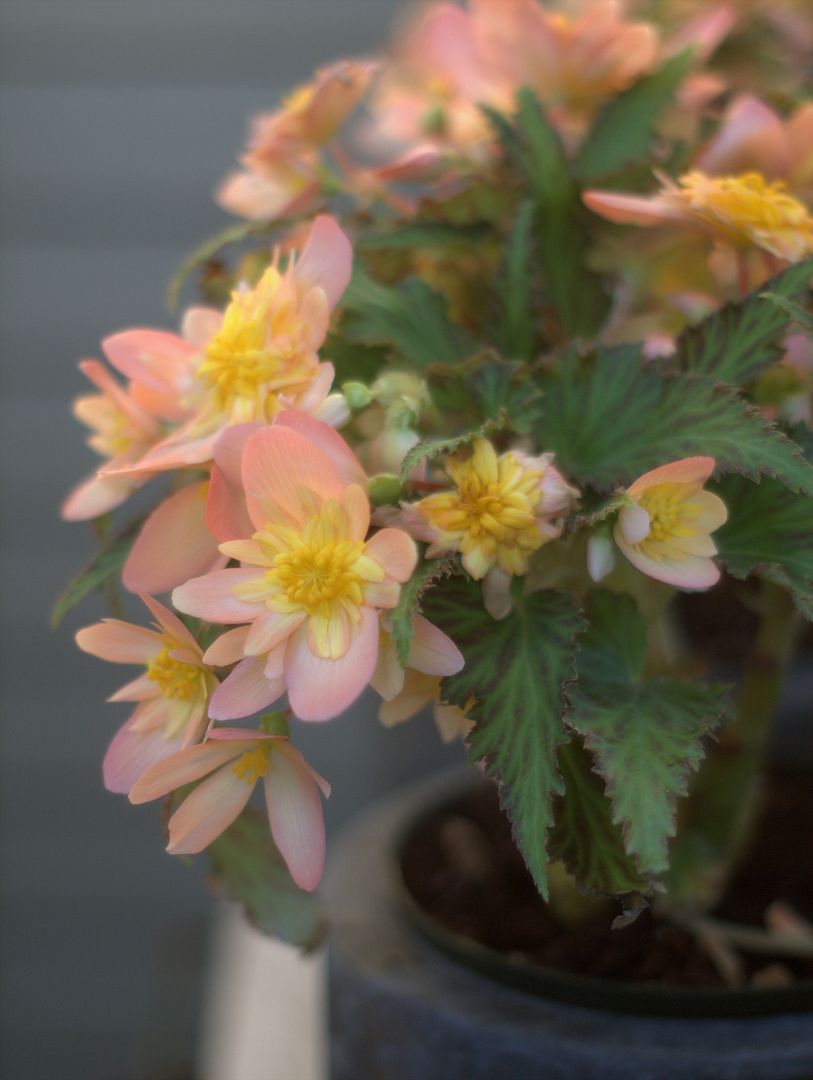 Begonia 'Unbelievable Lucky Strike,' another boliviensis hybrid. I guess we're way beyond the peaches-and-cream kind of names now.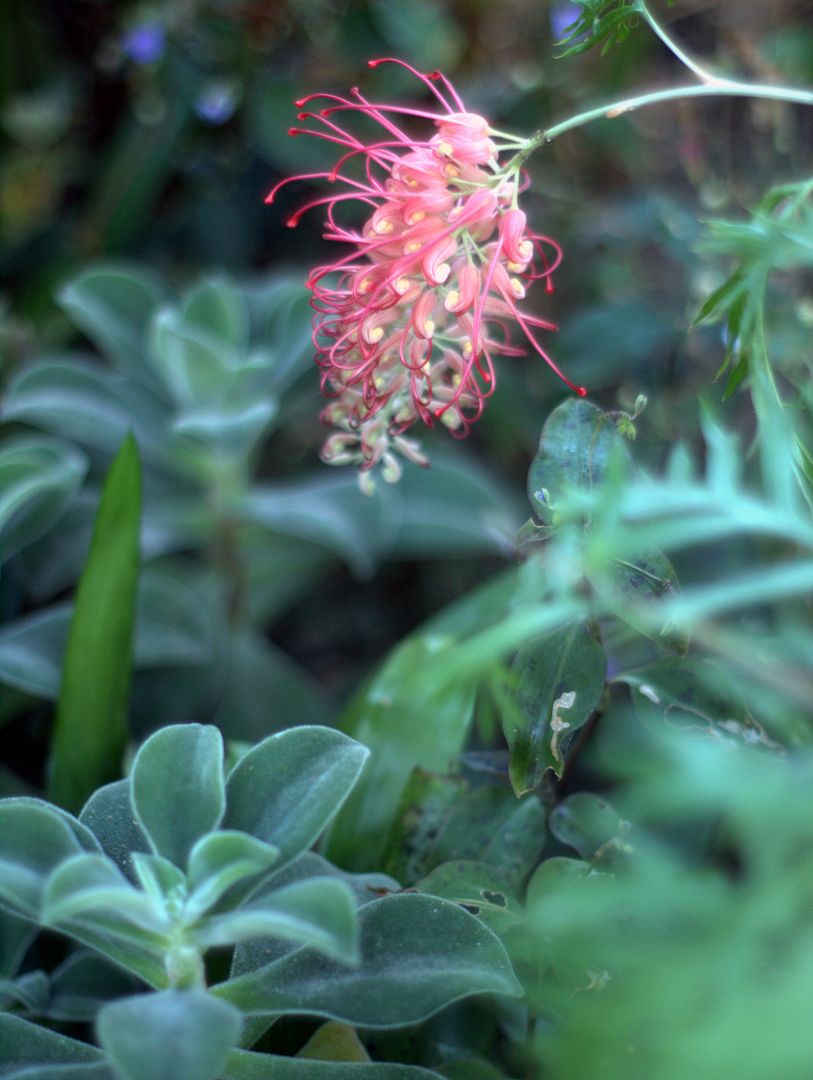 In light bloom all summer and now having a good bloom flush is Grevillea 'Robyn Gordon,' an old cultivar dating back to 1968, from Grevillea banksii and G. bipinnatifida.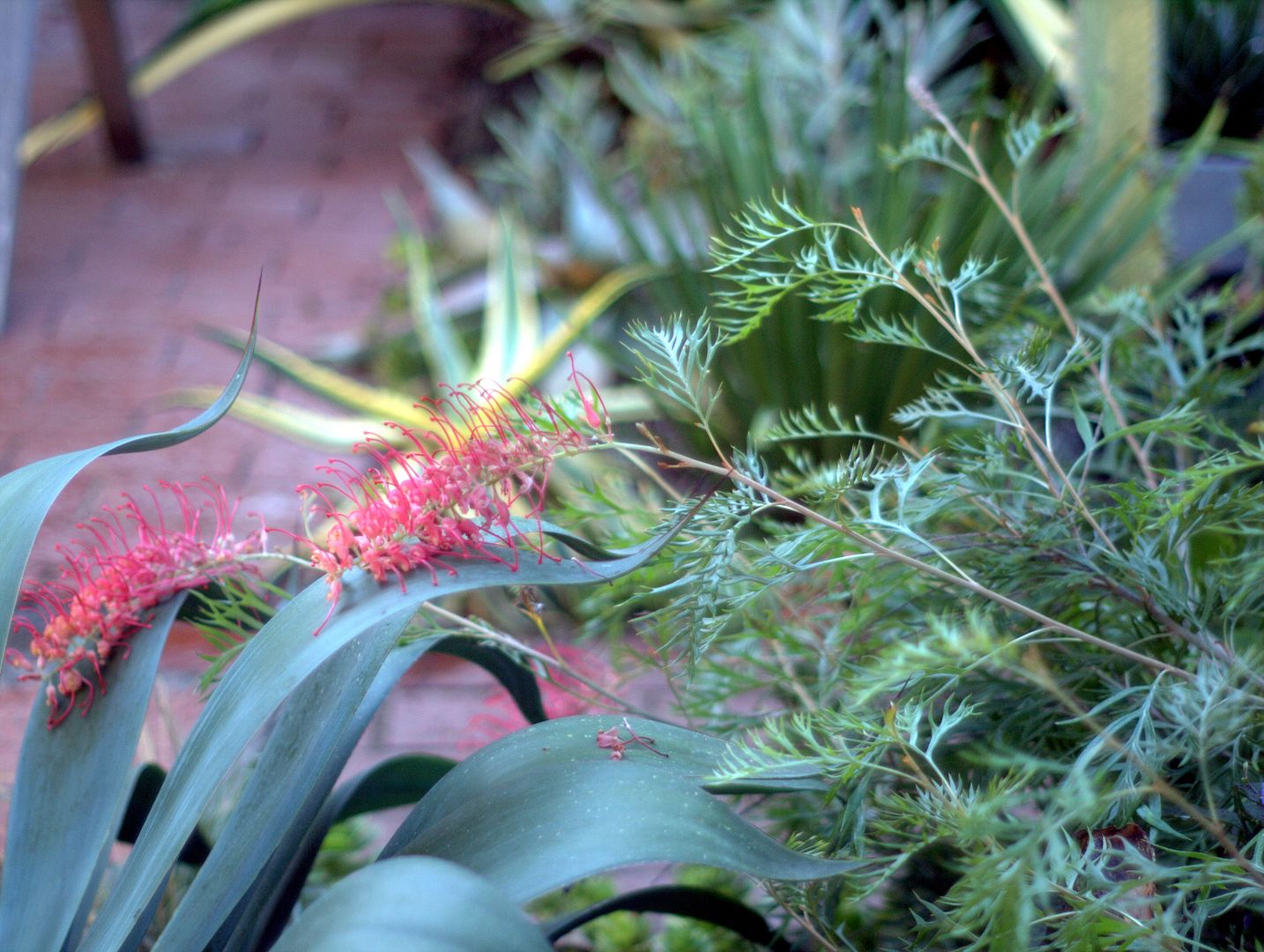 Obviously crushing on Agave 'Blue Flame.' Me too.
The potted Abutilon venosum is enjoying dappled morning sun after emergency transport to this more protected spot due to the current protracted heat wave.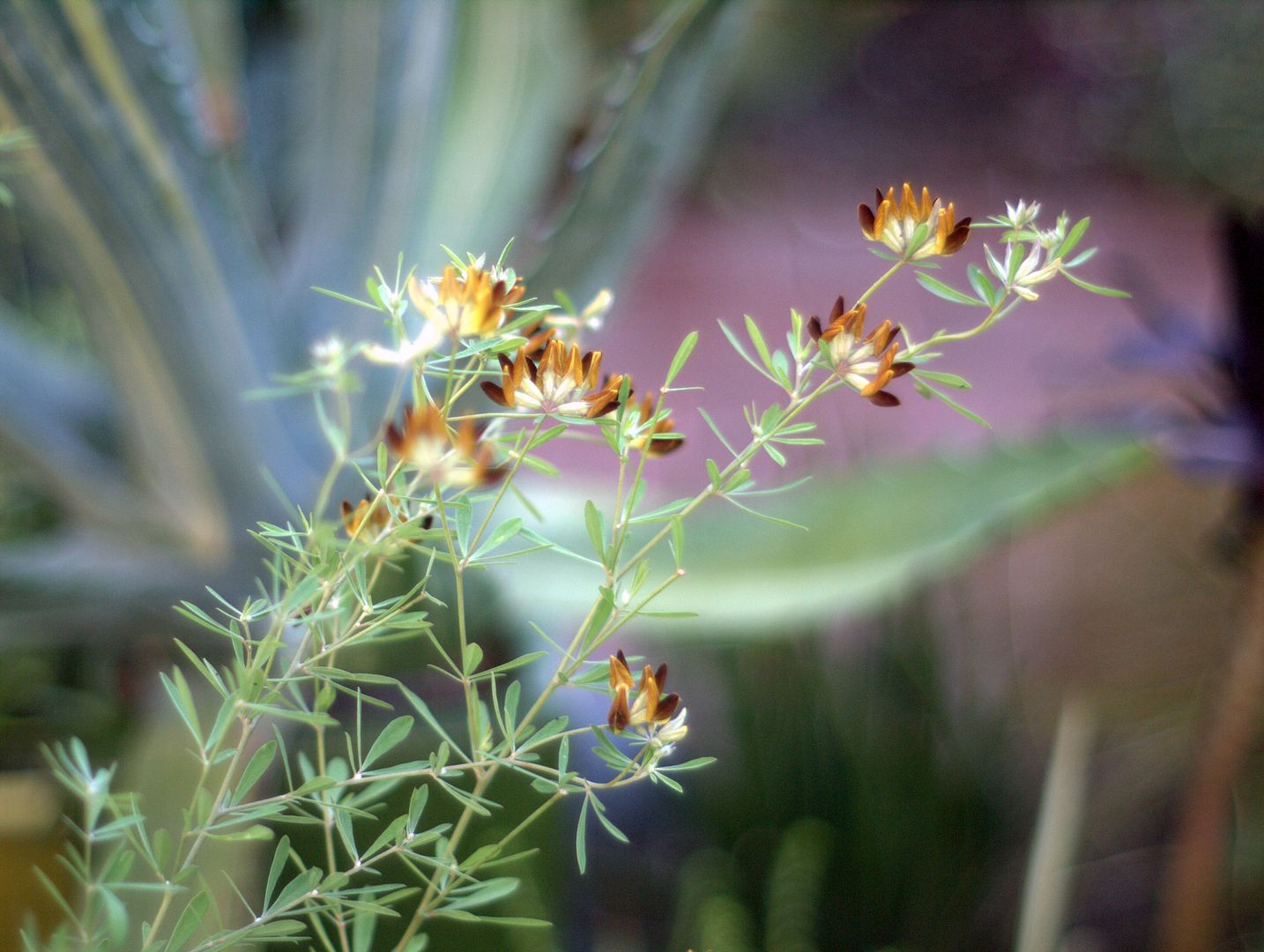 Lotus jacobaeus is a lot tougher than it looks, very long blooming. It seems to prefer container life to the garden.
Here it rests against an adjacent potted agave.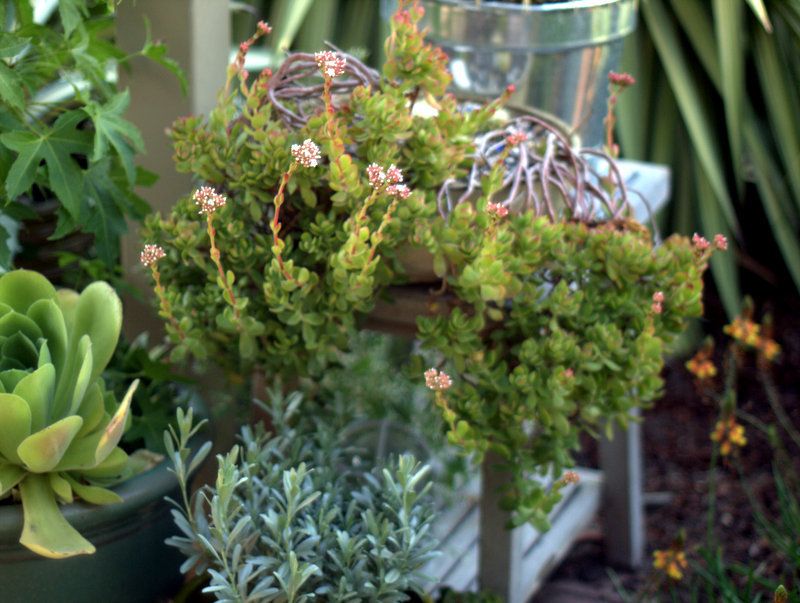 Crassula ovata, probably 'Hummel's Sunset,' in a low bowl on a table, where it makes this great draping effect.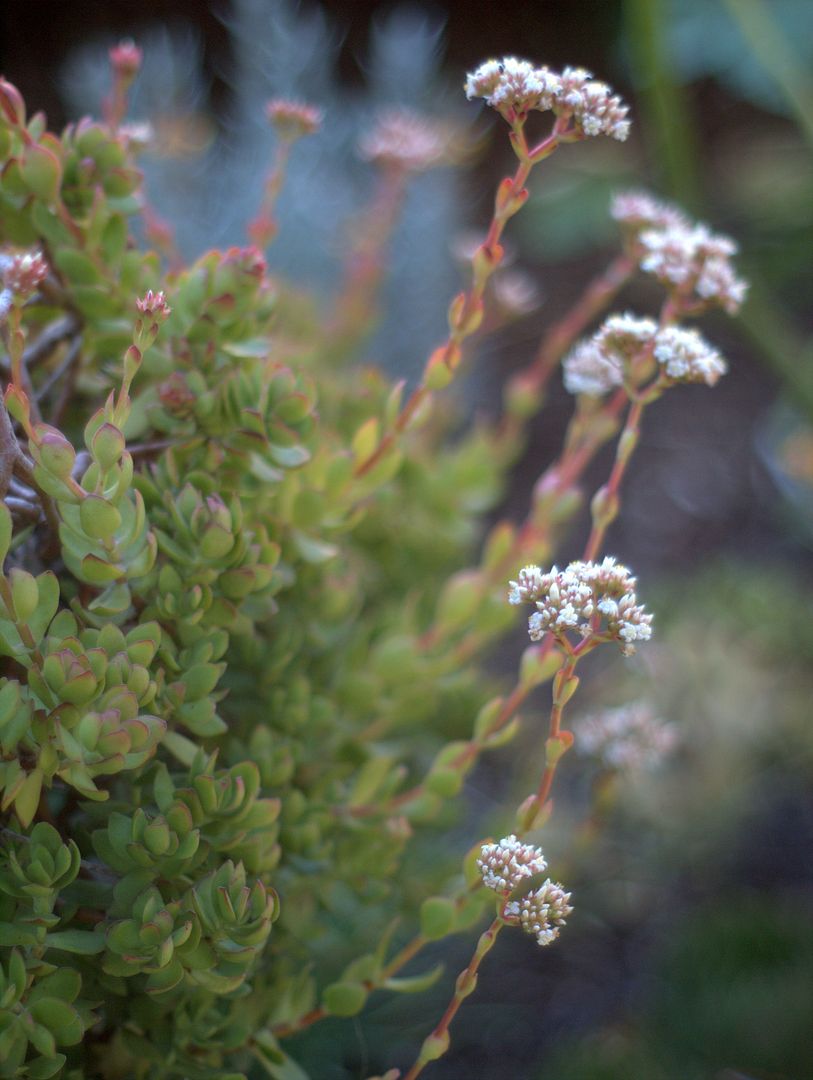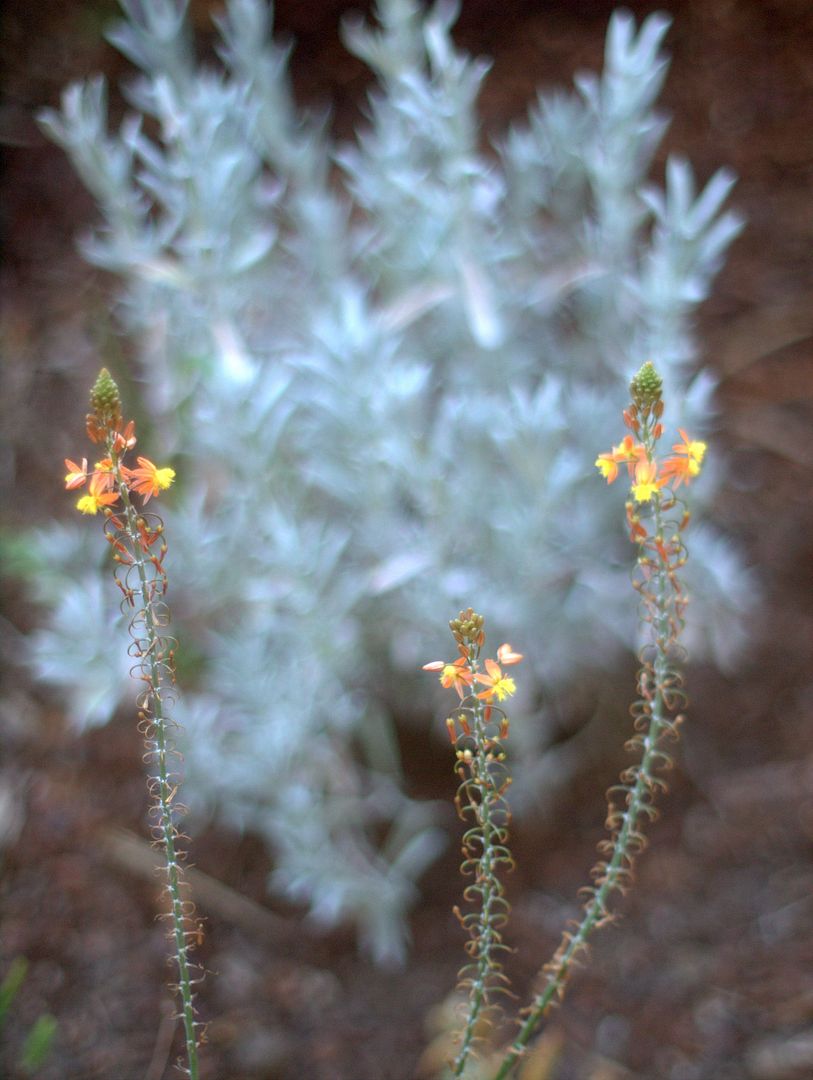 I dropped these Bulbine 'Athena Compact Orange' into the garden sometime in July.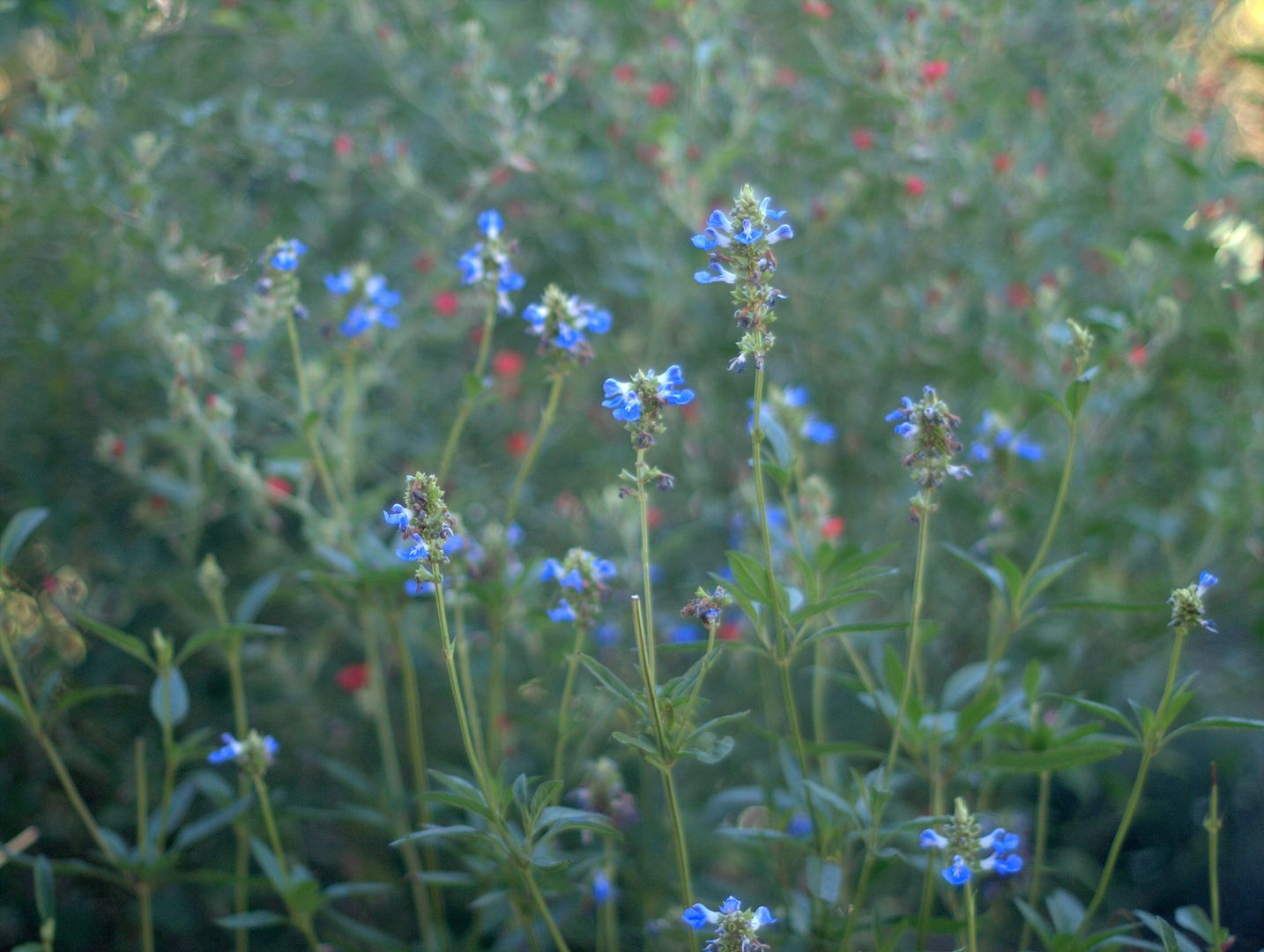 Bog sage, Salvia uliginosa, is never too venturesome in my heavy clay, dryish soil. The rugose, crinkly leaves are always clean from disease or insect damage. These are mid-summer additions from gallon sizes.
Crocosmia 'Solfatare' is about as shy a spreader as a crocosmia can be. Slow to build into a sizeable clump.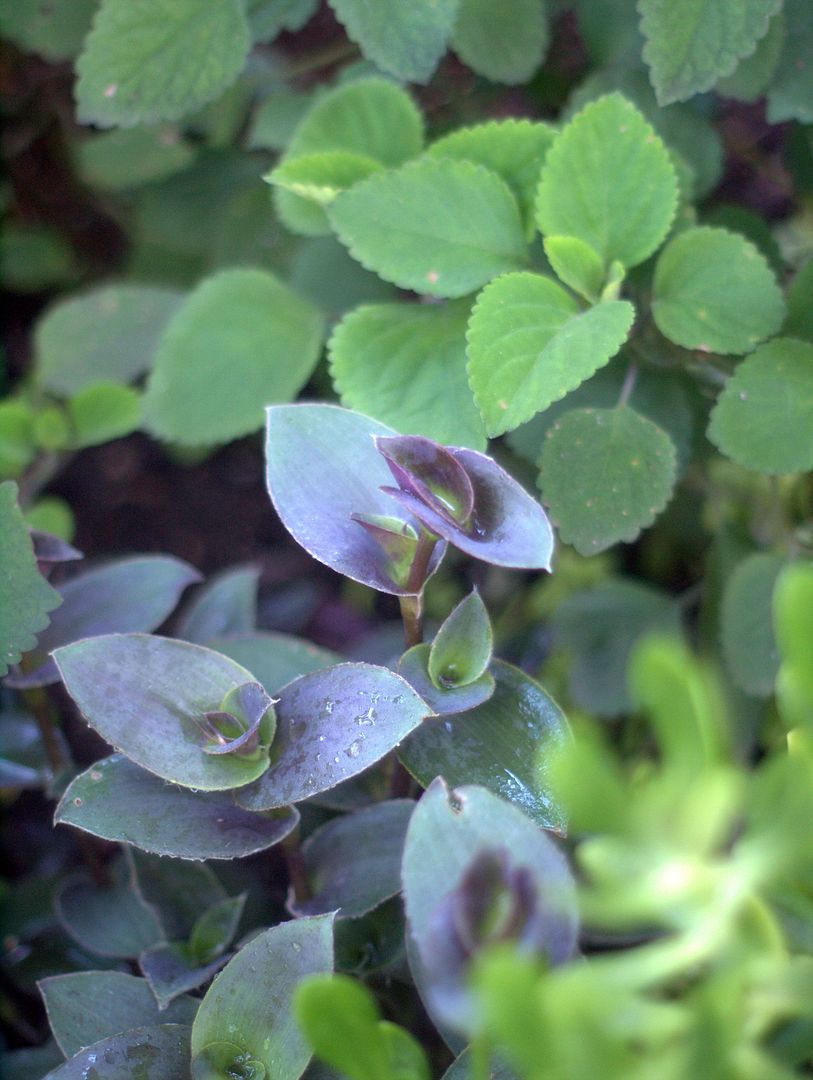 Not a bloom but Tradescantia 'Greenlee,' new this summer. It already seems destined to be one of those plants that knits together beautifully with its neighbors. Shown here with Plectranthus zuluensis. I have a bloom to show of that.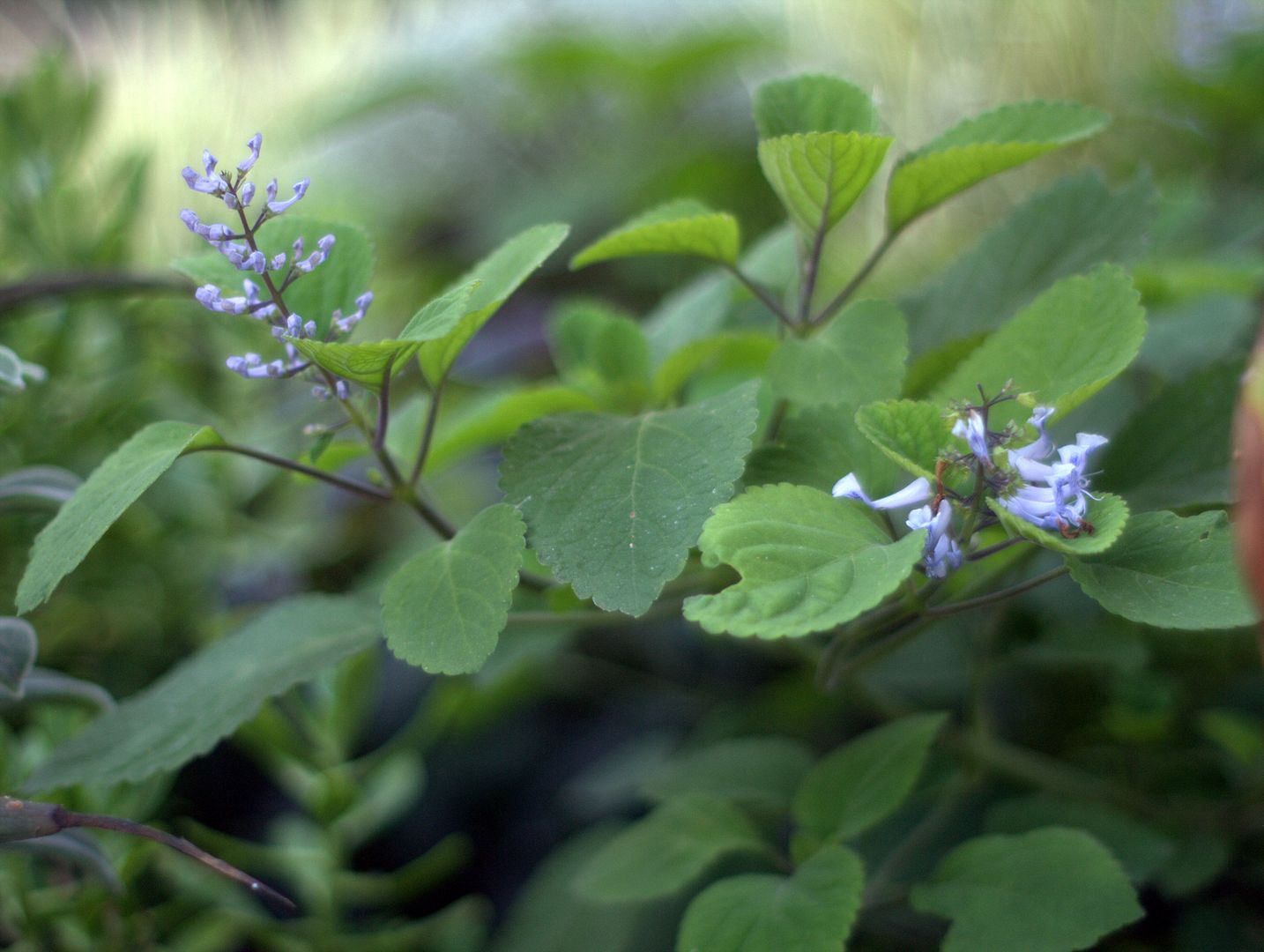 Plectranthus zuluensis loves the dappled sun under the tetrapanax. By July I usually cut back Melianthus 'Purple Haze,' in full sun just behind, and the plectranthus does a nice job of filling the gap while the melianthus bulks up again.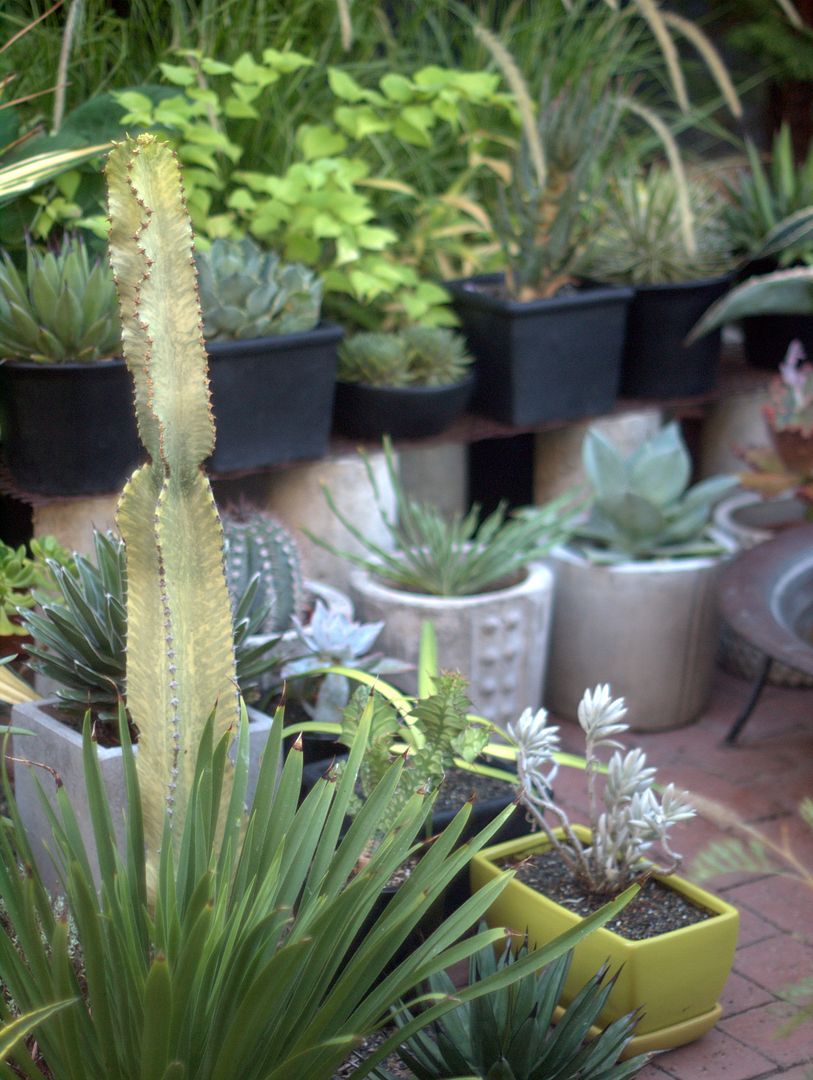 Not a flower but one of my favorite colors in the garden, Euphorbia ammak. It's almost doubled in size this summer. Behind the row of pots are two clumps of Pennisetum 'Sky Rocket,' the mother plants of the other, bigger clumps in the garden. These are much smaller, having to deal with competing roots from the lemon cypresses. Everything else in front of the grasses is in containers, including the Leycesteria "Jealousy' and some taros out of frame at the far end.
Glaucium grandiflorum is still sending up bloom trusses.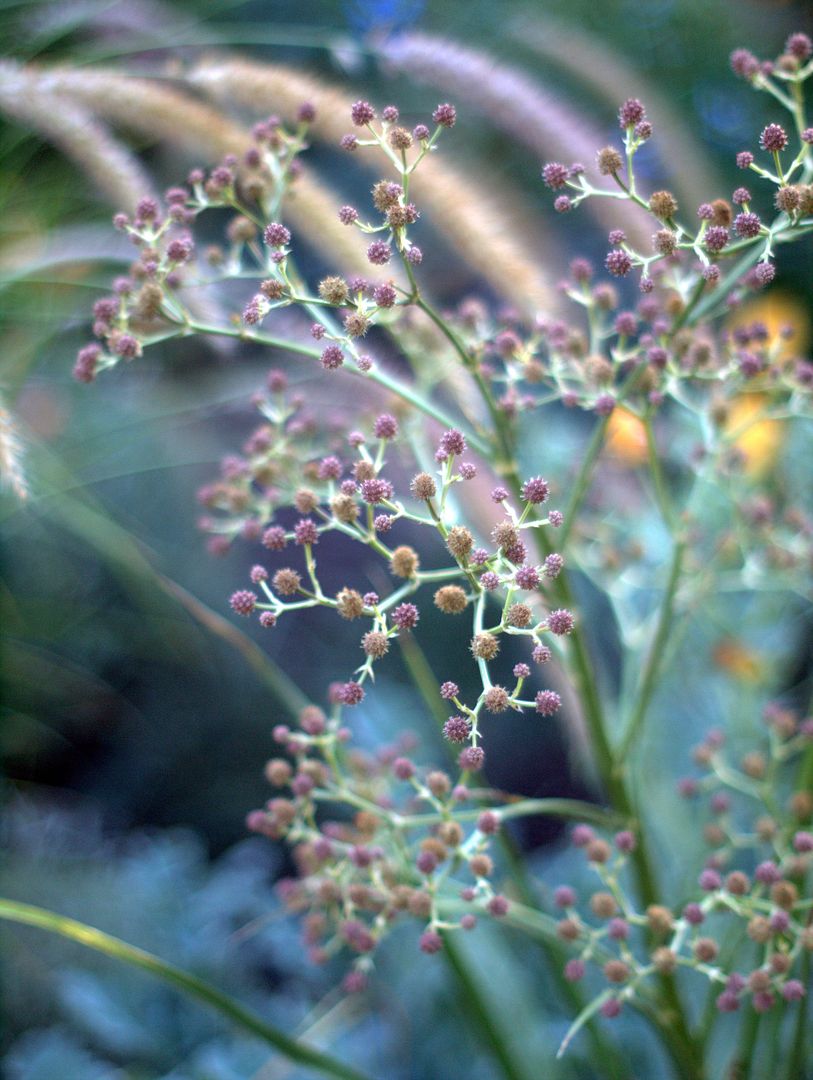 Eryngium pandanifolium has never attained the height it did the first season in the garden. This one was grown from seed of the original plant from Plant Delights.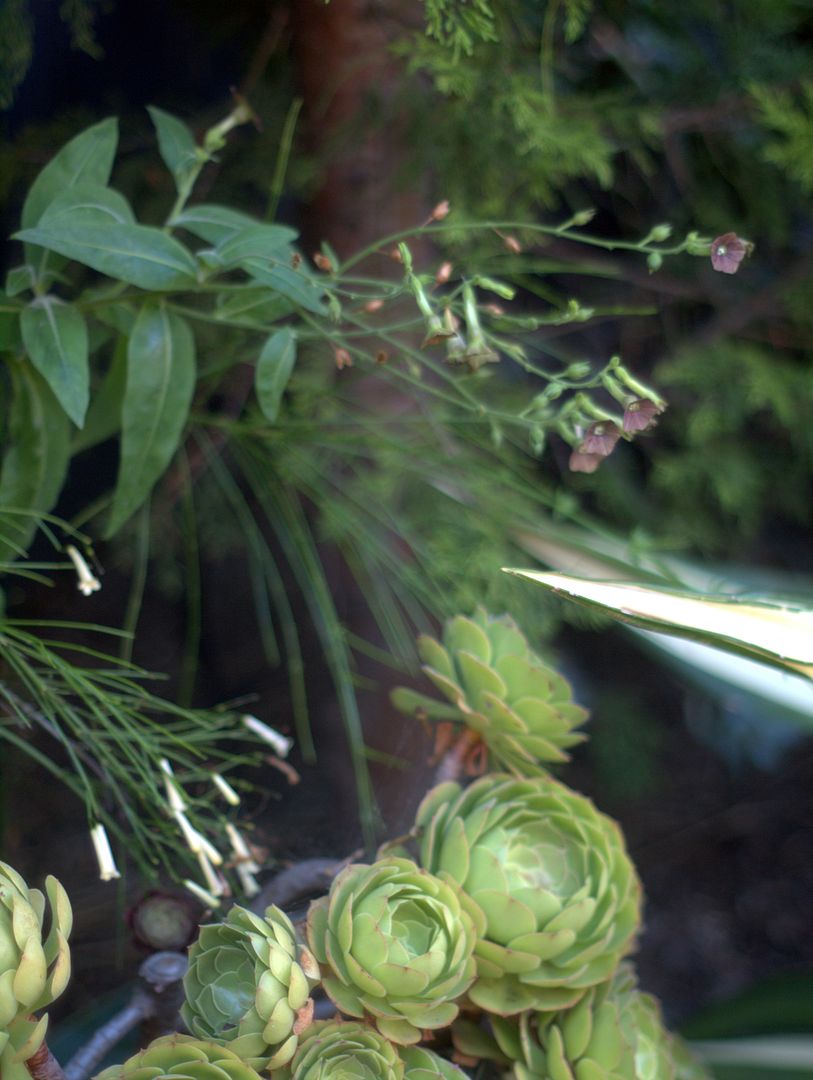 Dark brown nicotiana seeded into a pot of yellow Russelia equisetiformis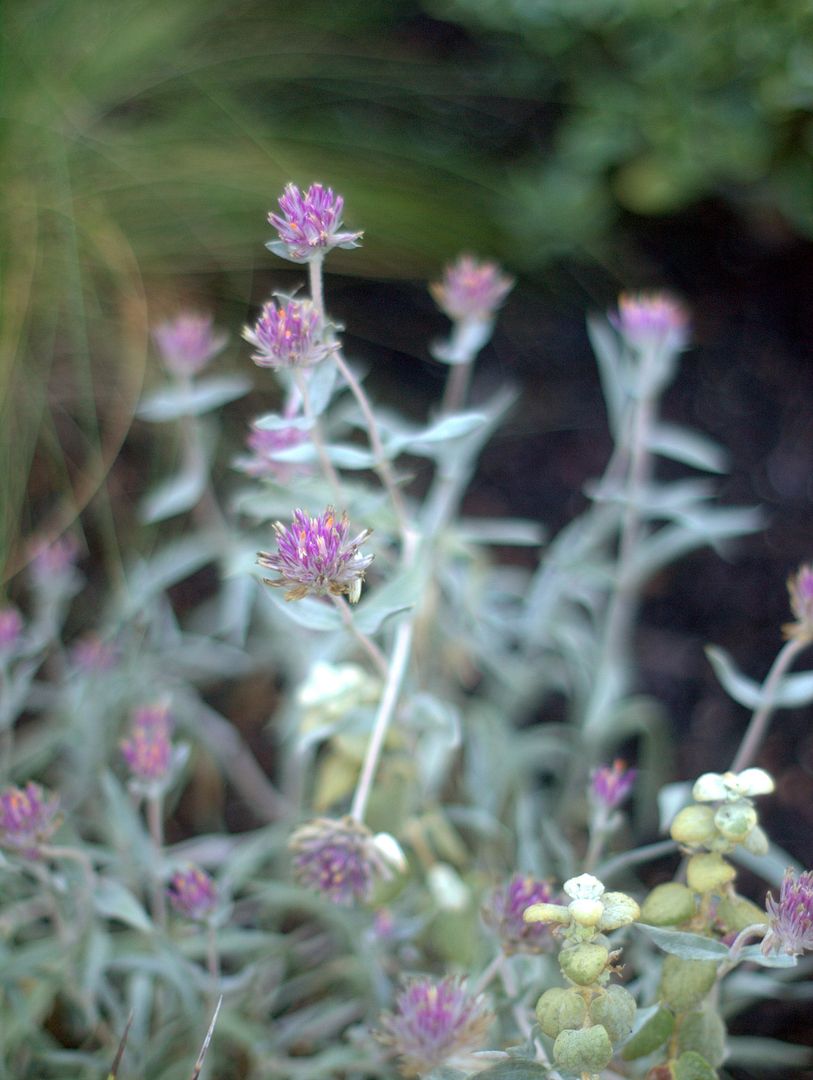 Gomphrena 'Balboa' in its first summer here. It lets you know when it's thirsty so you have to keep an eye on it, but still a fairly tough plant for full sun.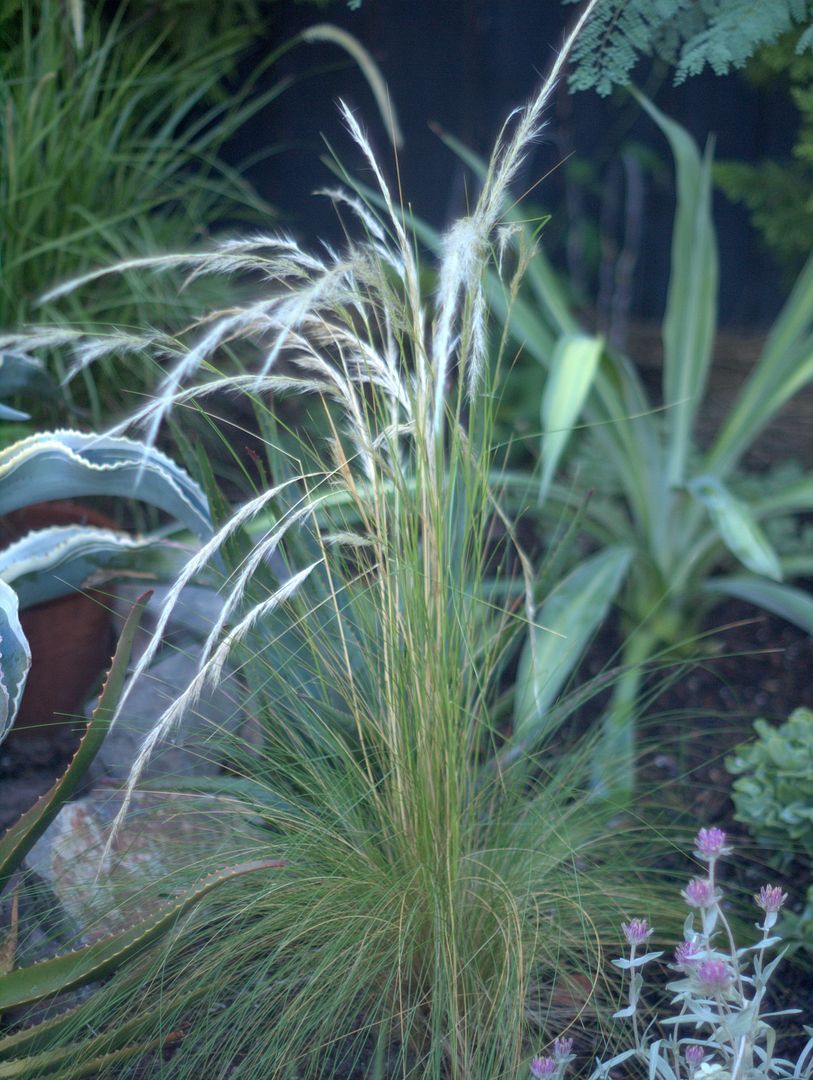 I'm already a big fan of Peruvian Feather Grass, Stipa ichu, after just one season in the garden. Nicely upright, columnar habit.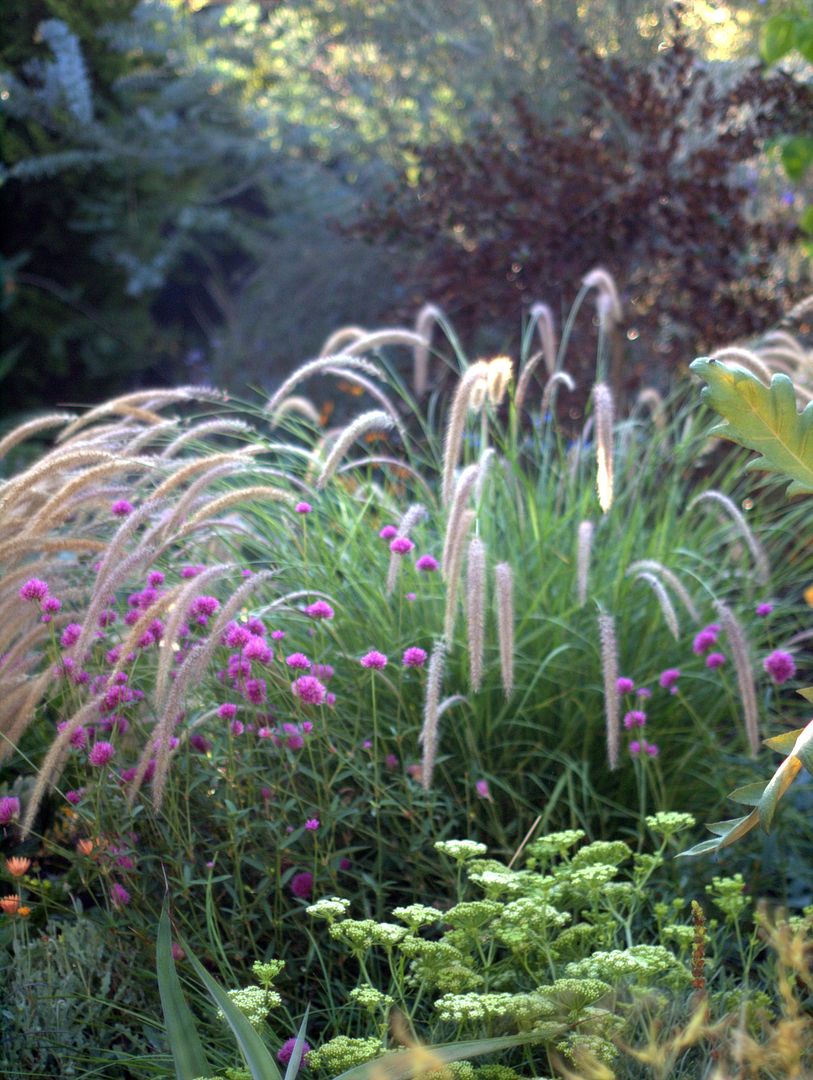 The Bloom Day summer mainstay, Gomphrena 'Fireworks,' with Pennisetum 'Sky Rocket.' Not surprisingly, this grass grows into a much bigger clump than the two in front of the cypresses.
The Desert Mallow, Sphaeralcea 'Newleaze Coral, has also won me over in its first summer in the garden.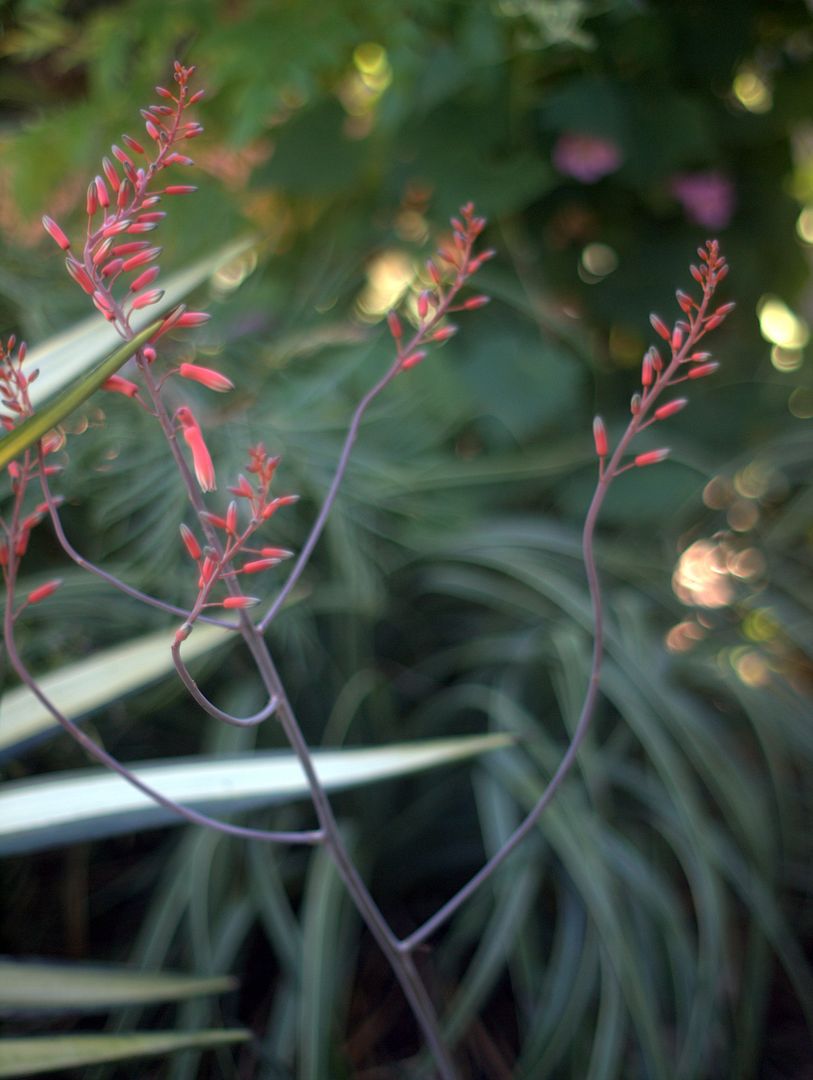 A nameless gift aloe.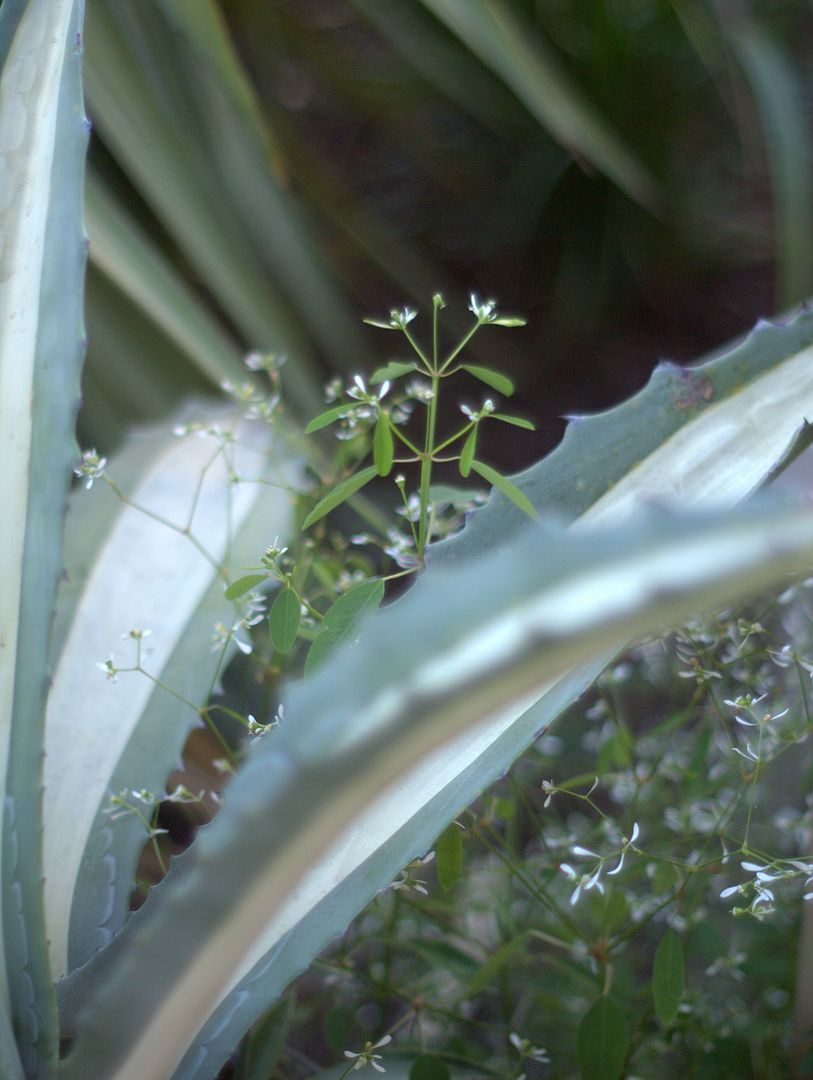 Euphorbia 'Diamond Frost' always wakes up in the heat of August. I've pulled out handfuls but a few roots always remain.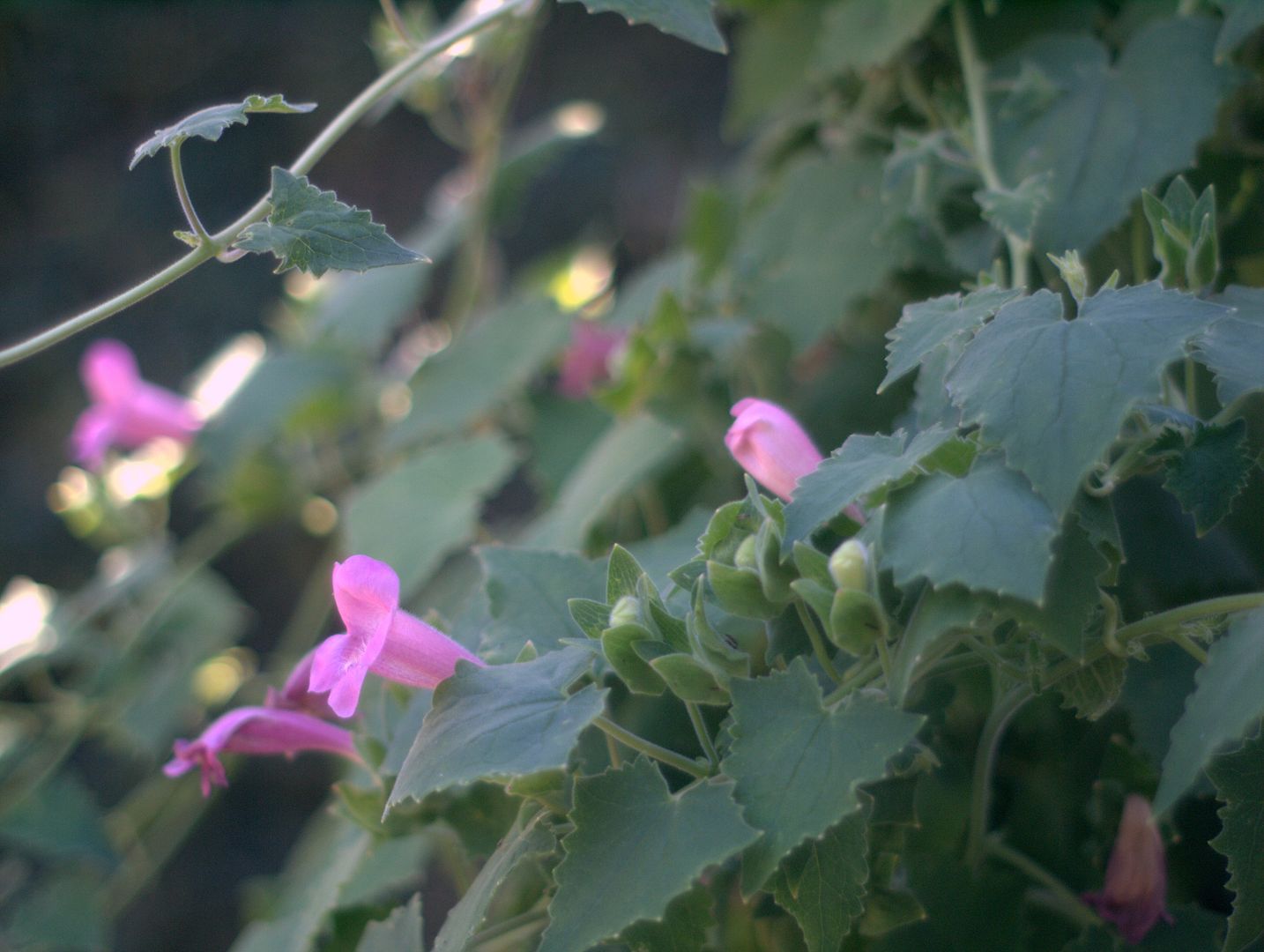 I'm assuming this is Asarina scandens, a self-sown seedling of the mother plant grown in 2011.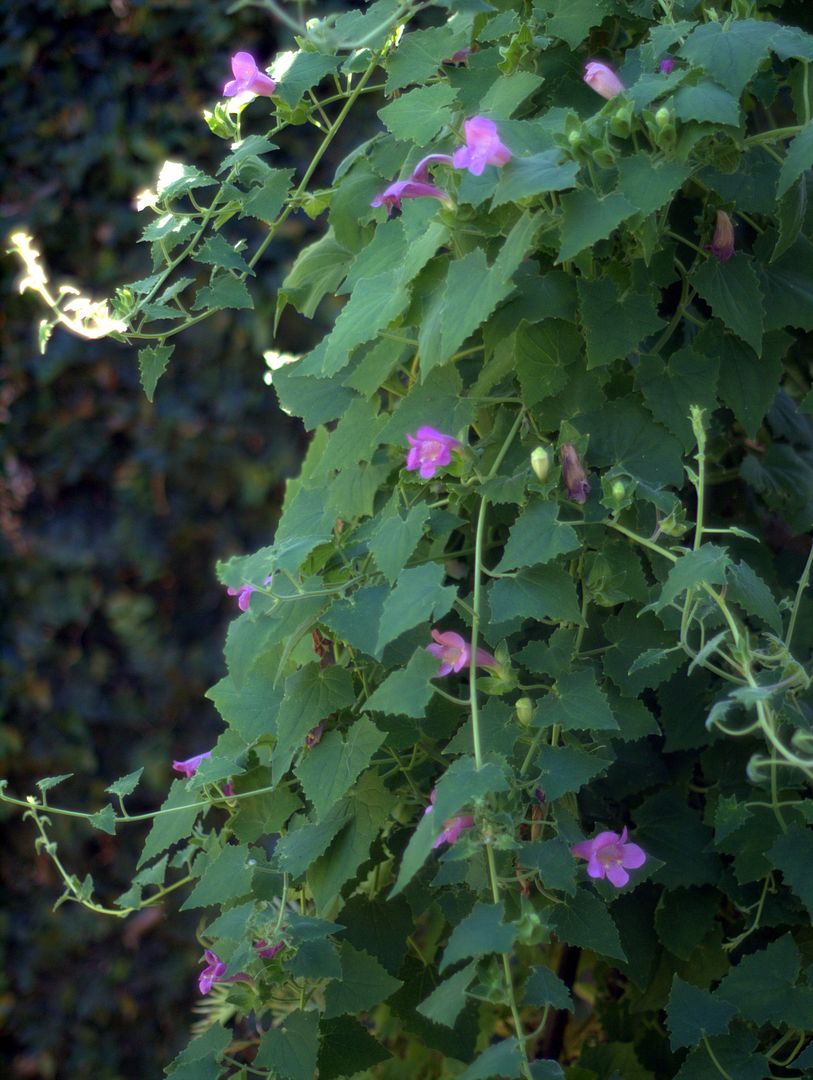 The furry leaves are always in good shape, and nothing seems to bother it or chew on it. From Mexico. I'm not in love with the light pink flowers, but it's healthy and robust, and all that counts heavily in a drought. Excitement is building as the predictions of a wet El Nino winter look more and more solid. Visit May Dreams Gardens for more August Bloom Day reports.