A couple of loose ideas came together this morning in a slowburn, sleepy kind of way. I've been envious of large stands of Agave attenuata around town, wishing I could grab a crown for dramatic inclusion in a large vase, but that would be stealing. Even though the plantings are congested and no one would miss one of dozens of rosettes from a neglected parkway. That is still, by definition, taking without permission. The second idea was the long-delayed matter of thinning a congested planting of Agave 'Blue Flame' of my own that was encroaching on a nearby aloe. I tackled that project this morning. I admit there were a few blank seconds where I failed to recognize the real-time intersection of these two ideas as I sawed away at the agave, which is after all an attenuata hybrid. I stared at the rather nice-looking rosette severed from the main plant for a few seconds and thought what a shame it was to waste — oh, wait a minute. Right! Now, which pot would be heavy enough to support it?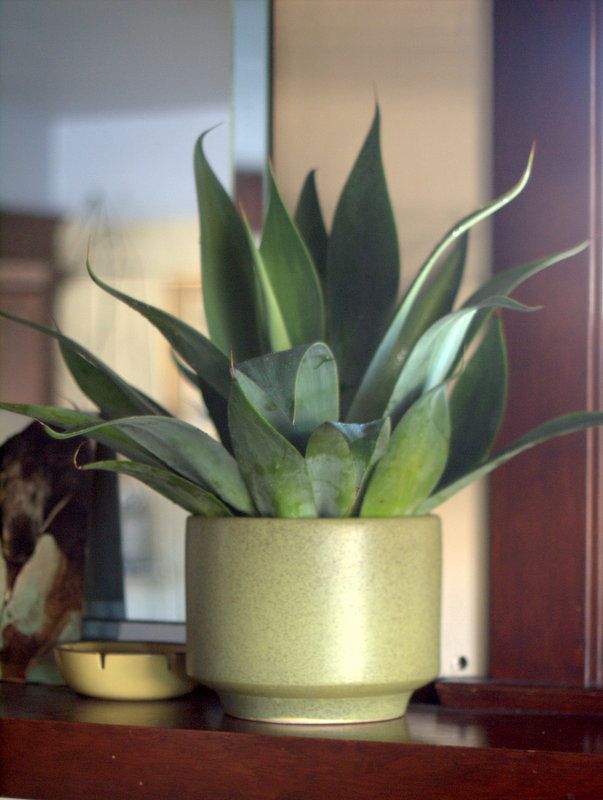 There was a tiny bit of root attached to the stem, so I filled the pot with water. My agave-as-sweet-potato experiment.
The rim supports the rosette and keeps the stem from being squashed against the bottom of the pot.
But a big glass vase, maybe even a Sparkletts bottle, where the stem and roots (if any) can be viewed would be interesting too.
More random brainstorms and Wednesday vignettes can be found at Flutter & Hum.