At the Friend Gate, Ageratum corymbosum Bartlettina sordida (thanks, Mr. Feix!)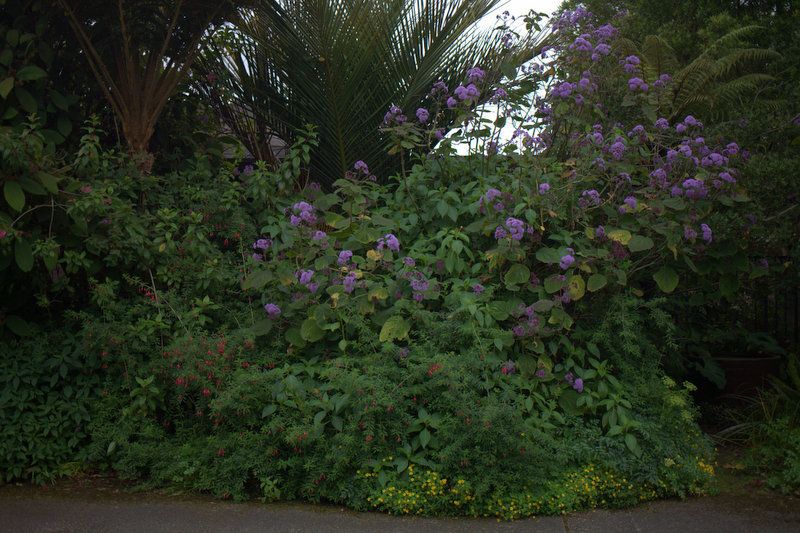 with a Fuchsia magellanica. Or maybe thymifolia. I didn't check. No time!
A few weeks ago I had the rather condensed pleasure of visiting San Francisco's Botanical Garden in Golden Gate Park for an hour.
Ahead of me in line were a couple from Scotland. Just behind me the pair were from Israel. The ticket taker was therefore not that impressed by a visitor from Los Angeles. As far as distance traveled, I was the obvious slacker.
I chose the Friend Gate entrance because that's where the daily plant sales are held.
Entering through the Friend Gate was a happy accident. Just steps away were the Australian and New Zealand gardens, and not much further away the Mediterranean garden. I immediately set to work power walking, dodging dawdlers intent on constructing the perfect selfie. Compression of time made me even more singled-minded than usual.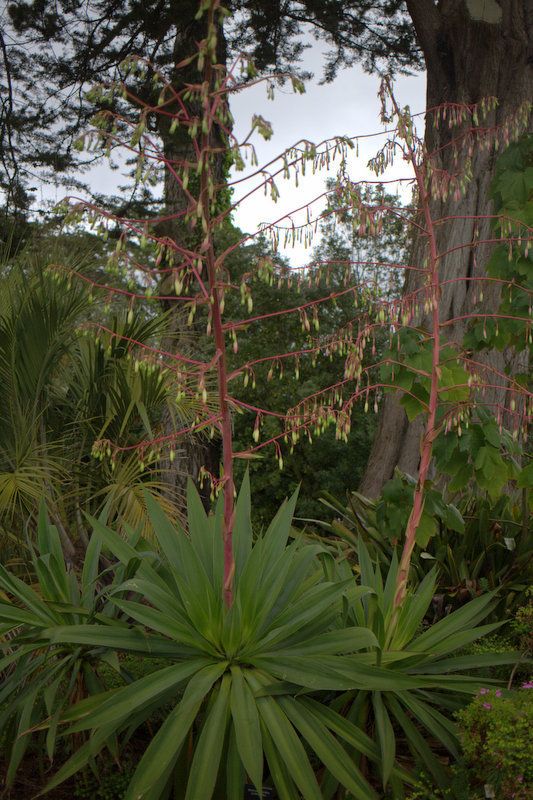 also at the entrance, beschorneria was in bloom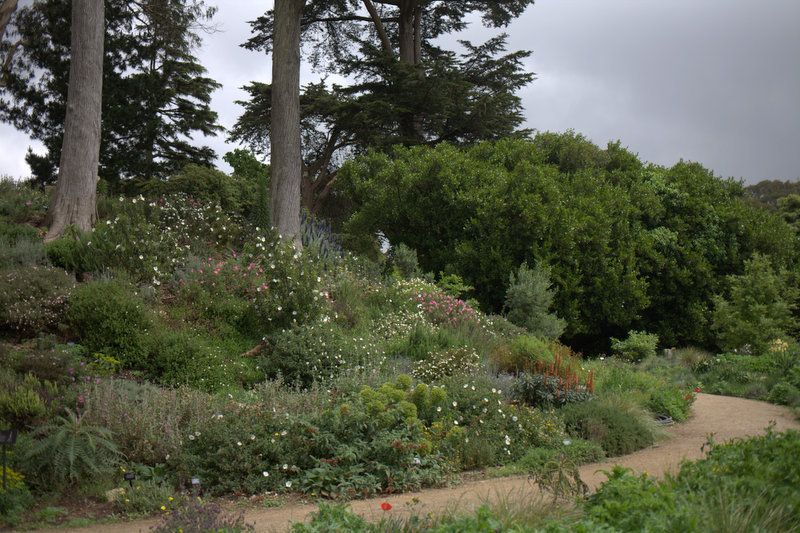 Mediterranean garden
There is such tremendous excitement walking the paths of a world-class botanical garden. If you have one in your city or nearby, then you know that the treasures of a botanical garden can only be fully revealed in frequent visits several times a year. ("Don't miss a spectacular array of blooms each winter in one of the finest collections of deciduous magnolias in the United States.") Sometimes a week can make a difference. If you blink, you'll miss the bloom time of bearded iris, for example.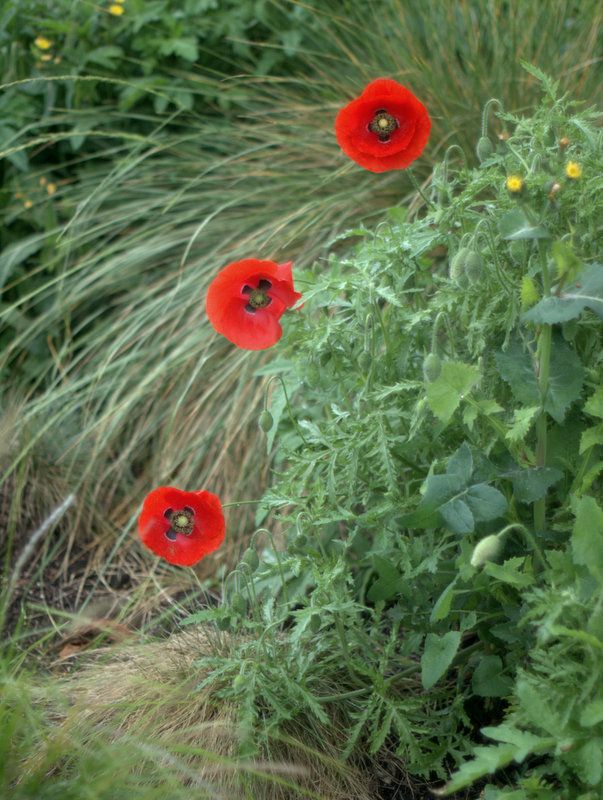 Poppies are fleeting. These may still be in bloom next month. SF's climate is kinder to blooms than mine. (Nice heat wave in LA, April!)
I visit the Huntington often (yesterday, in fact, for the plant sale) and Los Angeles Arboretum, and each visit is unique depending on what's in bloom, whether it's the aloes, the puyas, the proteaceae. Or wherever your botanical passion leads you. Rhododendrons, roses, ferns.
For example, say you think rhododendrons are boring, stuffy foundation hedges.
And then you meet this one on the path. It was labeled Rhododendron 'Loderi Game Chick,' but an image search shows a conflict with that name. For our purposes, it shall be known as 'Unknown Sexy Rhododendron."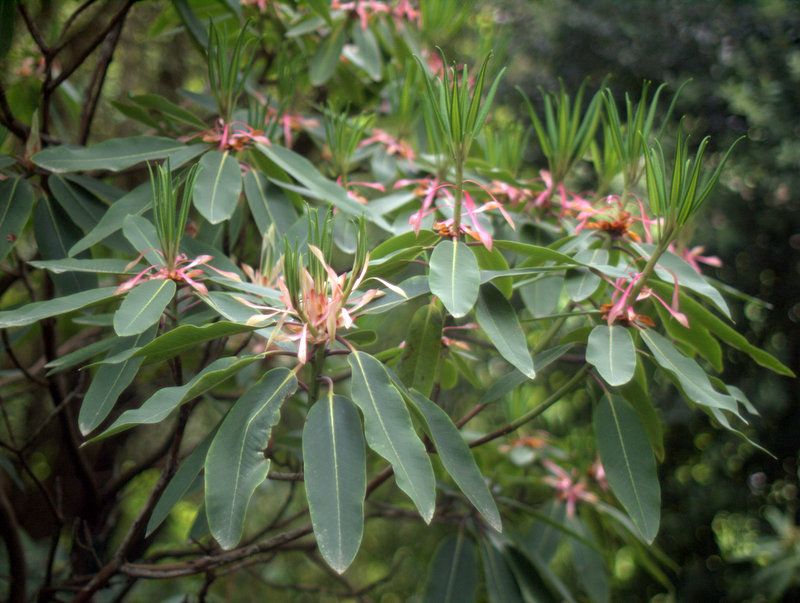 I know nothing whatever of this vast family of plants from Asia, except they always make me think of English explorers like E.H. Wilson. There's a book about the prodigious plant-collecting Mr. Wilson on the shelves around here somewhere. I do know that it's the tropical vireya rhodies that just might be persuaded to grow in Los Angeles.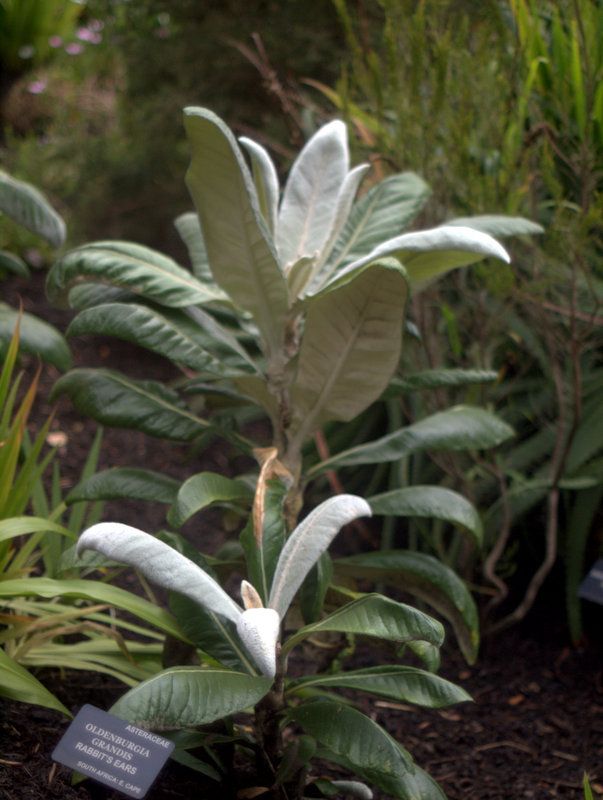 ooh, nice tomentum!
And there's always the never-before-seen-or-heard-of plant, at least for me. This visit it was Oldenburgia grandis. From South Africa, a tree in the asteraceae family.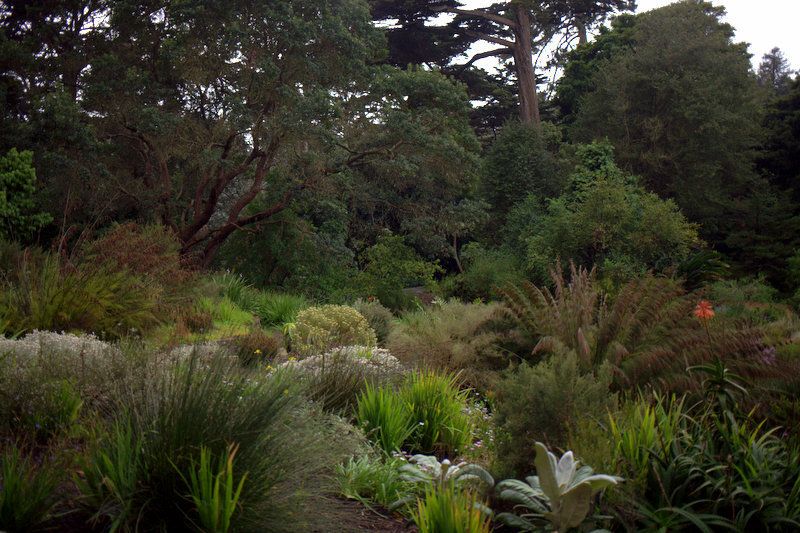 Oldenburgia in the immediate foreground, with Phyllica pubescens shining golden in the midground, and restios.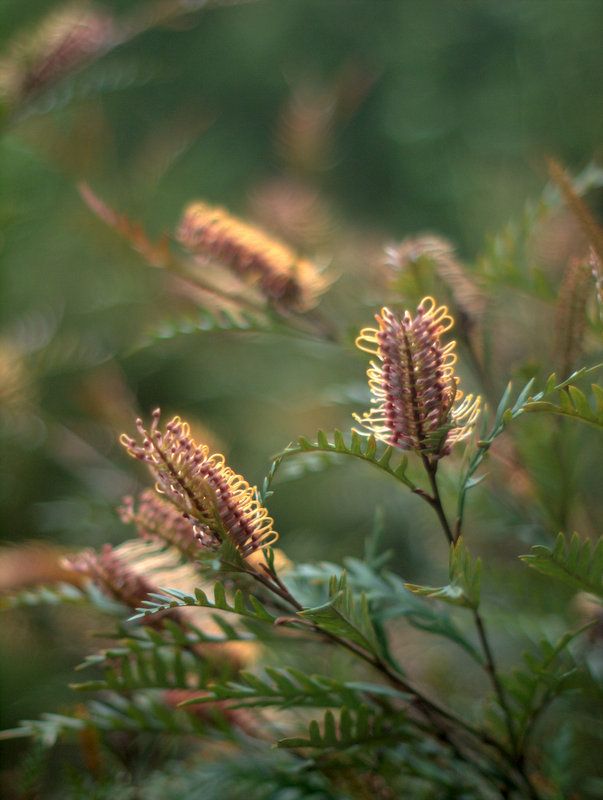 unlabeled grevillea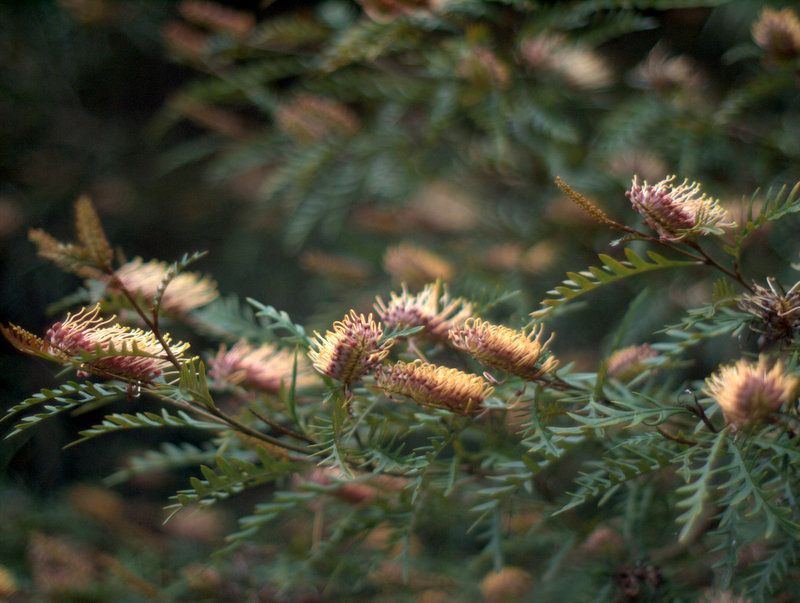 'Unknown Sexy Grevillea'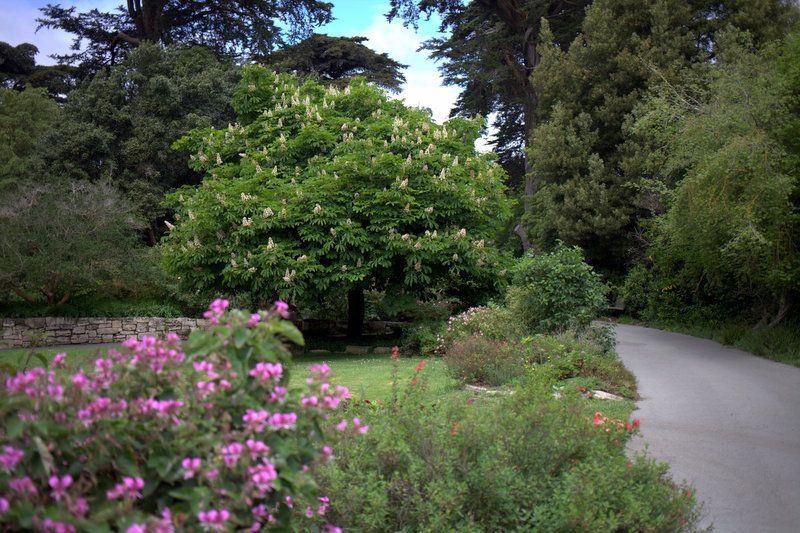 California buckeye
Trees growing unfettered by utility poles, cramped parkways, or neighbor disputes are always the glory of any botanical garden.
It probably goes without saying but, botanically, I confess to being rather promiscuous. I don't specialize. I love it all. And I don't know San Francisco Botanical Garden as well as I'd like. I've always loved the climate. When briefly living here a couple years, the fog never grew tiresome. It was always an intriguing, mysterious, shape-shifting stranger, with the power to alter and muffle sound. And also to bestow really big hair. Plants love it, so of course I do too, my big hair notwithstanding. And unlike here in Los Angeles, there was relatively good rainfall in Northern California this past winter.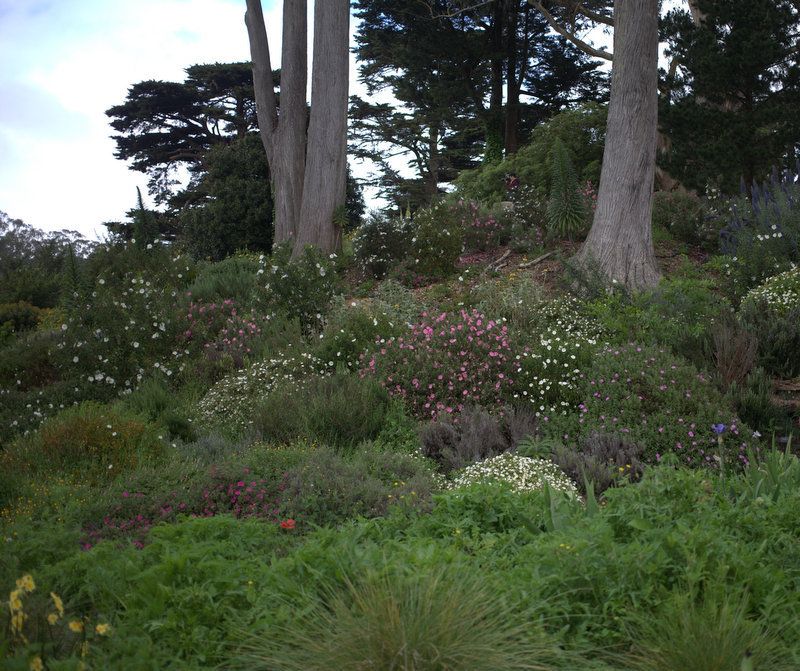 This visit, the cistus were in bloom in the Mediterranean garden.
Cistus 'Troubador'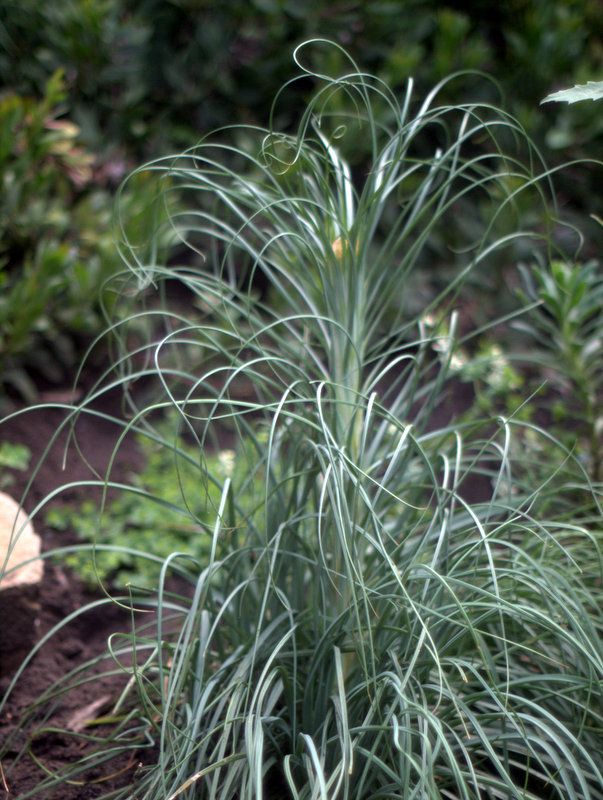 Asphodels were stirring.
Echiums love their adopted home in California.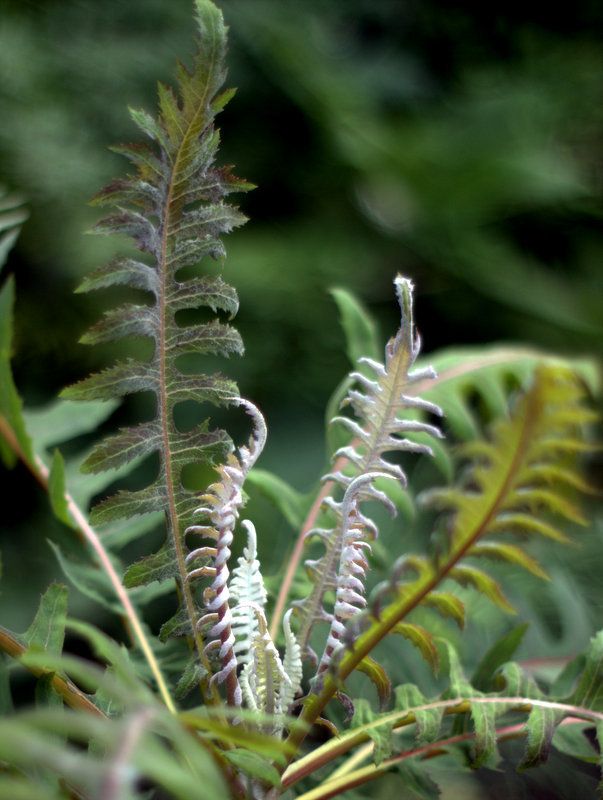 The Canary Islander Sonchus palmensis carpeted the hillside.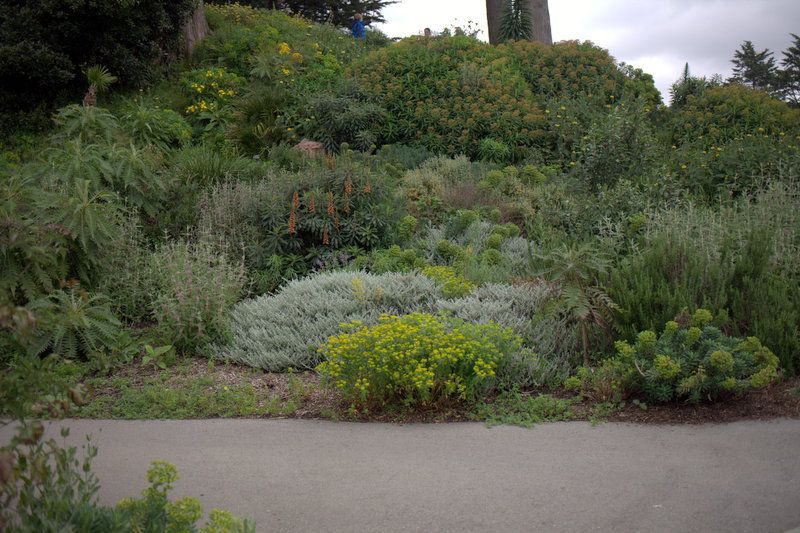 With Euphorbia characias and mellifera, orange spires of isoplexis.
Phlomis and helichrysum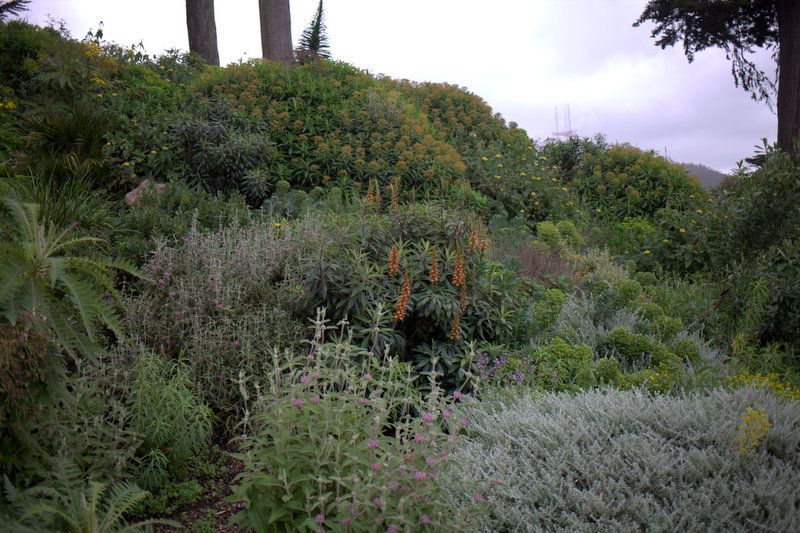 If you've ever tried to create a tightly woven community of plants based on similar light and moisture needs, on any scale, you'll appreciate what's been done here. Massed for effect, but each plant's distinctive characteristics legible to the eye.
If I was a local, I know my next visit would be at their annual plant sale, this May 6 and 7, 2016.