Yesterday morning, in the shower, I wondered if men were writing the code and starting up sites like Etsy, and if women were thereafter predominantly the ones selling their wares in this virtual bazaar. There's no point to a lengthier prefatory explanation. One just never knows what ruminations a hot shower will bring about, though topics like what will 21st century labor look like are a good bet for me. Immediately after the shower, next order of business was Google.
My familiarity with the crafts site Etsy can't be more than a year old, gleaned from reading design blogs probably. I've never bought anything from Etsy, but it is a very intriguing concept. One of my best friends in high school in the '70s was an ardent practitioner of the the arcane needle arts, like lace making, tatting, and lots other esoteric ones that I don't remember because, frankly, I just wasn't paying attention. Chalk it up to callow youth, but I felt if it wasn't Art, it was a hobby, busy work, a diversion and distraction from More Important Things. Throw in there, too, "women's work." I admired her handiwork and always offered enthusiastic praise and support, but was secretly puzzled by her zeal to pursue one craft after another as if her life depended on it. She serially tackled and mastered craft after craft, always producing exquisite work.
Sometime in the mid '90s this friend took me to an exhibition in Santa Monica of Liza Lou's "Kitchen," and I began to see my friend's obsession with new eyes. In fact, my friend had been one of the many volunteers who helped bead hundreds of blades of grass for "Backyard." For Liza Lou, "The dignity of the doing is the meaning of my work."
A detail of Liza Lou's "Kitchen" from American Craft magazine: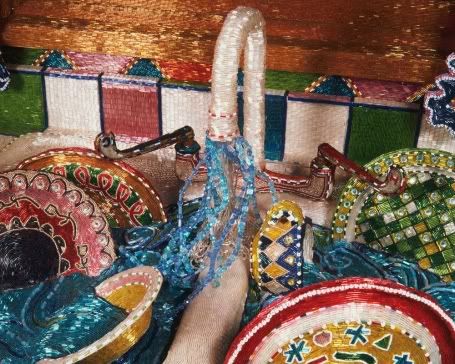 I knew my friend hoped to ease out of her office job and sell her work at craft shows and maybe local shops, but she ended up landing a job with the U.S. Post Office which consumed even more of her time and energy, then had a child in her forties, and then — whoosh. I often wonder how things might have turned out if the Internet and Etsy were around back in the '70s.
According to what my search string discovered, she would have allegedly entered a nearly all-female ghetto of craft piecework, a throwback to early 20th century sweatshops and disasters like the Triangle Sewing Factory Fire, albeit your own private sweat shop where the door remained unlocked in case of conflagration.
Someone had indeed crunched the numbers. First of all, my hunch was correct: The Etsy site is primarily used by women but was developed by some guys in Brooklyn.
The search string I used after my shower was "Etsy statistics male female," which catapulted me into a controversy started by Sara Mosle in an article she wrote for Double XX entitled "Etsy.com Peddles a False Feminist Fantasy." Sample quote: "Etsy actively fosters the delusion that any woman with pluck and ingenuity can earn a viable living without leaving her home."
Mosle's article was further discussed and its premise mostly rejected on The Frisky in an article by Amelia McDonnell-Parry entitled "Etsy: A 'Female Ghetto' For The Creative & Crafty?" Sample quote: "Etsy hasn't pulled the wool over their eyes, they aren't stuck in some artsy/crafty female ghetto just because they aren't getting rich off handmade stationery." The mostly irate readers' comments are also worth perusing.
But wait, there's more. The most incendiary rebuke to Mosle's article comes from Jezebel in a piece entitled "Slate Ladyblog Slaps The "Feminist Fantasy" Of Etsy." Here the readers' remarks are, as my youngest son would put it, off the chain.
I remembered reading a more positive, boosterish piece on Etsy in the New York Times recently, so hunted for that. ("That Hobby Looks Like a Lot of Work," by Alex Williams 12/16/09.) This article held out the hope of a possible six-figure income being derived from selling on Etsy. Here, too, the readers' comments are as informative as the article itself. Reader "Lily Briscoe" (obviously a Virginia Woolf fan) wrote: "The products are creative and wonderful. I admire the women who produce these one of a kind items. However, from an economic perspective, Etsy is basically promoting a glorified version of piece work. In the early 20th century, women living in cold water tenements on the Lower Eastside churned out beautiful things too. The article reads like another sign that our country's prosperity is sliding backwards. Where are the jobs that provide benefits and a living wage?"
Another reader warned that anyone knitting as many hours a day as a woman featured in the article would soon end up an upper-body cripple.
Brett from Arizona's response to the NYT article: "Why did this home made market ever go away? Because mass production is cheaper and more efficient. That may sound like evil corporate speak, but it actually amounts to more resources being used. More gas for delivery, more on decentralized logistics and it all adds up to costing more to society than mass production. Mechanization and economies of scale made sense in 1900 and still do. Machines free us from drudgery and economies of scale make the marginal inputs into production less costly…as has already been told, some will find themselves returning to the servitude of manual labor that we purposely left behind during the industrial revolution."
Etsy as business incubator or personal sweat shop? Another installment in the continuing saga of machines, fitness of purpose, people, work, labor, craft, what to do with our hands, what to do with our brains, what to do with our talents (how good am I at this skill anyway?), and as Liza Lou succinctly put it, "The dignity of the doing."