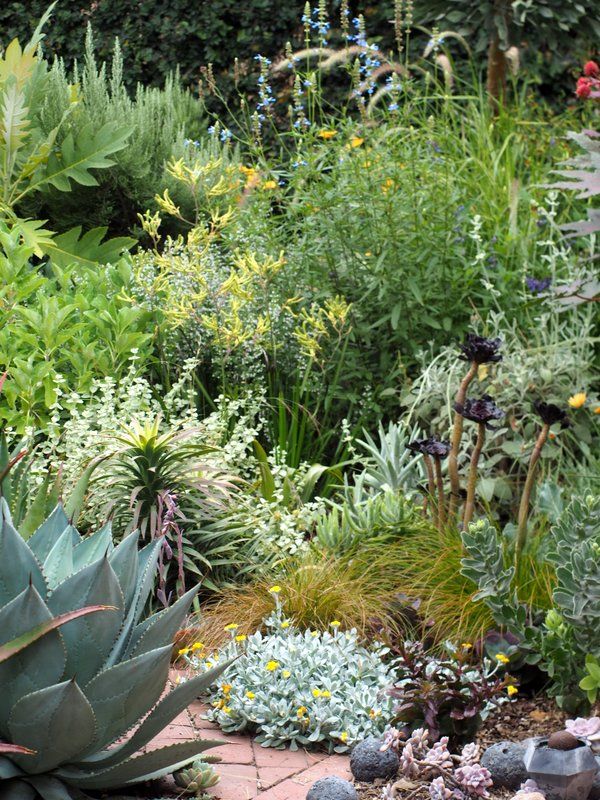 I'm going to try a systematic approach, so bear with me. Right outside the office, the planting is getting some height from the bog sage, kangaroo paws, and Pennisetum 'Skyrocket' showing a few blooms way in the back.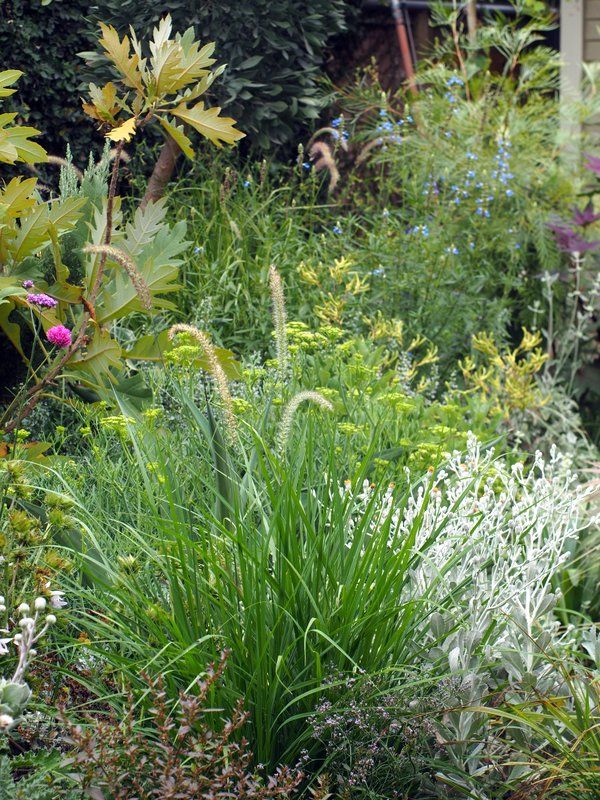 Using the bocconia as a reference point, swinging east, away from the office, the Crithmum maritimum, an almost succulent-like umbellifer, is in bloom at the base of the bocconia. The grass in front of the crithmum, Pennisetum 'Fairy Tails,' is just getting started.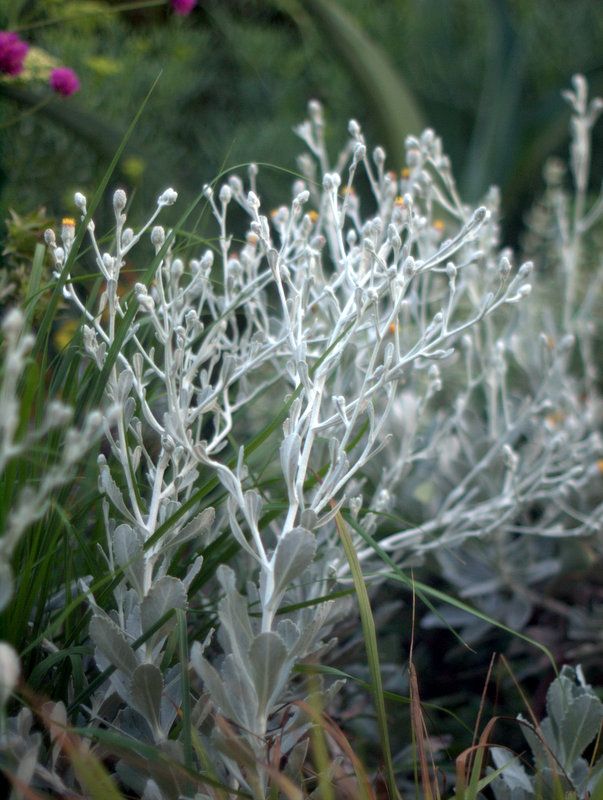 Silvery plant to the right of P. 'Fairy Tails' is the Island Bristleweed, Hazardia detonsa, endemic to the Channel Islands off Ventura, Calif. The tiny golden paint brush blooms are only interesting insofar as they elongate and further develop the plant's architecture. I love the overall effect.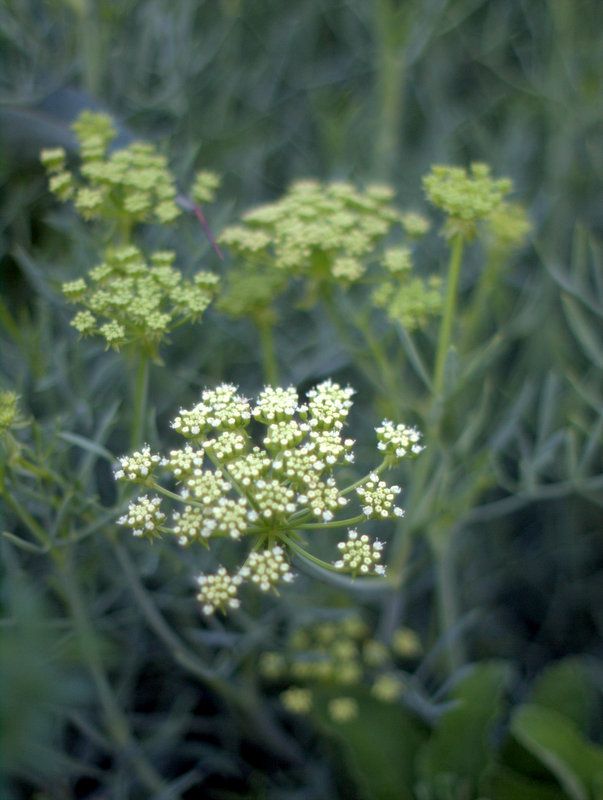 Closeup of the crithmum.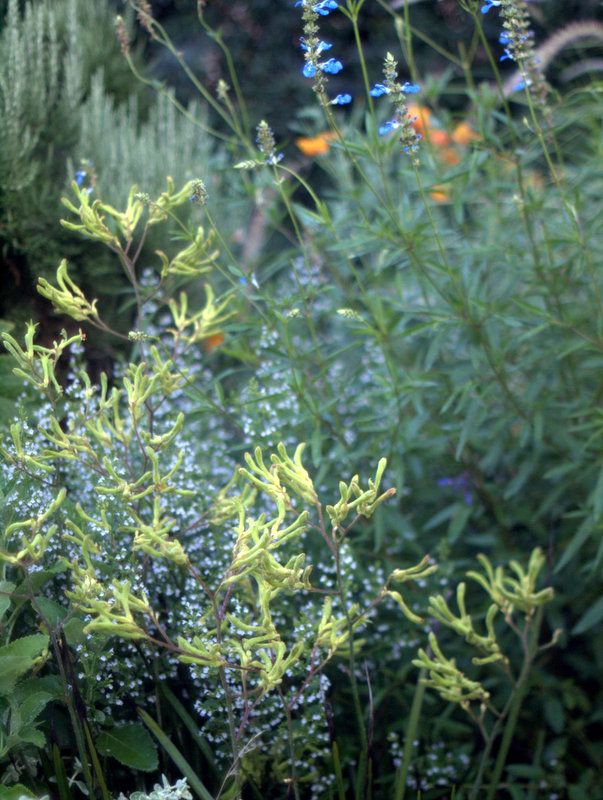 Before leaving the office planting, I want to give a shout out to Calamintha 'Montrose White.' Frustratingly difficult to get a decent photo of the clouds of tiny white flowers. But so cool and Grace Kelly elegant. The bees and I are wholly smitten. It is by far the best bee plant in the garden.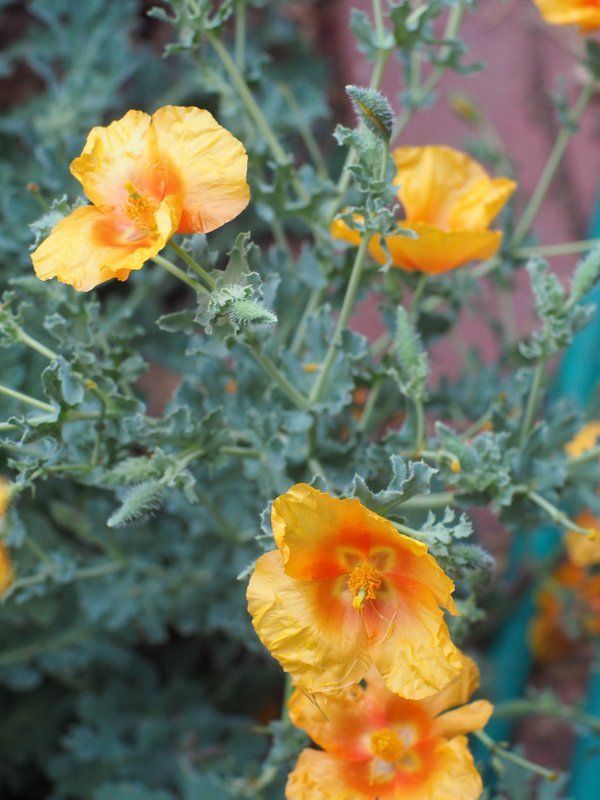 A second clump of Glaucium grandiflorum has just started blooming behind the calamint.
In the foreground of the first photo is this amazing, silver-leaved mat-grower whose name I never committed to memory. It may have once been known as a helichrysum. Hasn't every silver plant? Sold as a summer annual, it would be perennial here in zone 10. Even though planted spring/early summer during some easy-going temperatures, this one gave me the same trouble as Stachys 'Bella Grigio.' Both collapsed after a couple days in the ground. I pulled them out, set them in the shade, where they surprised me by fully recovering. In both cases, the soil mix was incredibly fast draining. The heavier garden soil was wicking away all the moisture. After recovery, the mat grower was moved back into the garden. Some careful hand watering has helped to reveal its true and sturdy dry garden temperament.
(edited to add mat grower's identity: Chrysocephalum aplicata. thanks, Hoov!)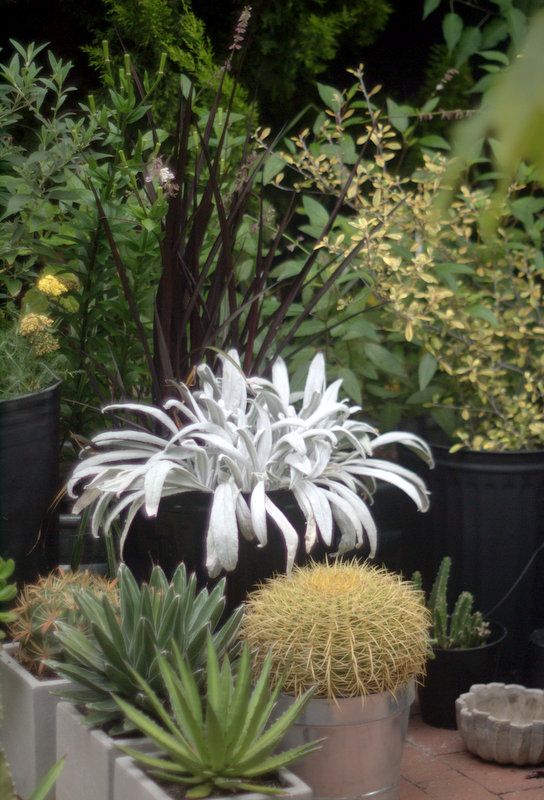 The stachys will reside in a container for summer, and if it makes it to fall I'll reappraise options for a spot in the garden. I asked the nurseryman if this stachys was the real deal, as in is it trustworthy enough for use in landscaping projects? He assured me that it was. I remain unconvinced.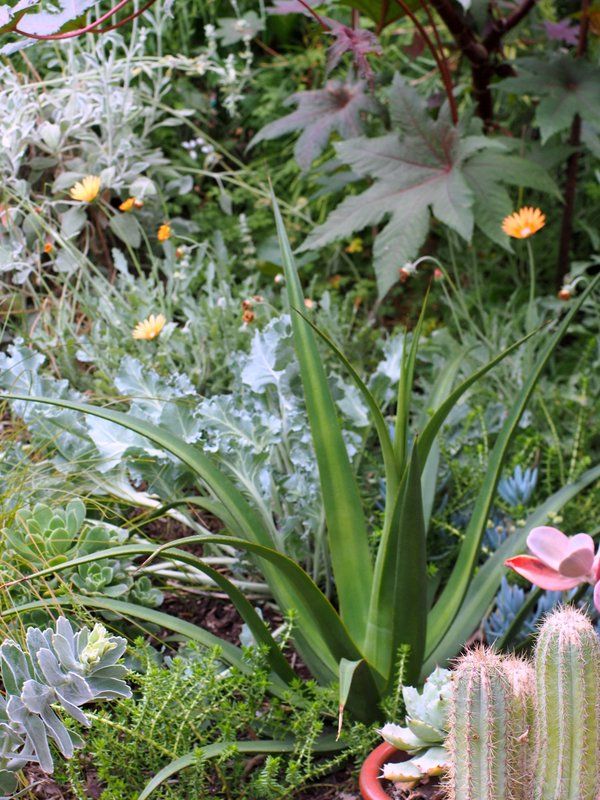 Still near the office, Agave 'Mateo' with the Crambe maritima (that never blooms), orange arctotis, Ricinus 'New Zealand Purple,' succulents, sideritis.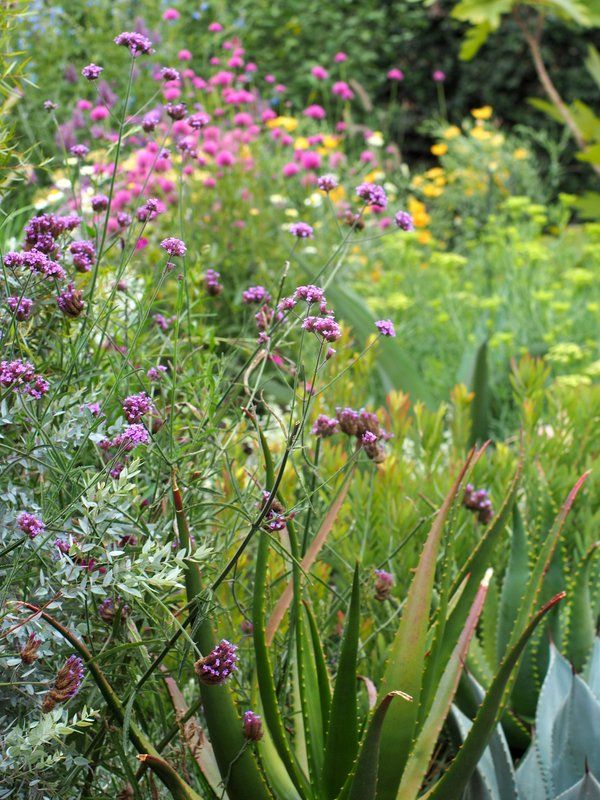 Verbena bonariensis finds support among aloes and agaves — as do I! (Okay, I'm officially ditching that impossible systematic approach now.)
Penstemon 'Enor' had the usual problems with budworms blasting the flower buds before opening, but the wasps seem to have sorted it all out now. My theory is whatever insecticide suppressant is in use at nurseries wears off soon after planting. As ever, I'm always thankful for parasitizing wasps and hungry birds.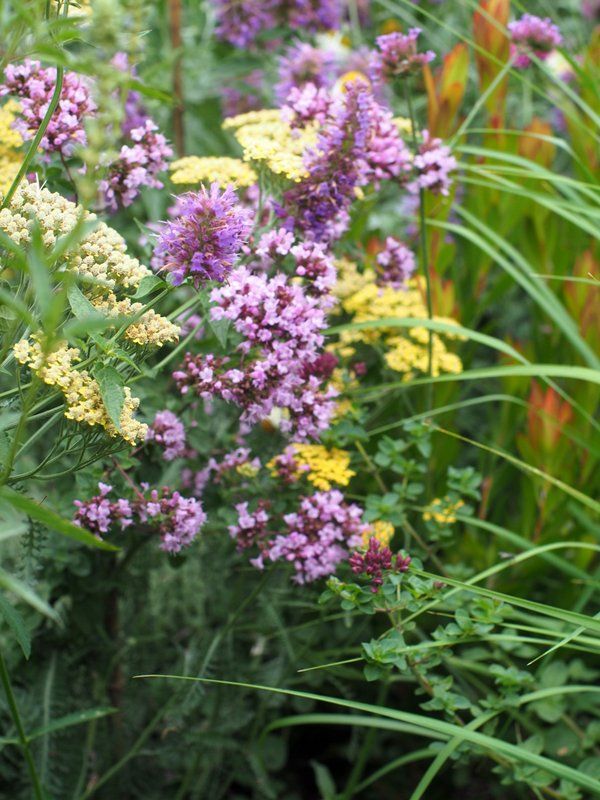 Origanum 'Rosenkuppel' in the center, with yarrow and agastache.
Yesterday I took out the largest planting of this oregano to try out Sedum 'Blue Pearl.' The oregano is a demure evergreen mat all winter but leaps into alarmingly expansive growth in summer. It suffocated a grevillea and threatened to do the same to other neighbors. Like first world problems, similarly, these issues get filed under small garden problems.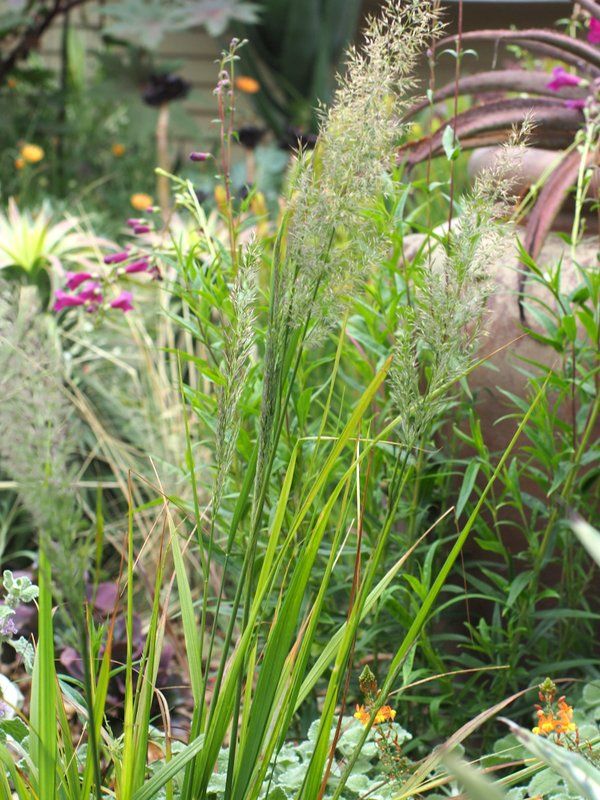 Calamagrostis brachytricha has about five bloom stalks. Prefers moist soil, but okay on the drier side.
Ruby grass, Melinus nerviglumis, was recently added to fill gaps where I took out a couple clumps of Elymus 'Canyon Prince.' I love the elymus, but it also needs a bigger garden to develop and play out its rhythms. And possibly a more wind-exposed site. One clump of elymus tentatively remains.
And yes, Margaret, there is a fast-blooming puya. Not the sexiest, but the quickest to bloom. And Puya laxa's very prickly leaves are like silvery tillandsias for full sun. It's a notorious spreader, so it remains in a pot. Since this photo, a navy-blue flower has opened, barely discernible in the overall scheme of things. Even though it's not one of the flamboyant turquoise beauties, I do appreciate the quickness to bloom, tall, stemmy structure, and the gorgeous leaves.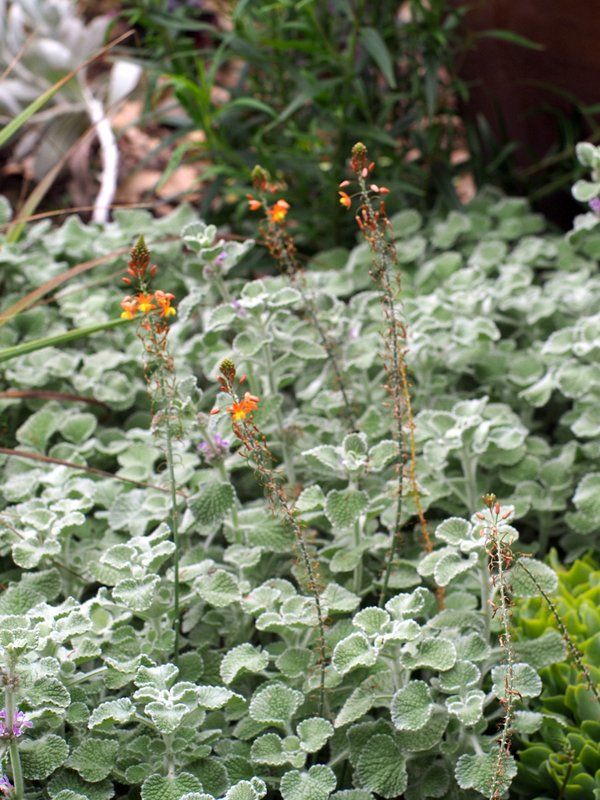 Bulbine 'Athena Compact Orange' blooming through a carpet of horehound, Marrubium supinum.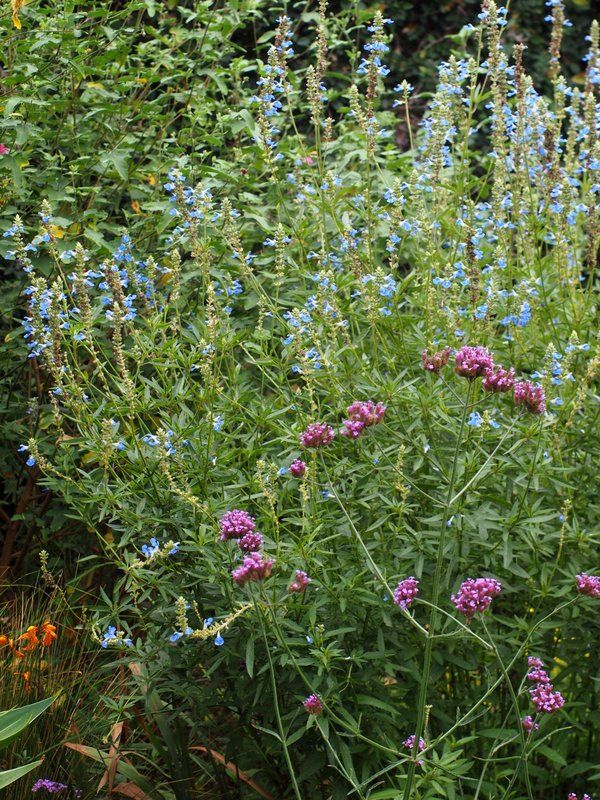 A second clump of bog sage mid garden with Verbena bonariensis. The black bumblebees and hummingbirds go for the bog sage, the butterflies favor the verbena. The bog sage, Salvia uliginosa, has elbowed out Crocosmia 'Solfatarre' this summer, so there will be some shifting around this fall.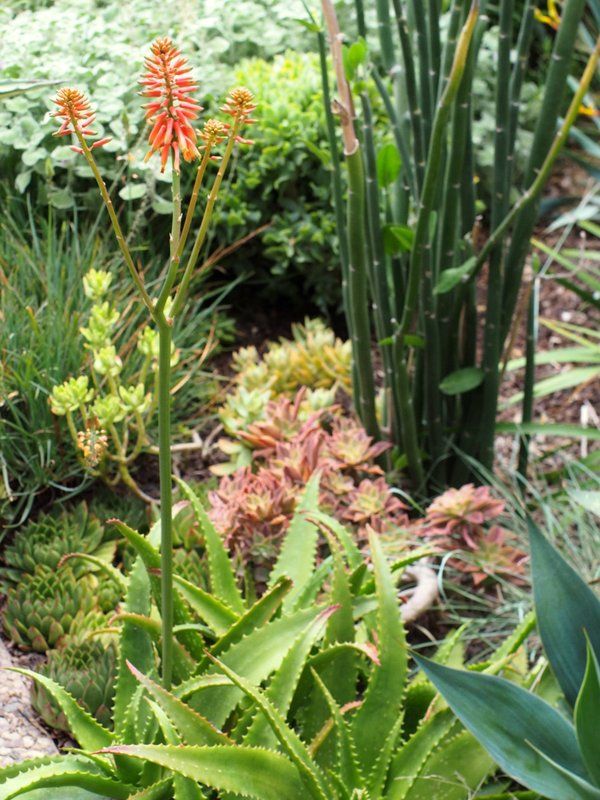 Just giddy about summer-blooming Aloe 'Cynthia Giddy'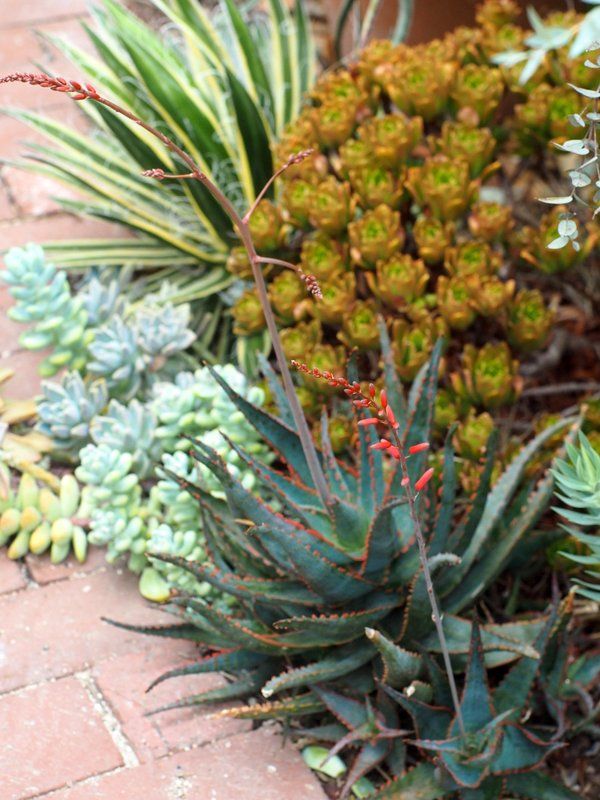 Possibly Aloe 'Christmas Cheer' giving off some July cheer too.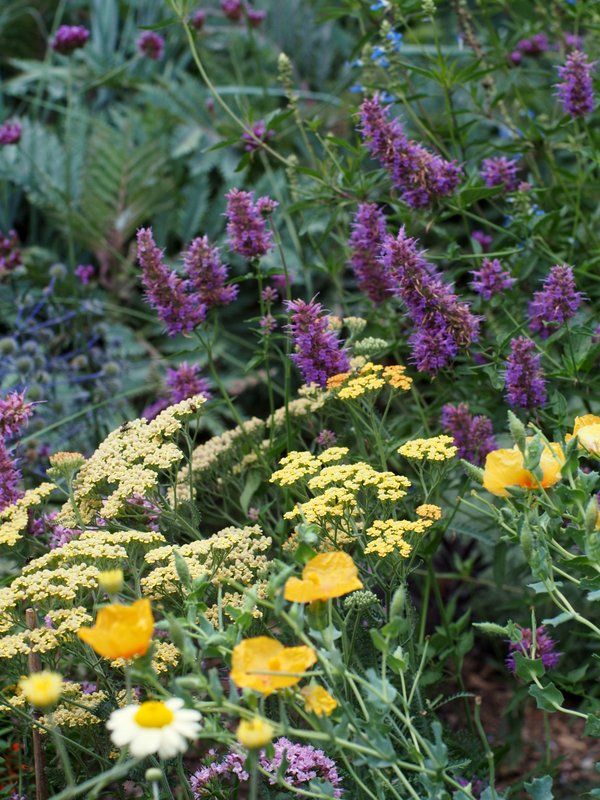 Mid garden crescendo with Agastache 'Blue Blazes,' Achillea 'Terra Cotta,' eryngium, glaucium, oregano, verbena, anthemis, bog sage, melianthus.
Indefatigable Gomphrena 'Fireworks' bulwarked by Senecio medley-woodii. Anthemis 'Susannah Mitchell, kangaroo paws. Berkheya purpurea obligingly keeps sending up one bloom truss after another.
And that, give or take, is a wrap on July's Bloom Day. Check out our host's site May Dreams Gardens for more blog contributions to July Bloom Day.