I so rarely document thoroughly, before and after, that I thought for once I'd push back a little against those slacker tendencies. This small project is an easy place to start. In the last post, there were four 'Cousin Itt' acacias added under the fringe tree, and that was theoretically the end of it. Where we left off, I was going to leave space open to sweep in the leaves and not plant bromeliads because it'll be messy with the tree litter, etc., etc. I am so full of shit, it still astounds me. No way can I leave something half-planted like that. In for a penny, in for a pound, always. So this morning the burning question was: What other dry shade-tolerant stuff do I have lying around?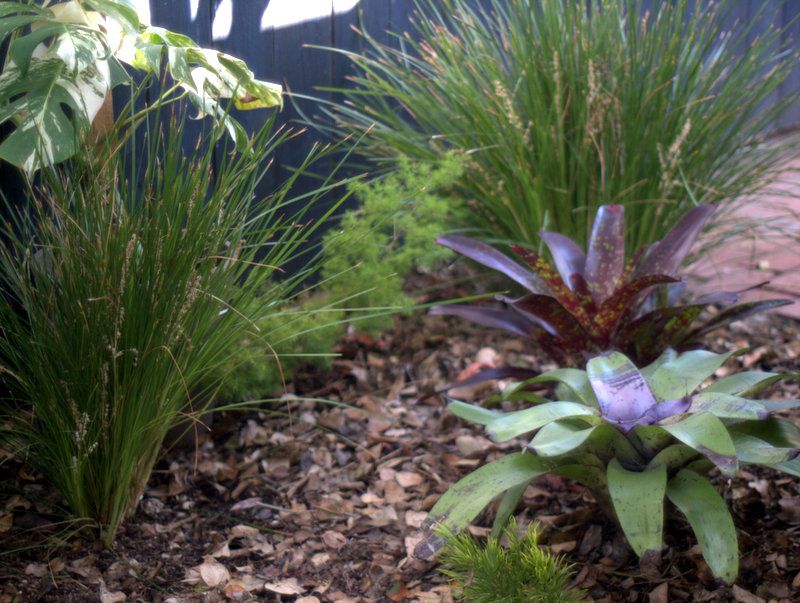 There's this huge potted Lomandra 'Breeze' that can be sawed into two big clumps. Rough treatment, but I seriously doubt one can mistreat a lomandra. We'll see. A potted Asparagus retrofractus to billow between the two lomandras, all kind of hitting the same shade of bright green so the mix of plants isn't too patchwork. A few bromeliads for big crazy colorful rosettes, tree litter be damned. As shallow growers, it's easy to change your mind with bromeliads. I'll probably remove them before they get buried in leaves over winter.
Still too bare for my taste, but if the acacias like it here they can get over 4 feet across.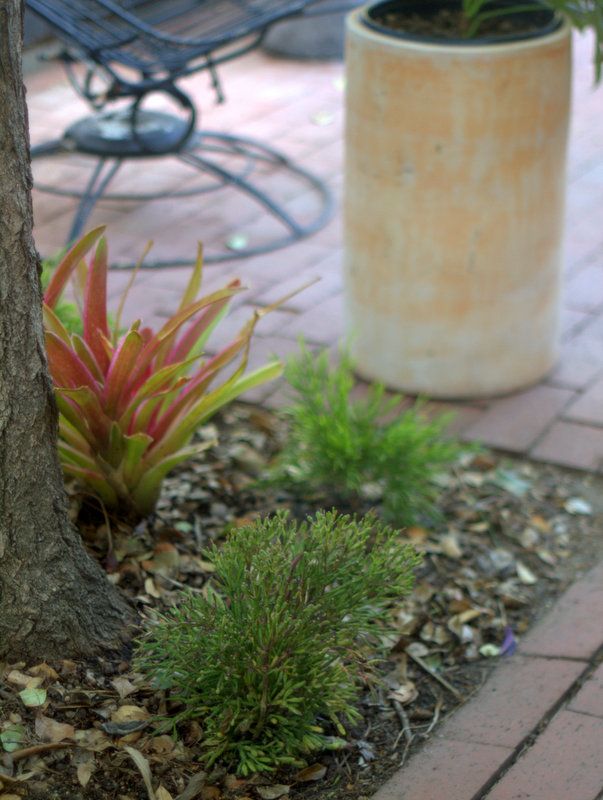 This no ID rhipsalis seems to be growing in an upright clump, so it gets to be the fifth "acacia." Very root-infested soil in this spot.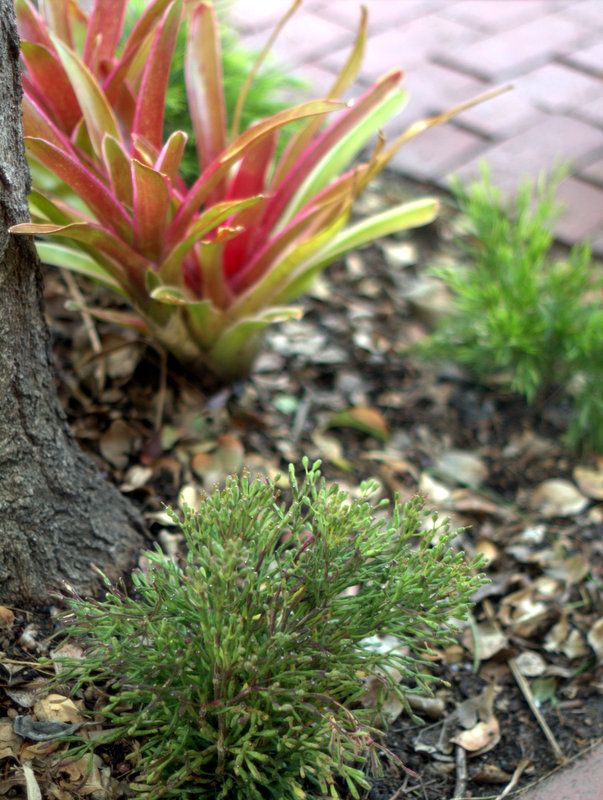 A ringer for the acacia, right?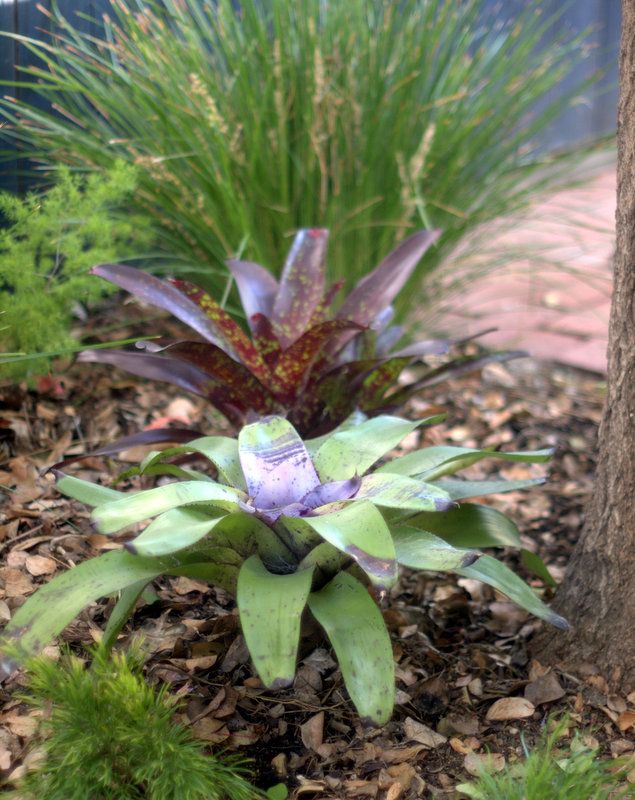 Lost the name of the foreground bromeliad I've had for years.
Neoregelia 'Dr. Oesser Big Spots' was brought home this weekend from the sale/show at Rainforest Flora in Torrance.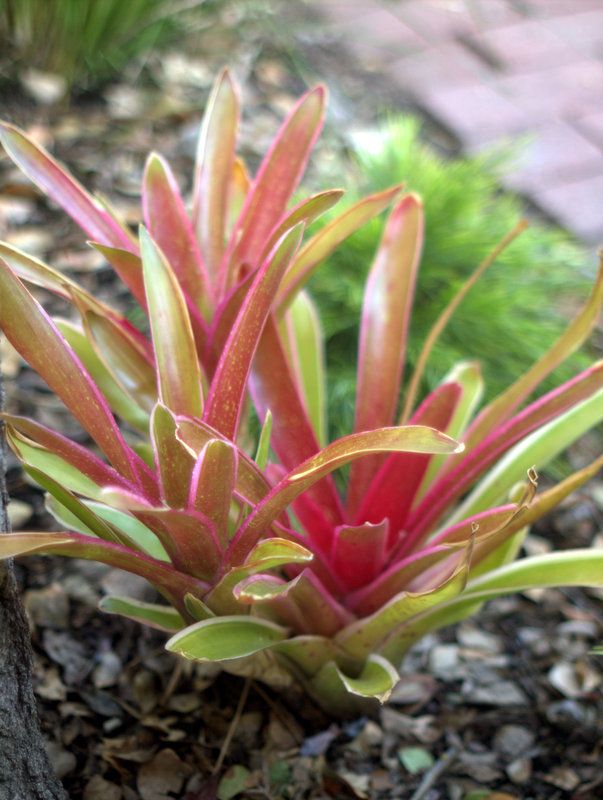 Neoregelia 'Martin'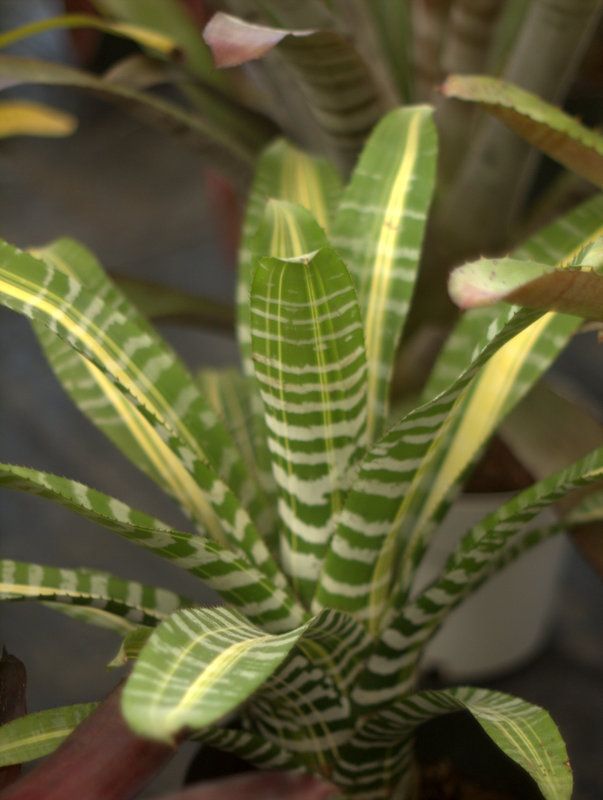 One of the many gorgeous bromeliads at the weekend show that didn't come home with me, Aechmea 'Samurai.' If only I'd had this planting scheme before the sale. Overplanning has never been my strong suit. It's always been spontaneity or bust.
I tucked a potted variegated monstera, also from Rainforest Flora, behind the asparagus against the fence, but there may be too much slanting afternoon sun for it. If the sun isn't too strong, I'm going to check into espaliering it against the fence.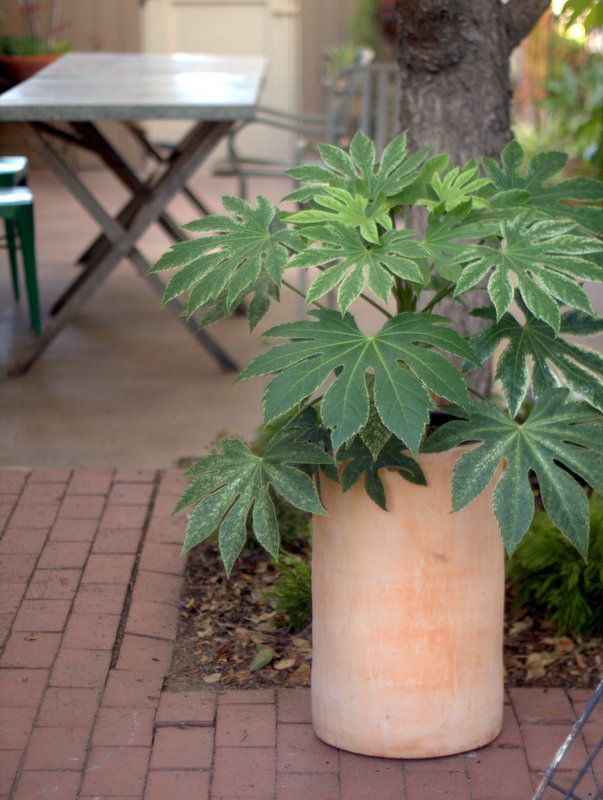 Fatsia japonica 'Spider's Web' marks the new planting for wayward paws that have been used to digging here and kicking up leaves.
I'll keep you posted on the fate of this little acacia experiment.