New Year's Resolution No. 22: Check my hometown newspaper out more often. Included in the Los Angeles Times end-of-year roundup on "The 11 most popular home and garden stories of 2016," was a piece I had missed that contained some intriguing back story on a house and garden that has been casually mentioned on the blog a couple times. That cool little house I've been admiring on countless dog walks happens to have been built by Long Beach's most famous architect Edward Killingsworth (1917-2004). Never heard of him? I hadn't either. Unlike other MCM Case Study architects like Eames, Neutra, and Saarinen, Killingsworh hasn't become a household name. From what little reading I've done so far, I get the sense that branding just wasn't where he focused his energies.
(photo Allen J. Schaben/Los Angeles Times)
Not that this is a Case Study house, that experiment in residential architecture sponsored by Arts & Architecture magazine in the post-war years. The Frank House in nearby Naples holds that enduring honor. Strangely enough, my dog-walk house wasn't meant to survive at all, but was hastily constructed in the 1950s to function as a temporary design model for a proposed project, the 12-story "Marina Towers." The Marina Towers condo project was ultimately abandoned, but Killingsworth couldn't bear to tear down the little model house, so it was rented for a time then ultimately sold. Apparently, subsequent rehab attempts were not kind to the architect's vision.
The above photo shows the view of the house I'm familiar with from the vantage point of dog walks on the park across the street. That Yucca rostrata always catches my eye.
From a December 2013 post:
"What they say about good bones for faces and houses applies to gardens too. Good bones will see you through some tough times. I've posted just a couple photos on this sweet little house and garden before. The front facade is entirely of glass, so one can't be too obnoxious with the camera under such circumstances. But walking Ein on the park across the street from this house a couple days ago, I noticed that the landscape was being worked on, and heaps of aloes and agaves were strewn on the walkways. I gave the leash to Marty and looked closer. The house was empty. No more George Nelson bubble lamps or butterfly chairs on the balcony. The house had sold! And what on earth were the new owners doing to the garden? Did they have a deep-seated aversion to desert plants? If so, I needed to talk to them about those enormous Yucca rostrata ASAP."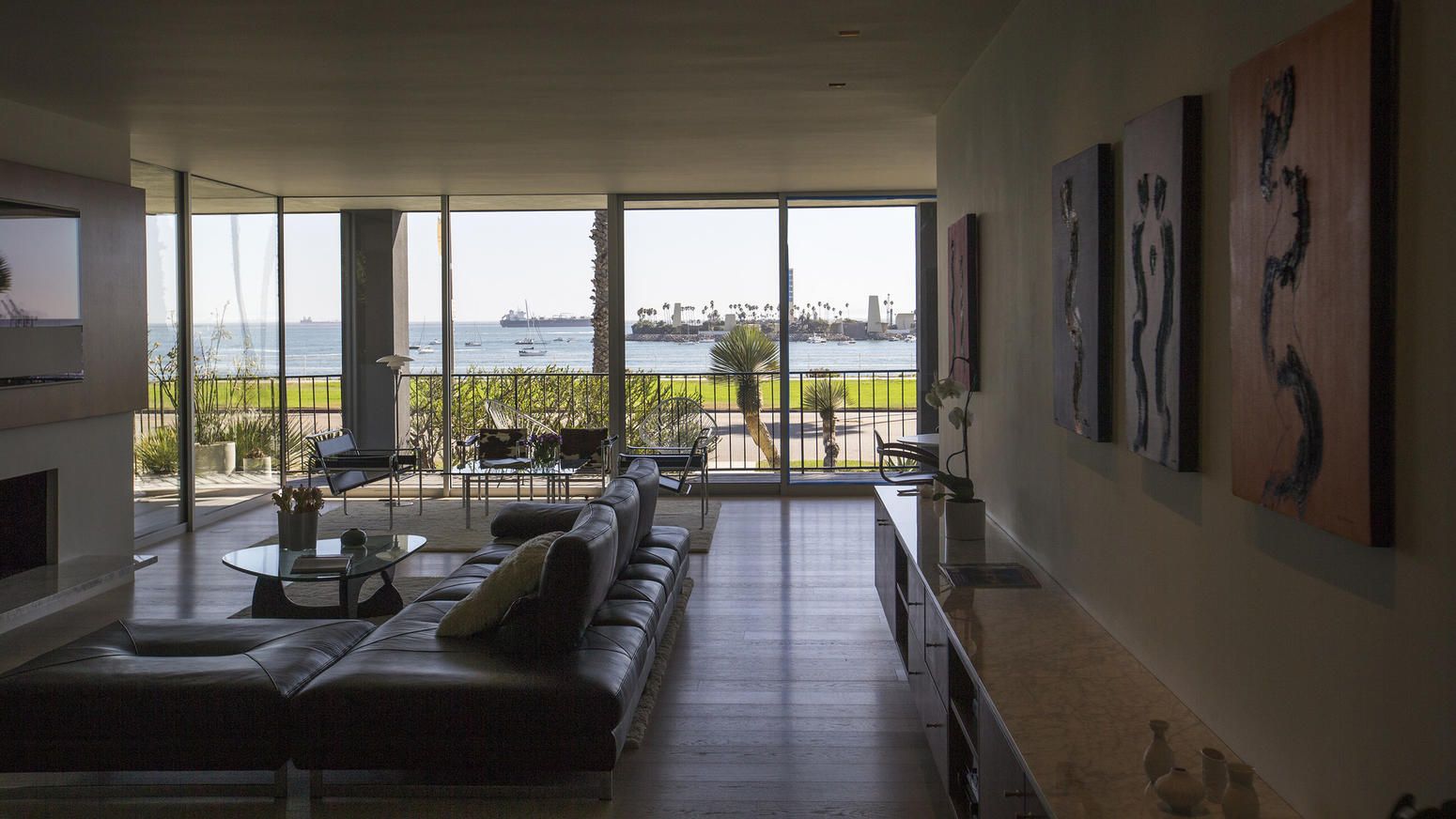 (photo Allen J. Schaben/Los Angeles Times)
View through the front of house to the offshore oil islands and Bluff Park, where we used to walk the corgi. (Now 14, Ein sticks pretty close to home.)
More from the December 2013 post:
"I am normally not an overly bold person, but I found myself striding across the street and up to a couple of surprised men standing amongst masses of discarded Agave attenuata. It was the new owner and the gardener, who wasn't removing the plants but merely thinning them. The owner was an architect and loved the house and garden but said both were in terrible shape. He told me he had been seduced by the furniture seen through the glass wall, too, but when it was all removed and he gained ownership of the house, his heart sank. The magic was gone. Now he wondered if he hadn't made a terrible mistake. The place was a mess and had not been well cared for. Amazing what a spell all the classic mid century modern furnishings had cast, and how well even a neglected desert garden looks after itself. I told him it had always been my favorite house among the much bigger mansions that lined the street opposite the park, and this seemed to brighten him up considerably. He even showed me into the backyard, which was graveled and already had mature privacy screens of clumping bamboo. It was a gem, even if the interior's cork floors were in terrible shape. The new owner was knowledgeable about plants (clumping vs. running bamboo) and energetic. There might be a few more dragons to slay than he bargained for, but the house and garden would no doubt surpass what was here before."
(Check out the Los Angeles Times' slide show on the stressful but ultimately happy renovation here.)
(photo Allen J. Schaben/Los Angeles Times)
The backyard in 2016.
The new owner/architect I interrupted that day in 2013 was Ted Hyman, a partner in the firm Zimmer Gunsul Frasca Architects. He and his wife Kelly found out the house was for sale in 2013. At that point, conventional waterfront real estate wisdom was in favor of a teardown. But the Hymans resisted the teardown route and embarked on an arduous restoration. So I have the Hymans to thank for my continued enjoyment of this lovely house and garden on future walks (with me pushing the corgi strapped into his dog walker).
(photo Allen J. Schaben/Los Angeles Times)
And how does one accomplish a faithful restoration of a home that was never meant to last? Lots of love and respect for the spirit of the design along with copious research, including a road trip to Santa Barbara to consult the original 7-page plans. And everything has turned out splendidly. A daughter's wedding has been held here, and Killingsworth's widow Laura paid an approving visit, her first since 1958.
Killingsworth's Opdahl house via Dwell
Killingsworth's Spalding House via SFCurbed
"It is so good to be in a space where the spirit can soar, and, with all of this, it must soar with the sense of balance and proportion set up by the spaces we create." — Edward Killingsworth, "Contemporary Architects."