I've been dreading completing this post, but since Reuben and Paul have officially decamped from their house and garden at Rancho Reubidoux as of last week and moved into their new home, it's time to unpack these last images and move on as well.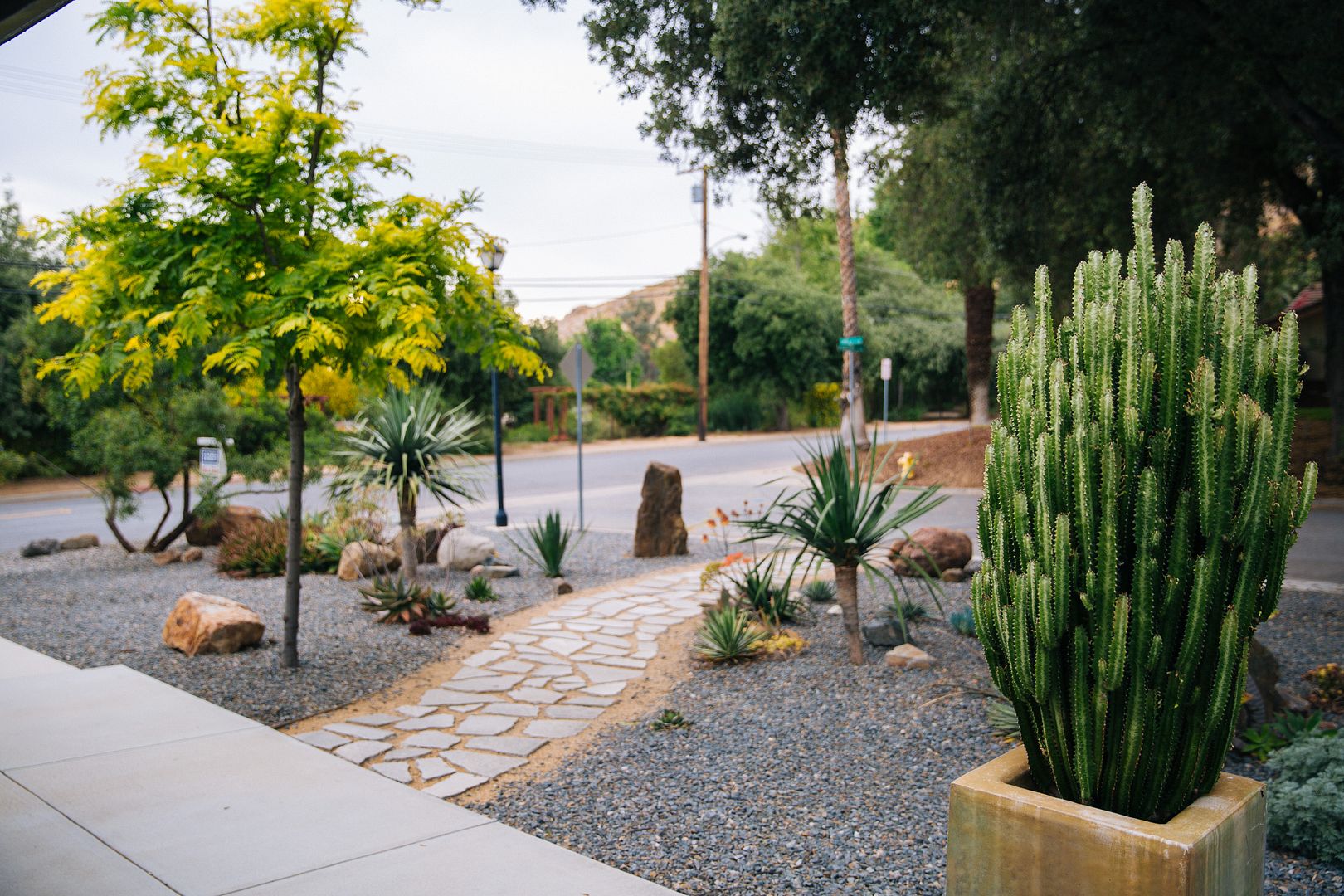 Another reason I've been avoiding finishing this post is the new format, which doesn't do justice to horizontal photos, like the above photo of the front garden.* I apologize for that, but onward nonetheless. Mitch's photos are most affected by the new format, while I tend to mostly shoot vertical anyway.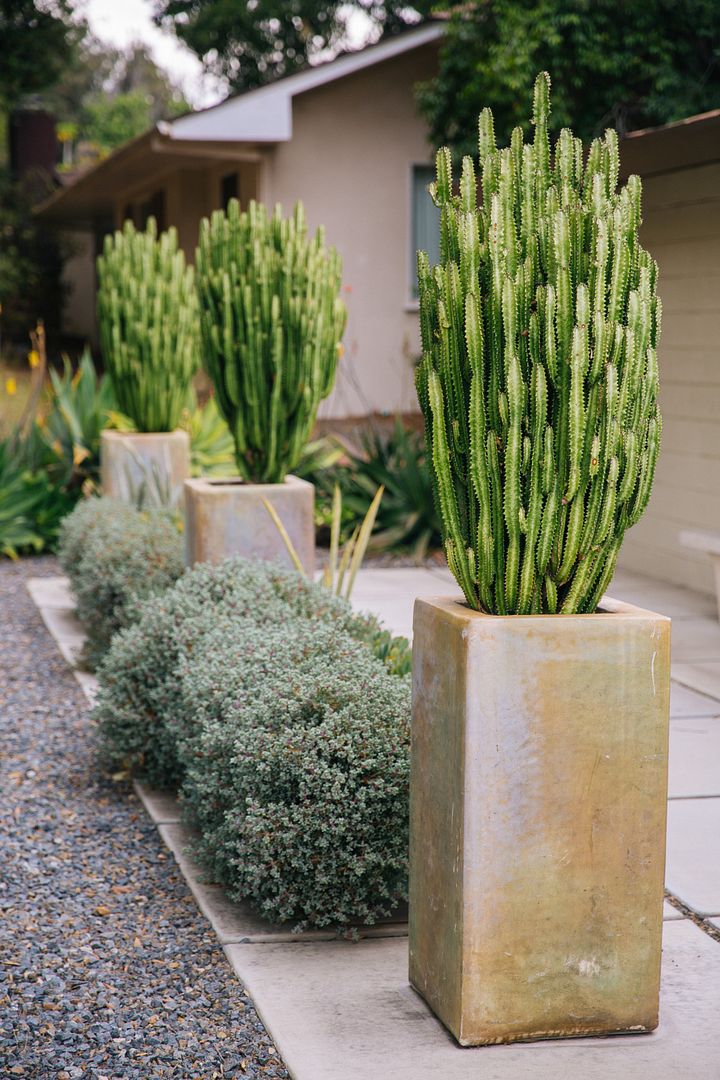 We all have our touchstones — books, movies, music, people, places that resonate on an unexpectedly personal frequency. The garden world is no exception, and Rancho Reubidoux has been a touchstone of mine for more than six years. Now that it's changing hands, a final pictorial is in order.
These containers of African Milk Tree and Oscularia deltoides are also in the front garden.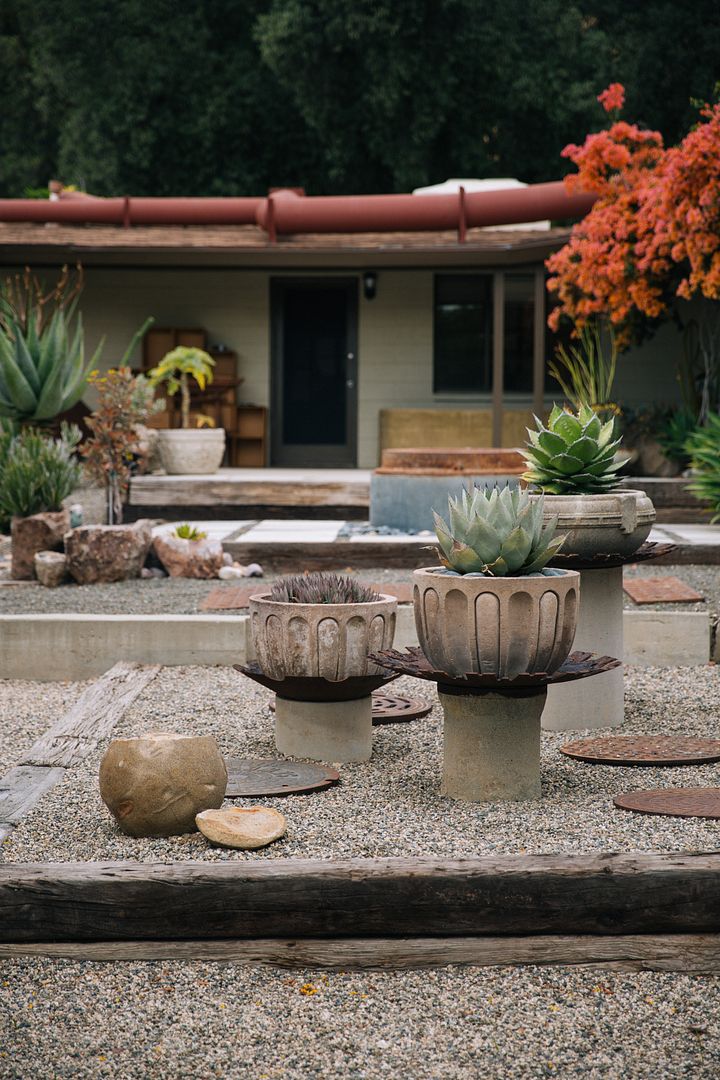 The remaining photos are of the back garden.
Thankfully, the new owners bought the property as much for the garden as the house, and Reuben will be involved in the ongoing caretaking and oversight.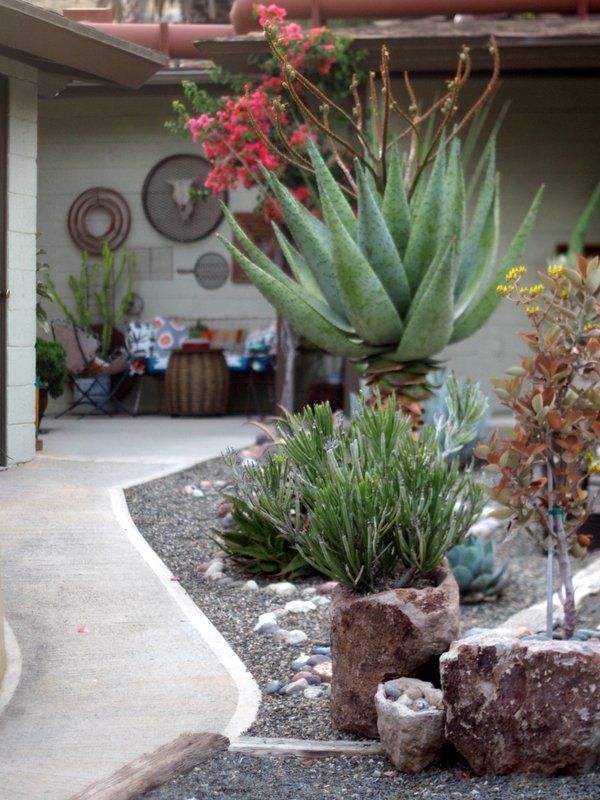 To all flea-marketeers, lovers of desert gardens, salvage, land art, assemblage, repurposing forgotten pieces of industry, e.g., the rusty side of life, Rancho Reubidoux will speak directly to your oxidized hearts.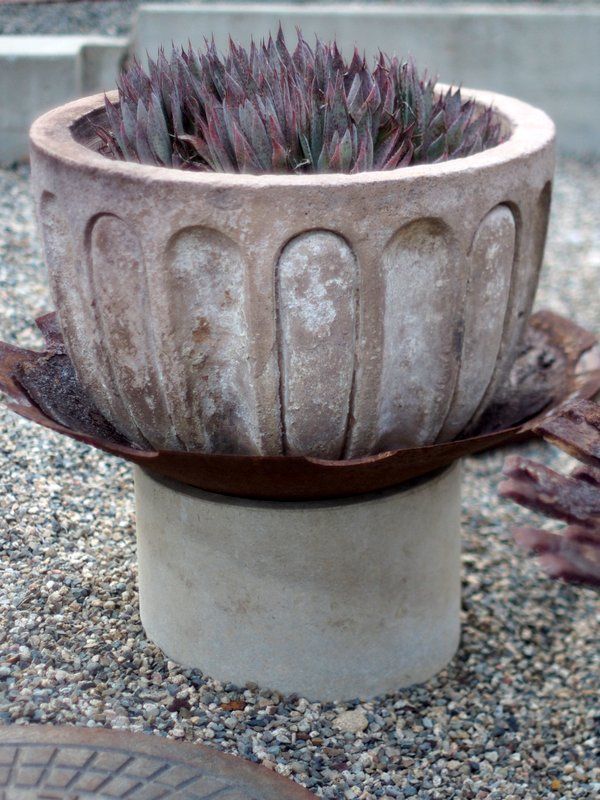 For everyone else, right out of the gate the question has to be why. Some of the stuff that has passed through Rancho Reubidoux has literally weighed close to a ton (like that incredible soapstone industrial wash basin sold long ago). These aren't whims but carefully thought out intentions. In discussing his work, I'm trying to be as deft and light-handed as Reuben, so I'm trying to avoid explanations like:
Maybe it could be argued that including man-made detritus in our gardens makes possible an irresistible study of our fraught and complicated place in the natural world, especially those objects whose sculptural qualities derive from pure function, just as nature designs, drawing intriguing parallels and contrasts.
Um, no. That would never pass muster with Reuben. It's either cool or it's not, thumb's up or down.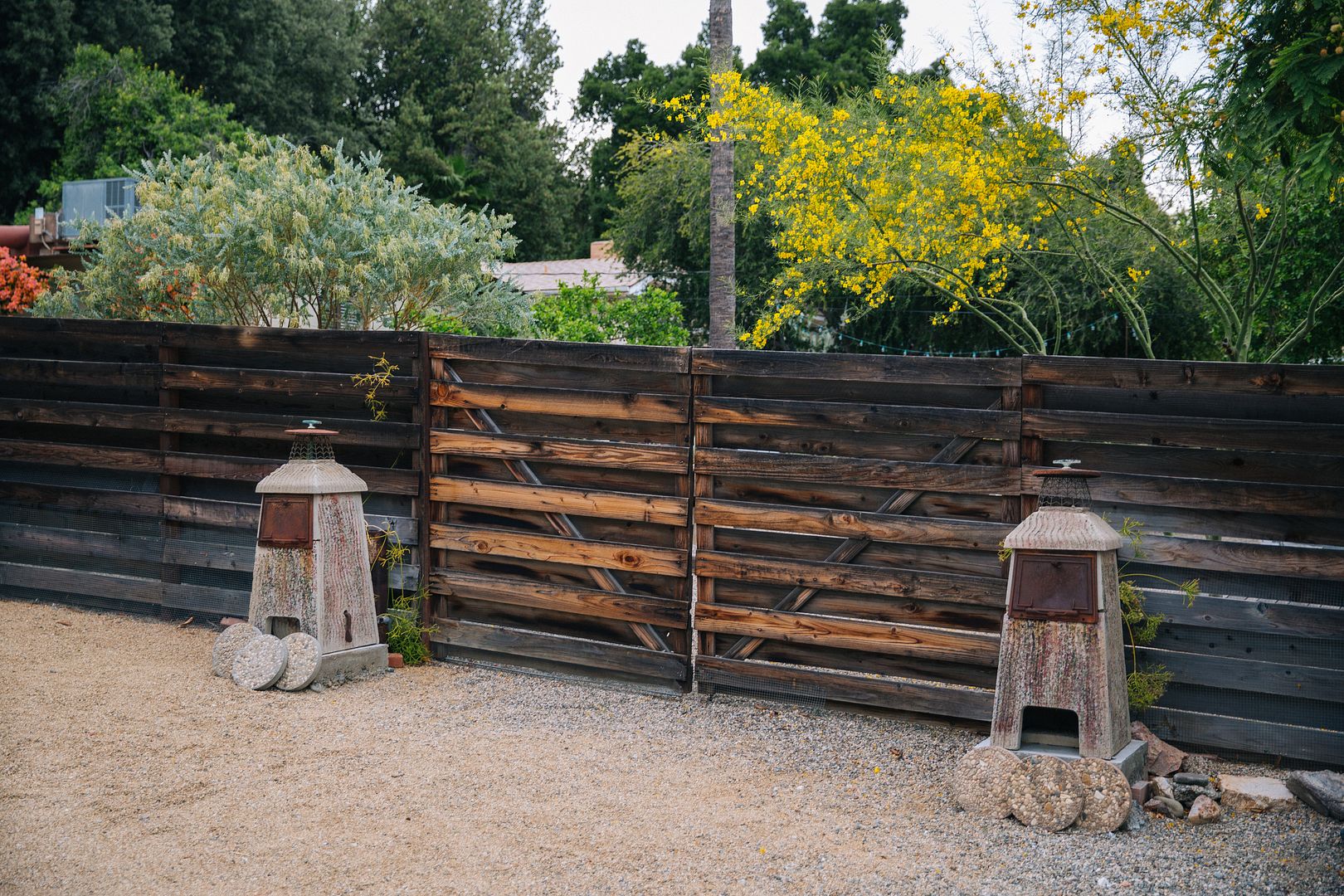 Reuben takes this inherent tension between the built and natural world further than I thought possible. Here billowy acacia and palo verde trees overlook the stern, street-side sentries that were possibly industrial kilns in another life.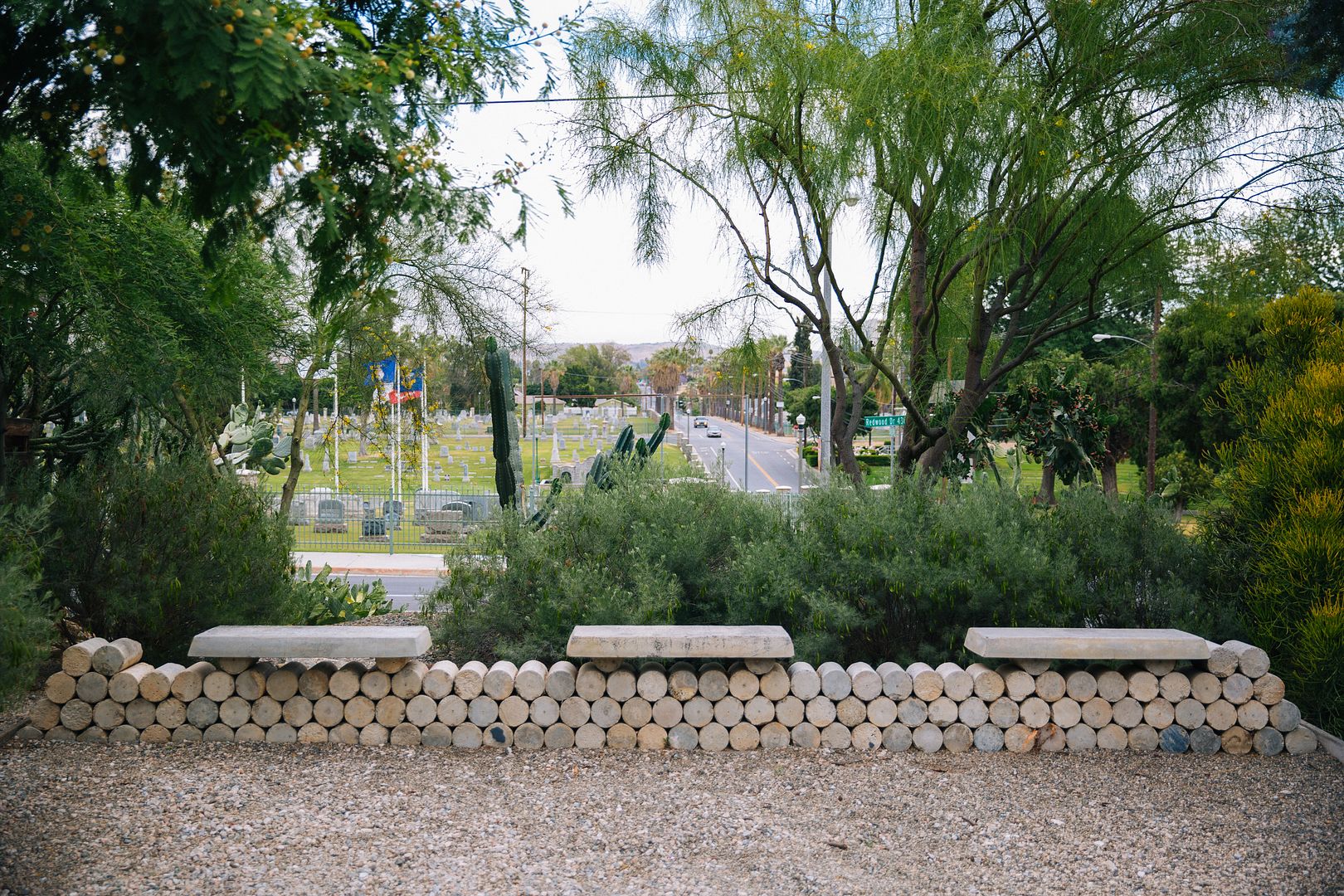 In using these concrete test cores to build a monumental garden bench, Reuben doesn't just decorate the garden with salvage but builds the pieces into the garden's bones.
Plants, rocks, cast-offs, construction materials are seamlessly united, all elements presented as equally and inherently valuable. In less practiced hands, kitsch can be the result, whether intended or not.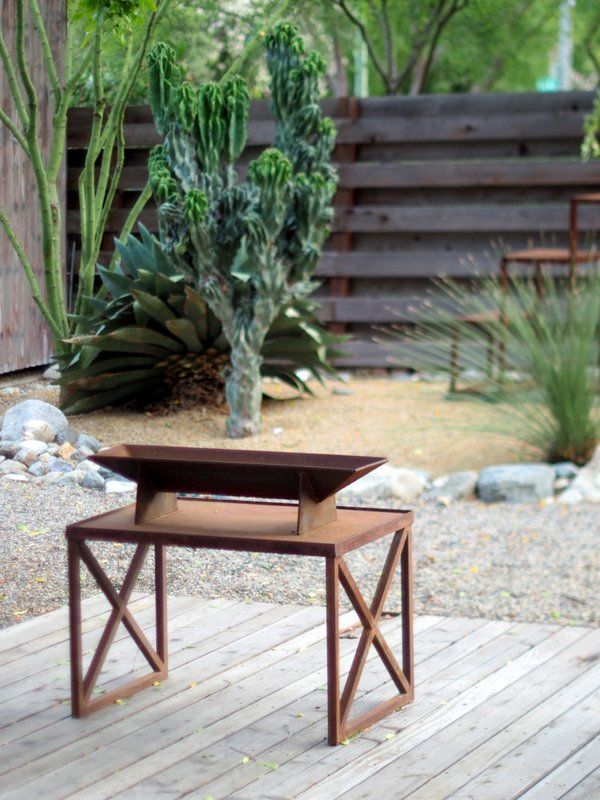 It all carries a similar weight and presence, as well as similar endurance, as that possessed by the crisp, architectural outlines of the tough desert plants.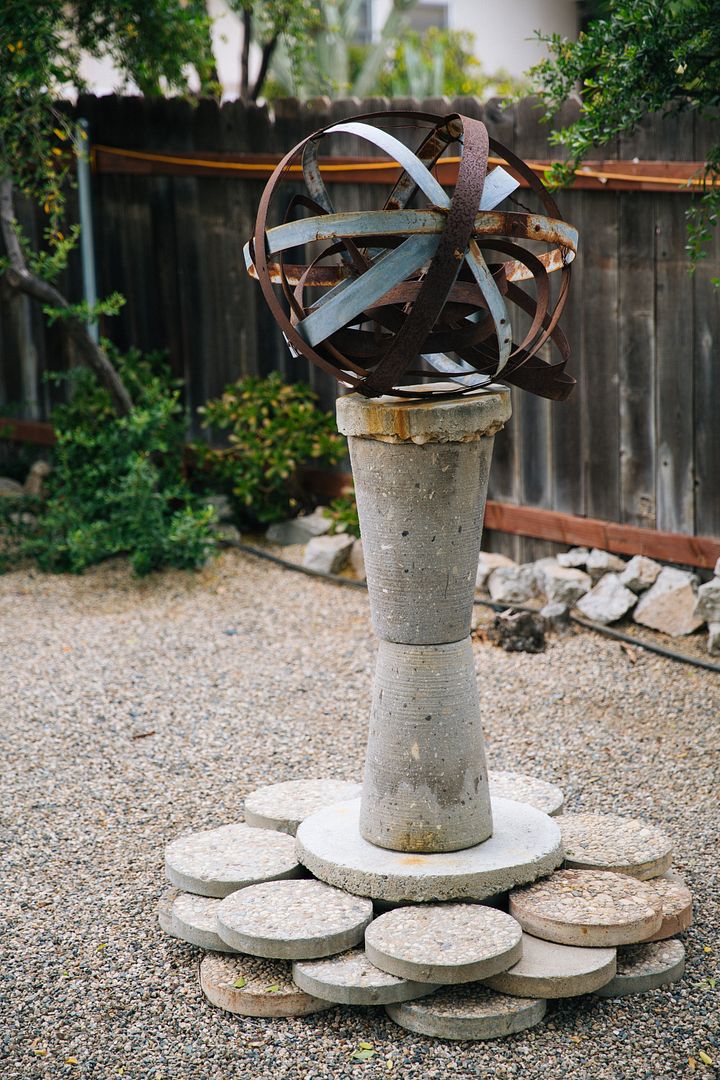 One of the reasons for the move is that the scale on which Reuben works has not been kind to his back.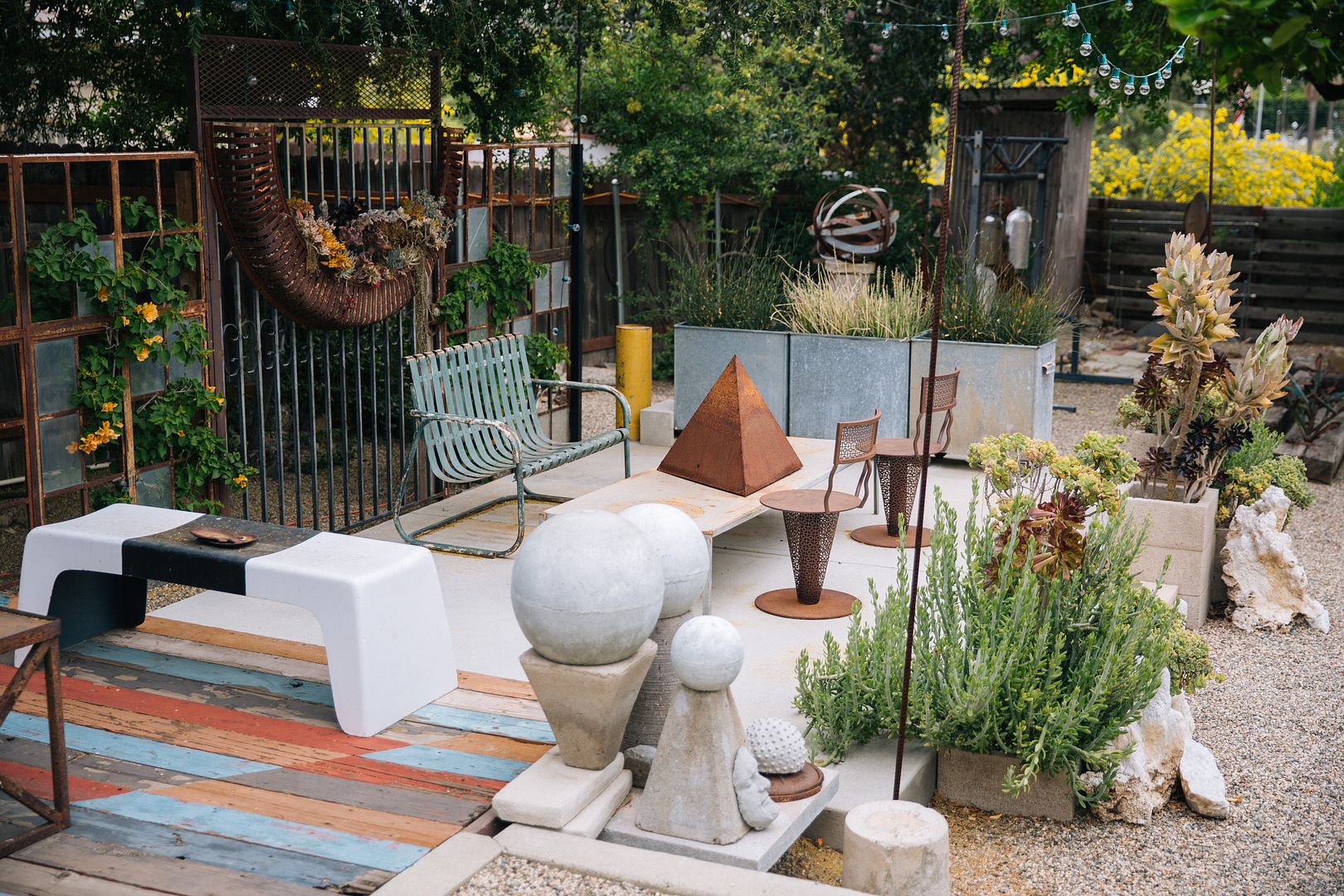 In the desert climate of Riverside, California, mass, line, and spatial delineation are achieved without thirsty topiary or hedging. Thinking with your hands and body takes its toll.
The back "wall" to this sitting area alone is composed of so many myriad pieces, I've lost count.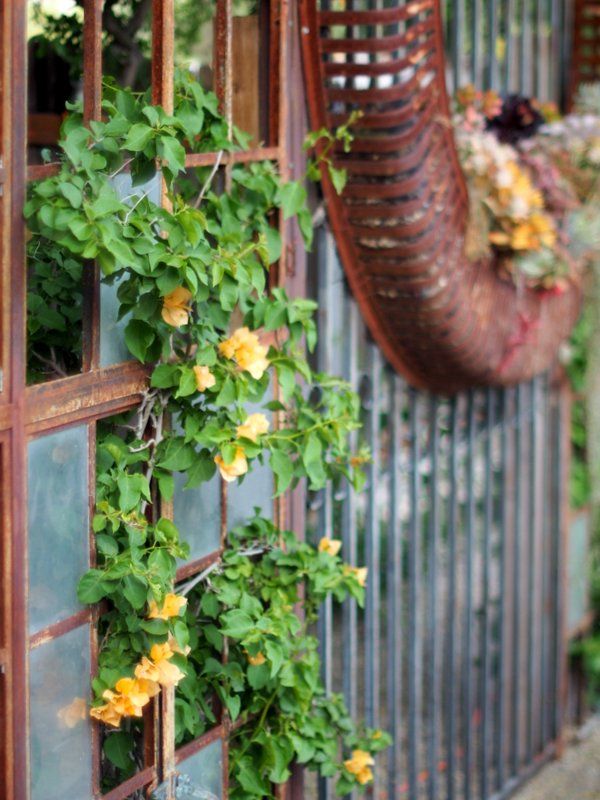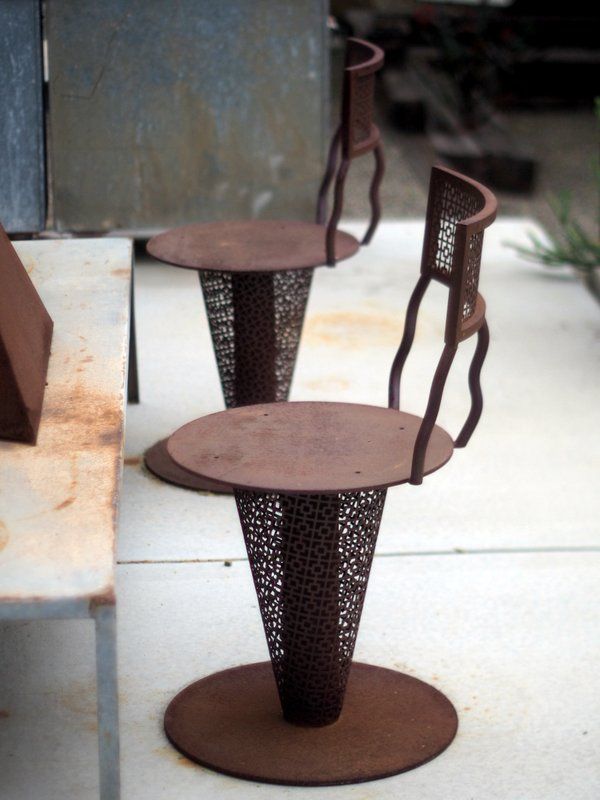 We both are equally addicted to chairs. Or chairs as sculpture.
I think some of the power and inevitability that the Rancho conveys comes from the fact that Reuben insisted it be professionally graded. No wonky, haphazard angles to mar the placement of a collection of manhole grates on gravel over which improbably float heavy cement containers with rusted ruffs, balanced on plinths, a single agave in each.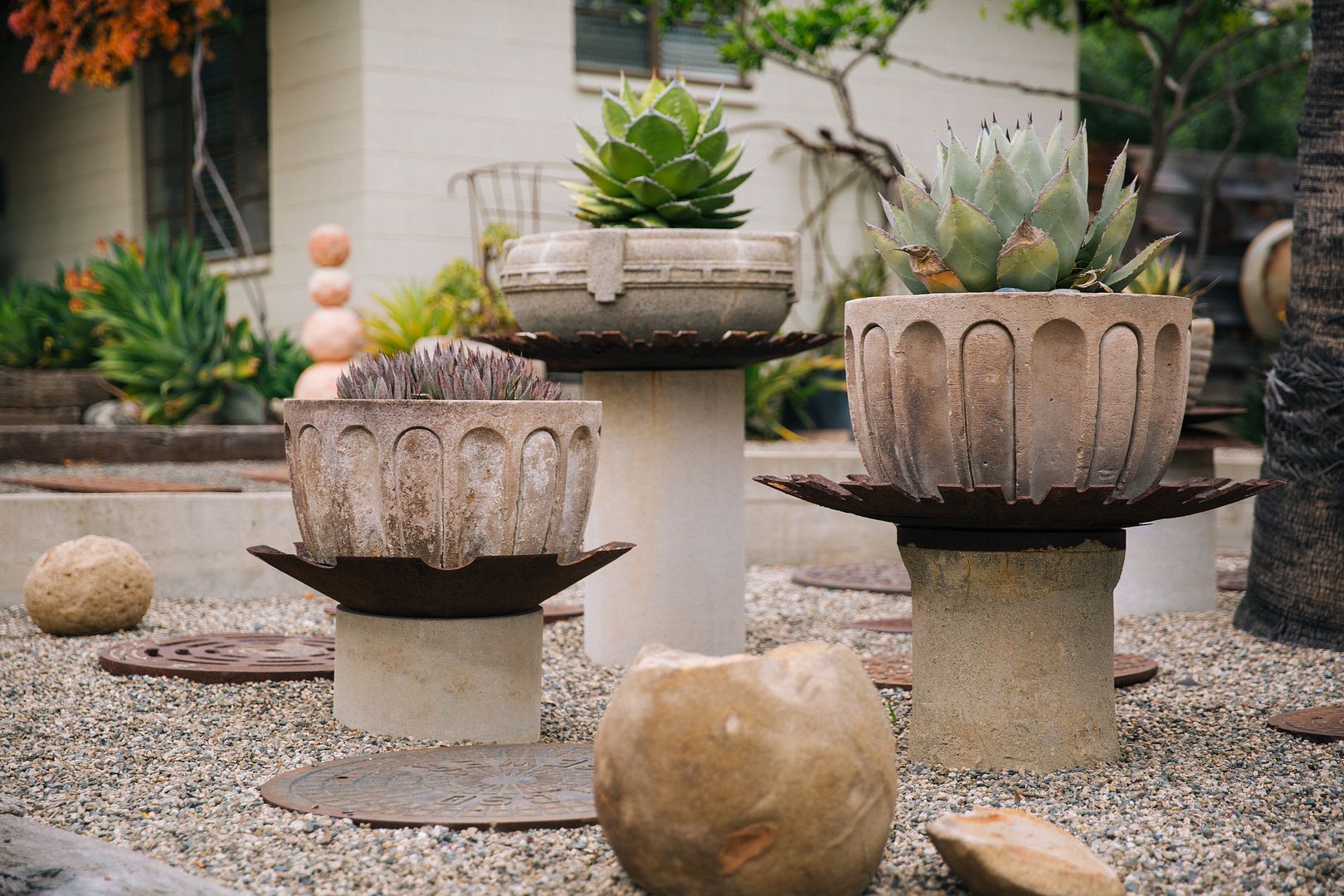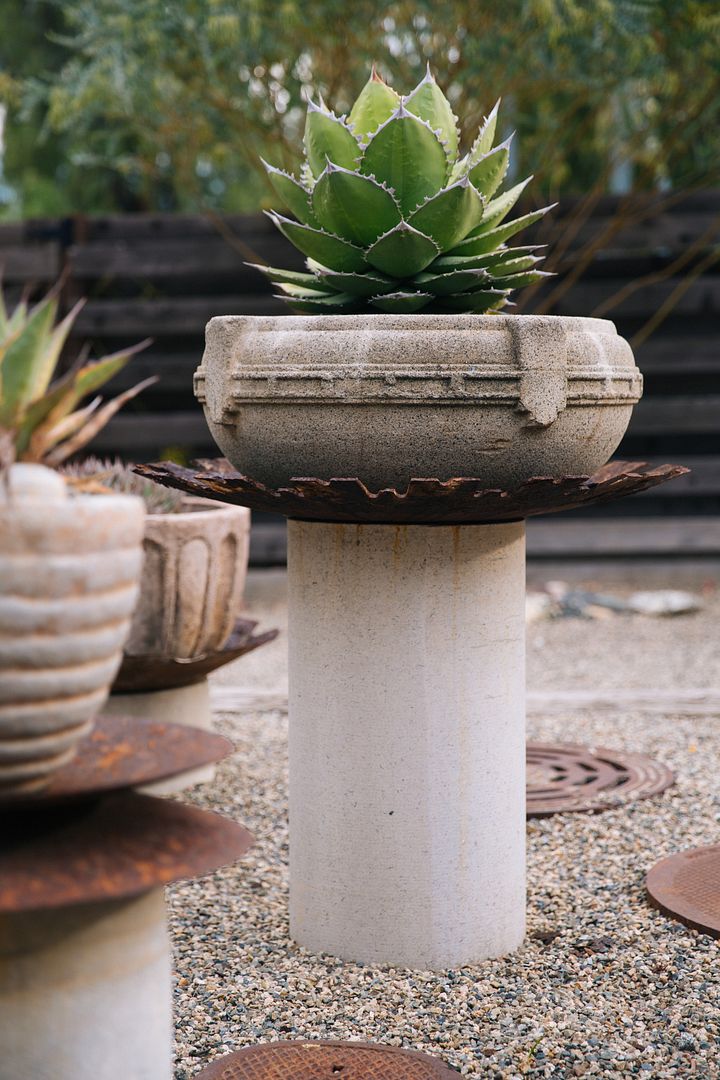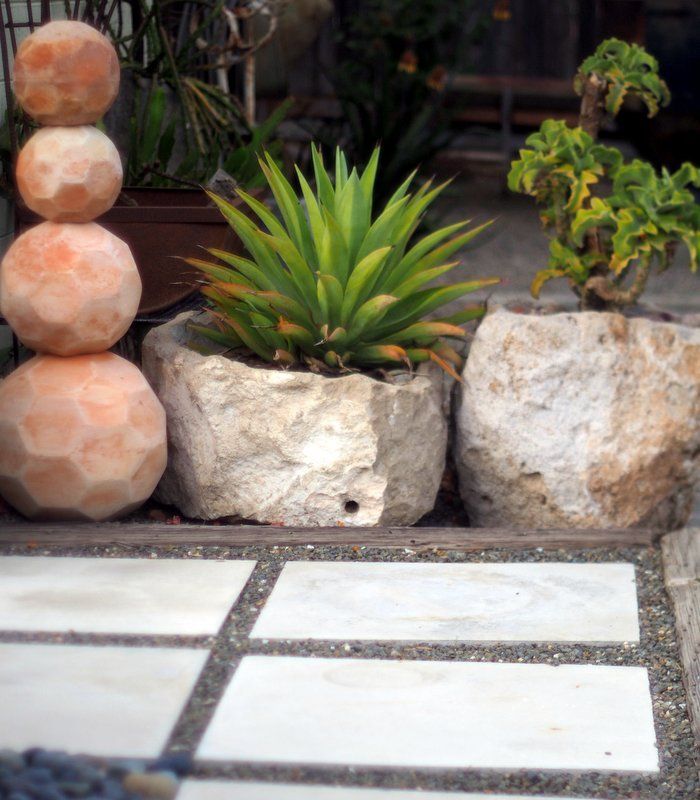 Over the years I've watched as Reuben distilled the bulk of the garden's elements into simple geometric shapes, less emphasis on the industrial, with some containers devolving into simple stone vessels. He's had serial yard sales, where he jettisons pieces to accommodate new acquisitions. I was out of town for the last sale held this month, mostly of remnants kept in the garage. Everything in these photos remains for the enjoyment of the new owners.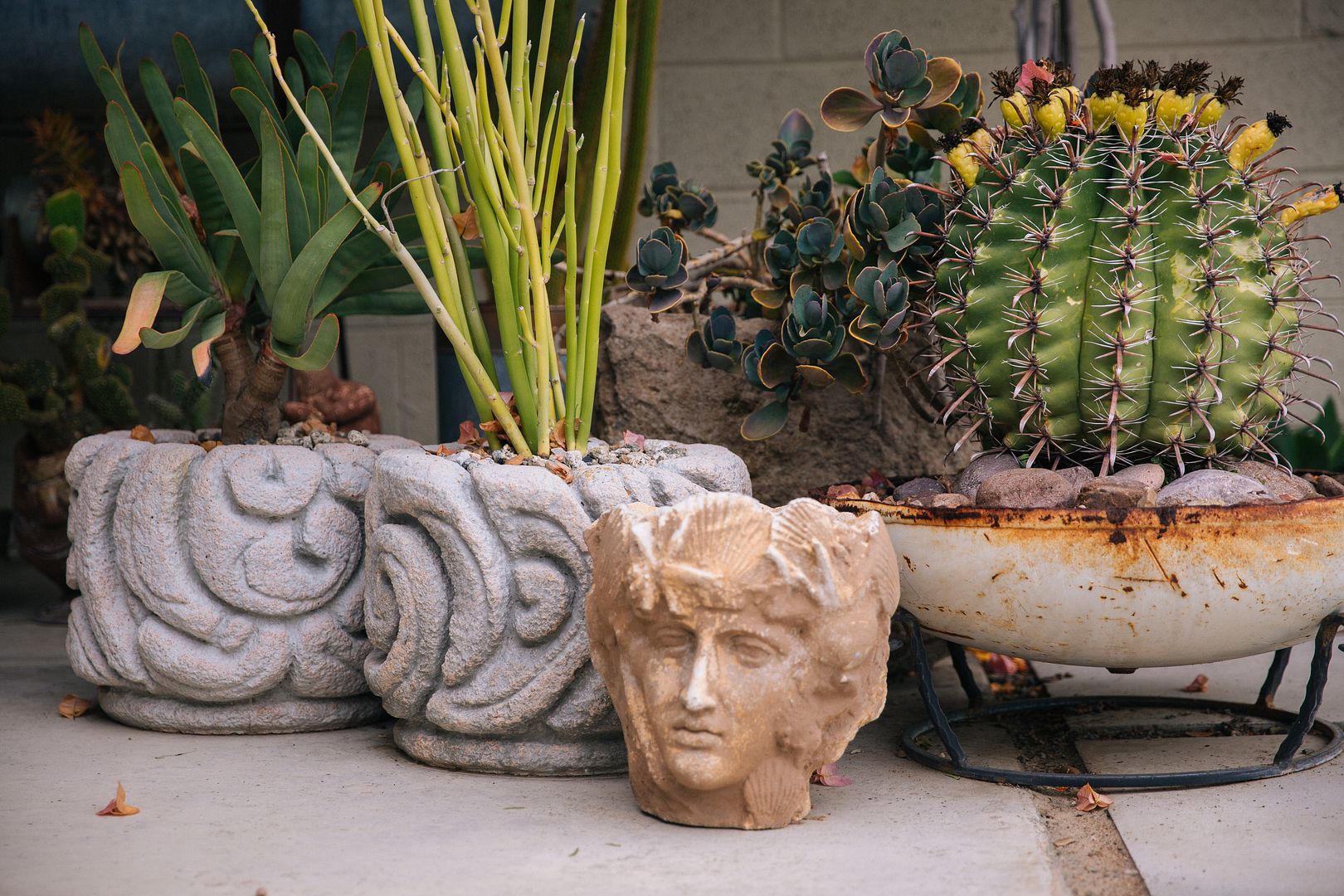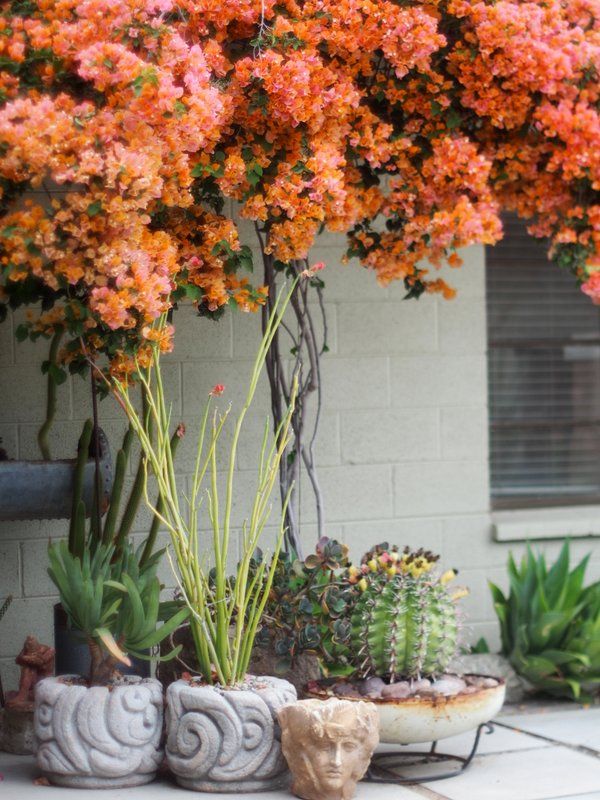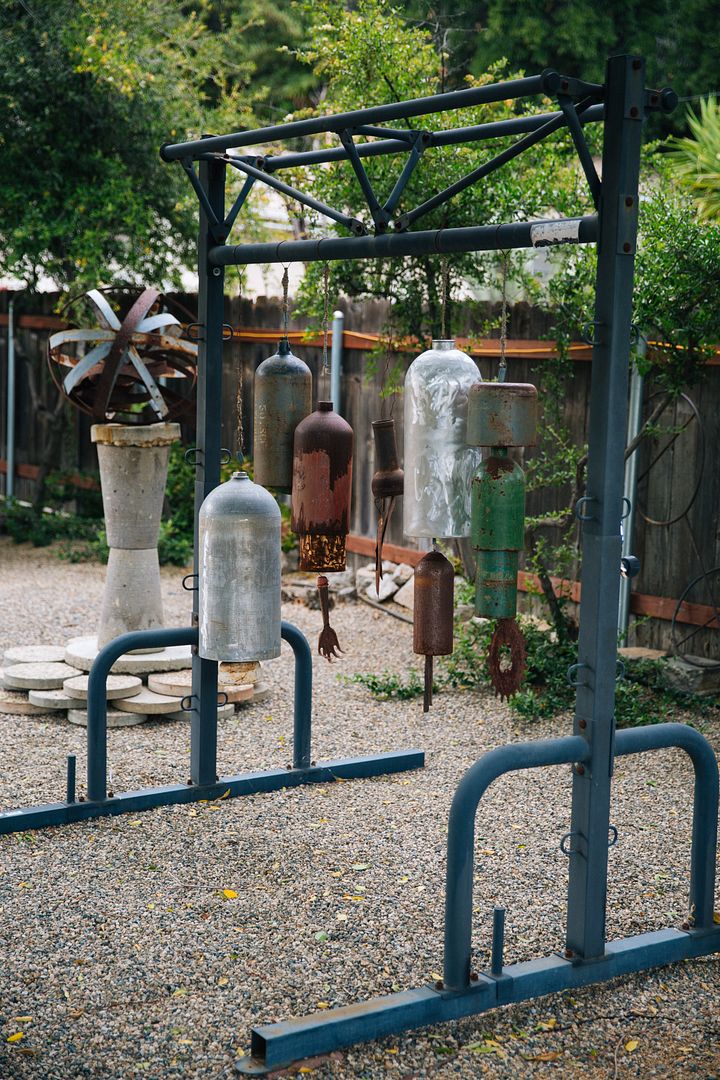 Not only a feast for the eye, the Rancho is a churning story factory. Reuben was out on one of his "constitutionals," his daily walks, when he chanced upon the perfect scaffolding for his collection of tubular bells (oxygen tanks). A quick call was made to Paul, his partner of 37 years, to inform him of the find — which is often how acquisitions were finalized. Paul has always been a ready accomplice and enabler. But there are always multiple other accomplices and ensuing labyrinthine twists and turns before a piece finds a home at the Rancho. Reuben has enlisted countless others in these creations, a performance art-like component that has resulted in a very protective, loyal following.
I had an opportunity over the weekend to ask Reuben about his influences, explaining that I'm seeing references to broad Mesoamerican plazas, cenotes …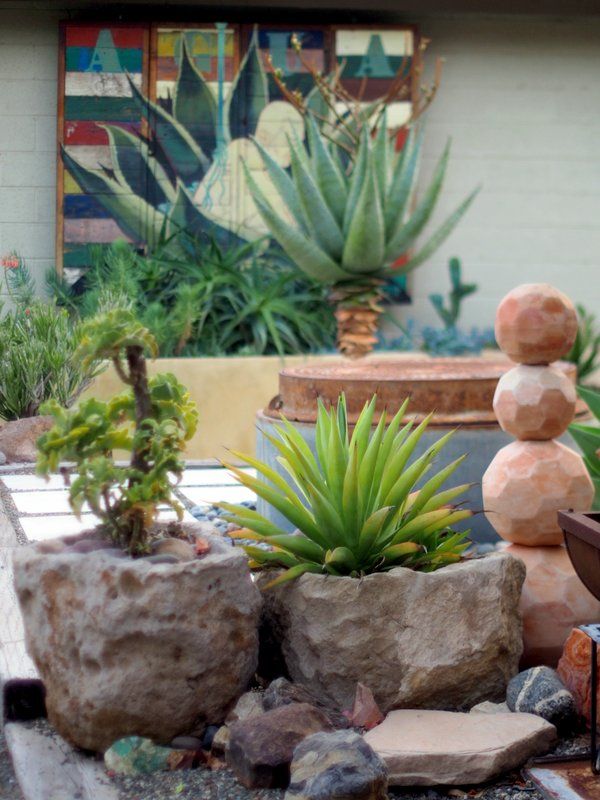 (Another story: When the large metal grate was delivered, one of the delivery men turned out to be an older, somewhat frail-appearing gentleman, seemingly not up to such a big job, whose uniform of shorts and flip-flops in no way inspired confidence. If someone doesn't lose a toe, it'll be a good day, Reuben thought. The men lowered the enormous grate gently onto the concrete base, on which it miraculously fit as though made to order. Just another day in the life of Rancho Reubidoux. There's a story, a cast of characters, in every object.)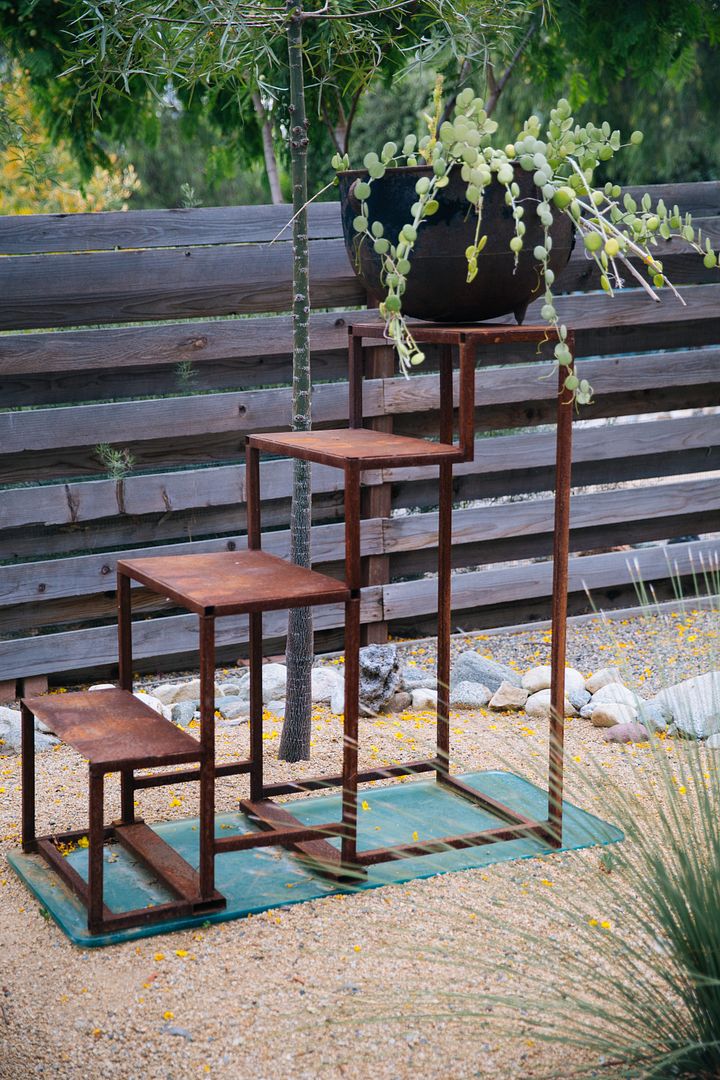 I told Reuben I see references to Mesoamerican stepped pyramids.
And while he politely listened, ultimately his thoughtful answer was that it's all intuitive.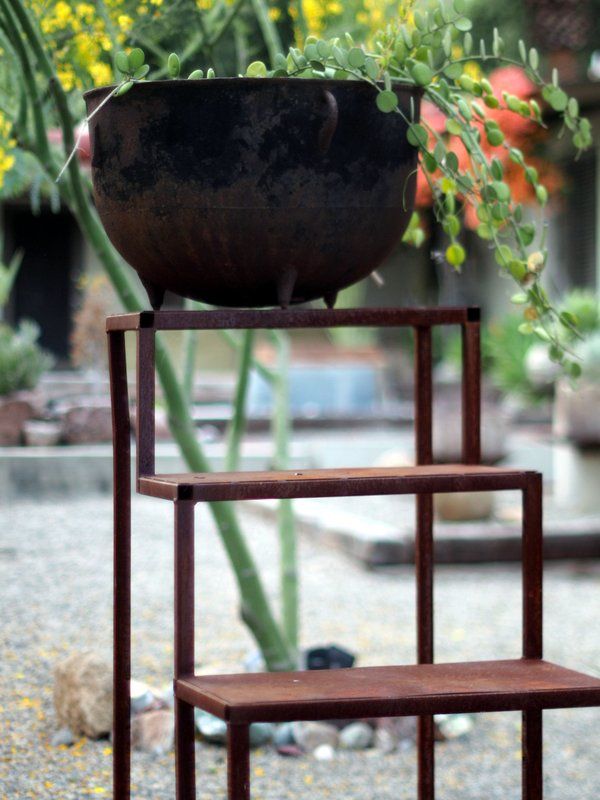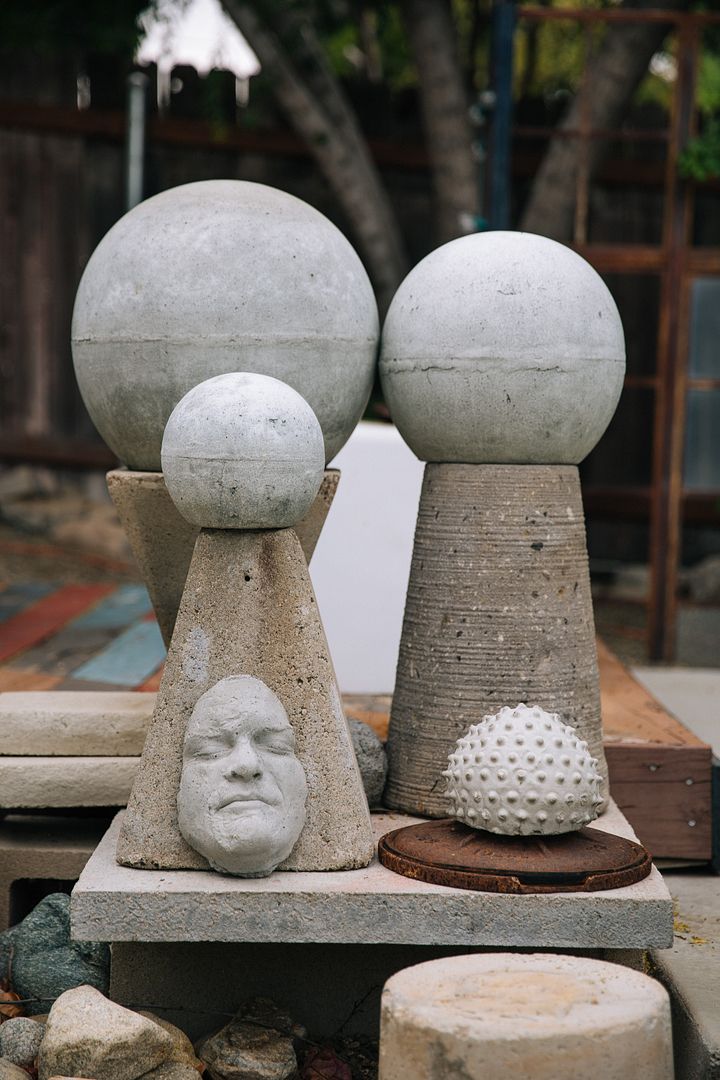 Intuitive for a guy who spent his career as a graphic designer for the Home section of the Los Angeles Times, day in and out filling the frame, juggling mass and shape, constantly testing his eye.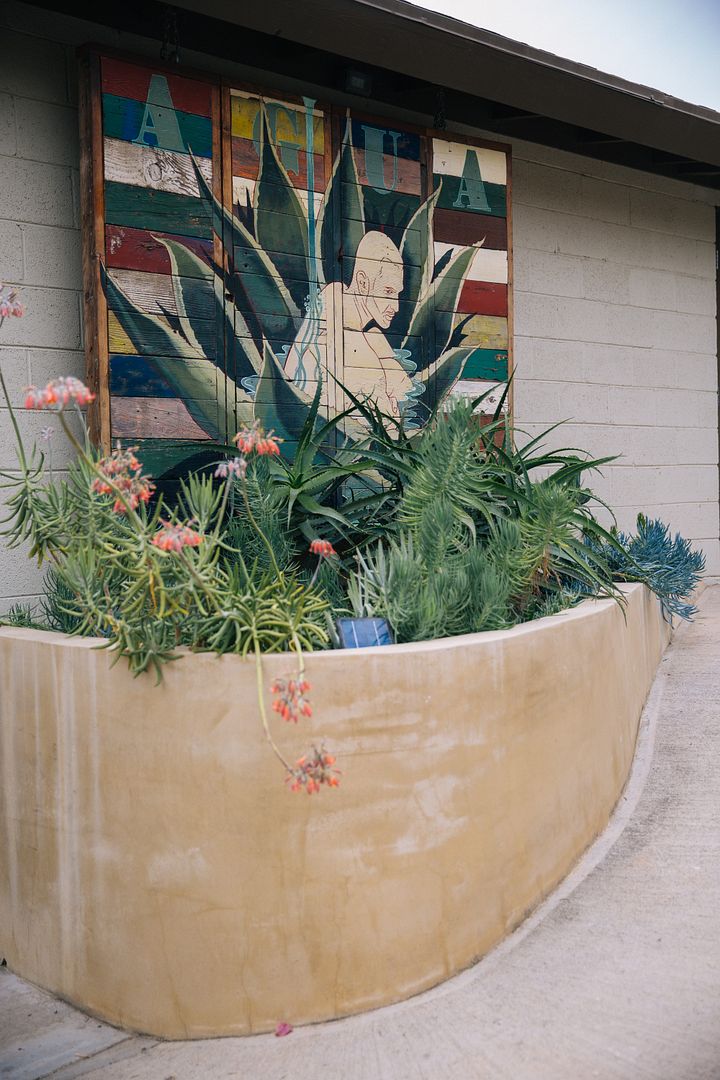 All paintings are by Reuben.
I'll devote another post to the sitting areas closer to the house. Like the great landscape architect Luis Barragán, Reuben believes that we should make "houses into gardens, and gardens into houses."
You can check out the Rancho Reubidoux blog for more background and follow along with new adventures on Instagram.
Photos by AGO and MB Maher.
*trying out formats to address this, currently Twenty-Ten 5/25/17