Photo taken last night, when I still hoped I could squeak this post in under the Bloom Day deadline, the 15th of every month, and be righteously on time, but it was not to be. Flash of red is from the ladybird poppies, P. commutatum, mostly over but left in situ for reseeding.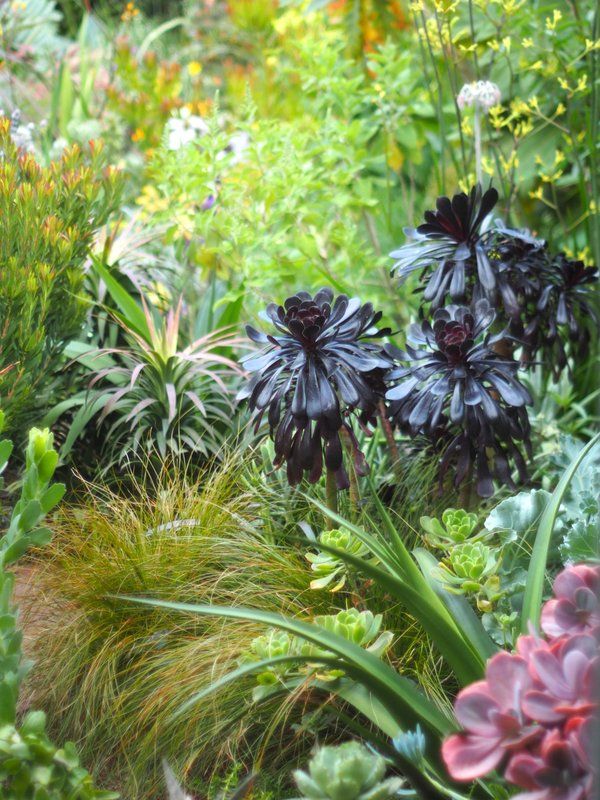 Never loads of flowers but always plenty of rosettes.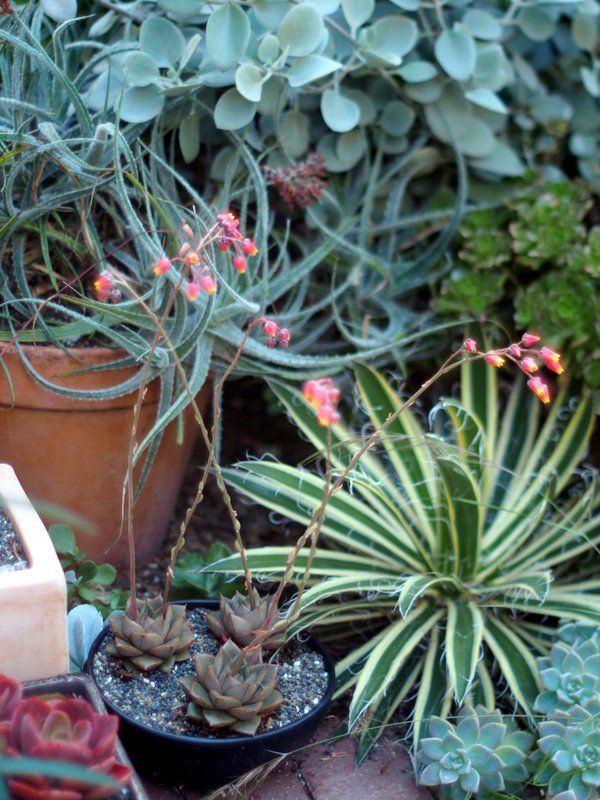 .
Still, if you look closely, the plants are procreating. Like the little echeverias that began to bloom while I was away.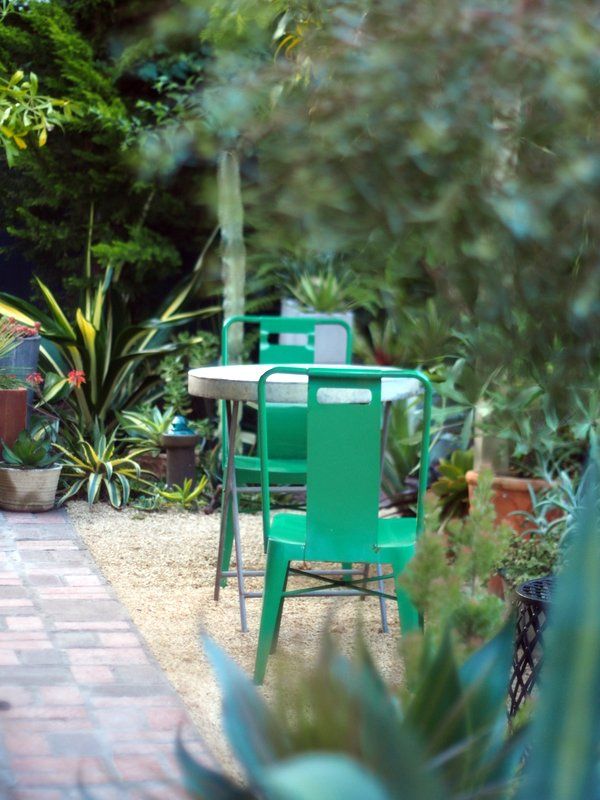 Right before we left for a 5-day trip to Colorado, I took out the dry-laid bricks under the pergola that were sinking and creating an ankle-twisting step-off from the adjacent mortared brick path and replaced them with crushed rock. (The previous owners liked brick, and we initially kept with that theme but using the porous, dry-laid method.) The space where the chairs and table now stand was occupied by the variegated octopus agave in its iron tank and a narrow planting area that was part of the horseshoe of garden around the pergola. That finger of planting was removed (including Grevillea 'Robyn Gordon') and replaced with crushed rock. I like the flow much better.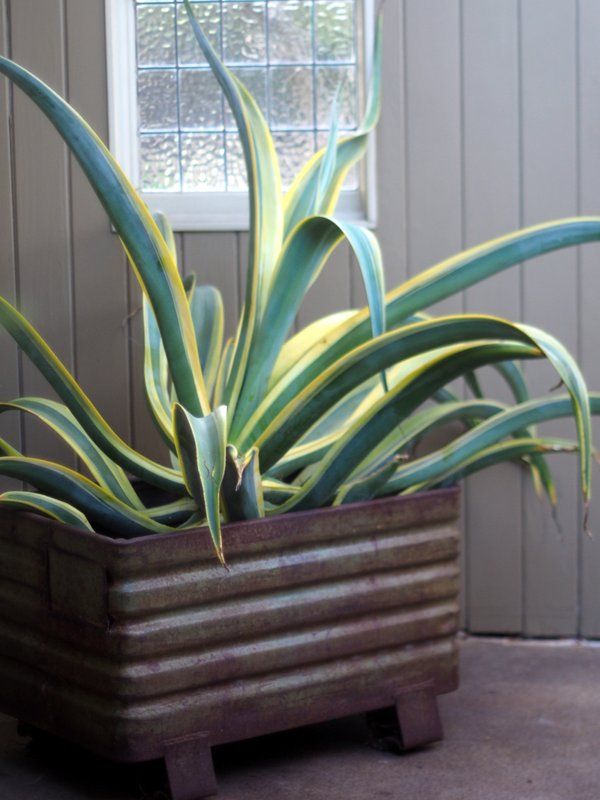 Fear not, the agave was moved to the east patio, with the assistance of a car jack. I kid you not. I thought we were in for terrible, painful regrets to attempt such craziness, but Marty executed the move flawlessly, as usual.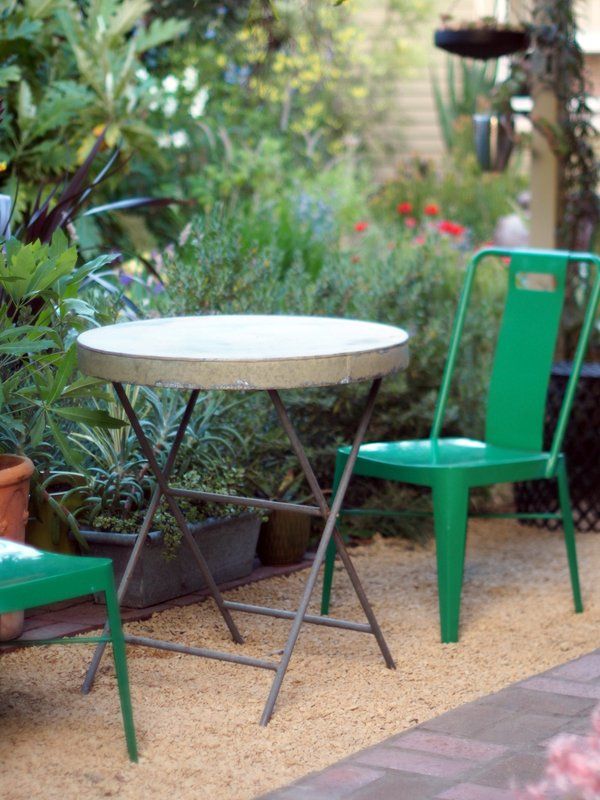 I still liked it when I got home, even if it does remind me a bit of a bocce court.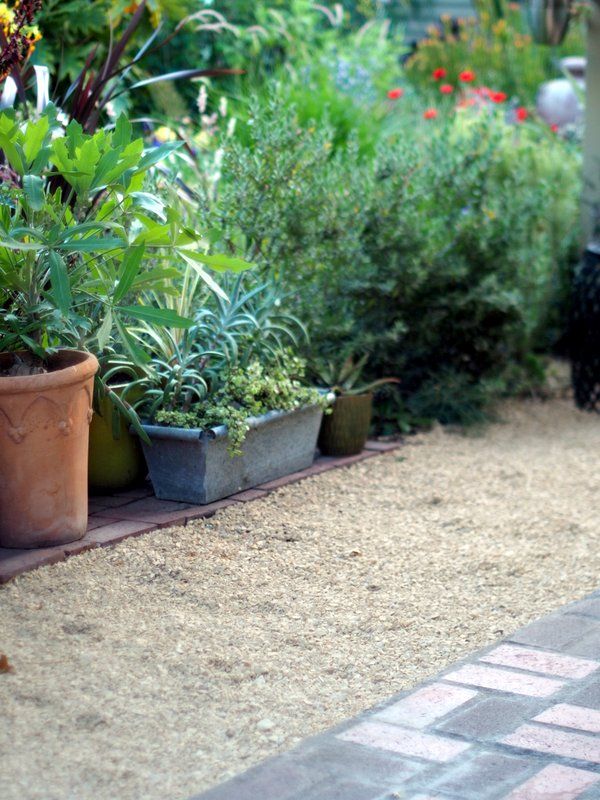 I've always wanted a gravel garden, and this may be the first step in accomplishing that. But, man, is lifting bricks and bags of rocks brutal work. Maybe I'll revisit the issue in fall. A narrow strip of bricks was left for staging pots.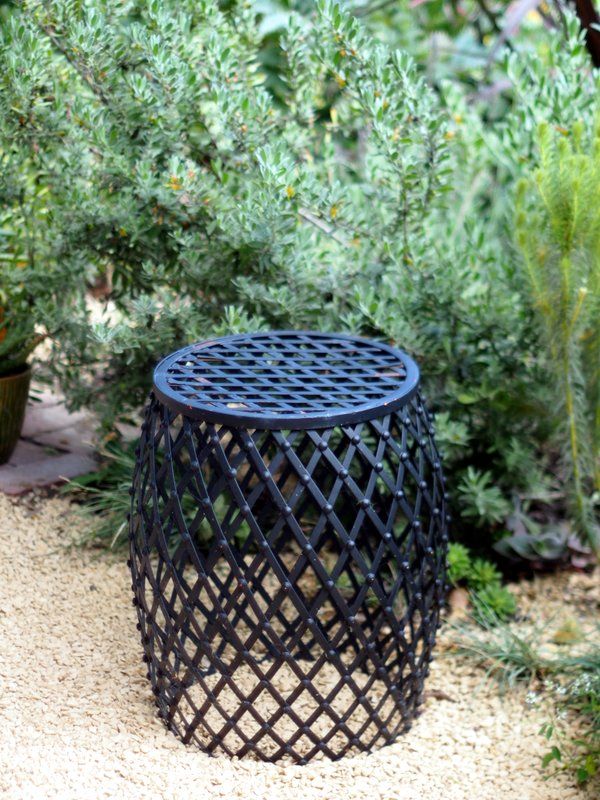 I've been having some fun trying out what works on the new surface.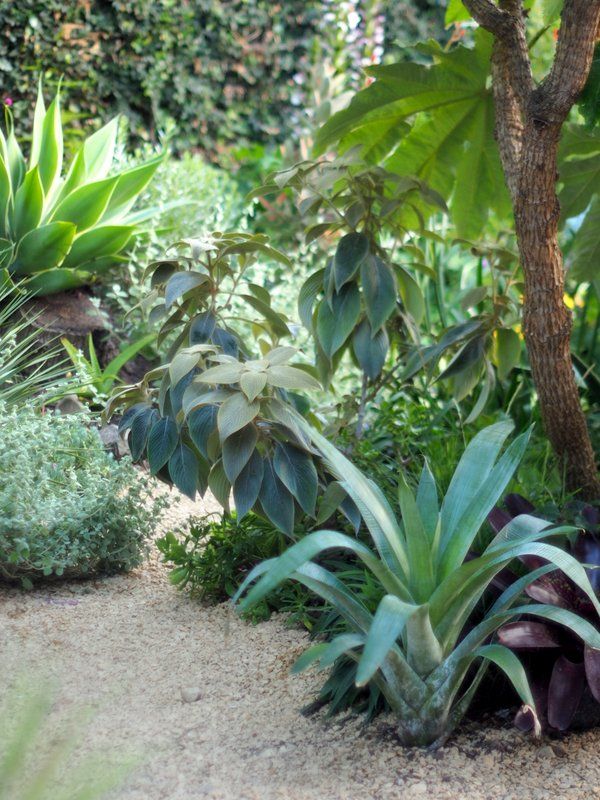 Along with the bricks under the pergola, the rest of the brick path that I've been chipping away at over the years was removed. I've laid, and then removed, a lot of bricks in my day, always in the simplest "running bond" style. When the boys were small, the brick path half-moon arced the entire garden, holding up well to small wheeled transport and guiding the Newfoundlands through the garden. I'm still amazed at the garden sensitivity and spatial awareness those giant dogs possessed, almost as acute as a corgi's. Give them a broad path and they'll use it. Same deal with small boys.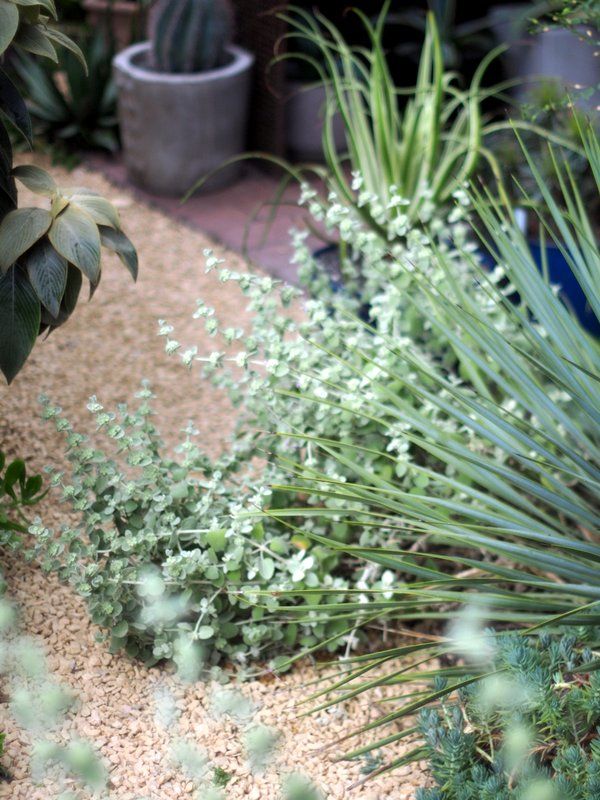 I love how the crushed rock sets off the plants.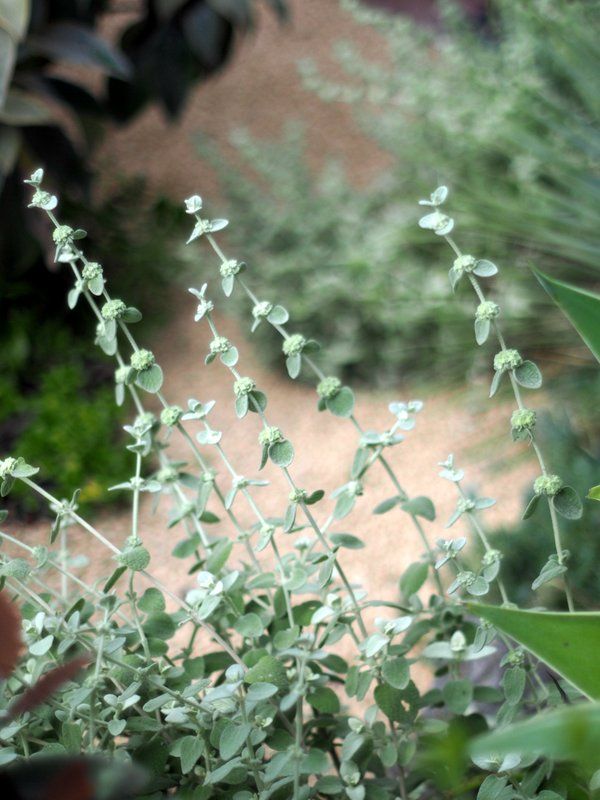 By the way, that's ballota in bloom, the full extent. Not a splashy plant but still a long-time favorite. Nice to see it recently at Denver Botanical Garden too.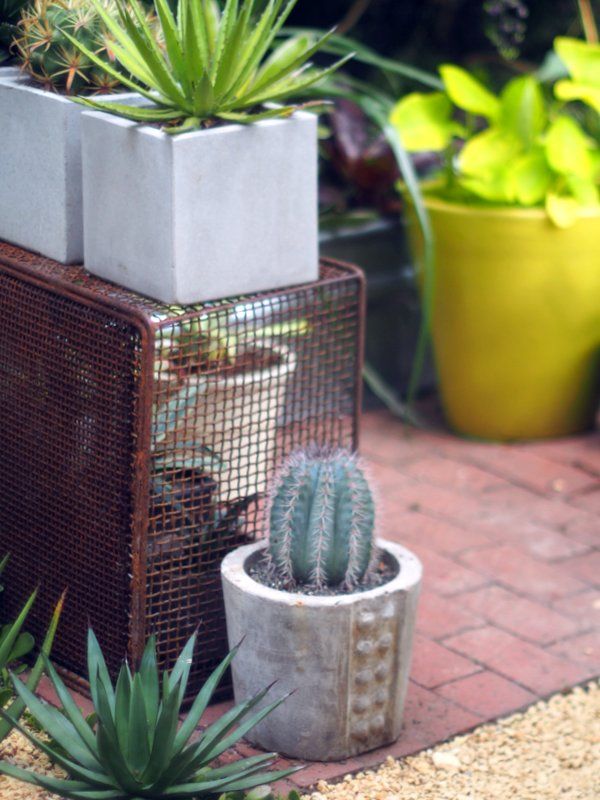 A small bricked square in front of the privacy cypresses was left for staging pots for now.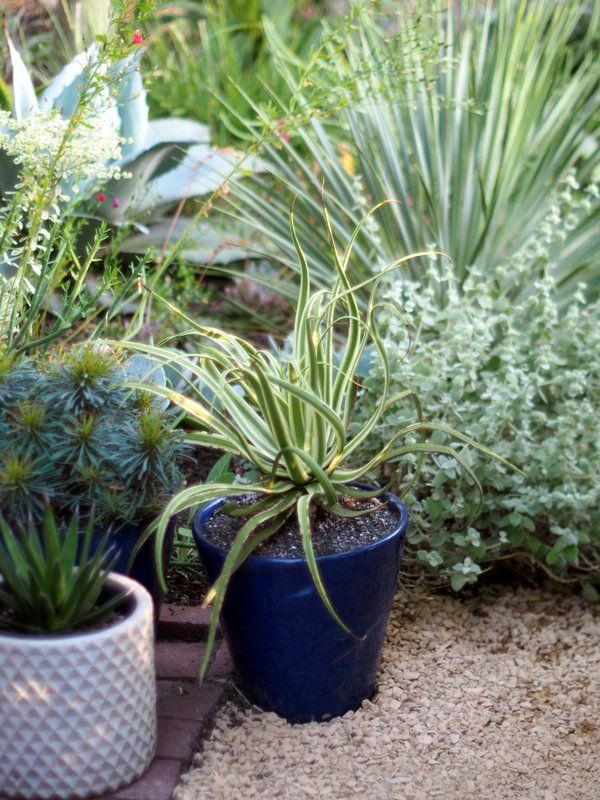 I'm mulling over eventual removal of these bricks, too, since I fancy myself going minimal as far as more potted plants. The long, dry summer is trying its hardest to make a minimalist out of a born maximalist.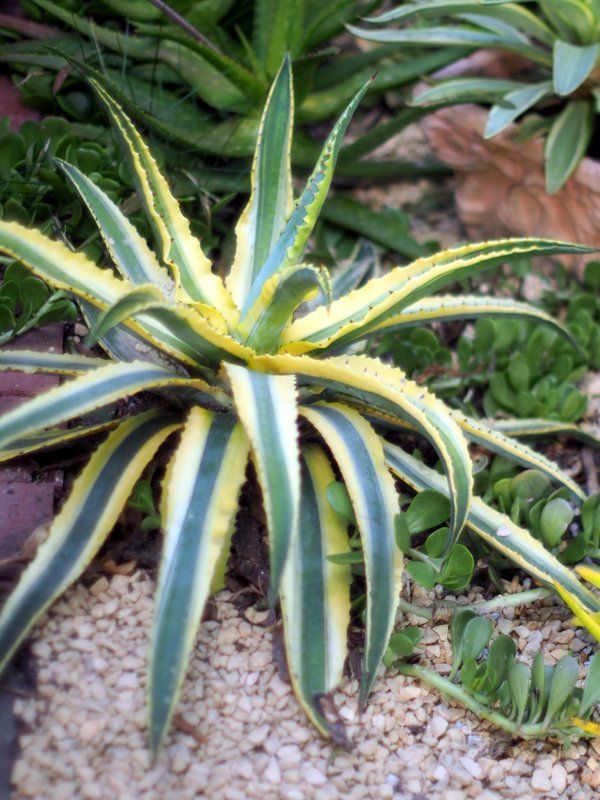 To my eye, plants just look happier with stone. Admittedly, Agave 'Cornelius' is nonstop exuberant so it's hard to detect any change in mood.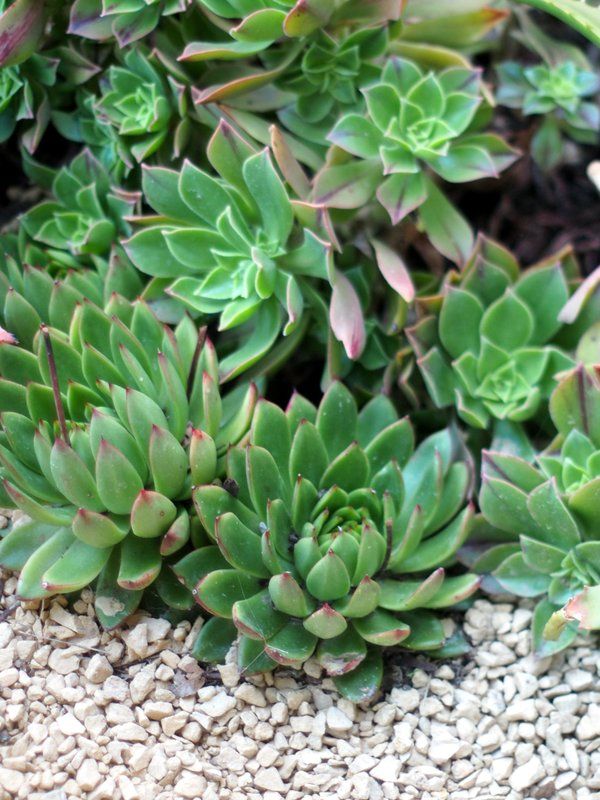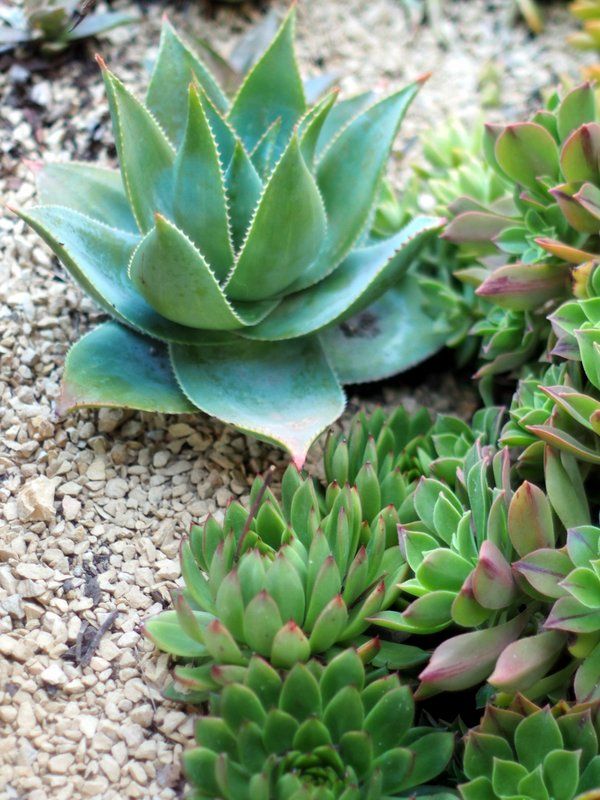 More beige-on-beige with Strobilanthes gossypinus.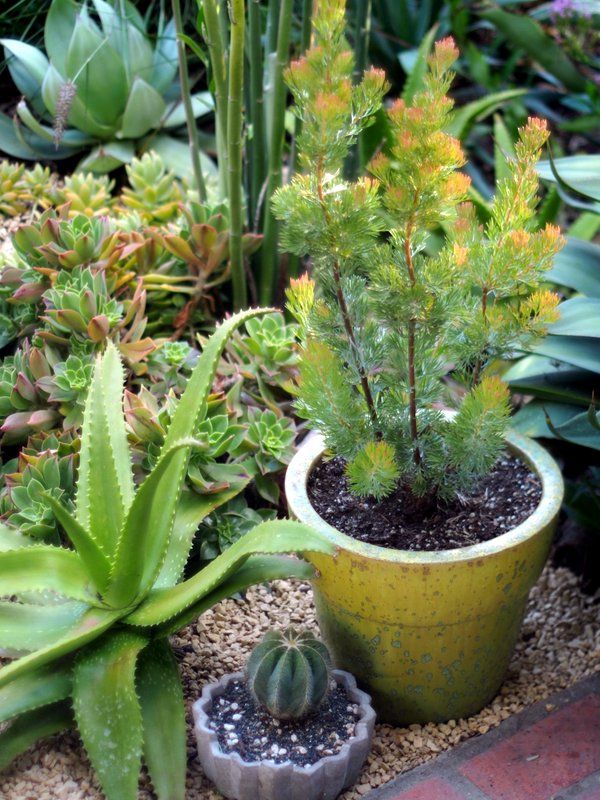 The rock has been extended as mulch into the immediate surrounding garden, not all of it, but already I get a sense of what a unifier it is in such a busy garden. The shrub in the container is Adenanthos 'Silver Haze,' which may be called into duty shortly. Eucalyptus 'Moon Lagoon' is showing signs of die-off, maybe just partial. I'm thinking the next day over 90F should provide enough stress to clarify whether the whole shrub is failing. I suspected some of the leaves were losing their luster, and upon return from Colorado cut back several dead branches. Soil-borne issues again? Too much winter rain after drought? Cut back too hard? These are my working theories thus far. It's also possible that as I've limbed the shrub higher and planted closer to its base, the extra water to settle in new plants has not been appreciated.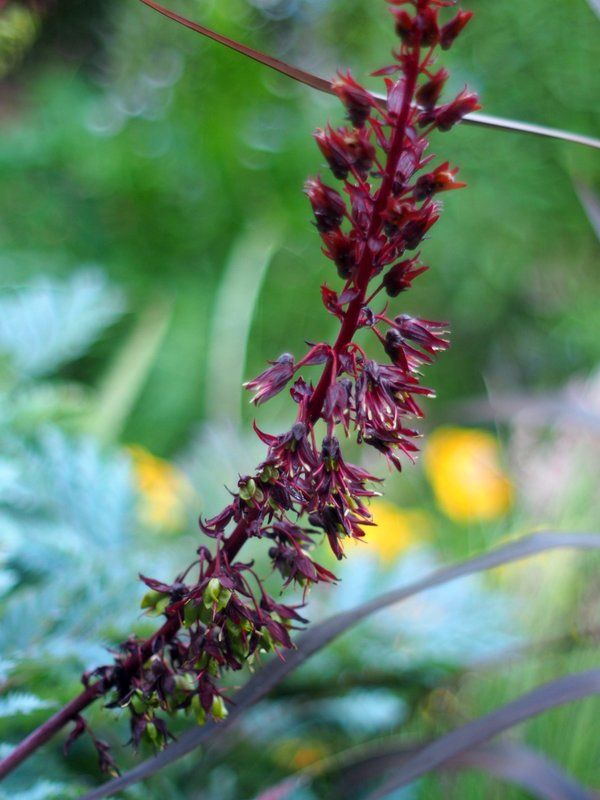 Oh, right. Bloom Day! The blooms on Melianthus 'Purple Haze' are still blowing my mind, and they keep on coming.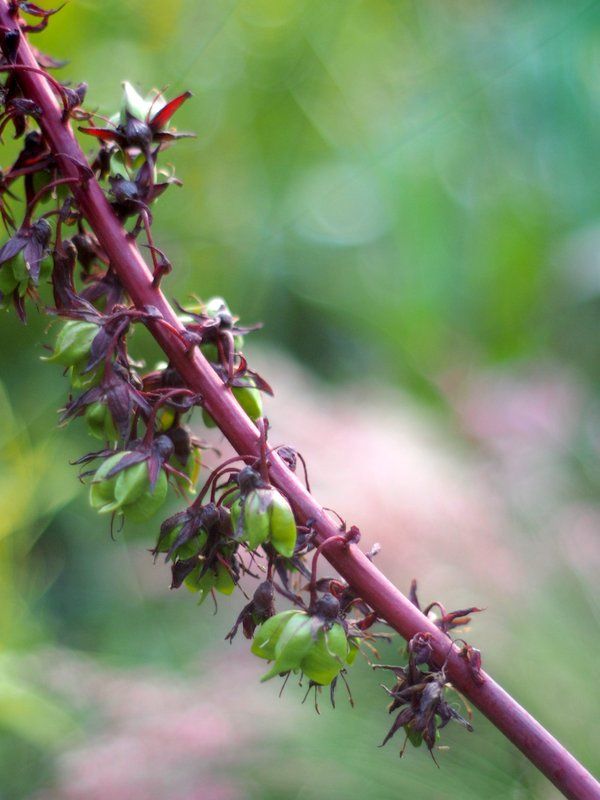 Almost fritillary-like in their opulence and rich coloring, deep burgundy and lime green.
Alstroemeria 'The Third Harmonic' is back in the garden after a few years' hiatus. It's way in the back now, in the far southeast corner, where it can lurch and lunge around all it likes. It's still just a young 4-footer, but I've seen what it can do, so it's banished to an out-of-the-way corner where its bad manners won't be noticed. A sterile variety bred by George Hare.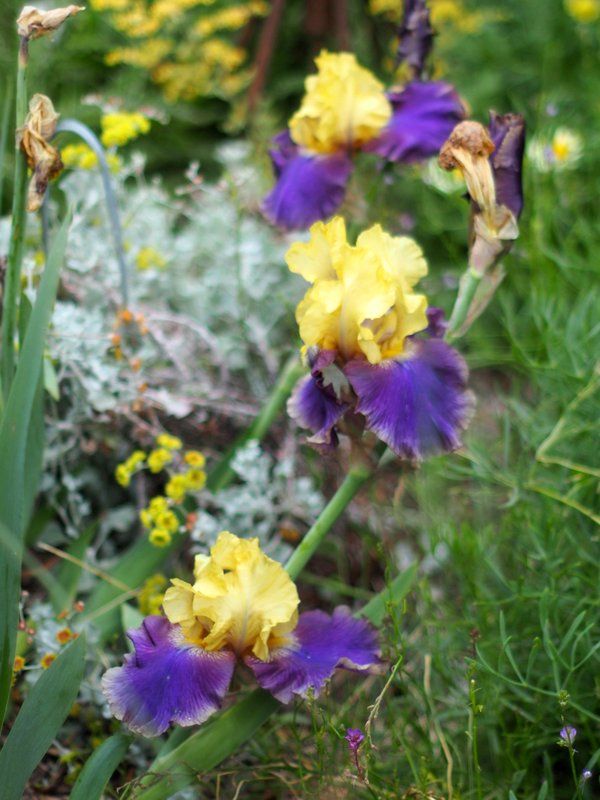 More drama from the irises when I got home.
Aloe hybrid 'Kujo'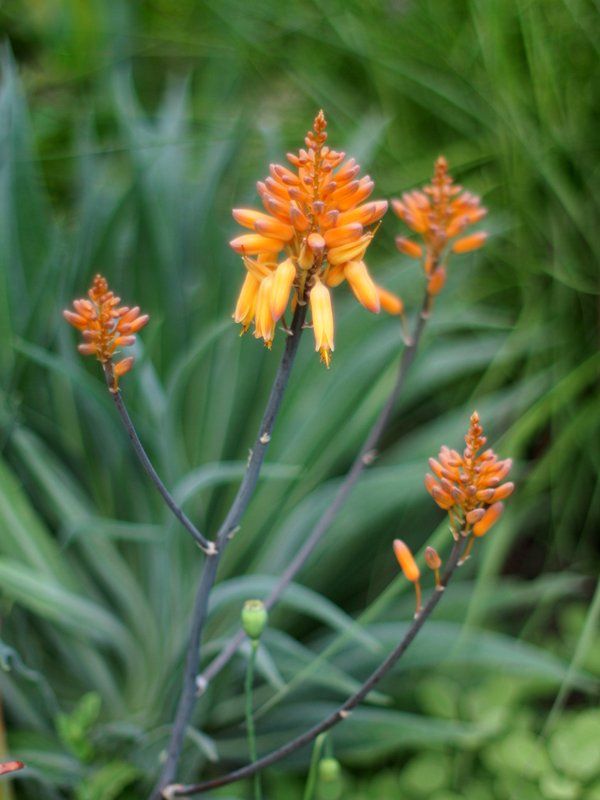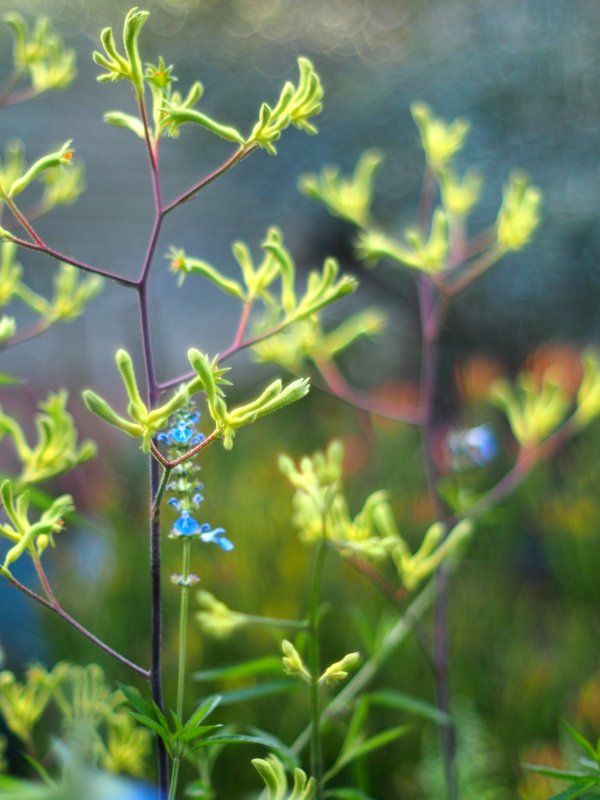 Anigozanthos flavum came up tall and strong after this winter's rain.
As tall as the bog sage, Salvia uliginosa.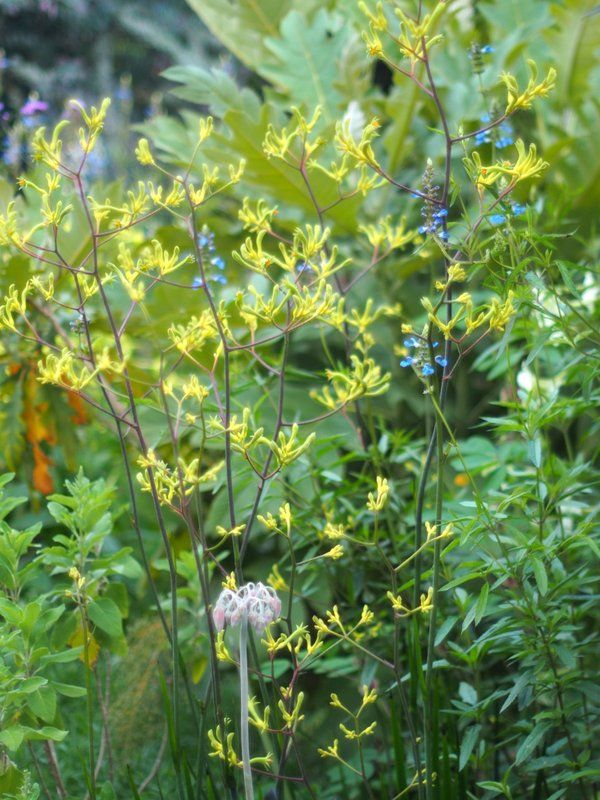 Nearby Cotyledon orbiculata is sending up blooms too.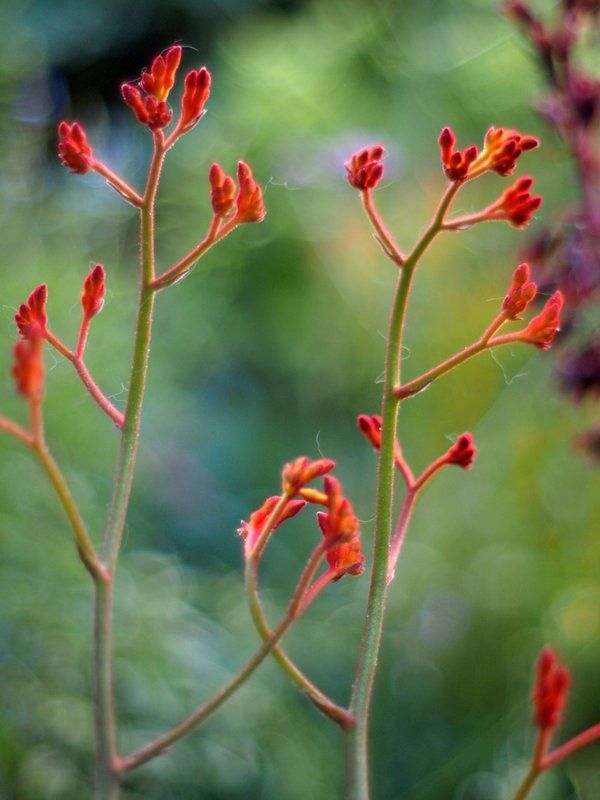 'Tequila Sunrise' is tall and slim, and leaning west. The tall lemon cypresses on the east boundary are to blame for that.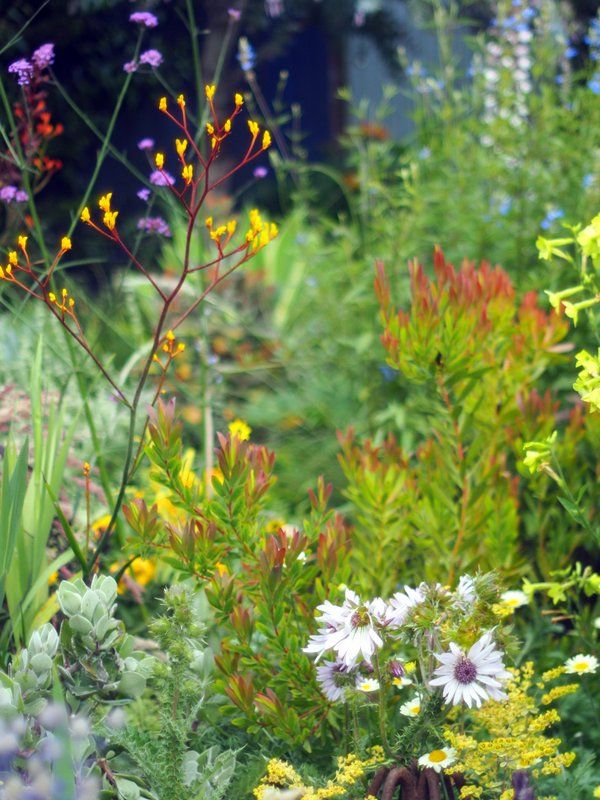 I think this one mid border is 'Yellow Gem.' Maybe it's my small garden that causes me to gravitate to thin, tall plants for summer, that rise up and can be readily seen. Of course, some people might scale down instead of up.
Clumps of calamint will soon cover the poppy's tracks. Ubiquitous but essential Verbena bonariensis self-sows at will.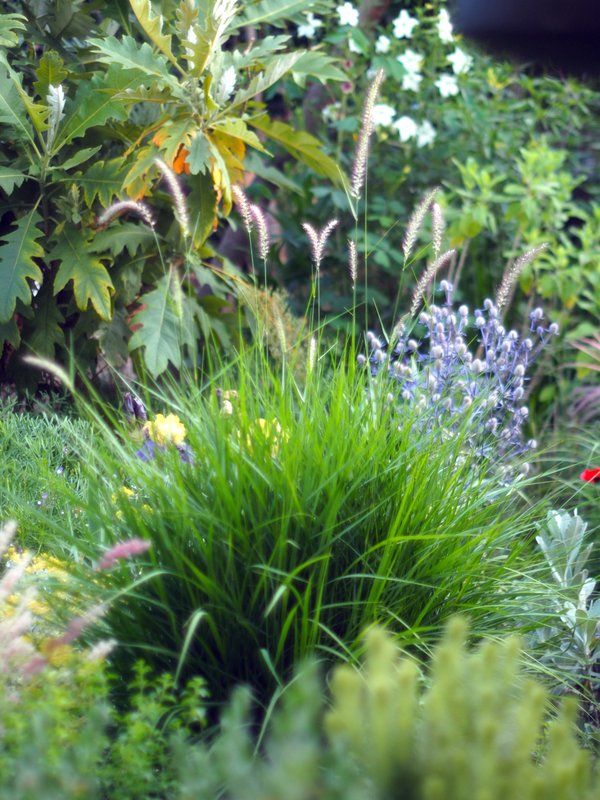 I love seeing the grasses back in growth and bloom. Pennisetum 'Fairy Tails' brings a deceptively verdant lushness to dry gardens. Grows fast and thick, so I've already split up last year's clumps. With 'Jade Frost' eryngium and white nicotianas behind.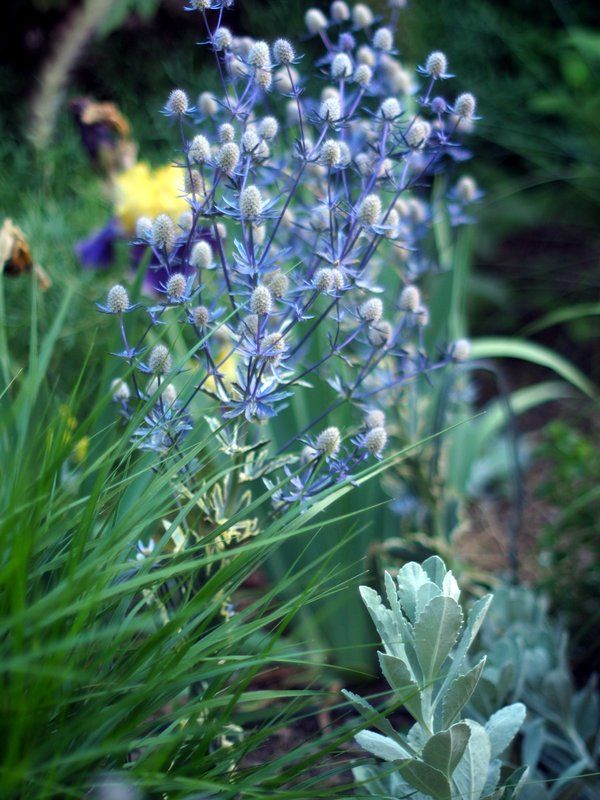 With Amicia zygomeris peeking in, working well with these heights.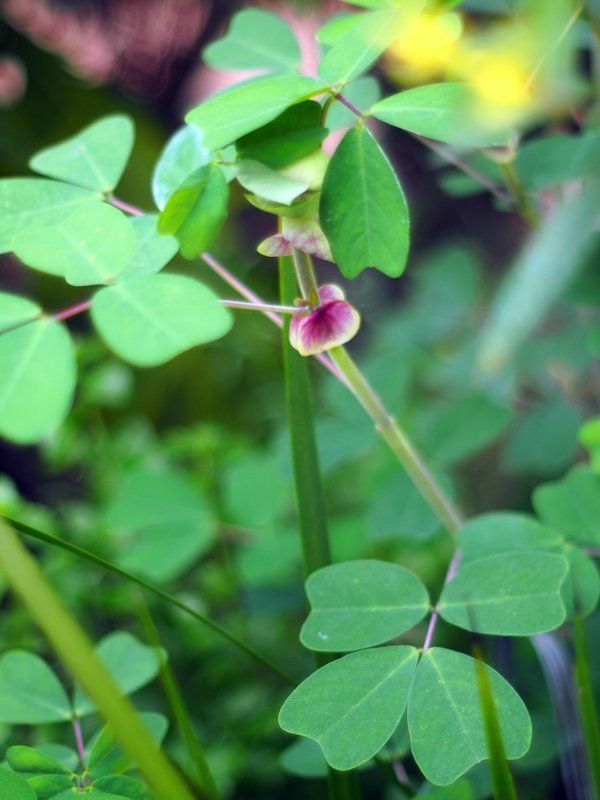 And to the left, with Berkheya purpurea and green nicotianas.
The berkheya with anthemis and Euphorbia 'Ascot Rainbow'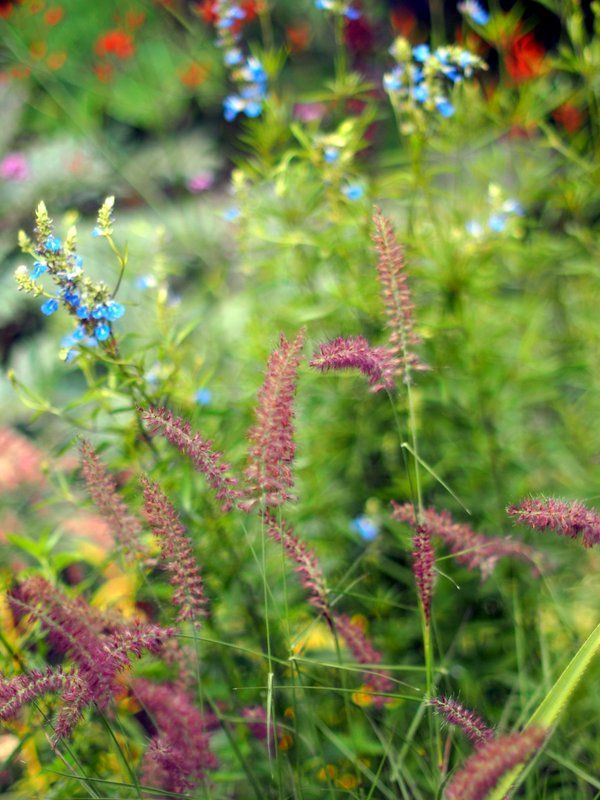 Pennisetum 'Karley Rose'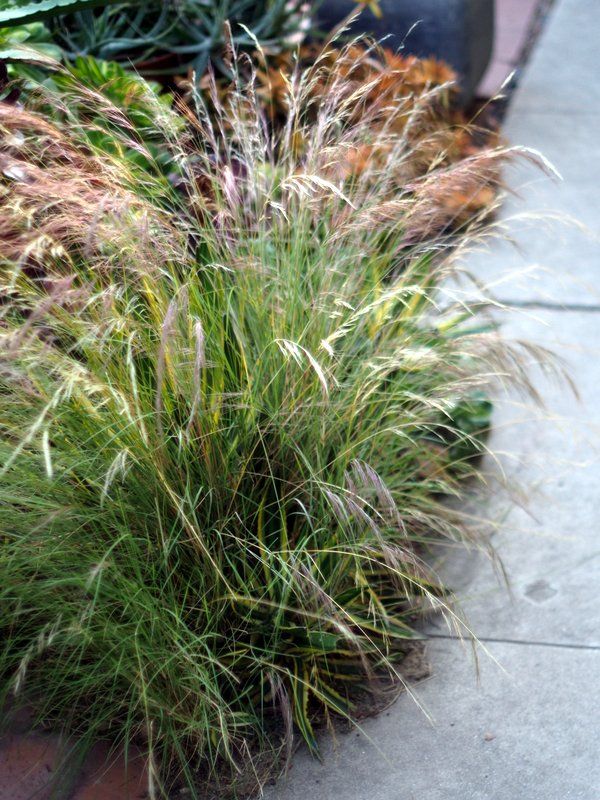 Another grass fairly new to me, maybe in its third year, the Calif. native Aristida purpurea. It never looked shabby enough to cut back over winter, so I didn't. It's been lightly reseeding, not enough as I'd like, but I'm told it can be pesty in the right conditions.
Ruby grass, Melinus nerviglumis, with a young (replacement) 'Ebony' leucadendron and a new chartreuse phlomis 'Sunningdale Gold' from Cistus via John Grimshaw.
Some Gaillardia 'Mesa Peach' nearby as well but not easily seen (or photographed) without trampling soil and plants.
Another project was prying Passiflora 'Flying V' off the 15-foot agave bloom stalk and onto something more appropriate for trellising, like…um, a trellis (what was I thinking?) I anxiously kept track of the one chrysalis I'd found on the vine, which did make it through the ordeal. Flowers had closed for the evening when I took this photo.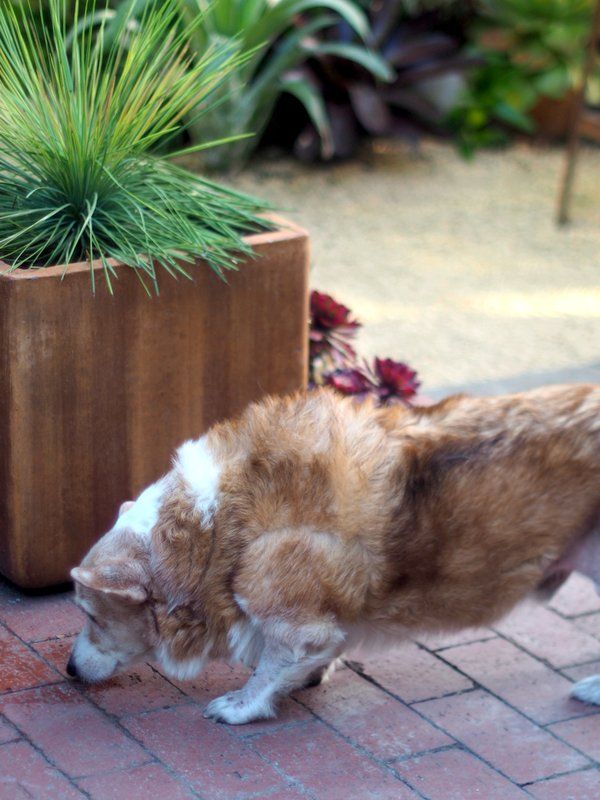 Corgi sighting. The little old man is hanging in there. I was so worried our time away would be the last straw for him but he rallied, the little trouper. We bumped into a corgi in Denver and instinctively called out "Ein!" The corgi turned around in acknowledgement. Lots of Cowboy Bebop fans out there.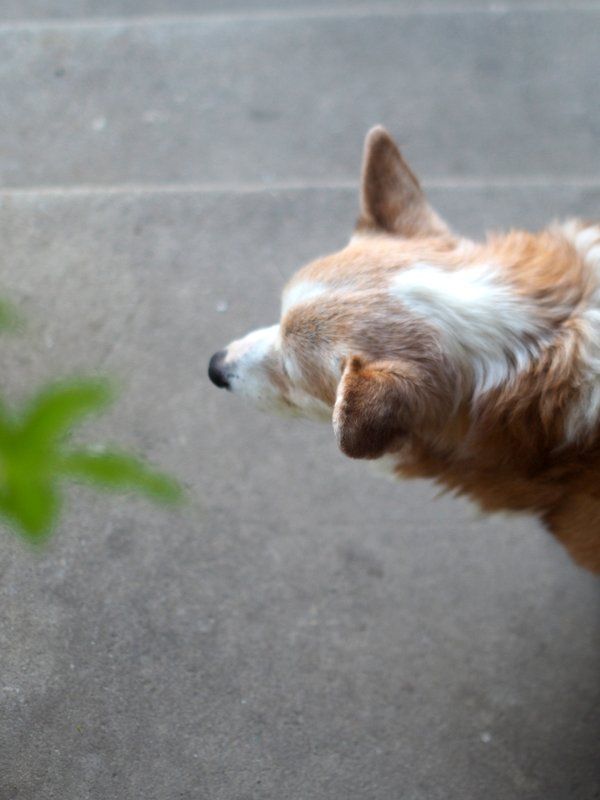 Hey, baby. Keep your nose in the wind as long as you can.
And lastly, the weather has been so mild that my mom's sweet pea vines are still pushing out blooms.
Sweet pea photos by MB Maher, vases by Dustin Gimbel.