Today I'm coveting this long water tank "rill" in British landscape designer Tom Stuart-Smith's garden flanked with bearded irises, Stipa gigantea, and astrantia, a scene possibly from late spring/very early summer? The first two I can grow here in zone 10, but not the astrantia. Bearded iris blooms much earlier than Stipa gigantea does here, at least in my Los Angeles garden. But even if I could get the stipa and iris to coincide, what could replace the astrantia? A smallish reblooming aloe like 'Rooikappie' posssibly interplanted with the annual umbellifer Orlaya grandiflora? Whatever…that tank is fabulous, even if lined in green seslerias or lomandra.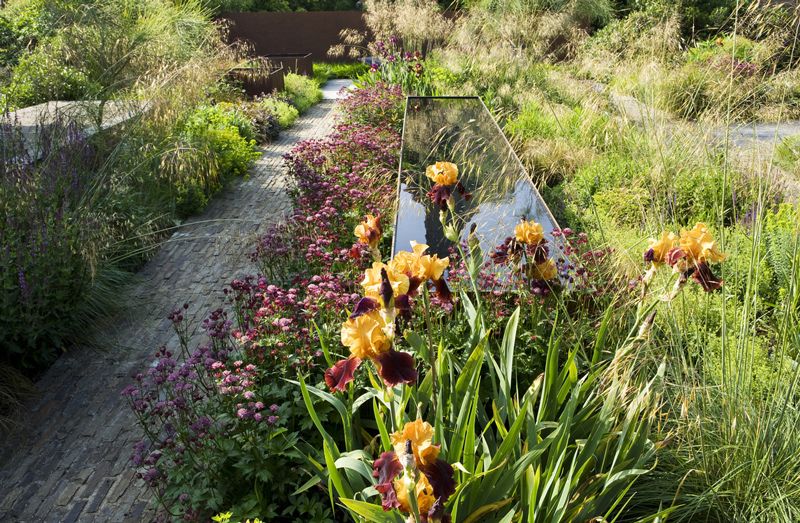 That long water tank could run alongside my pergola (but would no doubt take up more than half of the available planting area — a bitter compromise). I can see the raccoons bathing in it by moonlight and the garden impressionistically reflected in it by daylight, birds insouciantly winging in for a quick dip — and the cat with lots more warning bells added to his collar…
I miss Stipa gigantea and need to find a way again to shoehorn it into the garden.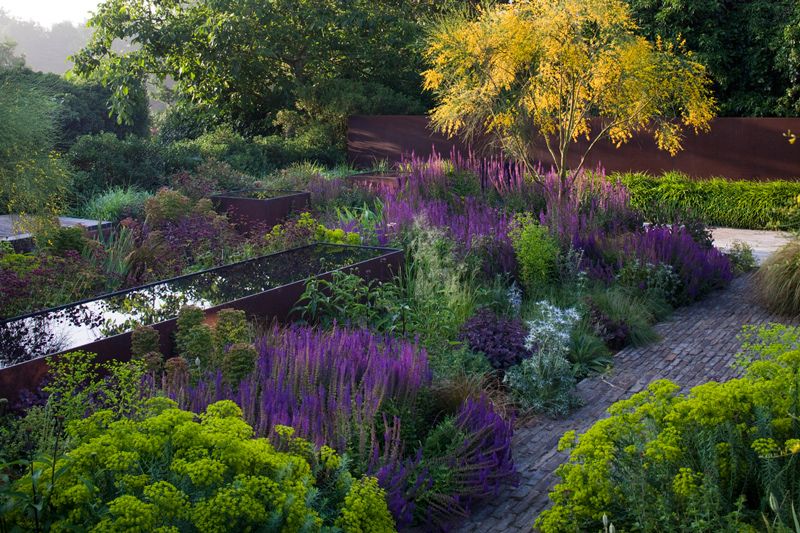 photos via Desire to Inspire.
"The Barn Garden at Serge Hill" is located about 25 miles north of London. This version of his garden was installed in 2007, pretty much lifted intact from his Gold Medal and Best In Show Chelsea Flower Show garden for the Daily Telegraph in 2006. The planting is on the dry-ish side, comprised of "irises, echinaceas, euphorbias, sedums, salvias, eryngiums, achilleas and grasses like Stipa gigantea and Panicum." from "A Tapestry of Color at Serge Hill."