Ever since the area became accessible by car and rail in the early part of the 20th century, it has been a favored location for estates and marvelous gardens, among them El Fureidis, Val Verde, and Lotusland. — The Lightest Touch; Isabelle Greene's Enduring Design for the Lovelace Garden.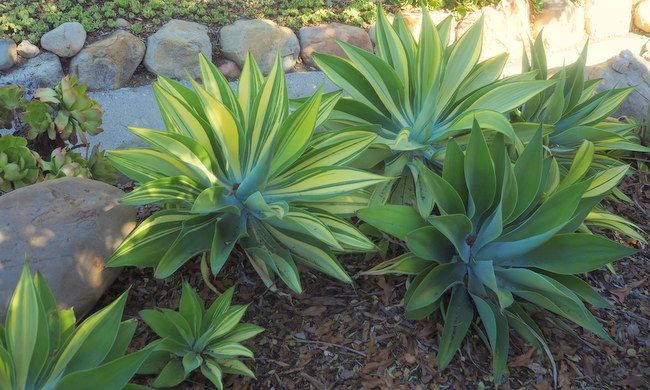 Last week I found myself in Santa Barbara on a Mediterranean Garden Society bus tour with garden lovers from all over the world; Australia, Spain, Portugal, Italy, England, Greece, Switzerland. That I managed to be there at all was entirely due to the kindness of Shelley Harter, who answered my laughably tardy inquiries two days before the tour was to begin and said yes, there was still space available and I'd be most welcome. I don't know why I'm always surprised when these sketchy, last-minute plans of mine pan out, because it's been proven again and again that plants and garden people are unfailingly the nicest, warmest group of people I've ever had the privilege to know. Even when late October temps uncharacteristically reached a stupefying 105 degrees Fahrenheit, the comaraderie never faltered as the bus chugged along roads against the majestic backdrop of the Santa Ynez Mountains.
The MGS annual meeting took place in Los Angeles/Pasadena the end of last week, and the Santa Barbara tour of Lotusland (which I'd visited a few times before, see here), the Santa Barbara Botanic Garden, and other estates and private gardens earlier in the week was denoted as a "pretrip" to the annual meeting. Marty and I camped at El Capitan State Beach and drove in to town to meet up with the tour bus each morning. While I toured, Marty visited museums, swam in the ocean, ran along the beach, then met up with me around 6 p.m. every day to head back to our camp, where we explored the beach then roasted sausages over a campfire as bats took wing into the twilight sky. It was a little slice of heaven less than three hours from Los Angeles.
Santa Barbara is permeated by Spanish influence, starting with its name and ending with its building codes, which after the 1925 earthquake mandated that all new buildings be relatively low-slung and constructed in the Spanish Revival style. This design homogeneity, as well as the mediterranean climate, reinforces its reputation as the "American Riviera." The climate easily encourages any budding love of plants and gardens, just as the periodic droughts, price of water, and fire ecology push back hard to test that love. Hearts are broken, meetings with insurance adjusters are set, and some choose not to rebuild. Nearly every garden we visited contained at least a few charred trees, while some houses and gardens were entirely rebuilt after the devastating Tea Fire of 2008. A landscape architect on the tour from Northern California, whose house was destroyed just weeks ago in the wine country fires, said seeing these homes and gardens reborn gave him some much-needed optimism.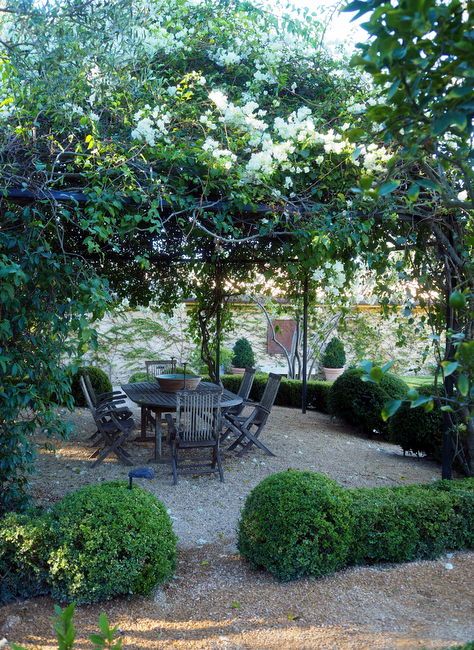 The Spanish/Moorish influence is seen in the gardens as well, in the use of evergreen hedging, shaded seating areas, water running in fountains and rills, vistas arrayed along an axis.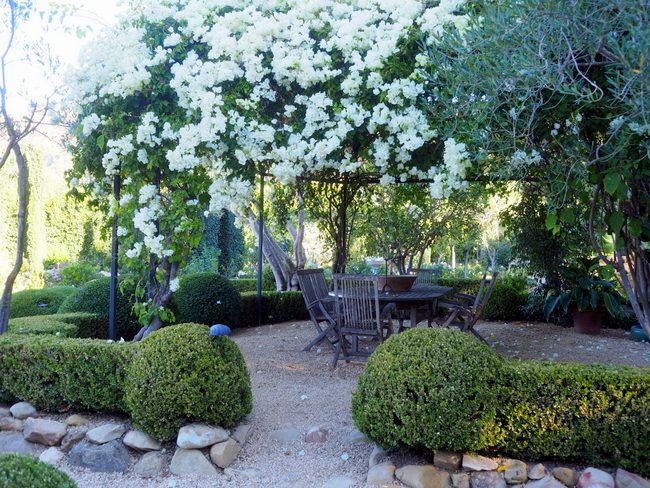 This owner-designed private garden is a modern-day example of the Country Place Era, a period in landscape design beginning in the late 19th century extending to the 1940s, when European influence was the inspiration for the early 20th century American estates designed by the likes of Jens Jensen, Beatrix Farrand, Fletcher Steele, Lockwood de Forest, Jr., Warren Manning, Charles Platt, and Ellen Shipman.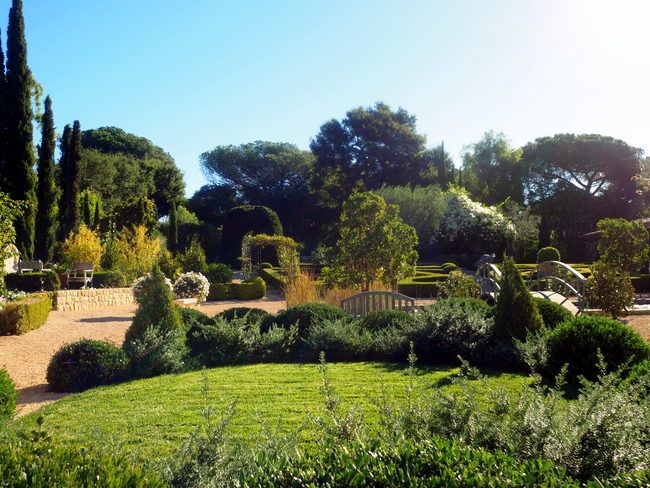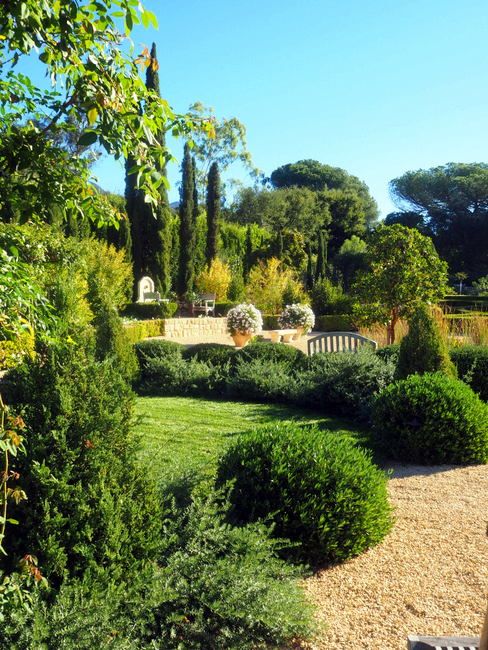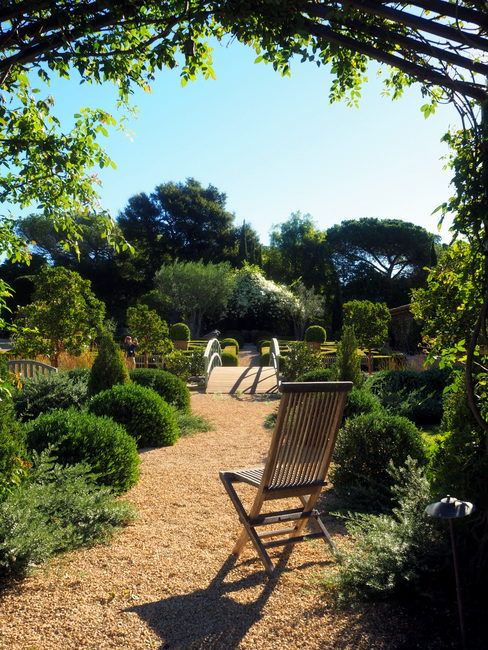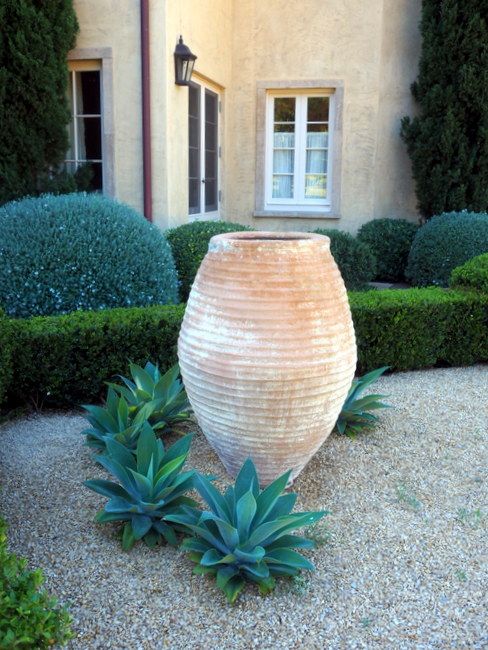 Oil jar encircled with Agave attenuta, box, and in the background, clipped westringia, which Australian visitors instantly recognized. The international perspective on the gardens was a huge part of the enjoyment for me.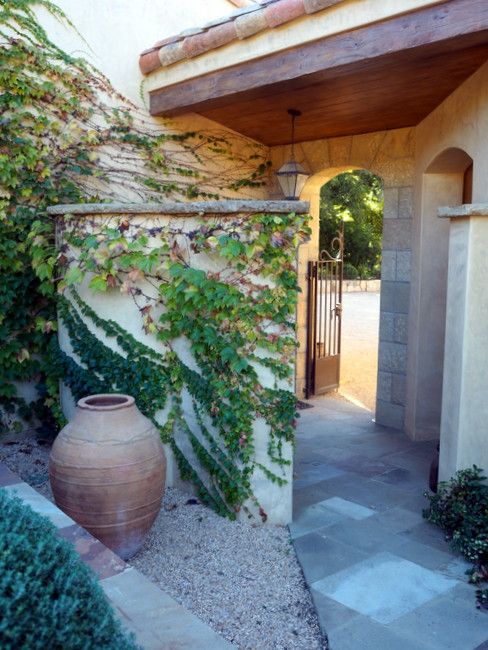 This garden had just days before replaced lawn pathways for crushed rock. I can't imagine the green of lawn here now, as the crushed rock emphasized the garden's place in a landscape surrounded by buff-colored mountains that shimmered in the heat. To my eye at least, the crushed rock also strengthens the overall design, contrasting with the evergreens.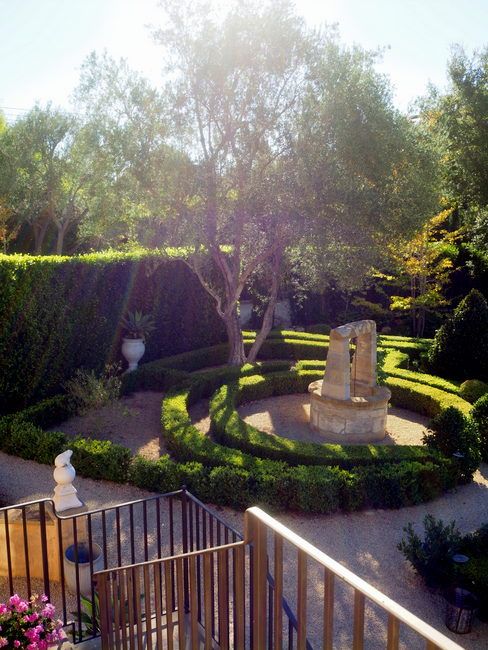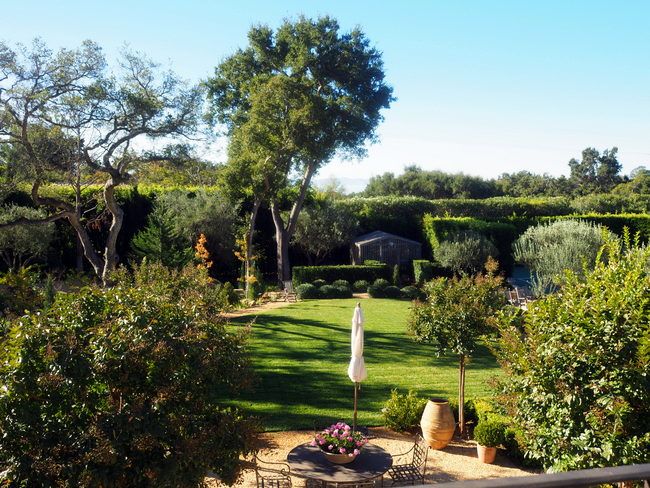 Other areas of lawn, used in the past for games for a younger household, have been whittled down as well. The owner expressed her frustration with drip irrigation and has decided to rip it out. You just never know when the drip hoses are failing until something is dead, was one of the reasons she gave, along with the spike in water bills being the only indicator of a leak somewhere in the system. She keeps a daily water journal, recording meter readings for the garden which are kept separate from the house's water use. The privacy the family prizes from trees surrounding the property is constantly under threat as trees and shrubs die off in the current, extended drought. Last winter's rains unfortunately favored Northern California over Southern California.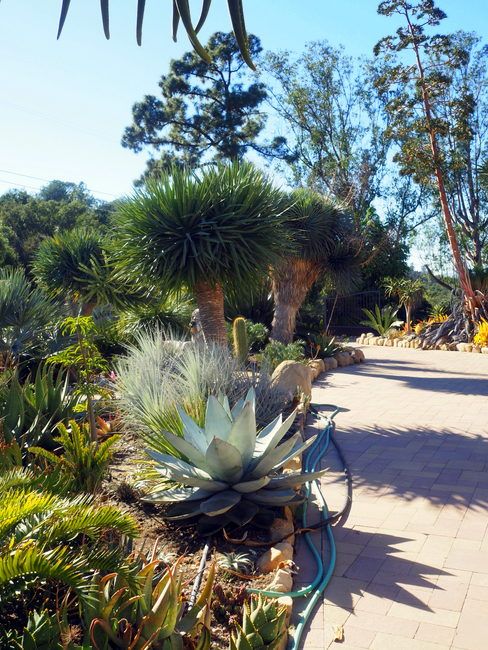 Succulent gardens were another theme, and there were fantastic collectors' gardens on the tour. These hoses are a crucial clue to this garden's good looks in late October. The owner, Jeff Chemnick, a field botanist, irrigates once a week and is liberal with 20/20/20 fertilizer too. He said his cycads in particular were suffering and yellowing before this regimen. Since visiting this garden, I've been wondering if my succulents suffer leaf burn in heat waves because I'm so stingy with water.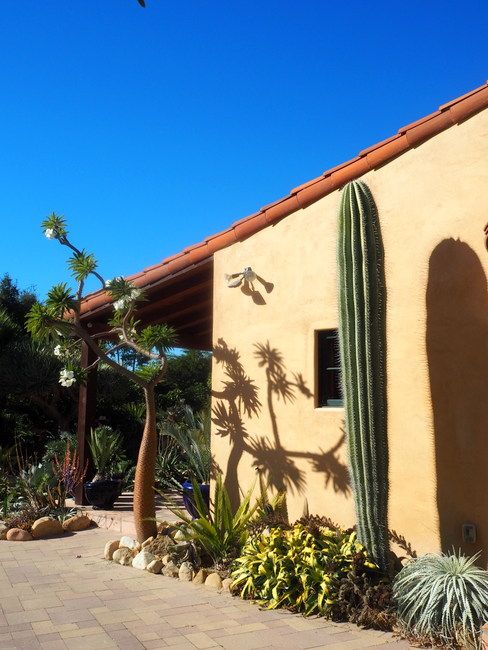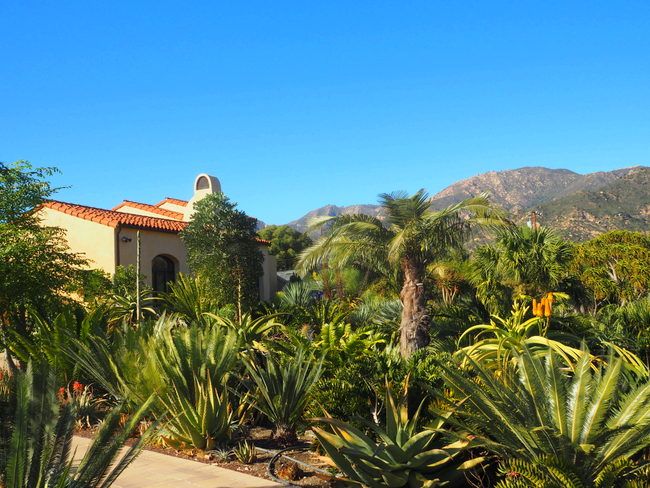 There were acres like this, packed with rarities of cactus, palms, cycads, tree aloes, cussonia, agaves. An intriguing twist to this garden is that everything you see is for sale, catering to those desiring large, mature specimens. Any resultant gaps in the garden happily make room for newfound acquisitions, many waiting in the wings, grown from seed collected on his frequent expeditions to Mexico. If he'd rather not part with a particularly rare agave, for example, he simply places an absurdly high price on it. Some of the largest, most pristine Agave guiengolas I've ever seen were in this garden. (You can read more about Jeff Chemnick, who handled our barrage of questions with incredible good humor, on his site Aloes in Wonderland.)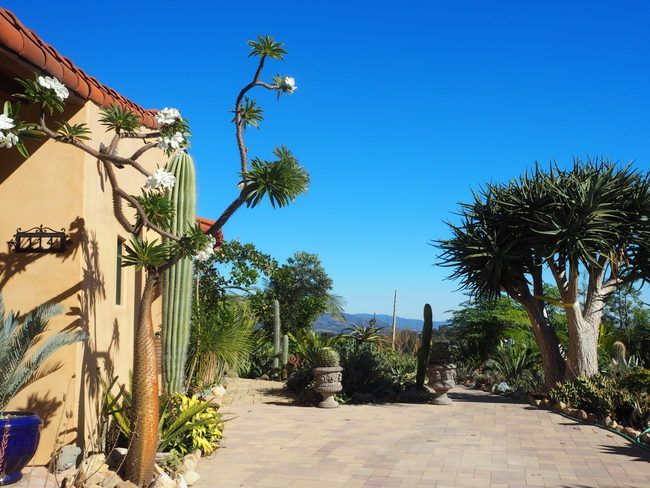 The pachypodium in flower drew lots of interest from tour-goers.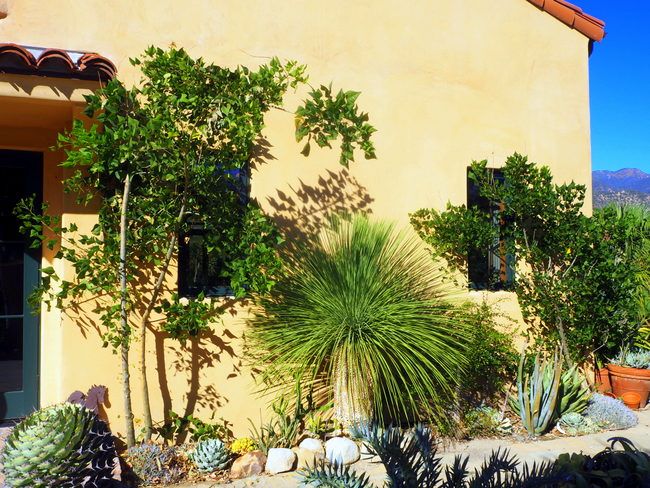 Isabelle Greene's work was the most naturalistic example on the tour, avoiding hard angles where possible and settling lightly into the surrounding chapparal. The naturalistic swimming pool she designed for the Lovelaces in the 1970s was a revelation then and is still as shockingly serene today, crazy as that sounds. I guess I'm used to overly designed gardens, not underdesigned, yet this quiet vision is the result of an enormous engineering undertaking. All rocks were found on site. This sensitive treatment of the landscape honors many thriving heritage oaks, which are notoriously distressed by supplemental irrigation.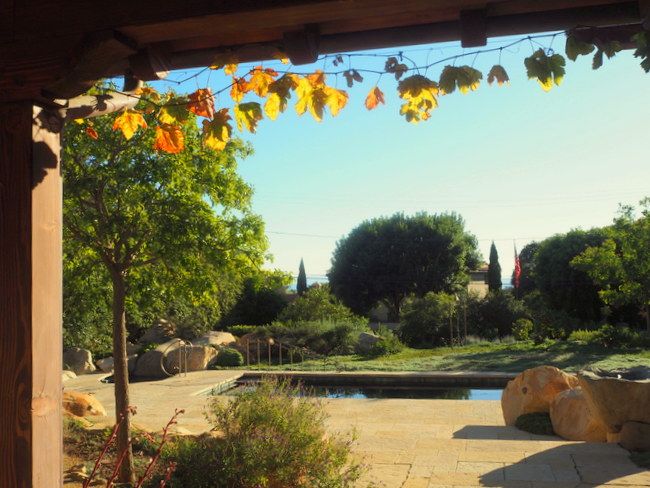 More examples of Isabelle Greene's work. (A visit I did not record to her own house and garden was a highlight of the tour.)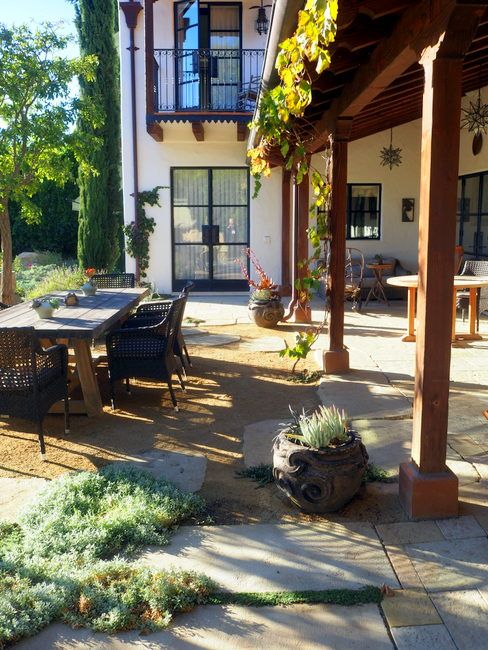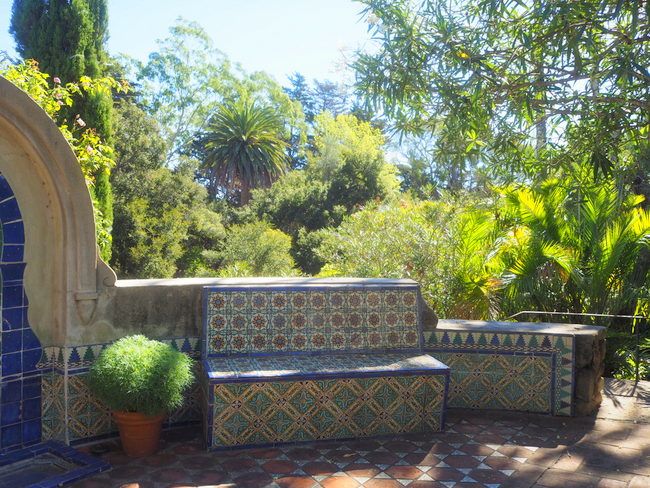 Lockwood de Forest, Jr., in addition to his work on Lotusland, worked as landscape designer for another estate on our tour, Casa del Herrero, a national historic landmark built in the 1920s, "considered one of the most fully developed and intact examples of America's Country Place Era that took form and flourished on the West Coast in the early 20th century." (see here).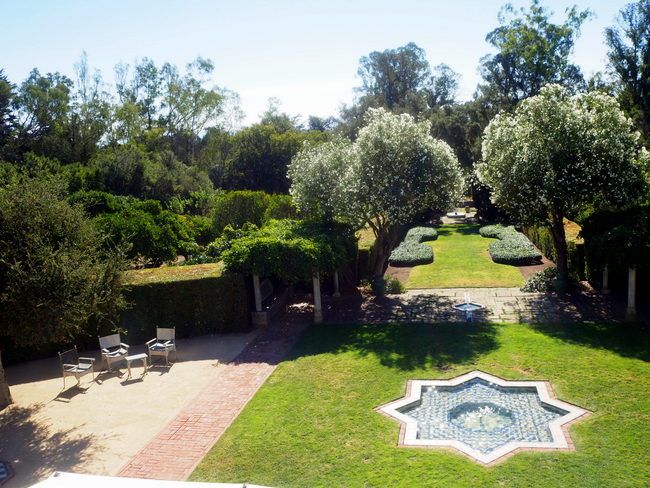 The eight-pointed star is rich in meaning to many cultures throughout the millenia, here seen in the shape of a shallow pool/fountain at Casa del Herrero.
The "House of the Blacksmith" is now controlled by a nonprofit at the behest of the original owners' grandchildren. (de Forest's work on an estate many consider to be the apex of the Country Place Era, Lotusland's neighbor, Austin Val Verde, will remain unseen for the foreseeable future, currently in private hands after years of contentious legal disputes that successfully beat back plans to open the estate to the public.)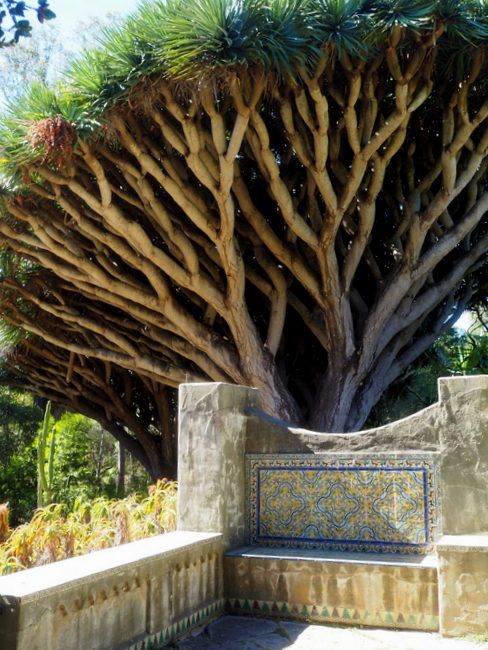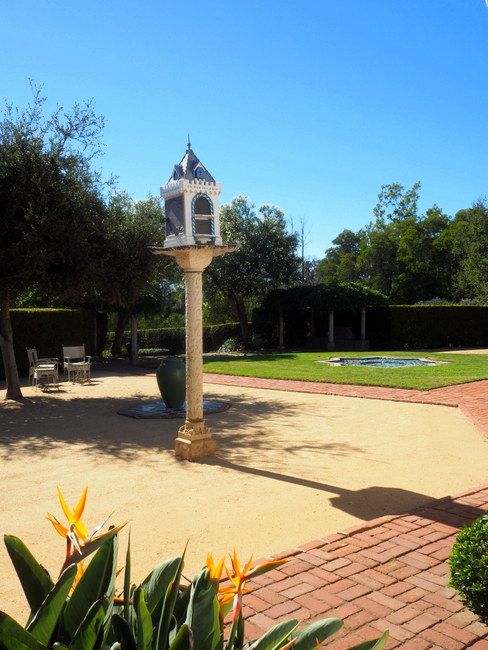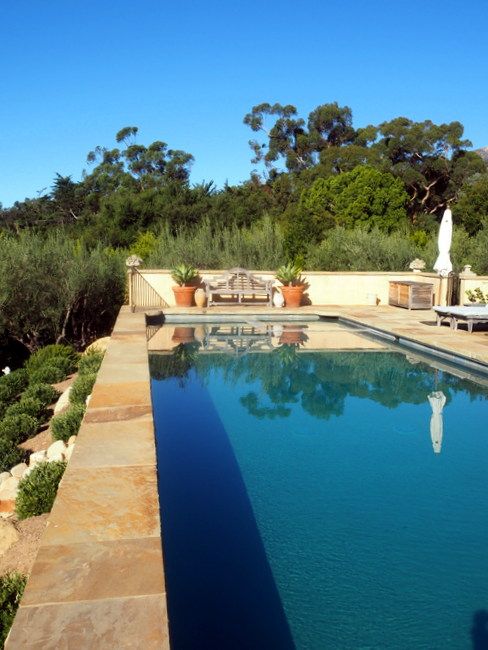 Swimming pools help ease the heat of the long, dry summer.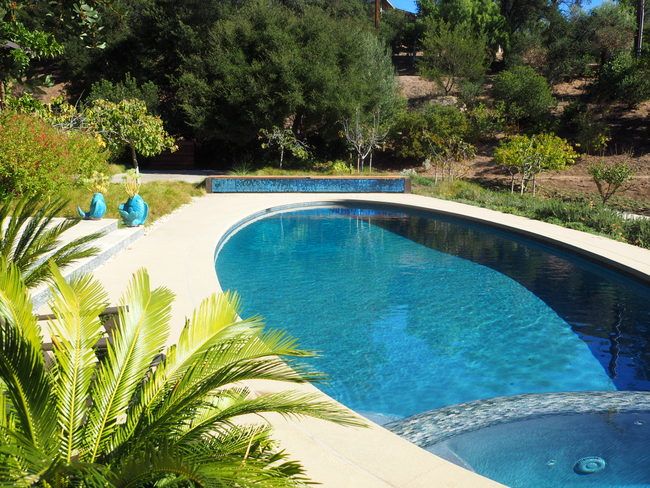 The recent addition of a skirt of paillettes has given this bench as much sparkle as the sunlit pool.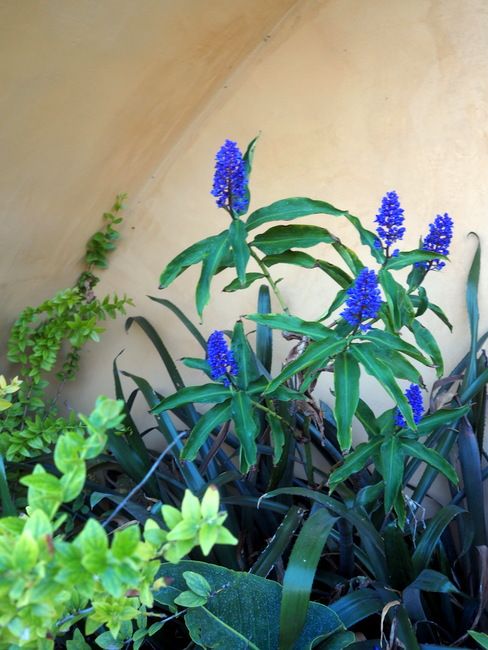 I had to look this one up. The Blue Ginger, Dichorisandra thyrsiflora, in Jeff Chemnick's garden.
Attending the Mediterranean Garden Society's meeting in 2018 will take a little more careful planning on my part. It will be held in Costa Blanca, Spain.