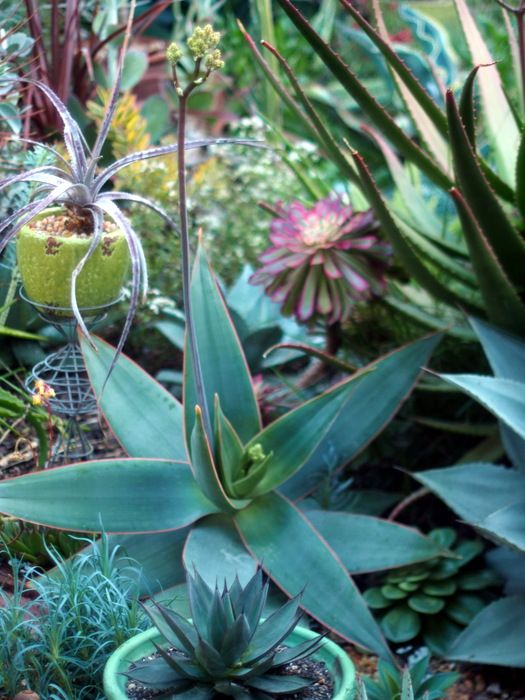 Aloe striata is getting ready to bloom. The Coral Aloe is not an uncommon aloe in Southern California, but it is in my garden. Sometime during summer, as I bring plants home from nurseries and shows, this aloe inevitably loses its place in the garden and is demoted to a container. I must've moved it back into the garden sometime in fall, hoping that it would bloom in winter despite the constant relocations. And so it has. This aloe was planted extensively in Los Angeles' Grand Park, where 600,000 gathered last weekend for the Women's March. There will need to be relocations for quite a few of those aloes too, since the leaves bruise and break so easily. Only a plant geek would notice such things at political rallies.
The bees were uncharacteristically out in large numbers and all over the heliophila this morning, descending on the garden early and chasing the hummingbirds off the grevilleas and aloes. The Santa Ana winds are back, and temps are climbing into mid 80s today.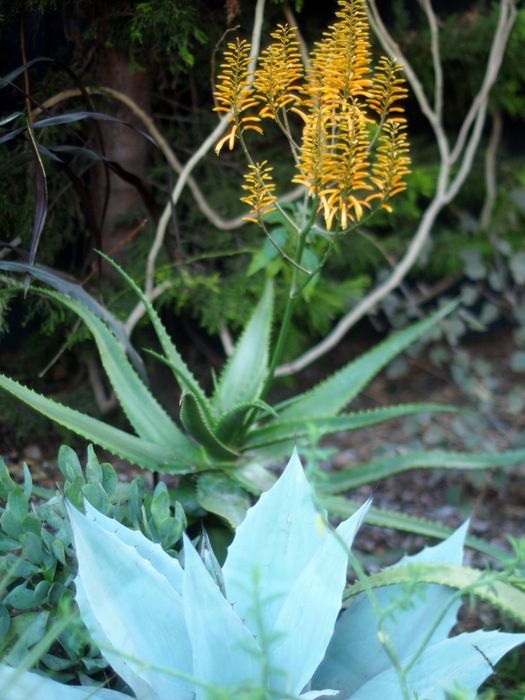 I assume there must be a link between the unexpected frenzy of bee activity and the heat, but I'm too lazy from the heat to look it up. That's Aloe 'Jacob's Ladder' in bloom, an Aloe dawei hybrid.
I picked up the heliophila a couple weeks ago at a local Los Angeles nursery that brings in a good selection of Annie's Annuals from her growing grounds/retail nursery in Northern California. I have a weakness for the intensely blue and wispy. Heliophila is also known as False Blue Flax. It's mixing it up with more deep blue from Salvia 'Marine Blue' planted in a nearby container last November. My plans for a January road trip to Northern California have so far been foiled, so it's either local nurseries or mail order at this point, neither of which are as enticing as a mid-winter road trip.
The South African Heliophila longifolia is planted with Minoan Lace, the umbellifer Orlaya grandiflora (also from Annie's), in a deep, rectangular planter. The rest of the garden doesn't need the water that annuals require, so they're consigned to a few containers. Plant geeks with dry gardens need to have a few such tricks up their sleeve, in the spirit of MFK Fisher's "How to Cook a Wolf." Don't cower from the drought or the wolf at the door, but find ways to savor it.
Both the orlaya and heliophila love these cool, sunny January days in the 70s (now heading into the 80's). I'll be surprised if they make it past May, but that short season is the whole point of annuals. Delightful today, gone tomorrow. And I fired off a seed order to Chiltern's this week for some more, about a half dozen different kinds, some like cosmos intended for summer:
Centaurea americana, 'Aloha Rosa'
Argemone mexicana
Cosmos bipinnatus, 'Xanthos'
Cuphea lanceolata, 'Purple Passion'
Emilia javanica, 'Irish Poet'
Linaria maroccana, 'Licilia Azure'
Nicotiana hybrida, 'Tinkerbell'
Quamoclit lobata, 'Citronella' (yellow Mina lobata)
I have a terrible track record for keeping anything in a container alive through summer besides agaves, but who can resist the fresh start implied with every spring? An irresistible reset button.
I also started some purple orach from seed (Atriplex hortensis). Wild Garden Seed offers some nice, deep-colored strains, 'Magenta Magic' and 'Triple Purple.' In this photo from 2010, orach is growing with Verbena bonariensis, sharing the same tall, slim footprint. Since it hates hot summers, I'm trying it as a winter/spring annual — for its sensational ornamental qualities, though it is edible too.
And we all know lots of edibles are also great to look at. I plopped some 'Redbor' kale in with Xanthosoma 'Lime Zinger,' which has kept some leaves all winter.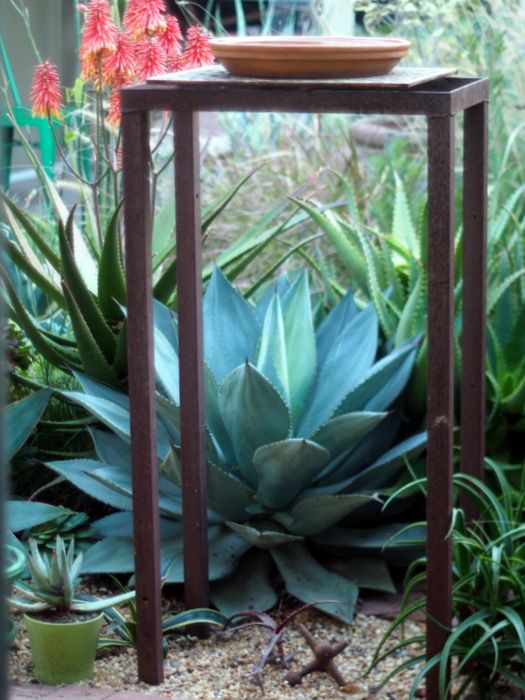 Still on my quest to build the perfect bird bath. Commercially available birdbaths are 1) usually not to my taste and 2) way too short to deter clever cats. (And are there any other kind?) Our first rainfall a couple weeks ago filled the fire bowl in which this drainage dish was centered on a deep bed of gravel, and the weight and shifting soil caused the entire structure to topple. My fault entirely for not ensuring greater stability. As I sorted through the wreckage, I was amazed to find that not a single plant was harmed. The basin slid off and landed on its edge like a UFO plummeting to earth. And I kind of like where the gravel spilled, so I'm leaving it. (Under the legs of the bird bath is a newly planted aloe brought home from the San Diego garden of Rick Bjorklund, a yellow-flowered Aloe cameronii. That's the typical orange-flowered cameronii in bloom on the left.)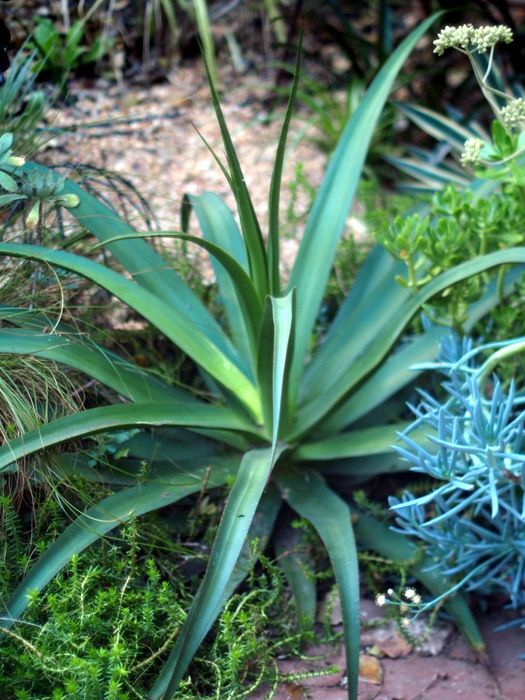 What's important is that Agave 'Mateo' came through unscathed.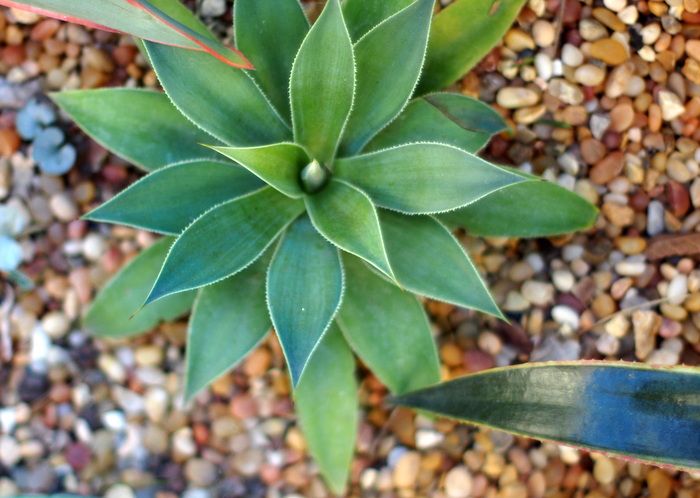 And Mangave 'Lavender Lady,' unscathed.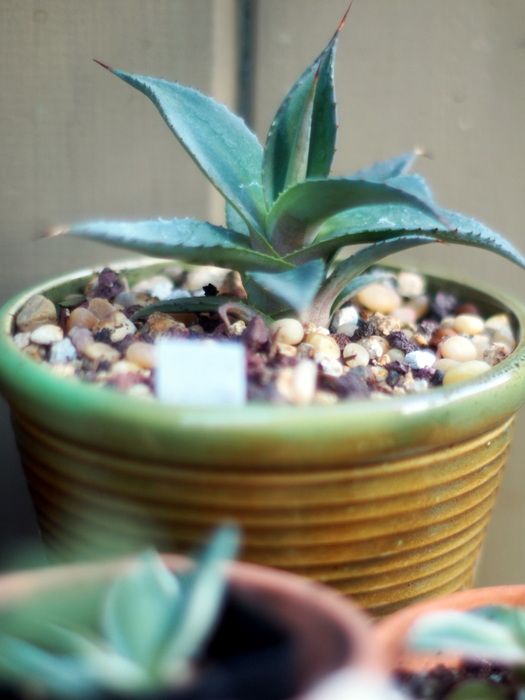 Mr. Bjorklund opened his amazing collector's garden for the San Diego Horticultural Society last weekend. This year the emphasis was on sansevierias, with many kinds brought in by James Chambers of Rocksmith Nursery. I'm not much of a fan of sansevierias yet but did pick up a few aloes and this agave hybrid of A. nizandensis and isthmensis when I saw a beautiful specimen growing in one of the display beds.
And that's a wrap on my week in plants.