Imposing title for a modest report on a handful of new plants, right? Regardless of the size limitations of a small garden, I'm always trialing new plants, but I'm hesitant to report on results that might give a false impression of a plant's true potential. Because, face it, I can't offer optimal conditions — maybe too much sun or shade, too much root competition, inadequate winter rain to get the season rolling. Above all, I'm a merciless crowder of plants. (And I'm focusing here on herbaceous or shrubby plants, not succulents.) For example, I think the new Senecio palmeri is going to be a fabulous addition to the dryish garden. It hung on all summer in mostly full sun wedged in among a welter of other stuff. Today I removed a couple of broken branches (cat!). It never achieved the silvery dome I envisioned because I could offer only a quarter of the space it required. Still, it makes the cut for inclusion next year.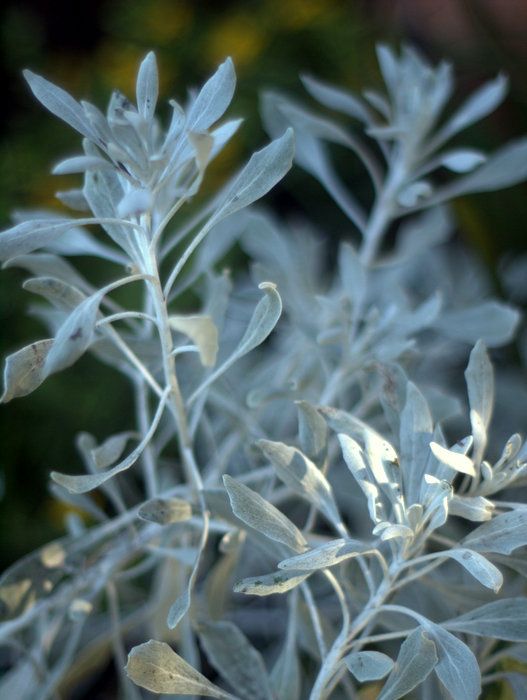 Not a very tempting photo of Senecio palmeri, but nevertheless, you really should try this one, giving it as much room to expand as you can muster, and then you can judge whether it's strictly a foliage plant or looks equally fine in bloom with bright yellow daisies. I think it's got a lot of promise for a sunny, dry garden in zones 9-10. The jury is out on another silver in my garden, Senecio candicans 'Angel Wings,' but it also deserves consideration for making it through summer in full sun — just not growing much. I'm guessing better drainage and maybe a tad more water. The best specimens I've seen were made comfy in pots filled with loose potting soil, not stiff clay like mine.
Another indeterminate appraisal goes to a compact form of one of our native buckwheats, Eriogonoum giganteum var. compactum, not an easy plant to find. Try the native plant nurseries like Theodore Payne or Grow Native at Rancho Santa Ana Botanic Garden. All three plants survived summer, and one even bloomed, so they've all made the cut for continued trial. All three stayed under a foot in height, an impressively compact performance. I'd never be able to accommodate the enormous girth of the species. Eriogonum is a famed nectar source for lots of butterflies. Squeezed in here among frothy calamints, which will always have a summer home in the garden for fitting in so well among agaves and other succulents and making the bees deliriously happy. I'd love to find a smallish nepeta that gets started earlier than the July calamints, possibly Nepeta grandiflora 'Little Trudy.' I could fit in maybe two — if I hadn't already started infilling erodiums in gaps among the succulents. Erodium chrysanthum in particular quickly makes a feathery mound of bright silver and flourishes in the same dry sunny conditions as succulents. But planting among established succulents can be tricky; this summer I lost a nice clump of Euphorbia resinifera to rot caused by the water I diligently provided to a young Banksia repens getting established nearby.
And this photo, with kangaroo paw leaves splayed over the buckwheat, illustrates just what I'm talking about as far as less than optimal spacing. I'd love a long sunny bank to give these silvers a proper trial.
Like erodiums, the glauciums are wonderful interplanted among succulents, in flower or out. Centranthus lecoqui slips in quietly among the succulents too, shown here in bloom above Agave 'Ivory Curls,' but be warned that this valerian does seed itself around and not always where you want it. (Personally, I love thinning out the largesse of self-sowers — it makes me feel impossibly rich.)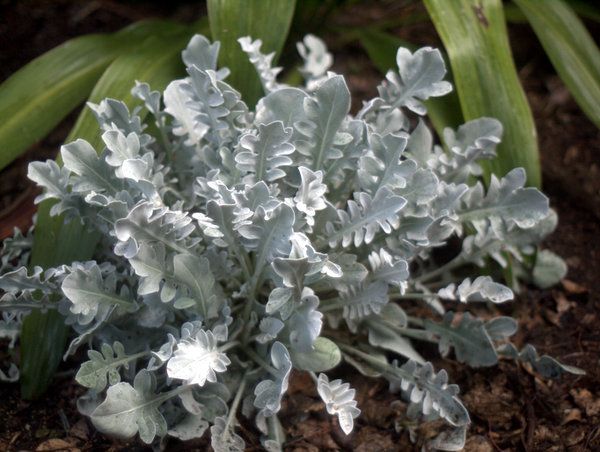 Centaurea ragusina is another promising silver, shown here in April. Despite its robust appearance, apparently it's somewhat shallow rooted. Grabbing a brown leaf, I inadvertently pulled up the entire plant. And, unfortunately, none of the cuttings taken rooted. But my mishap aside, I'm hearing good reports from lots of growers.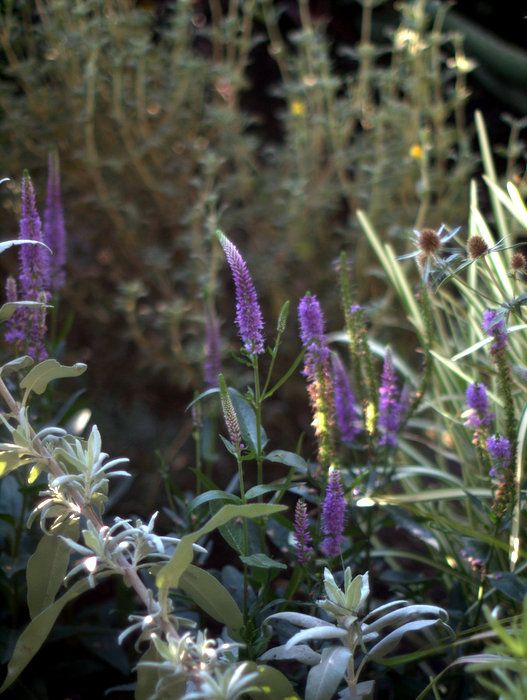 Occasionally I'll stumble on a summer perennial that doesn't mind our mild, dormancy-deprived winters. Persicaria amplexicaulis is one, and I seem to remember someone extolling veronicas as another. I picked up this Veronica 'Purpleicious' a couple weeks ago at a local nursery (where BTW gentians were also for sale, if that's any indication of less-than-sound plant offerings for zone 10.). The silver leaves belong to Salvia 'Desperado,' a hybrid of two native sages, Salvia leucophylla and apiana. No blooms in its first summer. Some native plants shed their winter leaves for fresh summer leaves, and I've noted this sage cycling through sets of leaves at least three times, so it always seems to be holding on to some shabby leaves. If it doesn't bloom next year it's out. It's probably in too much shade anyway, so my trial is by no means definitive. Speaking of native salvias, I pulled out my two Mojave sages in August. They weren't dead, but Salvia pachyphylla has very little chance of thriving and blooming well near the coast, whereas an adjacent Salvia 'Waverly' is foolproof but wants more water than the Mojave sages can tolerate, so due to water incompatibility somebody had to go. Undeterred, I'm trialing another native salvia this fall, a compact selection of a native sage, Salvia apiana 'Compacta.' Not sure where this one will go yet.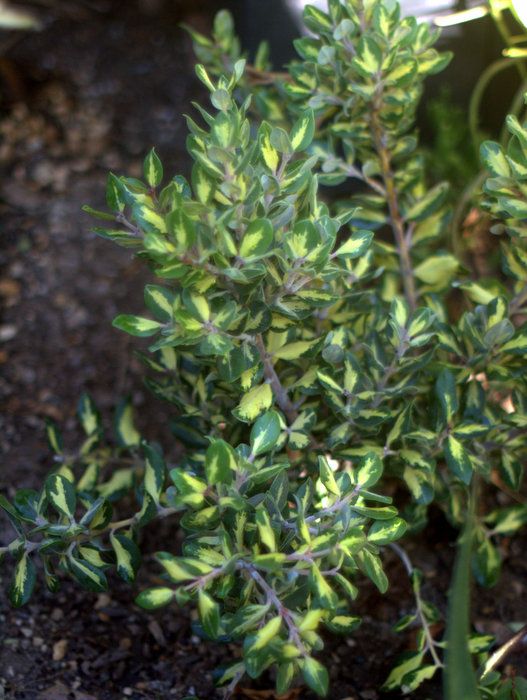 A towering Euphorbia ammak 'Variegata' was leaning from too much shade so was dug up and potted, and the open view to the garden beyond was so entrancing that I vowed to plant nothing else to impede the view…until I got a great deal on this Metrosideros excelsa 'Gala.' It's only getting half-day sun here, again, not optimal. Sigh…
This fall phygelius are on my mind again for their shrubby reliability and long bloom. I've grown the peach and yellow forms in the past, but this year I'm trying a smallish form, 'Magenta.'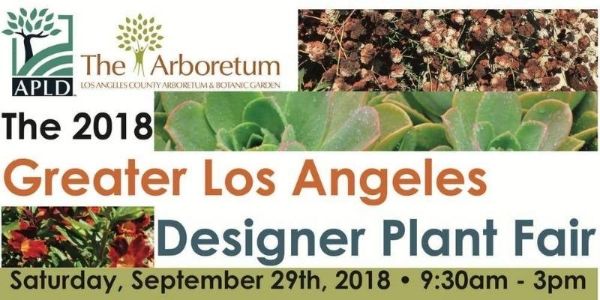 And just in time for fall planting, the Los Angeles chapter of the APLD is holding a plant fair at the Los Angeles Arboretum September 29, with vendors and sponsors like San Marcos and Australian Native Plants. Non-APLD members are invited to attend as well.
Not that I have any space for more plants…still, it never hurts to look, right?
Have a great weekend.