Of the eight gardens on the tour, divided into four in the morning, four in the afternoon, I visited six and drove by all of them.
I'm including photos of just three gardens from this tour themed "The Watershed Approach to Landscape Design." (Another garden I visited was posted on here.)
This excellent tour was well organized, with the designer and owner available for questions at each garden. Smart phones and clear maps make driving tours like this a breeze now.
The tour occurred mid-day during another record-breaking heat wave, which meant a strong sun, deep shadows. I was mostly looking and listening, with the camera idle at my side.
Marty has always said I've got good "radar," a trait that renders me a sometimes silent companion when dining in a restaurant.
For example, I can suddenly seem to go catatonic, staring off into the mid distance as I focus on an interesting conversation. (Eavesdropping, some might call it.)
During the tour I eavesdropped on questions asked of the designer or garden owner, figuring it would spare them answering the same questions from me.
I noticed that the owners were often blissfully unaware of plant names, irrigation systems. They loved their gardens as a whole and didn't obsess over the components.
Once again, that relationship of trust between designer and client was an impressive thing to behold.

And sometimes the designer and client nail it, that chimerical vision of the garden-to-be, from inception, like the first garden on the tour.
Designed by Joel Lichtenwalter & Ryan Gates/Grow Outdoor Design, "Brentwood Mid-Century Woodland Garden."
Everything was exactly the same as when I first toured it three years ago (here).
Which speaks volumes about the powerful mind meld that is possible between client and designer.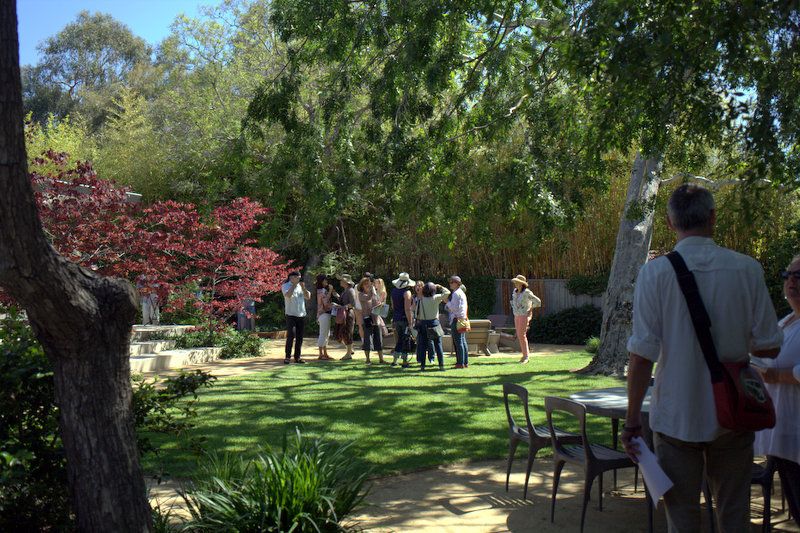 Continue reading an abbreviated look at the 4/17/2016 Los Angeles APLD tour →