We're a tad overexposed and on the run…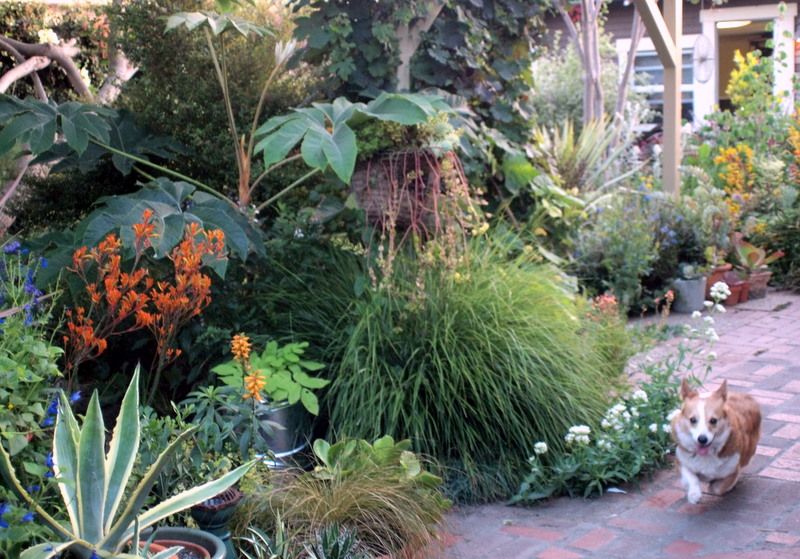 a day late for Bloom Day, the 15th of every month, hosted by Carol of May Dreams Gardens.
More photos after the jump.
July reminds me of mid-morning on Christmas Day, knee-deep in wrapping paper and ribbons, desperate to unwrap just one more present, the really exciting one that's somehow been missed and is now buried under all the wreckage of gifts of pajamas and socks. (Yes, it was a practical holiday for me in our house. My brothers got the safari gear and chemistry sets.) I'm afraid this little town garden has no more presents to be unwrapped and is just about at full throttle. (Except for the one dahlia budding up, possibly a dark burgundy since that seems to be the only kind of dahlia I buy, and a Leycesteria formosa starting to flower, some very late-to-rouse Agastache 'Purple Haze,' and Darrell Probst's hybrid Coreopsis 'Full Moon,' which was given the "Chelsea chop" for more compact growth.)
Some 'Moonbeam' yarrow peeking around the yucca, Persicaria amplexicaule and gaura. Salvia canariensis leaning in from the left.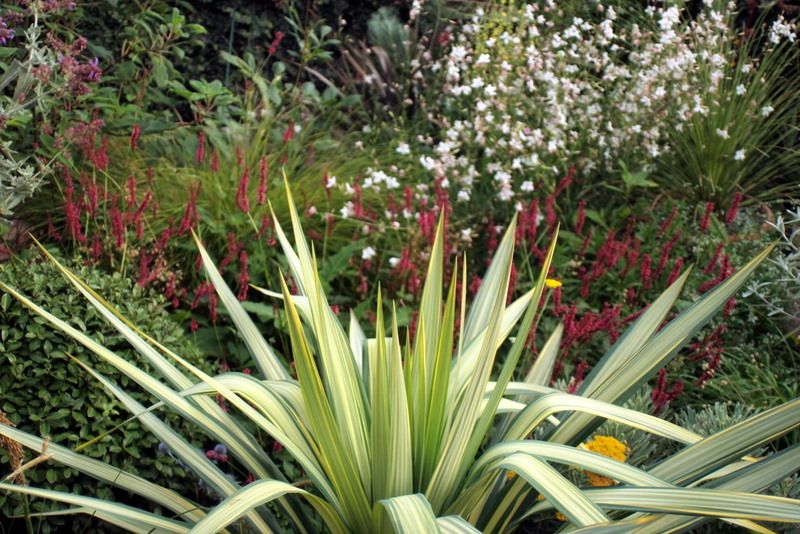 Closeup of bracts of this salvia.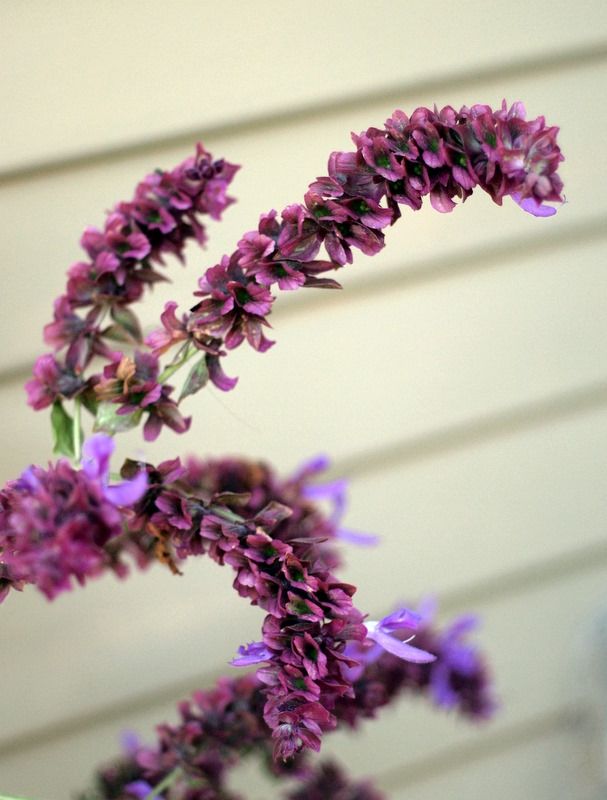 Behind the gaura I dropped in a Sumatran banana purchased last week, Musa sumatrana ˜Zebrina.'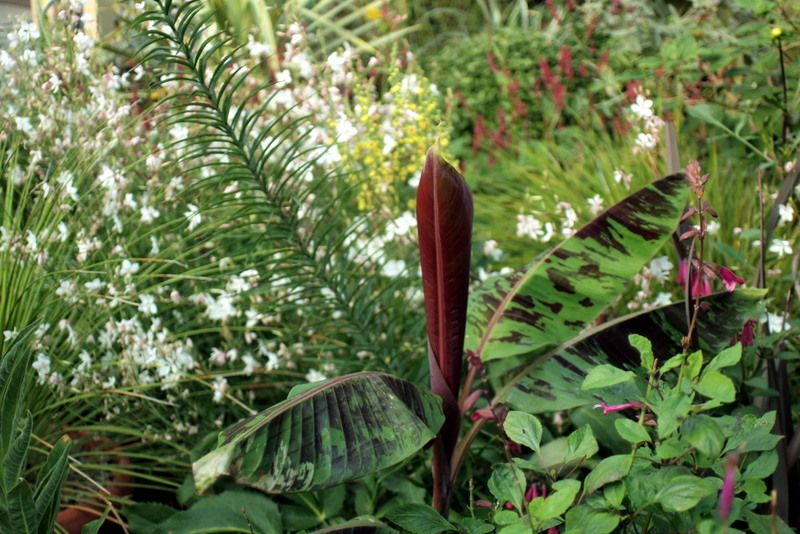 Flowers of the manihot and castor bean plants.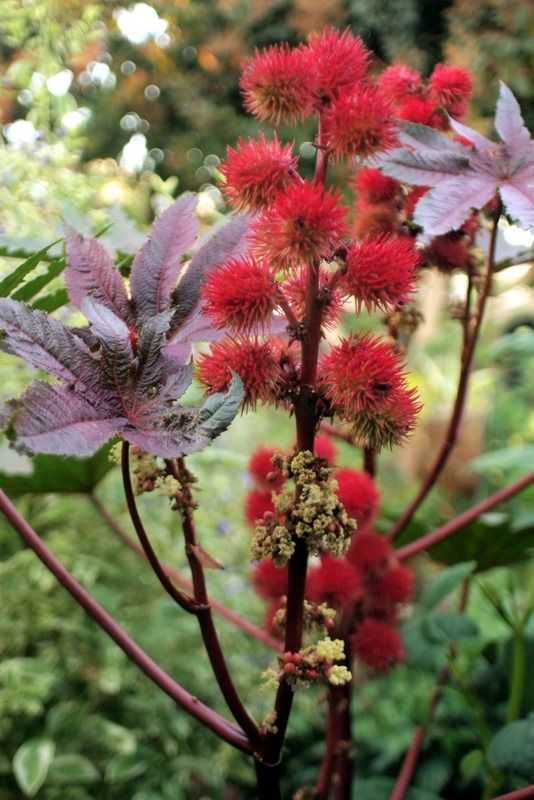 The leycesteria showing buds. I hate to admit how many photo attempts I've made to capture this beautiful shrub. And this feeble one is the best so far!
The violently chartreuse leaves just blur out in photos.
'Black Knight' scabiosa
Grevillea 'Superb' still lightly blooming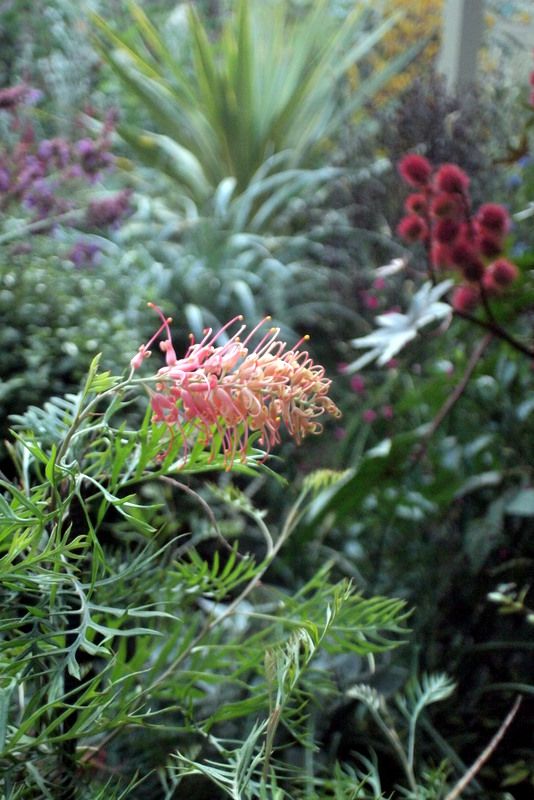 The bracts and flowers of Elegia fistulosa. This restio is incredibly brittle and is just now gaining good form again after bringing it home in winter.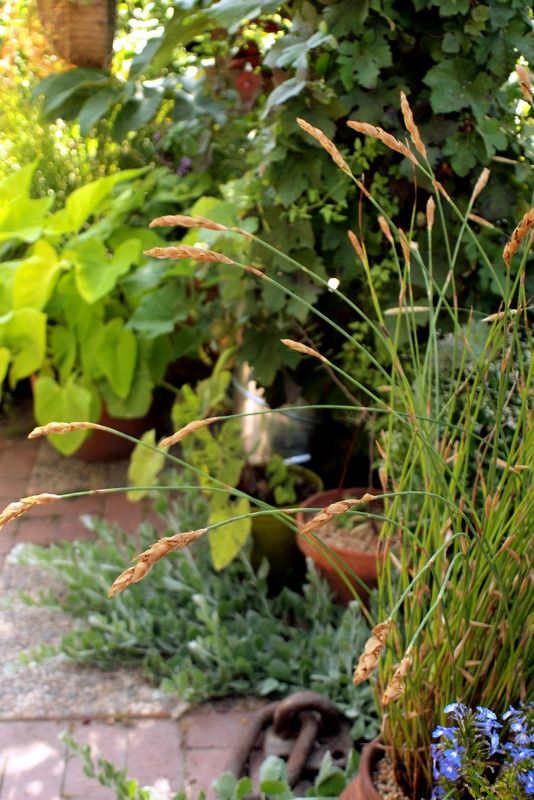 An inadvertent and probably unfortunate pairing of two deep reds, Salvia chiapensis in the foreground, with more pink, and the persicaria in the background, but the two colors together constantly draw me in to study the varying saturation in each. The grass between them is a Pennisetum 'Bunny Tails.' If and when it blooms those maroon brushes…ooh la la. Felty white shrub is Buddleia 'Silver Anniversary.' Knautia macedonia contributes more magenta here. Nothing succeeds like excess! I do prefer strong colors, but it's mainly the reliably long blooming period I was after with these plants.
The Salvia 'Waverly' a year-round gift to the hummingbirds.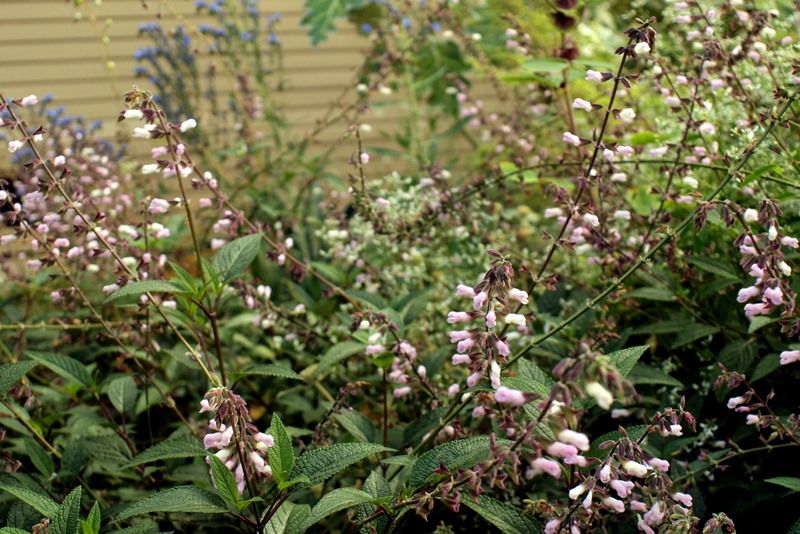 These pale yellow hollyhocks are fortunate to have a partner to lean on.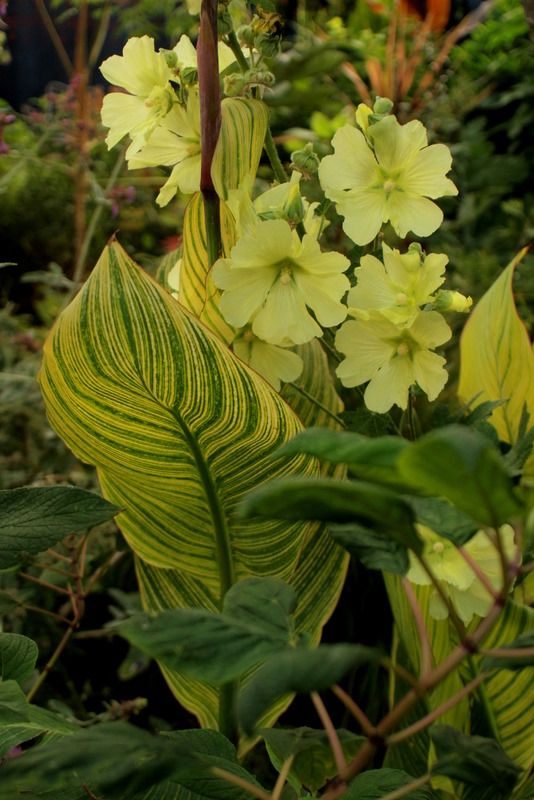 The mystery verbascum and gaura.
Solanum rantonnetii 'Variegata' another nonstop bloomer.
The kangaroo paws/anigozanthos seen in some of the photos, burnt oranges and yellows, have been in bloom lo these many Bloom Days since February. And the white valerian has seeded itself in and spills onto the bricks, an effect I love. Also deserving honorable Bloom Day mention are Lobelia valida, Teucrium 'Fairy Dust,' Amicia zygomeris, Echium gentianoides 'Tajinaste.' All have been in bloom for many months. Their names can be plugged into this blog's search engine for photos. Now off to see what everyone else unwrapped in their gardens this July Bloom Day.