Two Sundays ago, on Earth Day, in fact, I bounded out of bed early to head for a strip of wildflowers I'd been watching gain momentum for weeks and which looked to be approaching peak bloom. Instead of driving miles out of town to see the wildflowers in bloom, like I resolve to do every year and then never do, this year the wildflowers had come to me, blooming in a narrow strip alongside the 7th Street onramp to the 710 Freeway as it leaves Long Beach.
For some visual context, the wildflowers are blooming in a narrow band parallel to the freeway onramp in the midst of all this industrial mishegoss. If you've seen movies like To Live And Die In LA and Gone In 60 Seconds, you may already be familiar with this view.
Port of Long Beach with the concrete-bottomed Los Angeles River flowing at the bottom of the photo:
I would have hopped on my bike since it wasn't far, but this can be a lonely part of town before 7 a.m. on a Sunday.
A sign at the garden proclaimed the patrons of this garden to be a local bank, some civic associations, as well as a corporate sponsor (Walmart).
Up close the garden held some surprises. For starters, it wasn't strictly an exercise in native plant restoration. On closer examination, the planting was a mix of natives and drought-tolerant exotics.
I'm guessing a form of Pennisetum alopecuroides (edited to add confirmation by Dustin Gimbel as Pennisetum messiacum)
Kalanchoe beharensis
Cistus
As well as cistus, there were other tough, classic mediterranean climate plants such as rosemary, lavender, species pelargoniums, helianthemum…
aloes
kniphofias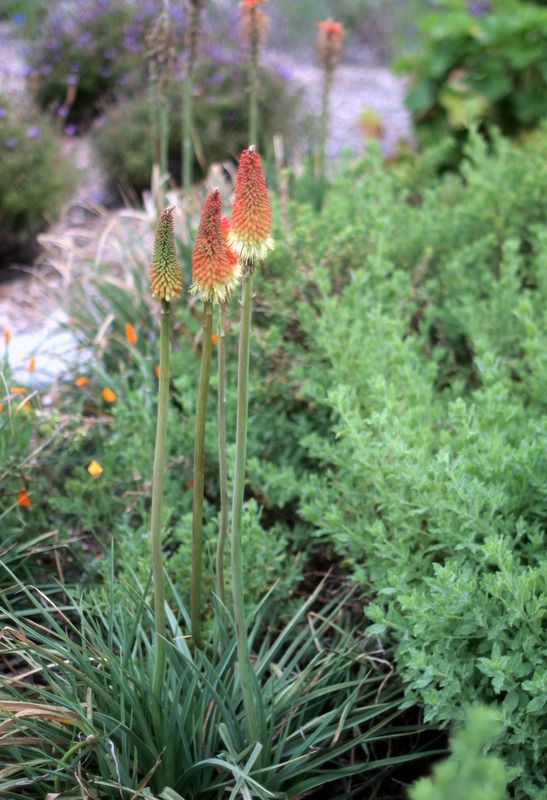 But the California natives were there too. Tidy Tips, Layia platyglossa
Mimulus aurantiacus
Scorpionweed, Phacelia crennulata, native to the American Southwest and Mexico.
Along with the usual suspects that come in wildflower seed mixes.
Bachelor buttons, Centaurea cyanus, mostly in blue, with a few outliers in purple and pink.
California poppies, Escholtzia californica, were well represented, perversely enough my least favorite poppy.
Purple background haze is from Verbena lilacina
Last exit out of Long Beach is holding quite the springtime show.