I enjoyed this article very much earlier in the week, well worth a Sunday read:
"Any patch of earth, large or small, turns out to be a mad surprise party of species — fluid, unpredictable and wild — and a microcosm of what is happening and has always been happening around the corner and around the globe." — NYT 4/24/12 "Counting Species on a Little Patch of Earth," by Carol Kaesuk Yoon.
Off to do some species counting myself at the Huntington Botanical Garden plant sale tomorrow, Sunday, April 29.
Catching up on this week but still counting species, what a nice touch it was for Dustin Gimbel, of Second Nature Garden Design, and Laura Dalton, of Agave Coast Landscapes, to include our native Catalina Ironwood, Lyonothamnus floribundus, in their display garden for South Coast Plaza's Spring Garden Show which I attended on Thursday and which is still open Sunday, April 29. The Catalina Ironwood was in one of three enormous pots, the other two holding agaves in bloom, all three plants towering high into the atrium ceiling — a grand gesture impossible to capture by photo at a crowded garden show held in a mall, so I very sensibly didn't even try.
Lovely Fermob chairs were featured, too, pale celadon green, from Potted. Burnt orange arctotis and chartreuse Agave attenuata, maybe 'Kara's Stripes' or "Raea's Gold.'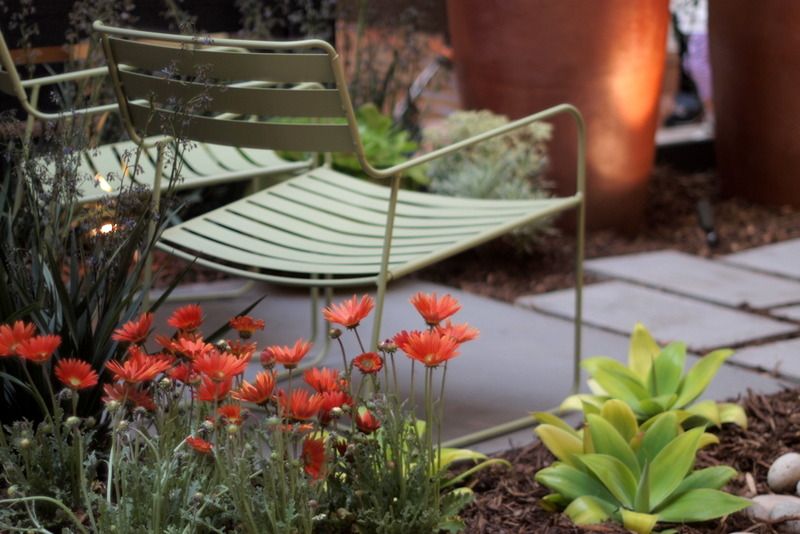 And there you have it, proof that garden show display gardens don't have to be all that complicated. Nice chairs, cool plants, and I'm satisfied.
And there was some beautifully executed stonework to admire in the display garden by Sarah Robinson…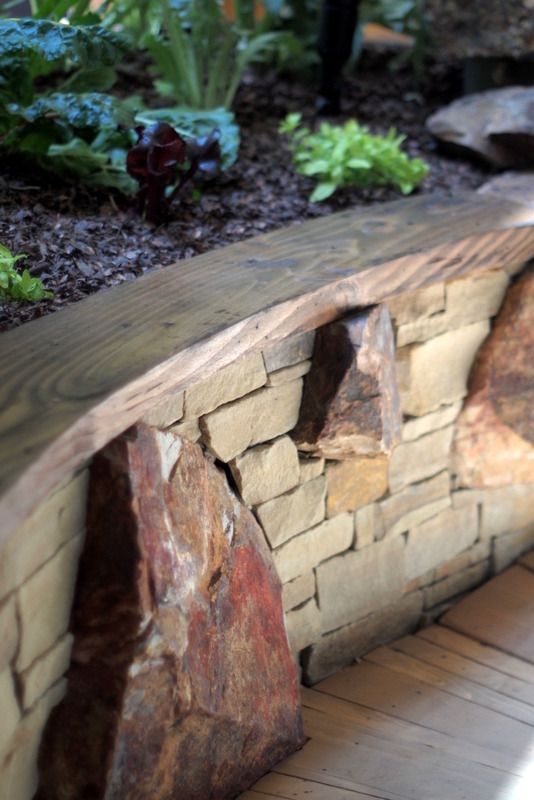 This show held at the South Coast Plaza shopping mall has room for just a handful of modest exhibits and is really about the plant vendors. Disconcerting though it may be to find yourself hemmed in on all sides by the Apple store, Pottery Barn, Restoration Hardware, Crate & Barrel, etc., the mall's atrium ceiling has a unique advantage over the typical dark, cavernous settings of most garden shows.

Natural light.

Orchids, bearded irises, succulents, lilies, African violets, sinningias, Japanese maples. The specialty growers are always generous with their time and knowledge.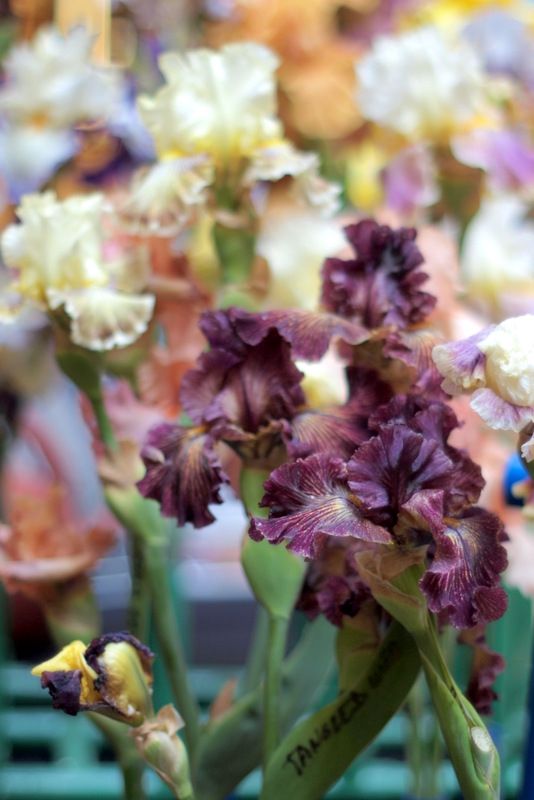 Agave 'Felipe Otero'
A special thanks to the nice gentleman at B&D Lilies who spent several minutes explaining why he felt the lily '
Lankon
' was the most exciting lily he's encountered in 35 years in the business. (I tracked 'Lankon' down last fall, and it's now forming buds.)
And it was very moving to find the late Gary Hammer's nursery, Desert to Jungle, selling plants at the show, with an impromptu shrine to Gary consisting of his photograph, paperclipped to which were cards with the names of the many plants he introduced. The mystery Ecuadorian knotweed I bought from his nursery many years ago still grows in our parkway.