With the light weakening as lowering sunbeams diffuse through the atmosphere, in my garden that signals the coincident scraping and dragging sounds of pots being moved to find any part of the garden still trapping the precious, goldeny stuff. Or for shade lovers like aralias, begonias, and some bromeliads, like this Vriesea seideliana, in my zone 10 these pots can be moved out of those safe, dark recesses where they've been hiding from harsh summer sun to take a chance on now kinder light levels. For moving some of the bigger pots, an old skateboard has always been a trusty and reliable aid.
As the temperature and light changes in September, there'll be no collapsing in a heap just yet. And I'm talking people here. There are still a few more laps to run, so let's have some autumn pep talk: Sow those seeds! Order those bulbs! Building the perfect garden for 2012 starts now!
Such peppy talk rarely works for me. With the exception of ordering bulbs, I've been mostly shrugging off and ignoring my inner garden coach the whole month of September. Yesterday I finally got around to sowing a few seeds, including some Tuscan kale and the fabulous Eryngium padanifolium, photo below from Pan Global Plants. The possibility of losing out on the window to sow this eryngo is what finally got me into gear. And then I might as well sow a few other things while all the mess is out. Do I have any hope at all that this burgundy-flowering eryngo will grace my garden in 2012 or 2013? Not much, really. But checking those seeds for germination will keep me out of trouble for a good six months. If there's no sign of germination in a couple months, I'll pop them in the refrigerator for another couple months. Fresh seed is essential and is now available from Derry Watkins, the source of my seeds. I really am the worst propagator of plants that ever lived so have nothing but the deepest respect for the nursery trade.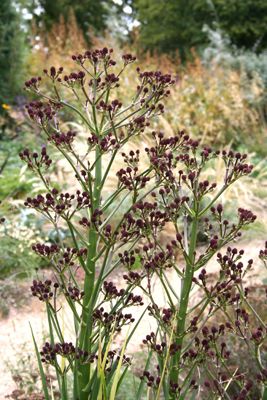 This is the second year small cat food cans have been saved and cleaned for seed-starting containers, and I'm already assembling a collection of toilet paper tooters — your terminology may vary — for starting sweet peas. And then I think I just may collapse in a heap. Until the bulbs arrive in the mail, that is.