Monday's child is fair of face
Tuesday's child is full of grace,
Wednesday's child is full of woe,
Thursday's child has far to go,
Friday's child is loving and giving,
Saturday's child works hard for a living,
But the child who is born on the Sabbath Day
Is bonny and blithe and good and gay.

I don't even know on which day of the week I was born, but just guessing, I think I must be a Thursday's child.
There must be a way to check…and of course there is. Seems I was born on a Sunday. Well, how about that!
You can find out whether you're full of woe, hard-working, etc., here.
Checking what's stirring this bright Tuesday morning after a full day of rain.
Tulips and dutch iris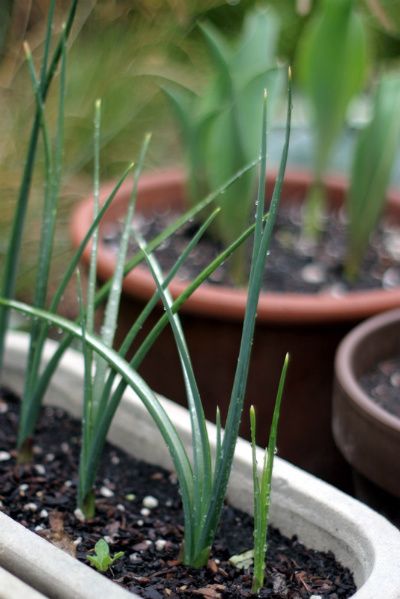 Cape Hyacinth, Lachenalia 'Romaud' (Brent and Becky's Bulbs).
Clusterhead pinks, Dianthus carthusianorum (from Annie's Annuals & Perennials).
A tall dianthus, reputedly to 2 feet, but still best planted with good circulation at pathway edges. Trust me on this.
First bloom on Salvia karwinskii, from the 2010 Fullerton Arboretum salvia sale. Flower color is notoriously variable, ranging from brick red through orange to rosy pink.
Haloragis' January leaves are the bronziest of the year. Flowers insignificant to invisible. An enthusiastic reseeder, Digging Dog Nursery has plants in stock to get the ball rolling.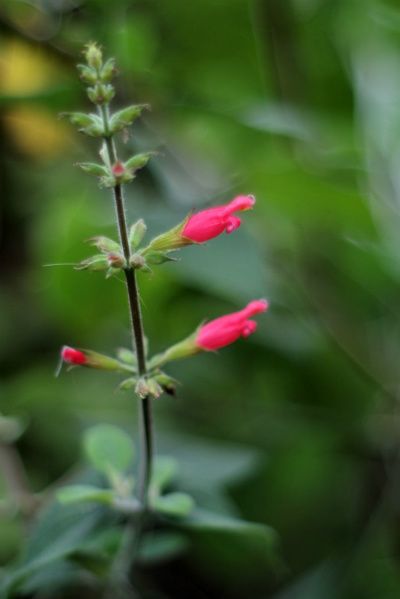 Variegated Sisyrinchium striatum 'Aunt May,' a favorite plant I haven't grown in a while. Its flowers are nice but not essential.
And new this year, showing its first bloom, also from Annie's, the exquisite Black-Flowered Lotus, Lotus jacobaeus. Finely dissected, silvery leaves, deep maroon-black flowers. Usually it takes two plants to bring silver and burgundy together. Pelargonium sidoides comes close to the same performance. (Geraniaceae carries P. sidoides.)
I think that lotus deserves one more look.
I hereby nominate it for Tuesday's child ("Tuesday's child is full of grace.")
Closing with a sweet little echeveria from Guerrero, Mexico, that I'd never seen offered locally before, but which has supposedly been around for a long while. Echeveria multicaulis 'Copper Roses.'
The long-awaited winter rainstorms now routinely bring a buzz-killing advisory:
"The Interim City Health Officer, Dr. Mauro Torno, has issued an advisory for the beaches in the City of Long Beach following today's rain. After any significant rainfall (0.10″ or more) high levels of bacteria from storm drains, rivers, and polluted runoff enter into our ocean. It is recommended to avoid all ocean water contact for at least 72 hours after rainfall, especially at storm drain outlets, river mouths, streams, and lagoons. People should always pay particular attention to any warning signs posted at the beach for their safety."
Onward with Tuesday…


"The god Týr or Tiw, identified with Mars, after whom Tuesday is named."