has to be the parking lot.
"It's estimated that there are three nonresidential parking spaces for every car in the United States. That adds up to almost 800 million parking spaces, covering about 4,360 square miles, an area larger than Puerto Rico. In some cities, like Orlando and Los Angeles, parking lots are estimated to cover at least one-third of the land area, making them one of the most salient landscape features of the built world."
"Italian architect Renzo Piano, when redesigning the Fiat Lingotto factory in Turin, eliminated the parking lot's islands and curbs and planted rows of trees in a dense grid, creating an open, level space under a soft canopy of foliage that welcomes pedestrians as naturally as it does cars."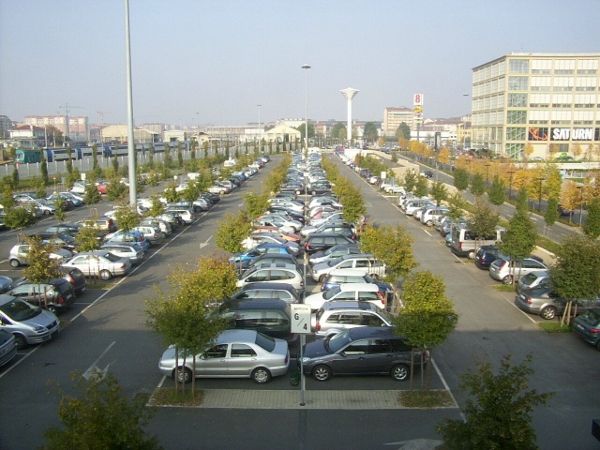 "Developers talk about the importance of 'first impressions' to the overall atmosphere conveyed to the user. Yet parking lots are rarely designed with this function in mind. When they are, the effect is stunning. For instance, the parking lot at the Dia art museum in Beacon, N.Y., created by the artist Robert Irwin and the architecture firm OpenOffice, was planned as an integral element of the visitor's arrival experience, with an aesthetically deft progression from the entry road to the parking lot to an allee that leads to the museum's lobby."
Image found here.

From The New York Times, 3/25/12, "When a Parking Lot Is So Much More," by Eran Ben-Joseph, Professor of Urban Planning at the Massachusetts Institute of Technology, author of "Rethinking a Lot: The Design and Culture of Parking."