I worked at the courthouse in downtown Los Angeles today. I love these occasional work assignments downtown. We drove up Broadway, taking in an early morning dose of awe at its many ghostly, majestic movie palaces like the Orpheum, now housing optometrists and bargain shops. It wasn't until I was dropped off at the courthouse steps on Hill Street, preparing to brave the security queue, that I caught that distinctive flash of magenta out of the corner of my eye. I instantly knew where I'd be spending the lunch hour.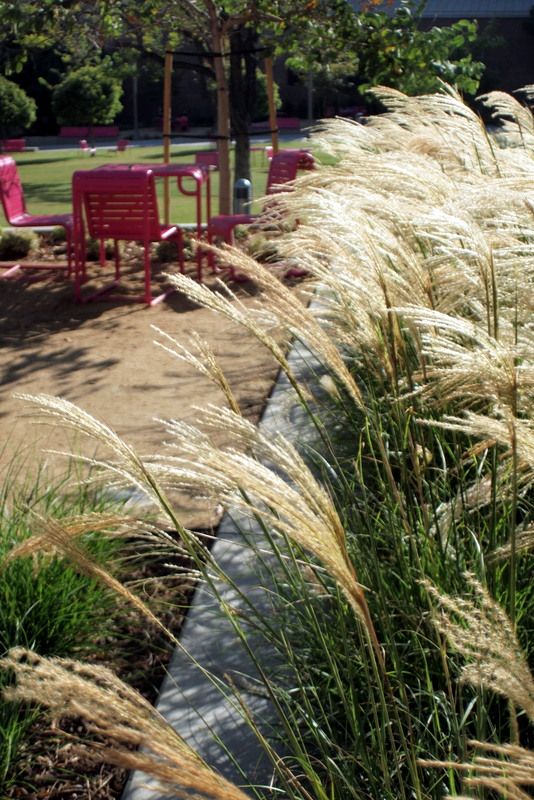 The courthouse borders part of the new 12-acre Grand Park, which replaces the moribund Los Angeles County Civic Center Mall, about as inviting a space as a name like that implies. There have been lots of financial complications and physical challenges leading up to the opening of Grand Park in July 2012, which can be read here. But today I wasn't interested in the sausage-making back story. This was my first look, and I was ready to be dazzled. Yes, the new park is sited awkwardly in places. Yes, it's a compromise location. And it strikes me as more plaza than park, probably because it's not heavily treed and is unapologetically angular and geometric. But, oh, I do most definitely approve.
Landscape architects Rios Clementi Hale Studios were not only bold in their choice of seating but in their selection of plants as well.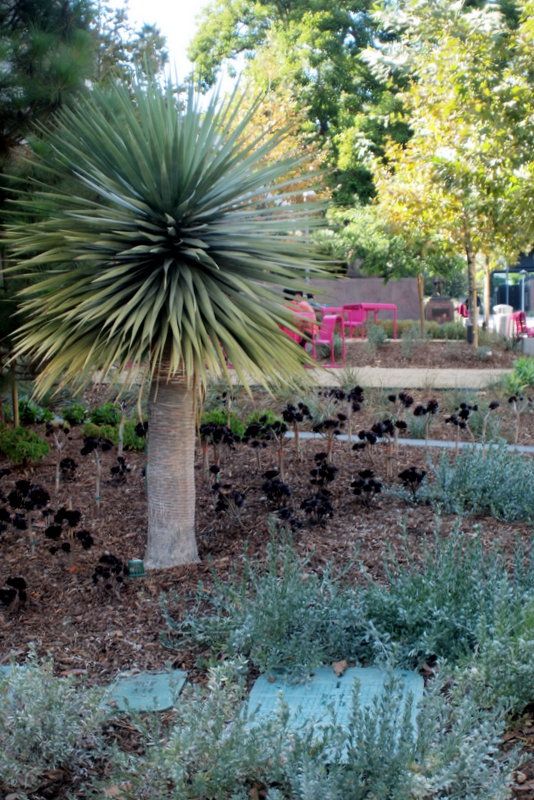 It was the plants that coaxed and lured me deeper into the park. A lunch hour wasn't nearly enough time to explore it all.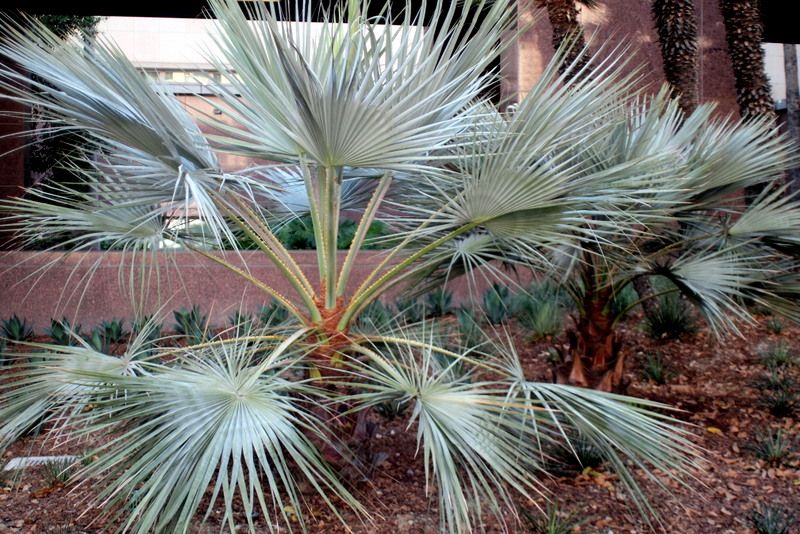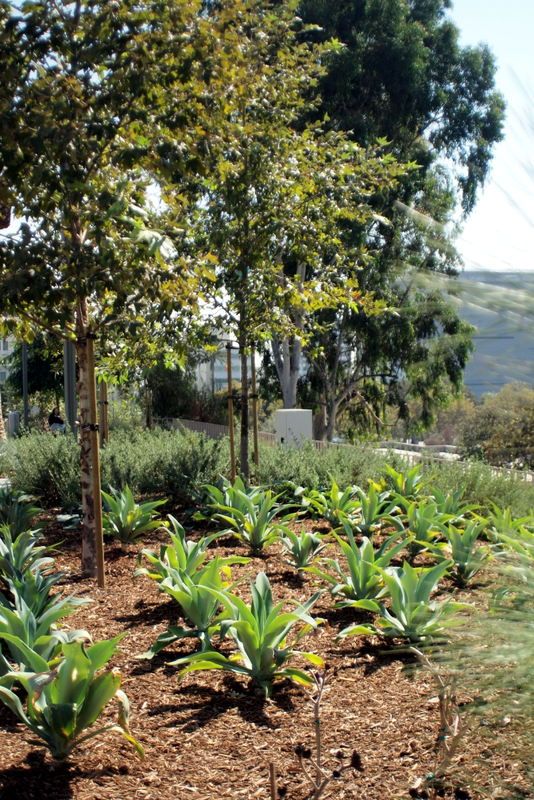 The openness of the park allows for wonderful views
Large bunch grasses like miscanthus are seldom seen in Los Angeles. Here were great sweeps of them.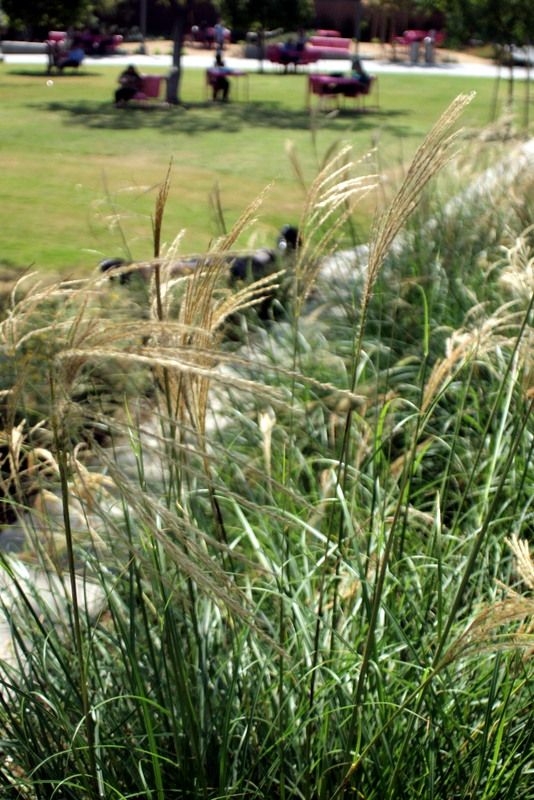 The movable metal street furniture was designed inhouse by Rios Clementi Hale and manufactured by Janus et Cie.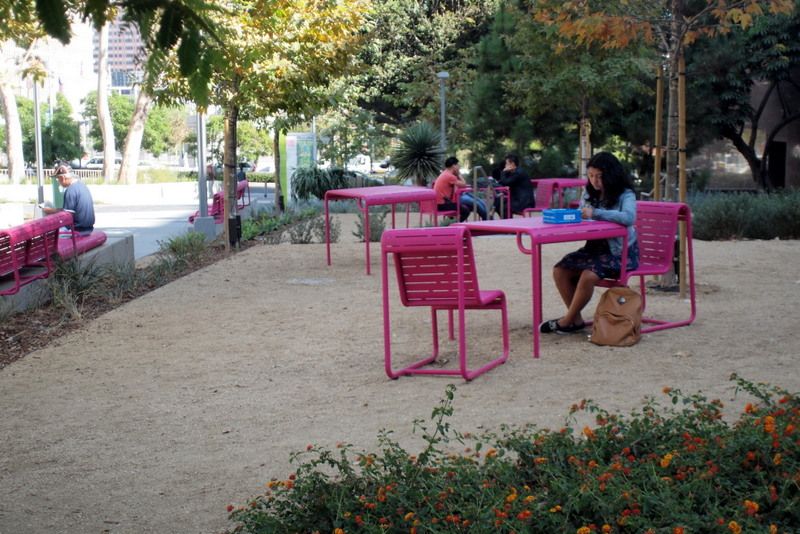 It's about time Los Angeles decided to be included in the pantheon of cities with great urban parks.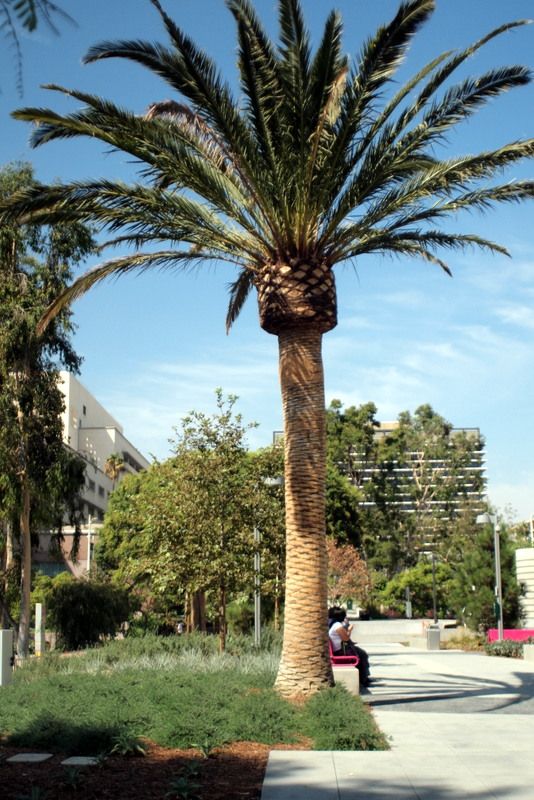 The opening of the fourth and final segment will be celebrated this Saturday, October 6, 2012.
From Rios Clementi Hale Studios website:
"Our design for Grand Park has no smaller aim than to express the global multicultural diversity of Los Angeles through landscape design and architecture to create a spectacular, iconic park for Downtown Los Angeles. Thematically, the park celebrates Los Angeles' identity as a 21st-century multi-cultural global city metropolis composed of an amazing diversity of authentic ethnic communities and neighborhoods, set in a County where 244 distinct languages are spoken.
Over its length, the site is divided by two city streets and a challenging 90-foot grade change. Our design makes a series of grand park gestures to tie the four-block site together, and create a connected, unified park. We used Grand Park's significant grade changes as an asset, rising to the challenge of softening Bunker Hill's natural incline with pedestrian-friendly and ADA-accessible ramps and broad steps. The new ramps extend existing below-grade ramps to the north and south to create a series of central terraces leading down into the park from Grand Avenue with a great view of the restored fountain. The terraces are adaptable to an array of uses, including al fresco dining, event seating, meeting enclaves, and general gathering places. The historic Arthur J. Will Memorial Fountain has been restored and expanded to increase its sustainability as well as its viability as a dynamic water feature for park users."