Bloggers need no convincing on this point. And I'm not opening up a can of worms regarding, for example, whether or not to pay for online music or journalism. Obviously, we have to. I'm probably one of the few people in the nation who can claim to have ponied up $50 for subscription to the online New York Times Select during its experimental and brief existence just so I could read Paul Krugman's columns when they were behind the Select firewall. This is a purely noncontroversial free, in the context of outdoor summer concerts, something everyone can get on board with.
So even though it's high summer, I urge you to leave your horticultural symphony for just an evening, to lay down the garden baton and head for some outdoor concerts. If you're in Los Angeles, the premiere outdoor concert venue is Grand Performances in Downtown Los Angeles. This is not pop standards at your local park, though there's nothing wrong with that, but some of the most exciting music and performing artists the world has to offer. And it's free. Take the Metro Blue Line to the Metro Station at 7th and Flower, walk past our glorious library to the California Plaza at 350 South Grand Avenue. The city's soft glow against the night sky, the performing artists, the neo-noirish, balmy air scented by the bloom du jour — summer in Los Angeles at its finest.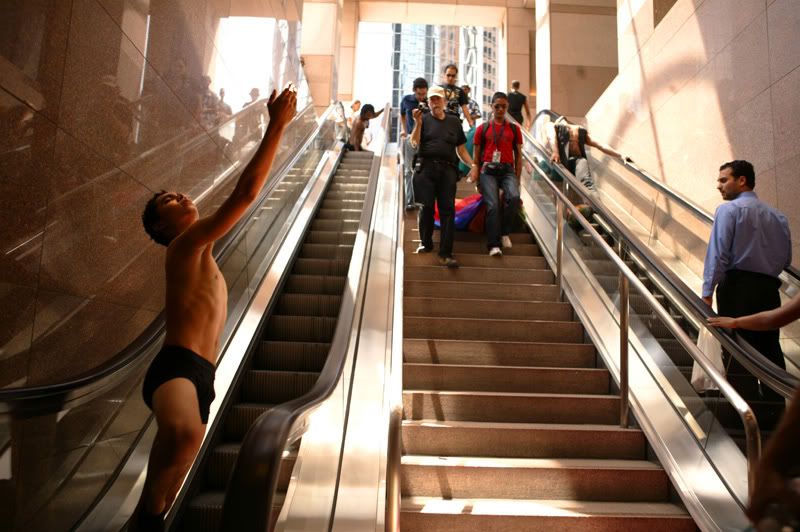 Grand Performances' program is one of the most cutting edge outdoor concert series in the nation, in large part thanks to Ms. Leigh Ann Hahn, the director of programming at GP, who travels the world during winter attending music festivals, clubs, any and all venues where ground-breaking performing artists for next summer's lineup can be found.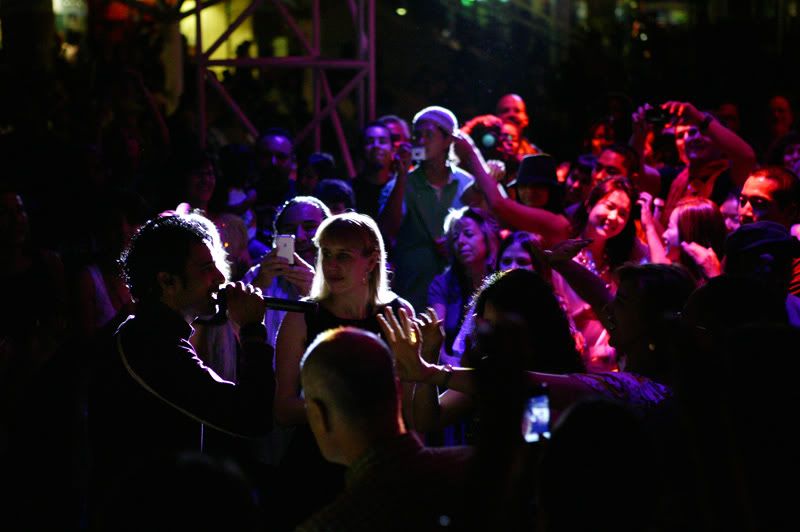 Leigh Ann Hahn is one of a dozen musical taste-makers and curators actively determining which artists from world music will be heard on American shores. In an industry of very few women, even fewer of color, Hahn has spent 18 years at the vanguard of world music and pop, turning a non-profit performing arts summer series into a world-class showcase often two seasons ahead of the curve.
For the 2010 summer season of Grand Performances (which began June 4) Hahn will bring to the stage, among others, legendary Korean bboy artists Last For One, Cambodian-influenced Los Angeles natives Dengue Fever, and the Parisian electro-swing band Caravan Palace.
When the sun sets and the musicians take the stage, the excitement of embarking on a journey of musical discovery crackles through the warm night air. It's like an exotic summer vacation without the airport hassle.
MB Maher, who films and photographs the musicians and performers, briefly corralled the whirling dervish that is Leigh Ann Hahn for a short interview.
What act of recent memory gave you the most pleasure in booking?
Buika. I've wanted to present her for a long while. I knew that
there would be a few people in the audience who knew coming into the
show who she was, the uniqueness of her voice and the quality of the
work, but the majority of the people there would have no idea and
would walk away stunned. I knew it would be a discovery event.
Who are your most recent discoveries?
Hyperpotamus, the vocalese cat that I paired with Tanya Tagaq. I think
he makes interesting work. I think it was a really great pairing.
What are your favorite double-bill pairings?
Putting the Nortec Collective on in front of Kronos Quartet was
really good. It was just after "Nuevo" had come out. Putting all
those Kronos blue-hairs on with all those young Latino kids at the
plaza was a stroke of fucking genius, if I do say so myself.
Was the audience young? Did attendance drop off when Kronos took the stage?

They came for both. The old farts who came for Kronos sat through
Nortec, and a lot of the young kids who came for Nortech stayed to
hear Kronos. Both sets of people heard something new.

What was the reaction?
David Harrington said after the show that it was the first time in his
memory that he heard an audience give applause when he named composers
during the set. Because they were playing Esquivel and Revueltas and
Cafe Tacuba and that audience knew the work. They were all Latino.
Are your double-bill pairings contrary or counterintuitive in that way
to encourage cross-over?
Our goal is to create audience and community where people don't think
audience or community exists. Take Bassekou Kouyaté with Dengue
Fever. People won't understand why I put psychedelic Cambodian rock
with traditional Ngoni music, but when it comes down to it, Bassekou
and his crew are hard-rocking sons of bitches. They throw down like
nobody else. It's just not what we consider hard rockers in the
United States. There are going to be a few people who know both
groups, but for the most part, the audience for Dengue Fever won't
have a clue who the Bassekou is. They, on the surface, don't go
together, but it'll be a great show.
How much satisfaction is there packing the California Plaza with 5,000 people?
Professional satisfaction, yes. I get much more personal satisfaction
from sitting with 450 people to watch The Bad Plus. When I have 4,500
people on the Plaza, there's no way for me to listen to the music.
With 450 people, I can sit down and listen and groove out like the
rest of the audience.
The pleasure in my job is seeing other peoples' pleasure. As the
crowd gathers, acknowledging the group of Latinas who sit in the
Marina Pavillion and bring their picnics. Seeing the families that
you know and that are there regularly. Seeing the people that you
know and investigating what they've brought for dinner. The ramp-up.
What is failure for you?
Not doing the paperwork on time.
What is success for you?
Making great art available.
What is risk for you?
Making great art available.
I can take more risks programmatically than most presenters because I
don't have to sell tickets. That's what it boils down to. I think
most presenters would be better off if they did take programmatic
risks and draw different audiences, effectively doubling their draw.
It makes sense to me.
I don't have a hard job. In a region of 14 million people, no matter
what you present, there's an audience for it. The hard part is
getting people to realize that we're doing it and to show up with a
picnic basket — making people realize that 'free' is worth your time.