If you have an Internet connection and a love of plants, you probably also have many unmet friends with those same two attributes. Finally meeting up with them is thrilling. When they arrange to take you to marvelous gardens you've never visited before, life doesn't get any better.
Just such a friend arranged for a group of gardeners to visit the Ruth Bancroft Garden, located in Walnut Creek, California, one I've long wanted to explore. The garden didn't disappoint.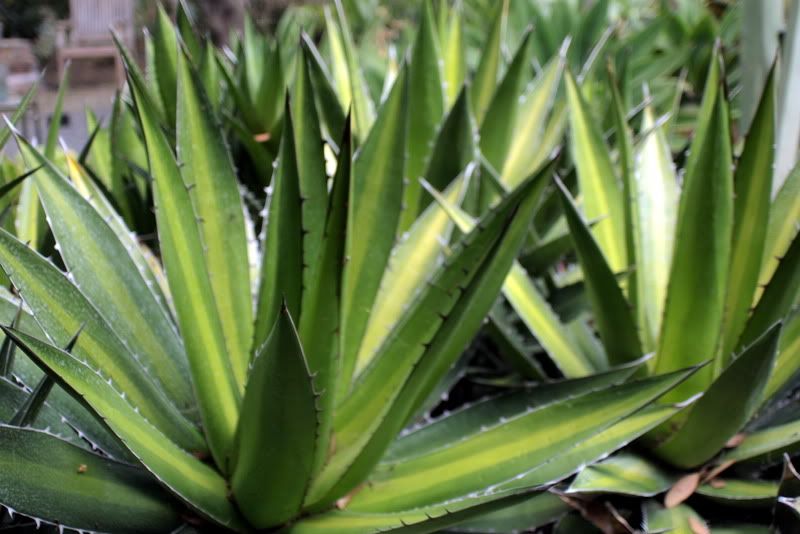 I'm guessing Agave lophantha.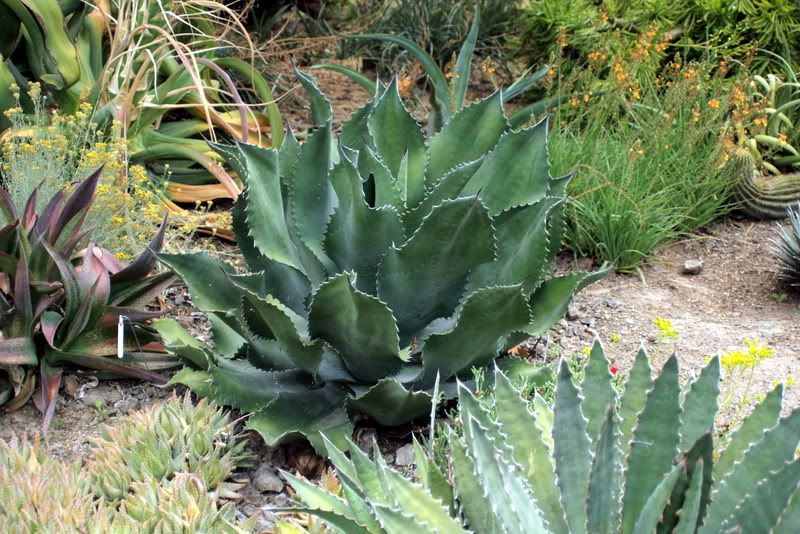 This guy in the center looks a lot like my Mr. Ripple, which is an A. salmiana hybrid.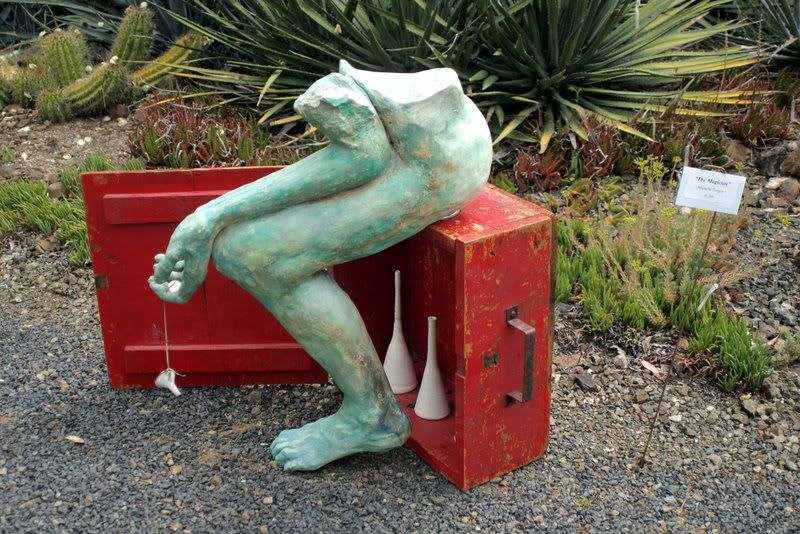 Thrilling enough, no? But what I didn't expect to find was garden scenes like this.
Our visit luckily coincided with the RBG's 16th annual Sculpture in the Garden fundraiser. Nothing loosens up a group of gardeners more than provocative garden sculpture.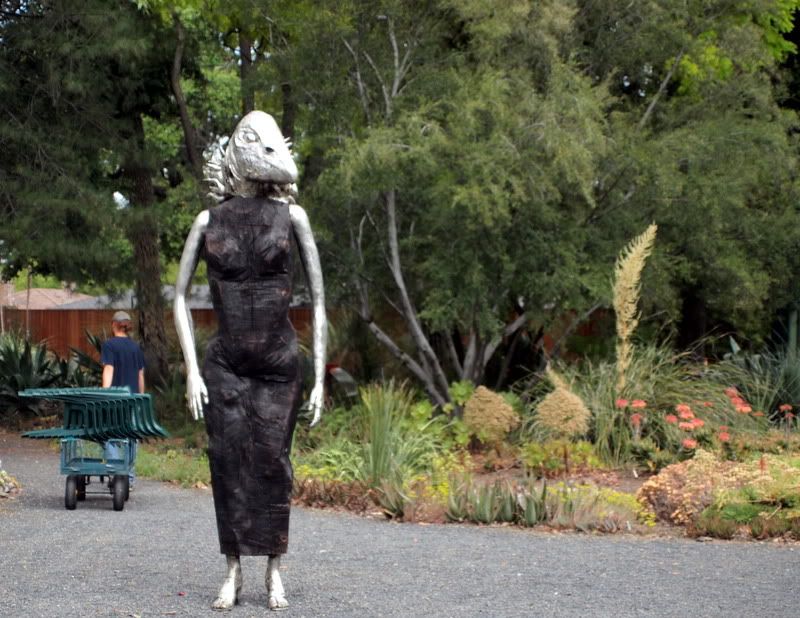 You should have seen the caboose on this lizard lady. I don't know how she kept her balance in those heels.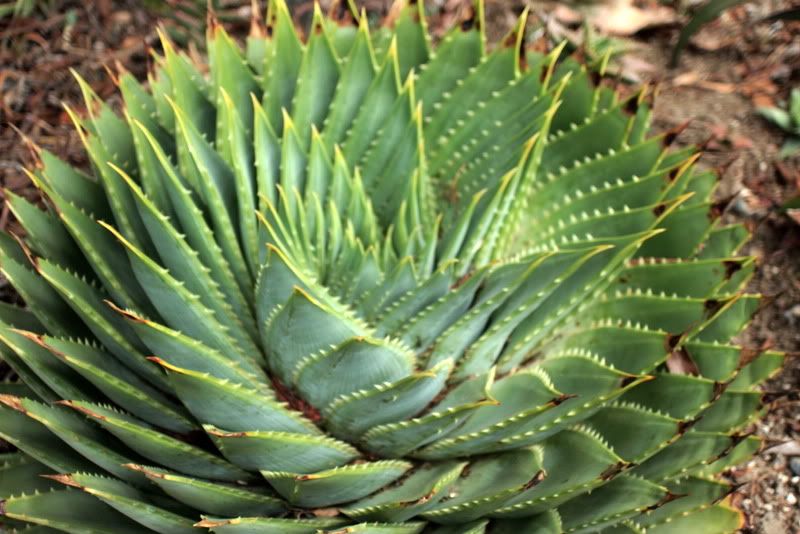 But it would take a lot more than a lizard in heels to upstage plants like the spiral aloe, Aloe polyphylla.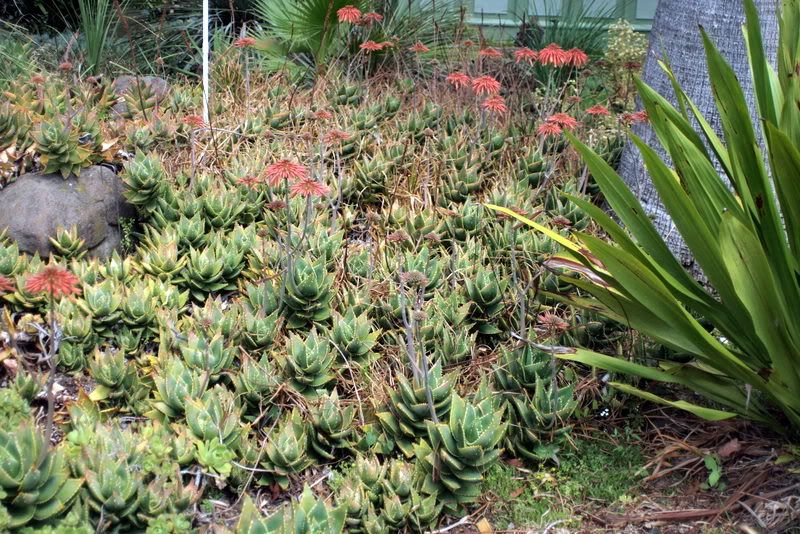 There were swathes of succulents of every stripe, spike, and rosette, including this Aloe distans.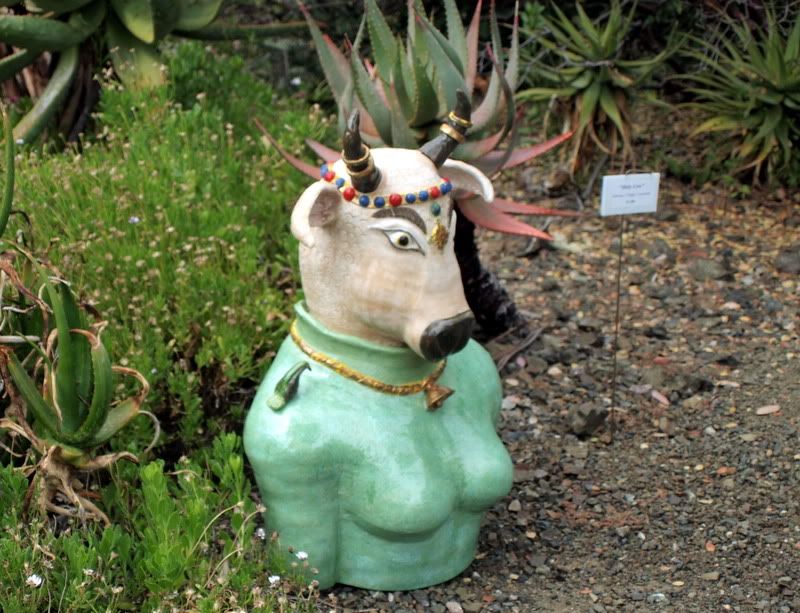 And the occasional bull-human ceramic hybrid.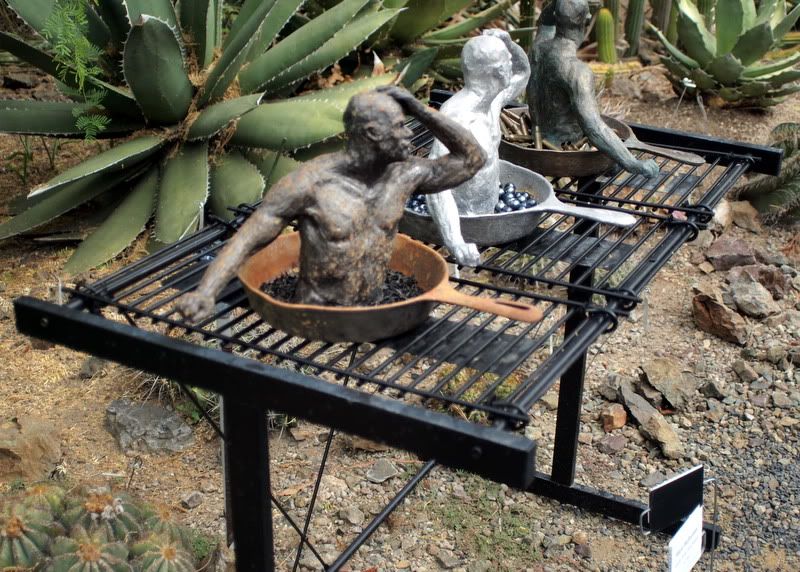 These sauteed gentlemen utterly charmed me.
We were wondering if this regal fellow is the Sharkskin Agave, aka the Ruth Bancroft Agave. Can you tell we toured without a docent? I doubt a docent could have corralled us. We peeled off in twelve different directions, crossing paths periodically to compare notes and point out possible missed gems.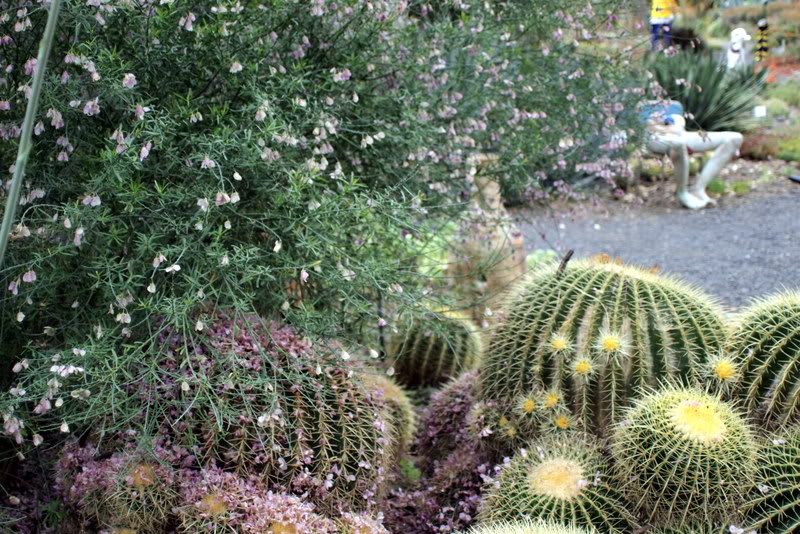 Barrel cactus and a gorgeous, diaphanous, broom-like shrub but apparently not a cytisus. No one knew its name.
When curiosity grew to unmanageable proportions, we flagged down docents to fire questions at them. (What a nice bunch docents are.)
This plant seemed to attract the most attention. The flowers were similar in shape to our native calochortus and also to an Australian shrub that's grown in So. Calif. that we call the "Blue Hibiscus,' Alyogyne huegelii. The Blue Hibiscus has sandpapery-textured, maple-shaped leaves, and this shrub's leaves were threadlike. Input from a couple docents pieced together an ID. Alyogyne hakaeifolia.
More garden denizens.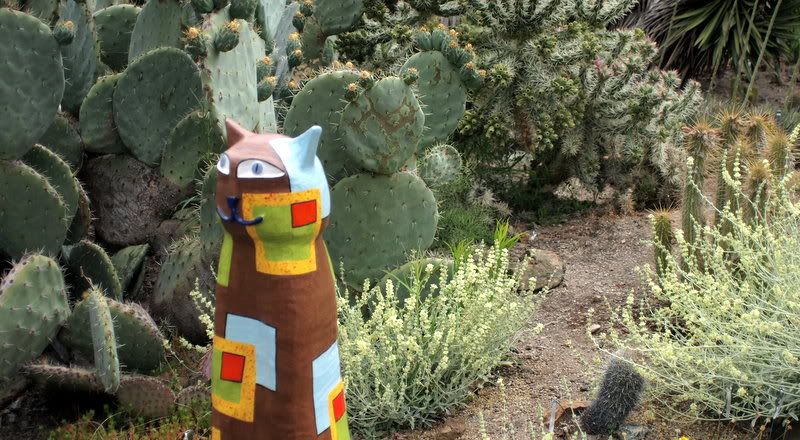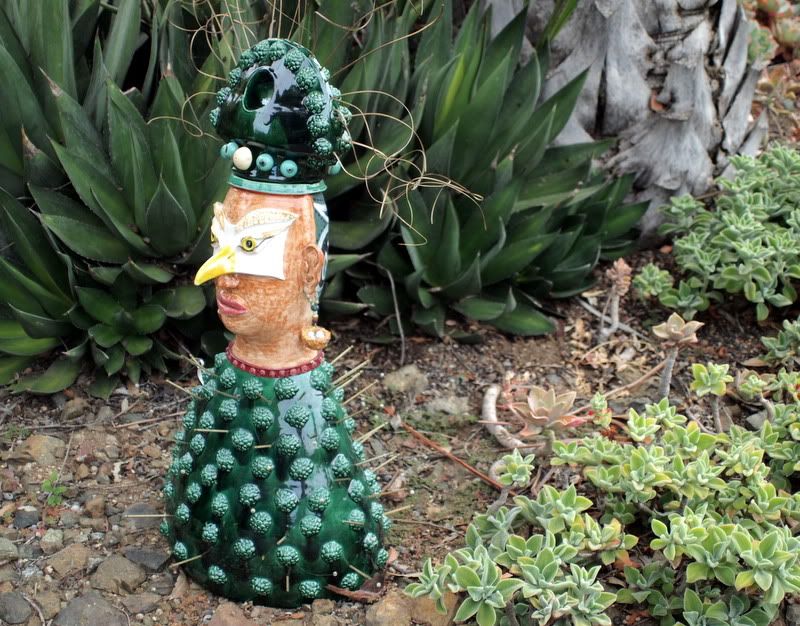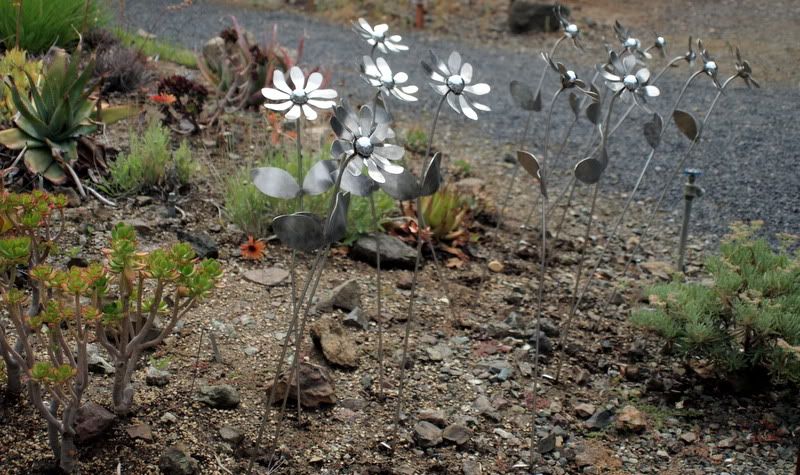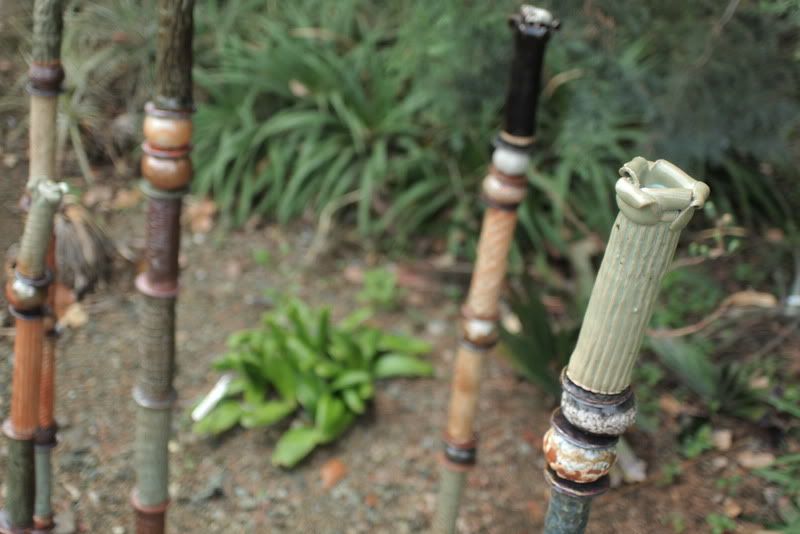 These ceramic sculptures were built in components and slipped over pvc pipe. The combinations arising from this simple technique are seemingly endless.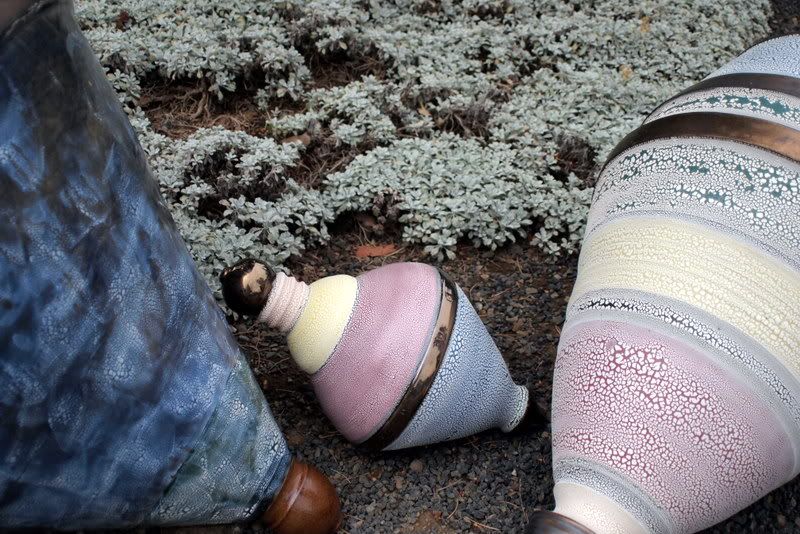 Meeting a group of gardeners, of course, never disappoints. Their erudition in matters horticultural and otherwise can be astounding.
And whether fluent in botanical Latin or not, we all speak the same language and come from the same tribe.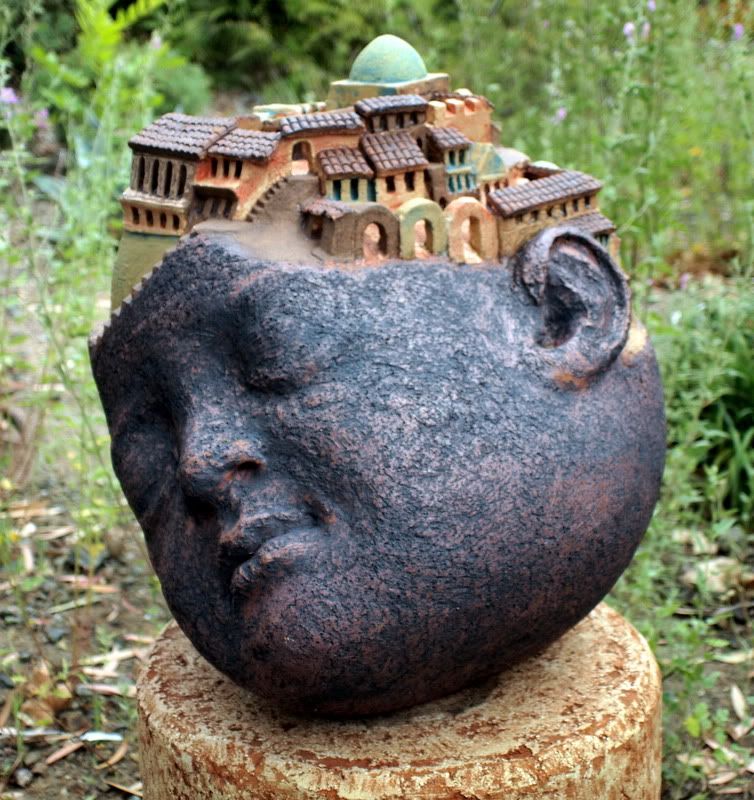 The sculpture exhibit and sale runs through July 18, 2010.