I decided last year that I needed to break up the big border that covers most of the back garden and carve a narrow, oblique path through part of it. Nothing formal and really just an access path, curving probably not more than 10 feet in length. As I've mentioned frequently before, this is after all a small urban garden, really just a small patch to experiment and play with plants. And the plants I wanted to grow now and walk among in summer were tough things like nepetas, yarrows and eucomis, of just the right stature for lining a little path, with bigger plants like melianthus further back. There once was a relatively broad, bricked path that arched through the whole back garden like a terracotta crescent moon, that the boys used to pull wagons and race scooters on, but I began pulling it up, small stretches at a time, when the scooters were put away for good and I had an itch to claim more ground to grow big plants that grew head-high by late summer, so the garden would undergo dramatic, seasonal transformations, just like the rest of my life seemed to constantly undergo. Lately I've wanted to scale most of the back garden to knee-high or no more than thigh-high by mid-summer, punctuated by tall grasses and mediumish shrubs. It's all very vague, isn't it, these intimations about how we want to feel in a garden/landscape? At least for me it is. But I love to see the changes in spatial character and how the different plants relate to each other with these constantly shifting strategies.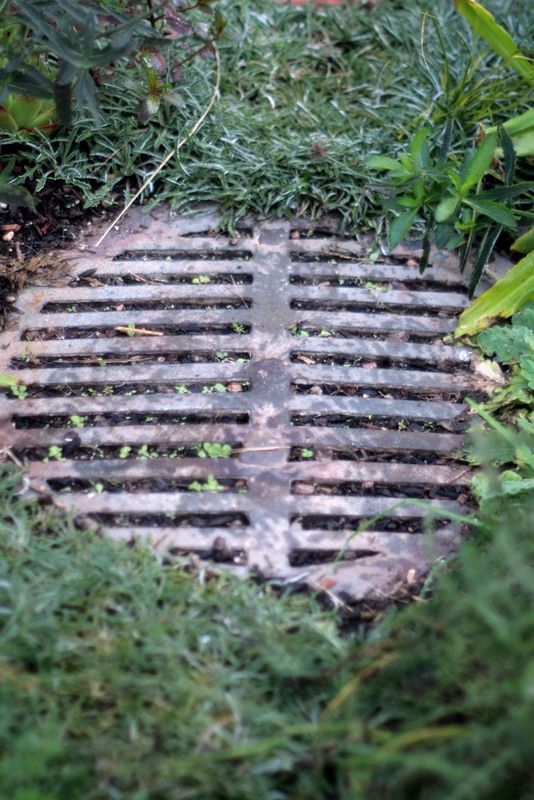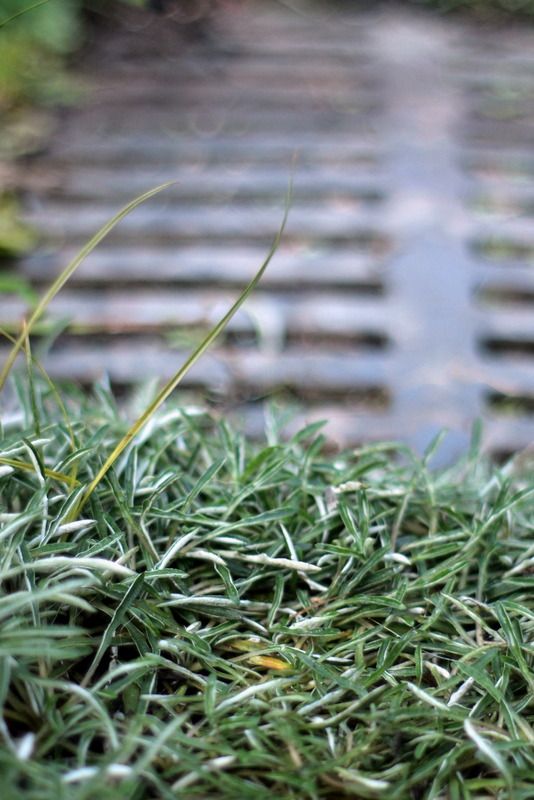 This new little path's progress interests me very much. Half of it was planted with foot-tolerant dymondia as an experiment, which has performed so well that now the other half has been completed with plugs of dymondia pulled from the established plantings. A couple salvaged street grates/manhole covers serve as stepping stones.
Seedlings are coming up everywhere, including the ribs/interstices of one of the grates.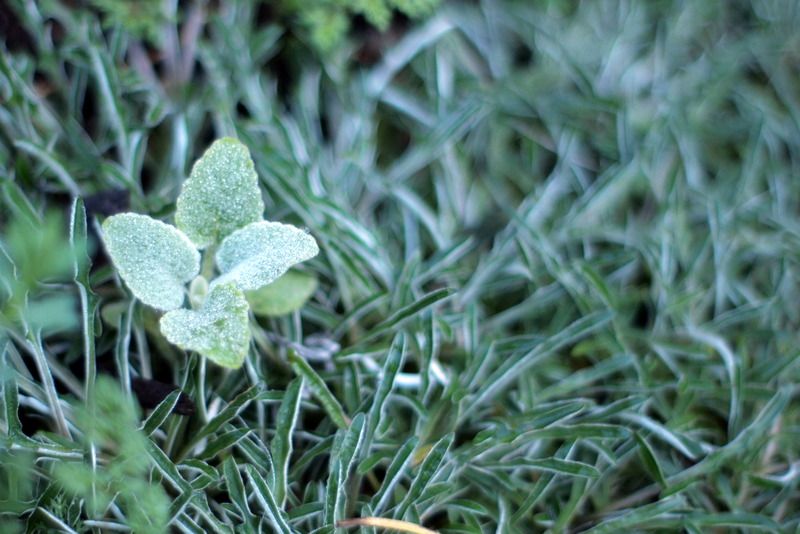 Salvia canariensis var. candissima seeded into the dymondia, where it most certainly cannot remain, as it will eventually tower over 7 feet in height and width.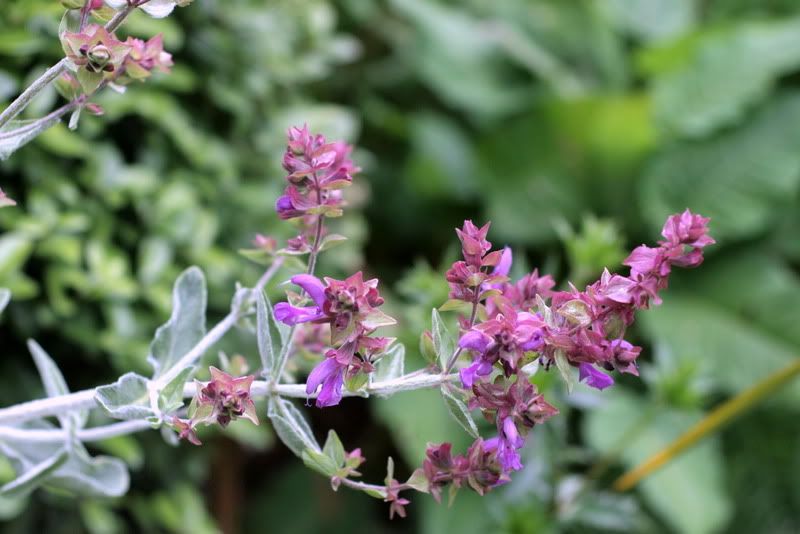 Closeup of this salvia's bloom from May 2011
Geranium maderense 'Alba' seedlings are coming up in profusion. I potted a few up for the flea market.
And what this geranium will look like in bloom in its second year, after which it dies off but flings its progeny in all directions.
Maturing to a rotund 5 by 5 feet, only a couple seedlings of the multitudes it sends forth can be kept.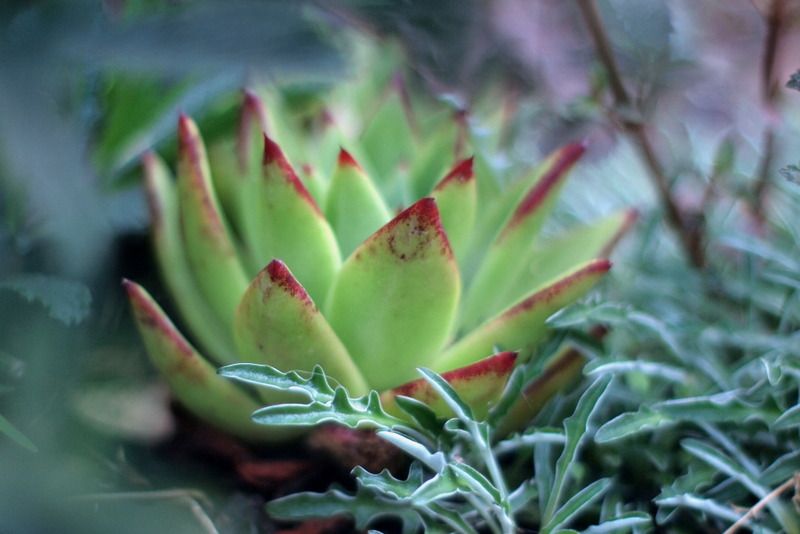 Just barely glimpsed in the top left of the photo with the grate is one of several Echeveria agavoides I planted along the path mid summer, now almost completely overgrown. The bright red edge brought on by the cold nights betrayed their hiding place this morning, alerting me to the need to move them soon before they're completely engulfed and forgotten.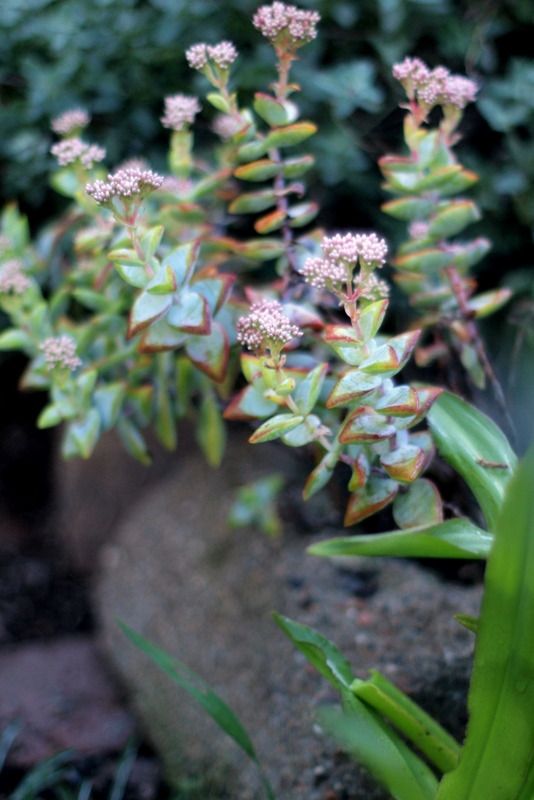 Also along this little path is a crassula (is it Crassula perforata?) that has taught me something interesting. In a pot, it was constantly neglected and forgotten, and I became increasingly exasperated with it, to the point that I removed it from its pot and sat the rootball on a shallow depression in an old concrete footing. I liked the way it looked at the path's edge and at that point didn't care that it would soon die from such treatment, or so I assumed. The succulent surprised me by actually rooting into the concrete, and now the two are one. It survived the past summer with next-to-no water. And now I'm much more interested in this heroic performance than I ever was growing it in a pot.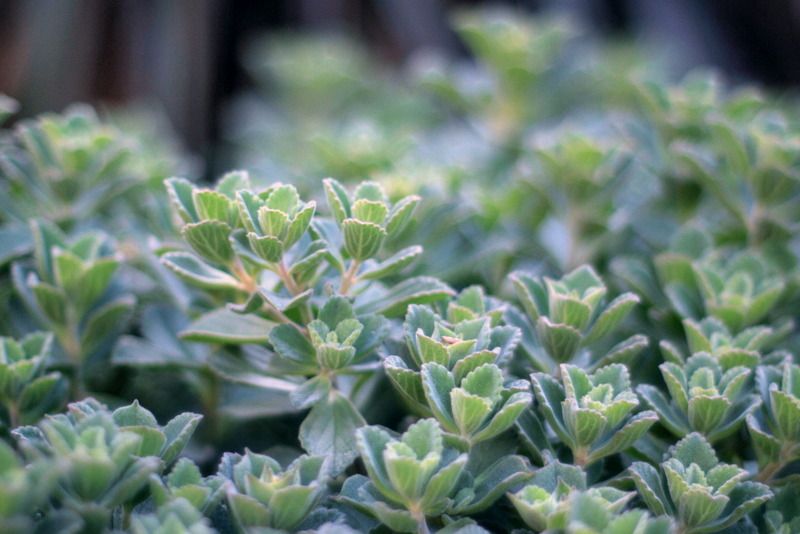 Not far from the crassula, under this blanket of Plectranthus neochilus the stump of the smoke tree 'Grace' quietly decomposes. The stump sent out shoots all last spring, but the plectranthus eventually smothered it entirely. 'Grace' turned out to be way too much tree for this tiny back garden, and I think my neighbors on either side would emphatically agree.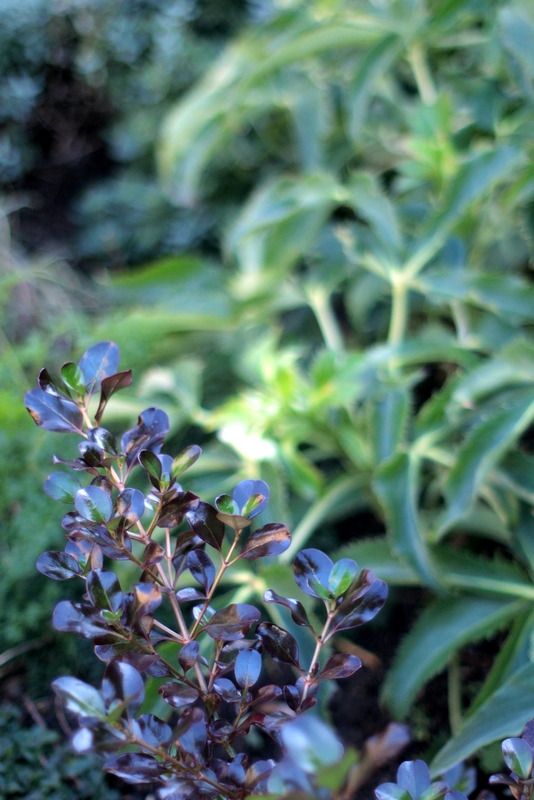 A couple feet more down the path, recently planted Coprosma 'Plum Hussy' gets even plummier as the nights grow chillier
All those bricks that have enabled my whims concerning changing the size and scale of hardscape over the years were recently put to use at the front of the house, on the west side, dry laid on a bed of sand to fill a wide border between the house and driveway, where I used to grow, among other things, a Magnolia liliflora 'Nigra.' It hated the strong western exposure and dryish soil, and protested by always looking like a white-fly-infested abomination, except for February when the those exquisite eggplant-colored goblets covered the shrub. And recently banishing plants from close proximity to the crumbling foundations has become an urgent priority, so the entire border between the driveway and house has now been bricked over. Bricks aren't my preferred color or style for paths and patios, but they're cheap and versatile when dry laid on sand, make a permeable surface, and are about as close to hardscape Legos as one can get. I can always do these small projects myself quickly and with minimal assistance.
I was being facetious of course with the title of this post, but after proofing it, it turns out not by much. I meant to write about just the crassula but got a bit carried away with that little path's back story…