Or up in the "biv," as we call it. I've never outgrown a desire for spending time in out-of-the-way spots, preferably off the ground. I spent considerable time in trees and on the roof as a kid.
This particular bivouac is just the 4×10 roof of the little outdoor washer and dryer shed built against the house, southern exposure, garden side. The roof of the laundry shed was turned into a little deck/fort built for the kids but hasn't had much use in years. Only roughly six feet off the ground and can support quite a bit of weight. Like a bench, your back is up against the house. A ladder is propped up against the shed for access to the deck. When the kids used it, we built a railing for safety but recently removed the termite-chewed remnants of it.
To become bivouaced, one grabs a stack of neglected reading material, books, magazines. Snacks are optional (I brought some pistachios.) Climb up, and you're now righteously bivouaced for a holiday afternoon, waiting to ride bikes to see some fireworks when it grows dark. It's an entirely new perspective up here.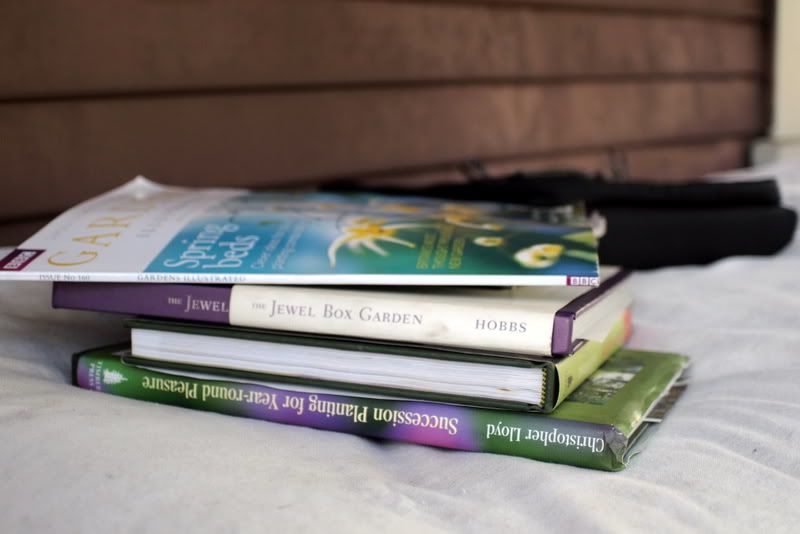 On the way to the farmer's market this morning, I happened to spot some marine-grade, canvas-covered chaise lounge cushions being discarded that would be perfect for the biv.
Full disclosure: In truth, I asked to be let out of the car because the most beautiful Agave desmettiana I had ever seen was planted in the front yard of a house of this little beach community we were driving through called Naples. Dark green with slim yellow striping on the leaves. Maybe there was a pup just hanging off of it. On close inspection, there wasn't. The agave was perfect, no pups easily seen, and I would never take a chance in possibly desecrating such a beautiful agave, at least without knocking first. All your plants are safe with me, no worries. Walking back to the car is when I found the cushions in the alley. The broken plastic chaise lounges I had no need for. These are the cushions now in the bivouac, first loosely covered with a beige canvas painter's tarp, one of the largest, most useful lengths of finished, durable fabric to be had for about $5 at a hardware store — its various guises include table cloth, picnic blanket, small tent, impromptu overhead awning, cushion covers, etc.
Back to the biv. At first, it's very difficult to concentrate. The canopies of the trees sway just a few feet away, birds cut through an air space that we both now share. Butterflies waft in and out. After a good bit of skylarking and settling in, it was back to the business of catching up on some reading. There's an article in the Atlantic I've been waiting to get to, but who am I kidding. The entire afternoon is given up to rapturous perusal of the June Gardens Illustrated. No magazine does plant talk like GI. I eventually called out for paper and pencil and was handed up a notebook and pen.
Plants of desire:
Akebia longeracemosa; from Taiwan, less vigorous than A. quinata. This image I found on a German academic website lacks the sheer porn value of the GI image but gives a fairly good likeness, except that the racemes just aren't all that long in this photo. In GI the racemes dripped like wisteria.
Peucedanum verticillare, an umbellifer I'd never heard of. Like bees, I can't get enough of umbellifers. Photo from The Guardian:
Cavolo nero, the Italian black kale I've been reading so much about. Perfect for fall planting. Photo from the Wine Berserkers website.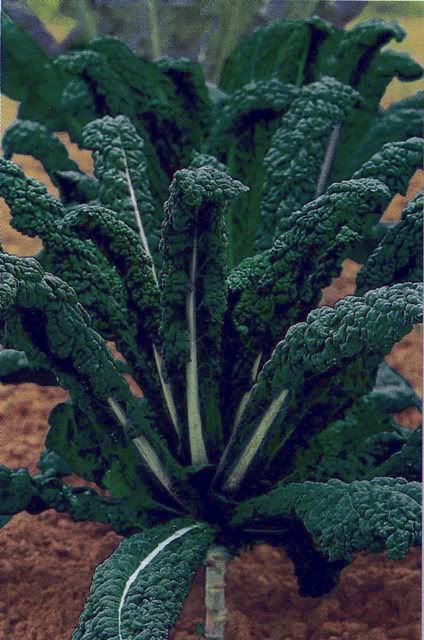 Papaver atlanticum, said to be "prettier" than the Spanish poppies that have colonized the gravel garden, P. rupifragum.
Epilobium, the fireweed, or rosebay willowherb, is now called Chamerion. I had no idea the name changed. GI always pushes the white version, and it's utterly impossible to locate, at least in the U.S.
Ageratina aetissima 'Chocolate.' This plant looks awfully familiar, but that name — oh, yes, Google identifies it as formerly known as Eupatorium rugosum. Again, no idea the name changed.
Isn't it interesting that about the same time people were taking down walls for open floor plans indoors, garden rooms outdoors became the rage. Every article must use the phrase "distinctive garden rooms" at least once, as though it's a new and novel practice. I'm not against planning a garden in rooms, but it hardly seems distinctive anymore.
I loved Carol Klein's quote about a changing garden: "Appreciating a planting scheme is more like watching a film than looking at a picture." But exactly, Carol.
Wonderful portrait of Piet Oudolf's wife, Anja Oudolf, married to Piet at 21, and runs the nursery.
Another good piece on the designer Raymond Jungles, who counts as major influences Luis Barragan and Roberto Burle Marx. A client of Jungles describes his style as "Nature almost wins." And I've now added Brazil as garden trip destination to see Burle Marx's estate.
Ending as usual with a great essay by Frank Ronan about seeking perfection in gardens: "A garden is a collaboration with nature, which was making perfect things before we were making things at all."
And I skipped entirely the article on meconopsis.