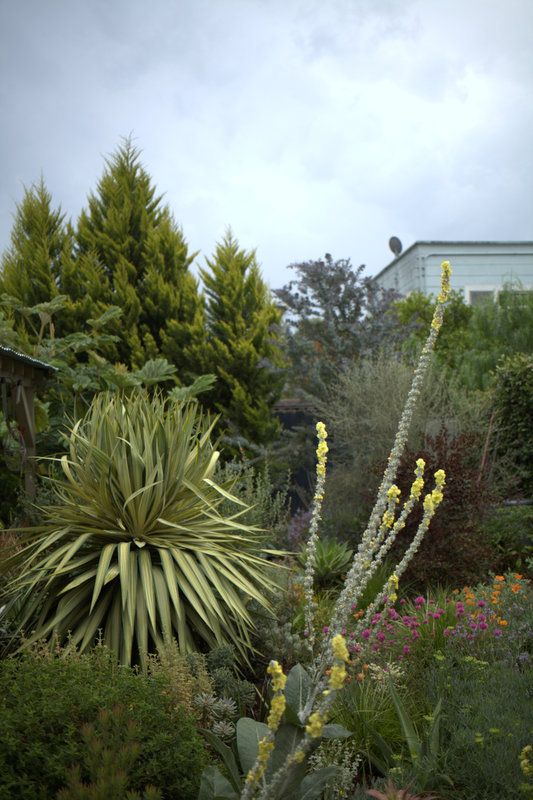 I documented the extent of the back garden earlier in the month. It's pretty clear it's a battle for inches here. Relatively cool, overcast June means I'm still shifting plants around and planting some new stuff too.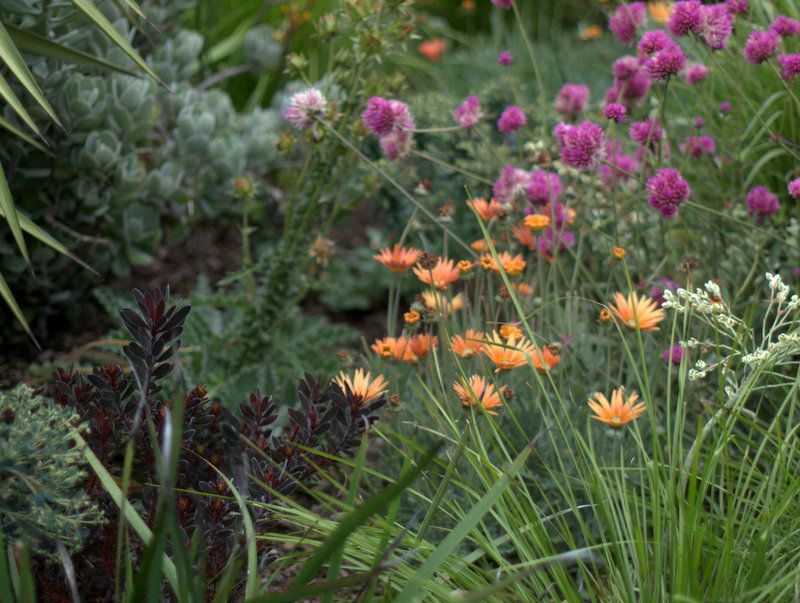 I've been playing around with the idea of a small patch of dry summer meadow the past few years, on a frustratingly small scale of course. Threaded around all the big evergreen stuff is what's become a rainbow sherbert meadow this year in raspberry, orange, lemon, lime. Leucadendron 'Ebony' on the left, Lomandra 'Breeze,' euphorbias, Arctotis 'Flame.' Gomphrena 'Fireworks' is perennial here, in its third year at least.
Kangaroo paws, Verbena bonariensis just gaining height. Dark background shrub on the right is coprosma.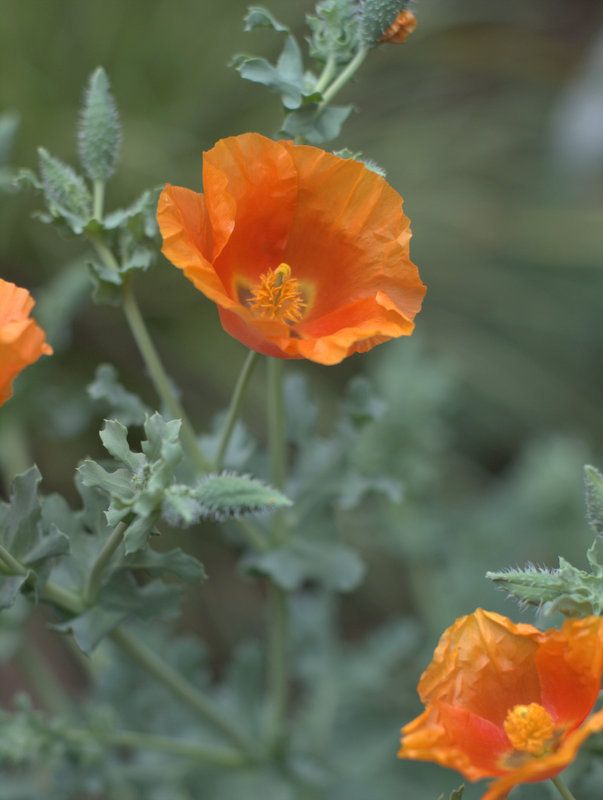 Heaps of orange sherbert served by Glaucium grandiflorum.
OK, I like this poppy relative with the finely cut blue-grey leaves a lot.
There's just two plants of the glaucium, each which sprawls to over 3X3 feet. A simply wonderful dry garden plant, said to be a short-lived perennial that should reseed.
The lemon-sherbert leaves are from a dianella I just brought home from Jo O'Connell's Australian Native Plants Nursery near Ojai.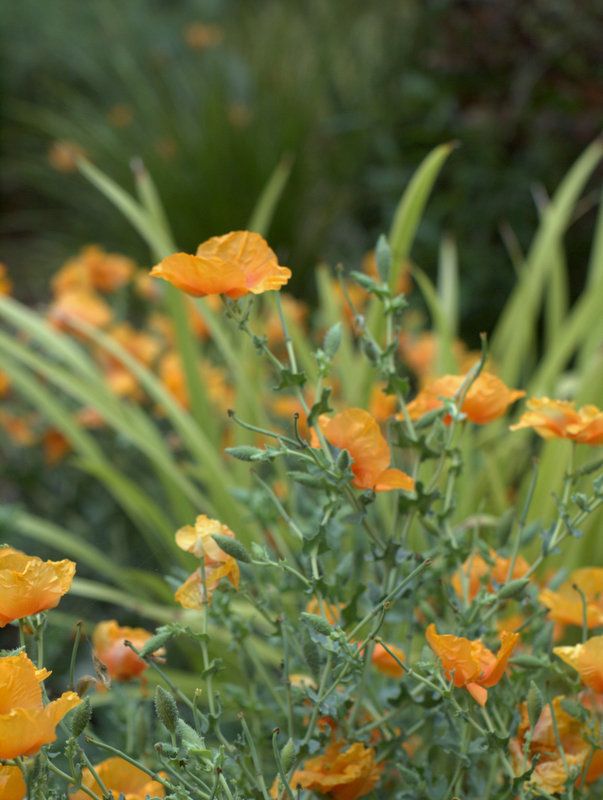 Jo said it's been a disappointing seller so was offering a 5-gallon cheap. I thought the name was 'Lunar Gold' but can't find a reference. It may have to eventually be moved out of full sun, but what's rainbow sherbert without some lemon?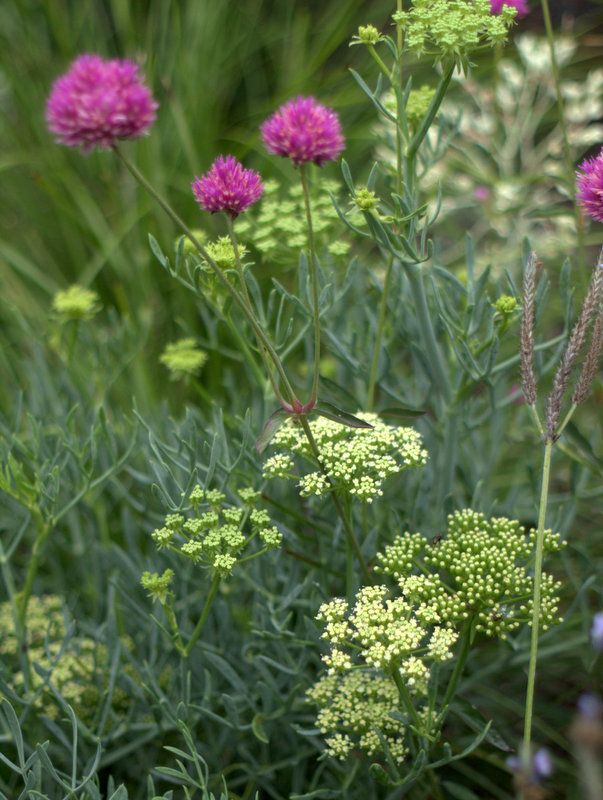 Gomphrena 'Fireworks' and Crithmum maritimum
Such a good plant, I've let a relatively big swath of crithmum grow up around the (unseen) octopus agave and extend to the base of the bocconia. The bobble-headed spires in the foreground belong to Sideritis cypria. Tall left grey background is unstoppable Sphaeralcea 'Newleaze Coral.'
There's a small Phormium 'Apricot Queen,' Pennisetum 'Skyrocket,' more orange arctotis, and the Stachy's 'Bella Grigio' which I doubt will make it to September.
A fern-leaf variety of lavender new to me that I like a lot, Lavandula minutolli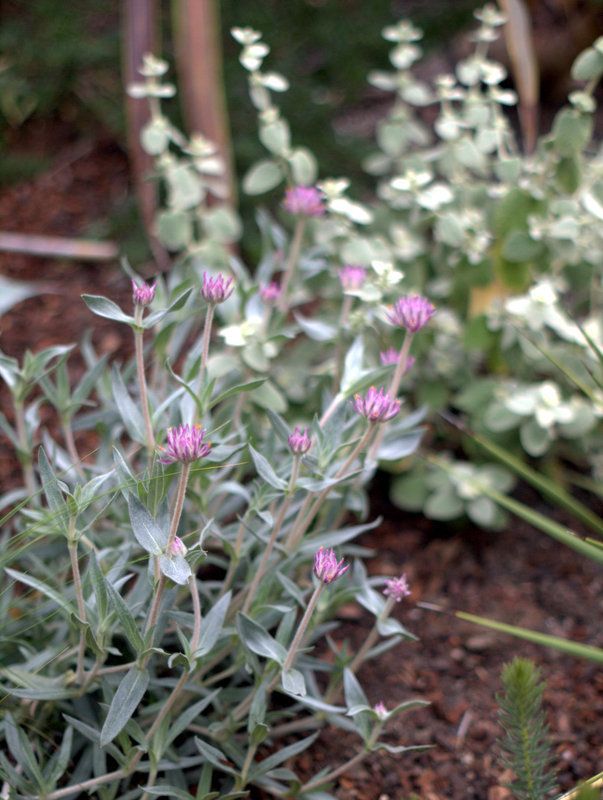 Another very promising gomphrena, silver-leaved 'Balboa,' has been planted with grasses and ballota under the acacia.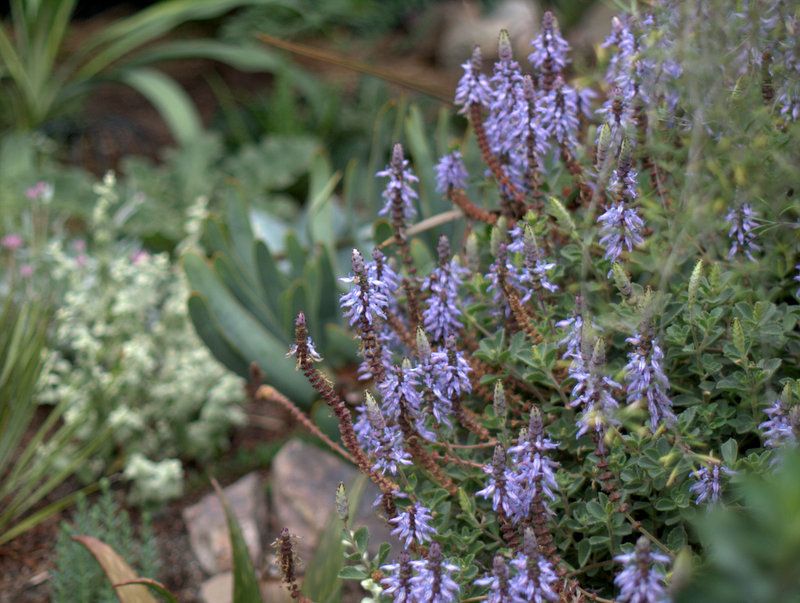 The acacia bed also includes the stump-smothering Plectranthus neochilus and lots of aloes. There's great mushroom activity around this area in winter, some kind of synergy with the decaying tree stump of Cotinus 'Grace' under that plectranthus.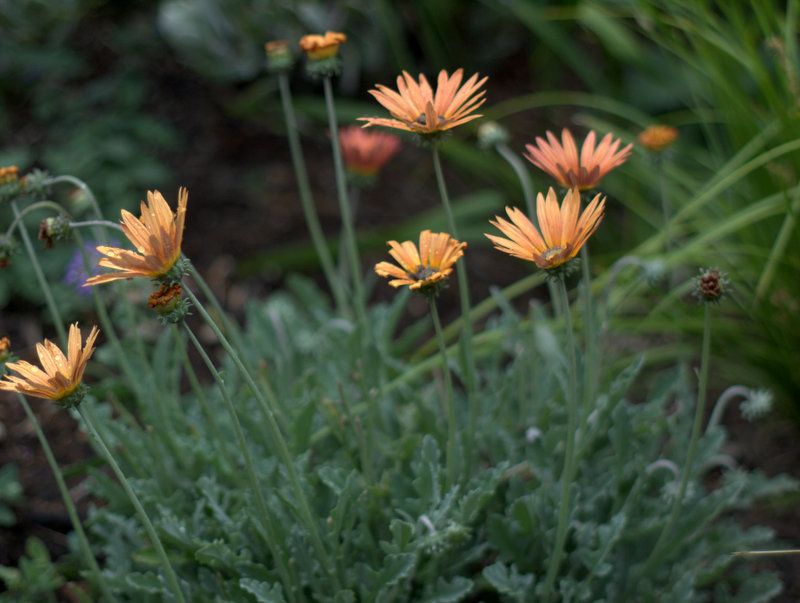 The best of the summer daisies this year is hands down the arctotis. This variety is 'Flame.'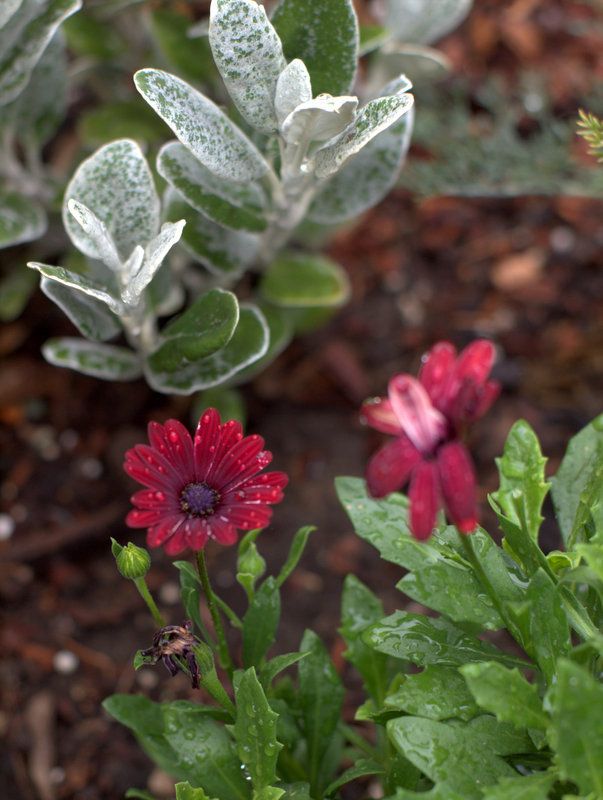 I love the color on this osteospermum but it's been so slow to get going.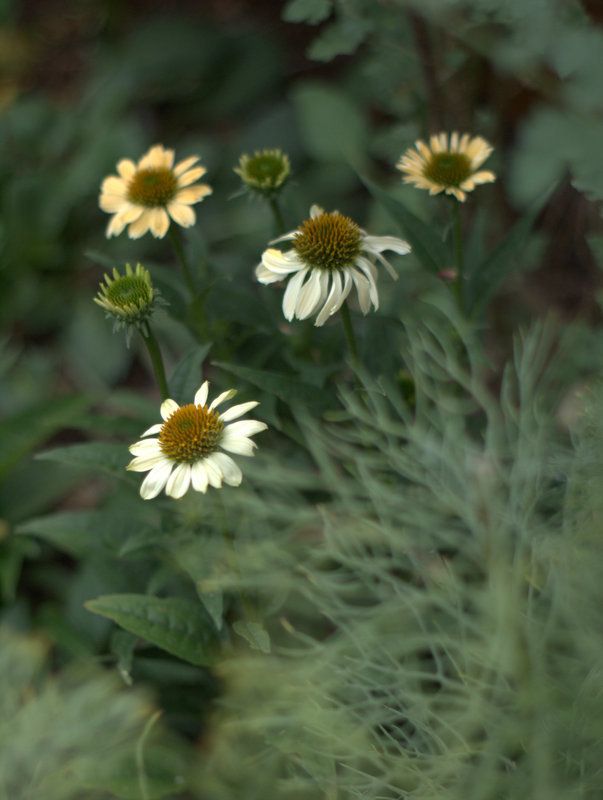 'Cheyenne Spirit' echinaceas planted last summer, an infamously easy plant that's been a struggle here. I should just stick to plants from the five mediterranean areas of the world, like the South African arctotis.
The 'Drakensberg' series of gerbera are reliably very good garden plants.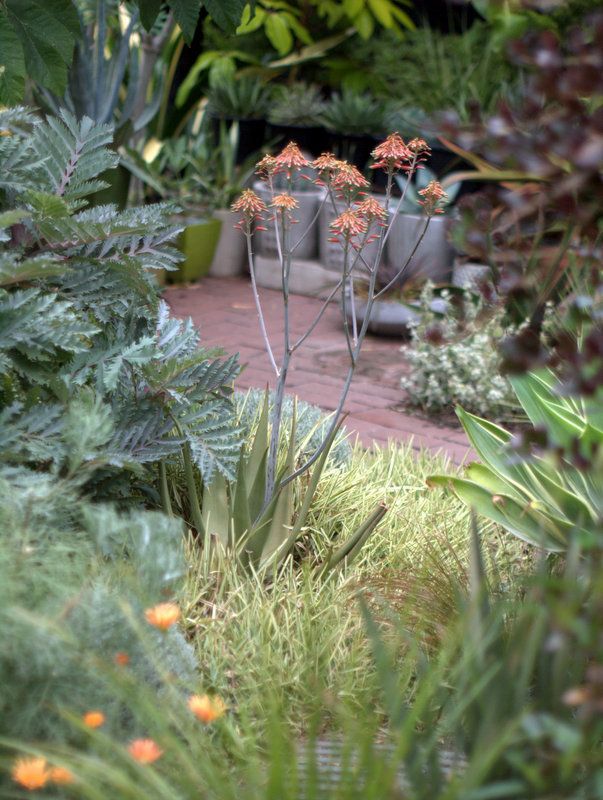 Aloe scobinifolia in bloom on the footpath heading out of the "meadow" to the east side.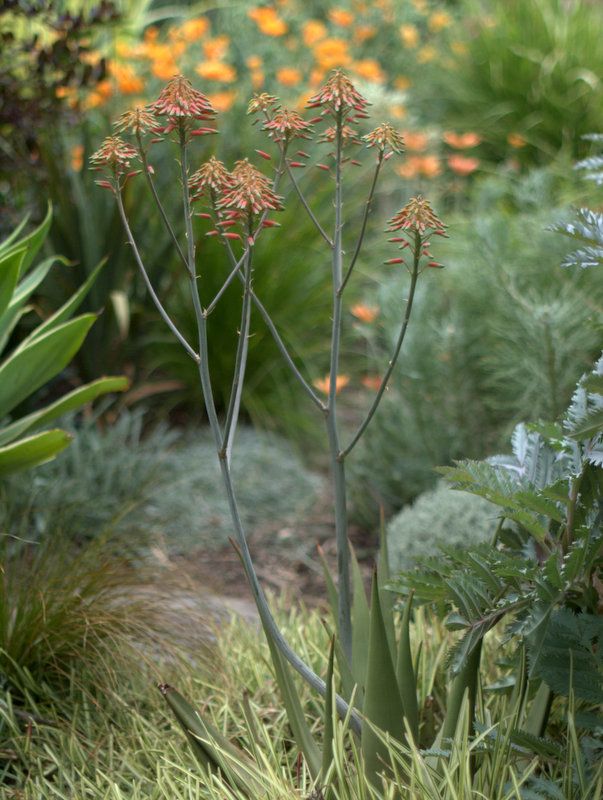 The Somalian Aloe is an uncharacteristically pale, smooth-leaved aloe.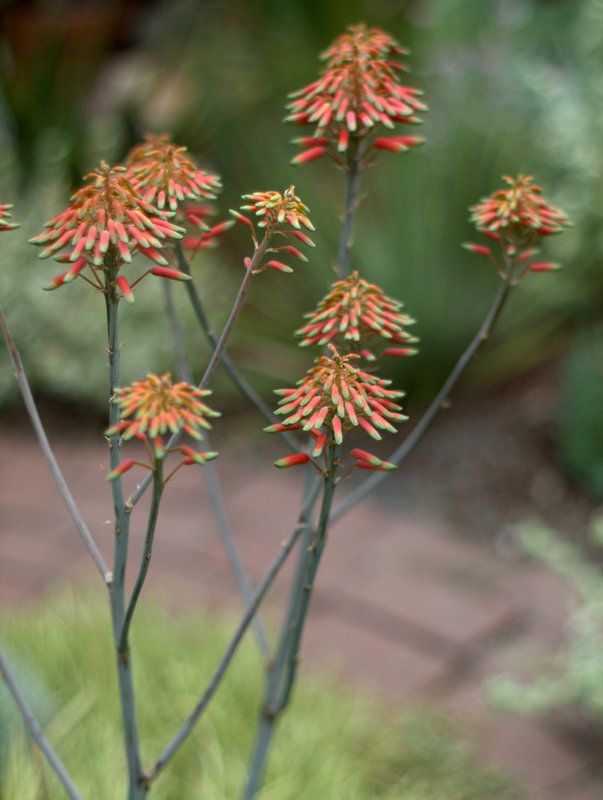 I'm not very methodical when buying to check whether an aloe blooms in winter or summer, because I generally want them all. But it is nice to have a range that bloom in winter and summer.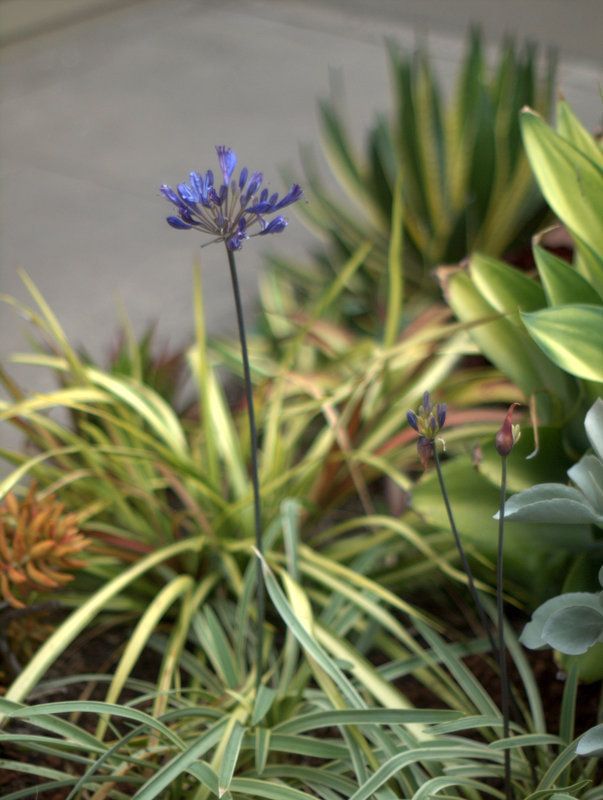 The agapanthus experiment has been interesting. Here in zone 10 they are a ubiquitous municipal landscaping plant. And, consequently, I've always avoided them like the plague.
Seeing them in bloom with grasses at Dan Hinkley's Windcliff garden convinced me it was time for a second look. And once established, agapanthus are fine in the dry garden.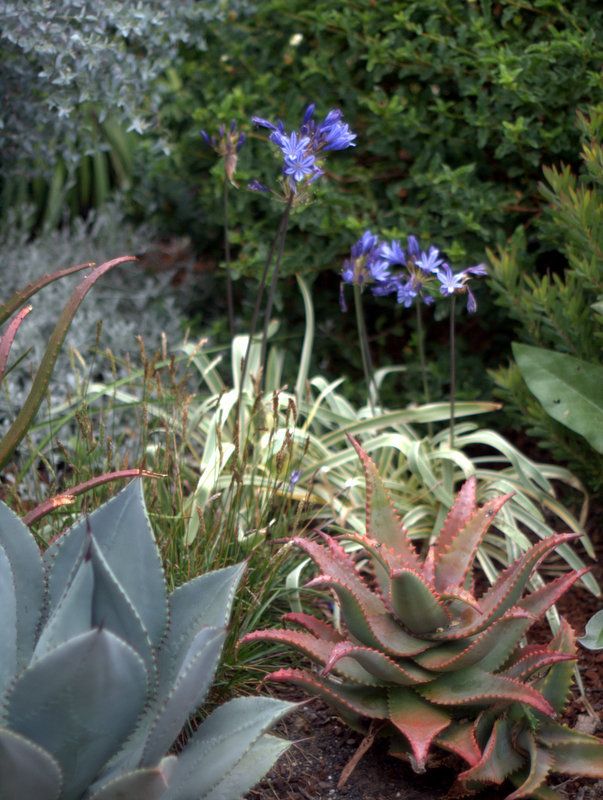 The bright leaves on 'Gold Strike' are evident year-round.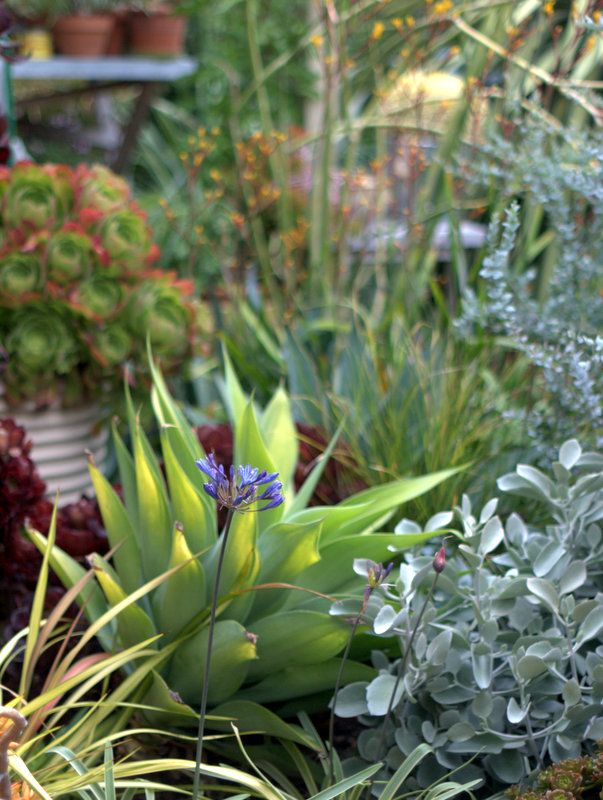 I'm relieved to find they fit in right at home among the succulents.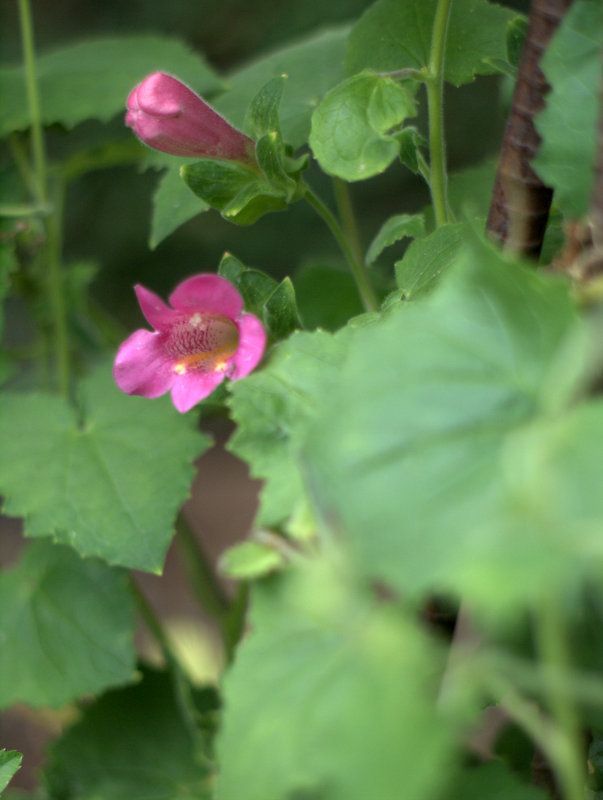 A seedling from an Asarina scandens vine grown long ago was discovered and potted up and has just started to bloom. A really large summer vine here.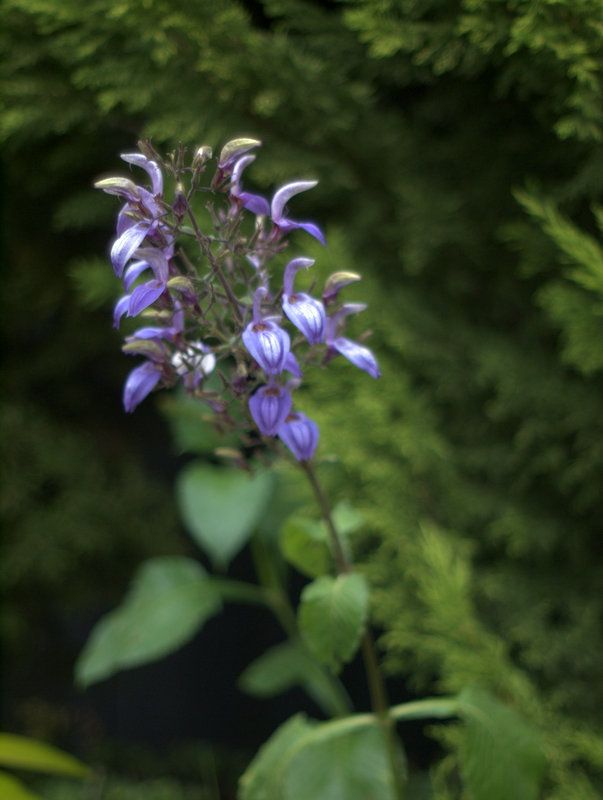 Big, crazy-looking Brilliantasia subulugarica has started to bloom, cuttings taken from the local community college last year.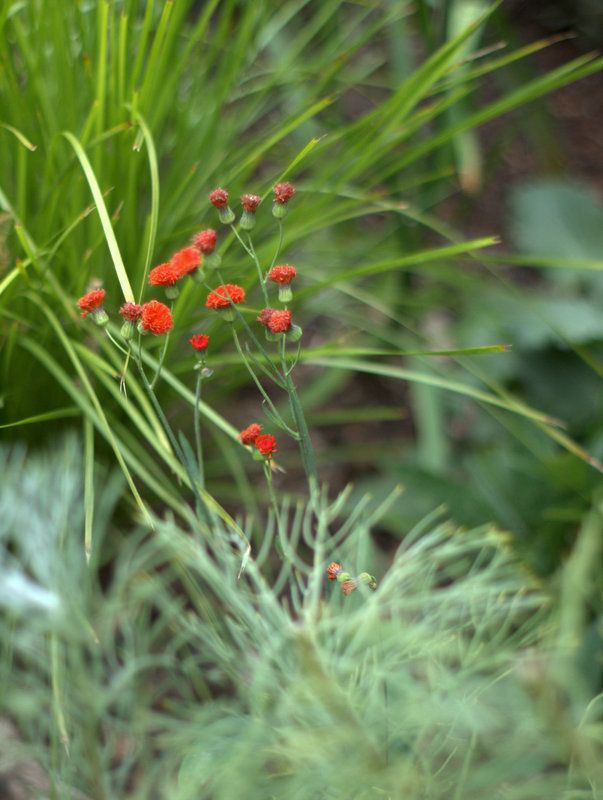 The long-blooming, slim annual Emilia javanica suits my small garden well. Reseeds.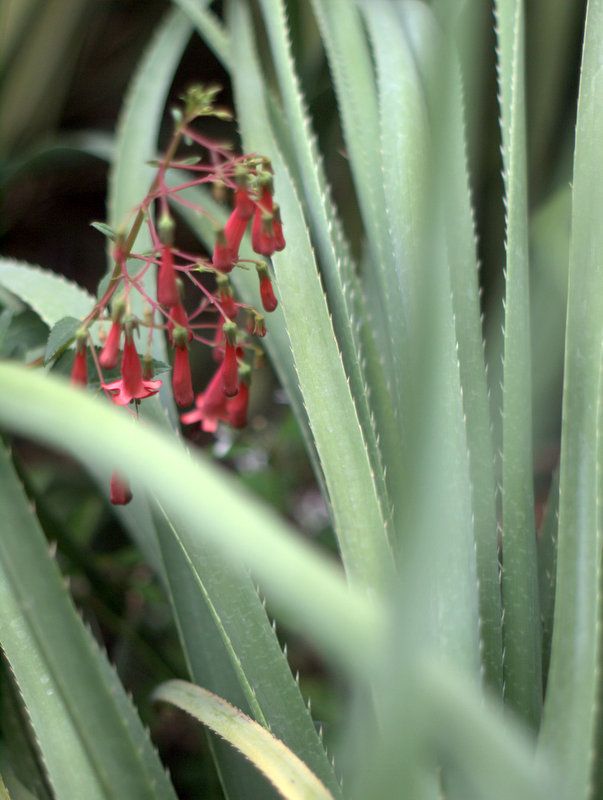 Phygelius leaning on Eryngium pandanifolium. I can't figure out how gardens get upright phygelius. Do they stake them?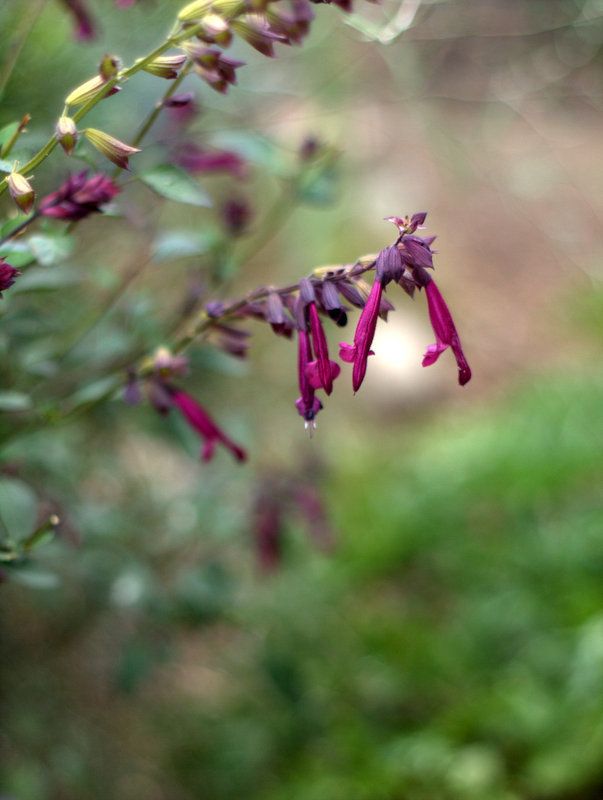 Salvia 'Love & Wishes,' a darker color than 'Wendy's Wish,' a prolifically blooming salvia.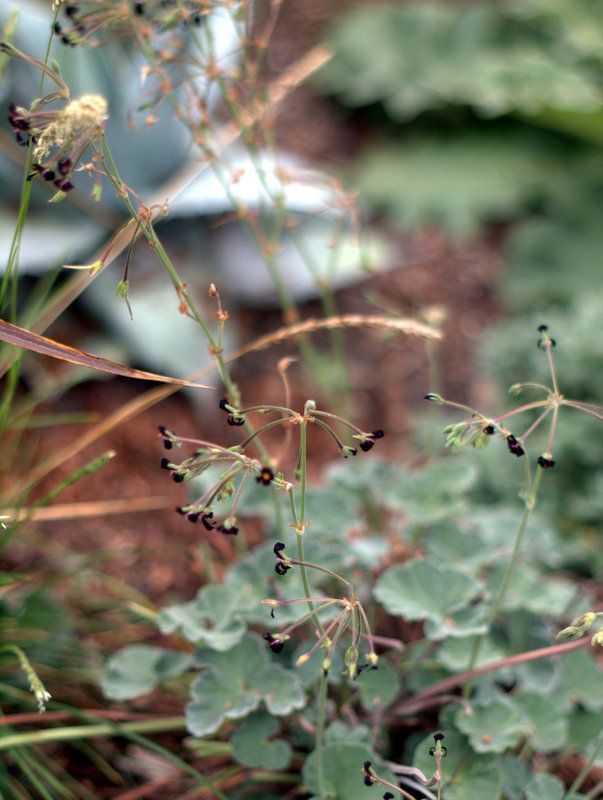 An odd form of Pelargonium sidoides, with tiny, almost black flowers on tall scapes, and big, scalloped leaves, great interplanted with small grasses like sesleria. More clumping than the type, I didn't know this pelargonium could be so variable until growing this one from Robin Parer at Geraniaceae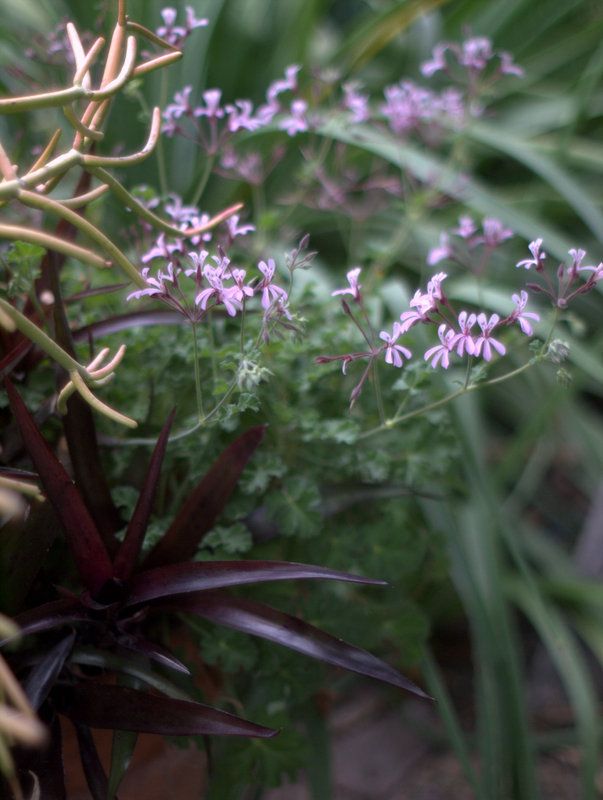 A scented pelargonium in a pot with a dark bromeliad.
An unlabeled aloe bought in bloom last winter, now reblooming. Wish I knew the name.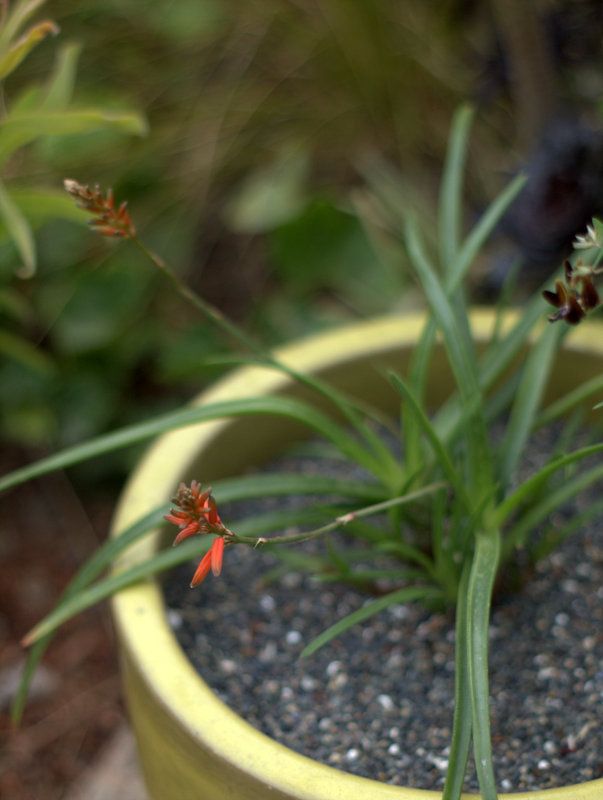 Aloe 'Johnson's Hybrid,' a recent gift from Dustin Gimbel. I grew this in the ground some years back and wasn't very impressed.
But seeing the results Dustin obtained in a large pot, a stunning grassy blooming mass rim to rim, changed my mind.
Dustin says it blooms nearly year-round for him in a container, a much better performance than in the ground.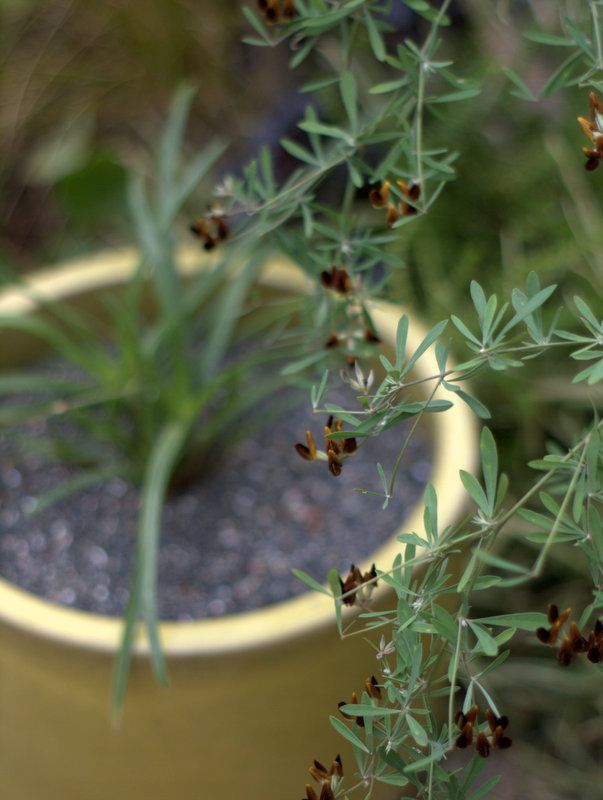 Lotus jacobaeus thrives in containers too, this one growing a small, woody trunk.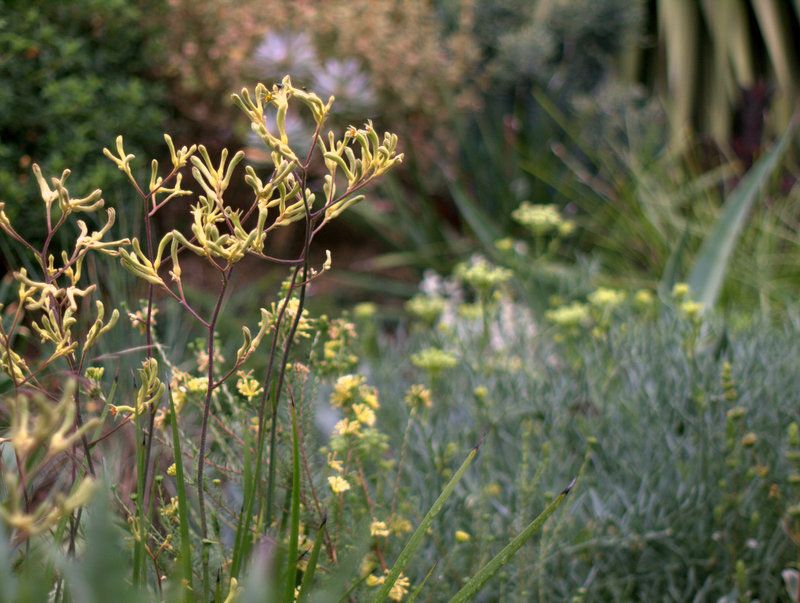 A nice chartreusy anigozanthos. Don't know the name.
Tall and reliable 'Yellow Gem'
Carol at May Dreams Gardens keeps a monthly, world-wide directory to gardens in bloom.