I know spiky agaves in the garden make some people nervous, but lovers of architectural plants for the dry garden can get into a lot more trouble than an agave. The golden barrel cactus has recently gotten under my skin, figuratively speaking only, thank goodness. Echinocactus grusonii holds the dubious distinction of being one of the most familiar yet endangered cactus planted around Southern California. Illegal collecting and the building of the Zimapan Dam and reservoir in its native Hidalgo, Mexico, haven't helped matters. Indeed, Jim Folsom, Director of the Huntington Botanical Garden, believes it is probably no longer to be found in the wild.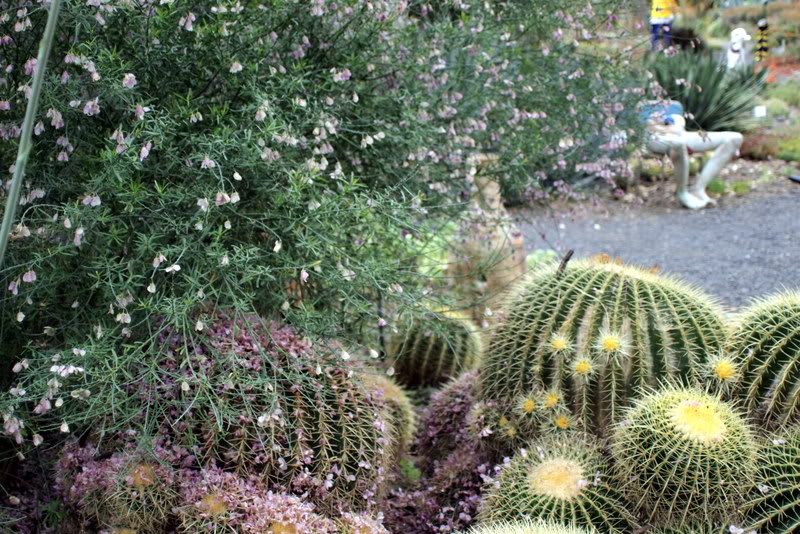 Golden barrel cactus at the Ruth Bancroft Garden
Regrettably, I have only one golden barrel cactus to roll out, to test its light-splintering qualities this fall, now that light and wind have replaced heat as the big news in the garden. I plug pots of agaves into the garden all the time as the seasons (or my itchy digging fingers) open up space for their big sculptural rosettes. But this is a first for me, temporarily moving a potted barrel cactus into the garden, and that's for a couple reasons. In my experience, barrel cactus are rarely used as specimens and are almost always planted in groups. Would just one look silly? And, secondly, Echinocactus grusonii deals with any absent-minded mishandling quickly and savagely, inflicting a "dirty wound," prone to infection. So why risk it, you say?
The key word is "golden." It has a wonderful solidity, but all those golden spines arrayed like hundreds of tiny propellors impart a surprising lightness too. Doesn't that silver pot make it look like a prickly loaf of rising bread? Placement of cactus in the landscape does bring up valid concerns for pets and children. My little experiment is in a spot safe from wandering corgi paws.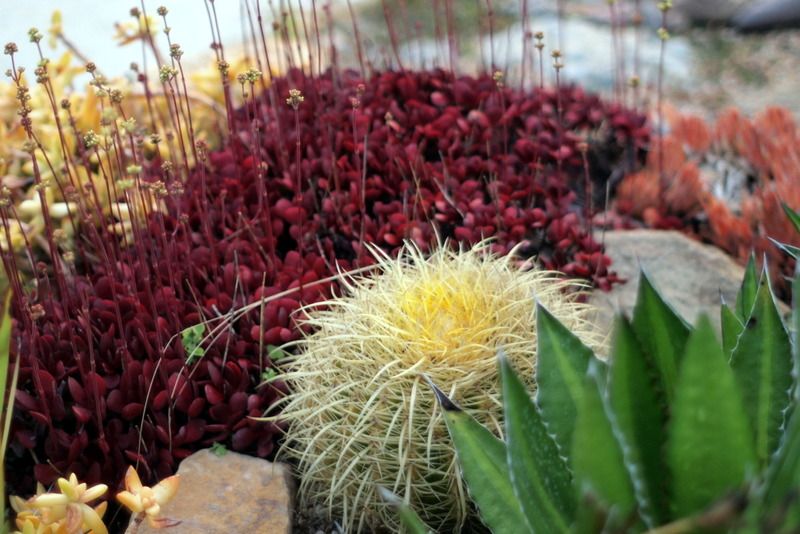 As far as planting as a specimen versus in groups, I'm still undecided. Here golden barrel cactus is a specimen with fiery red Crassula pubescens ssp. radicans. I am so not ashamed of wanting to steal this idea.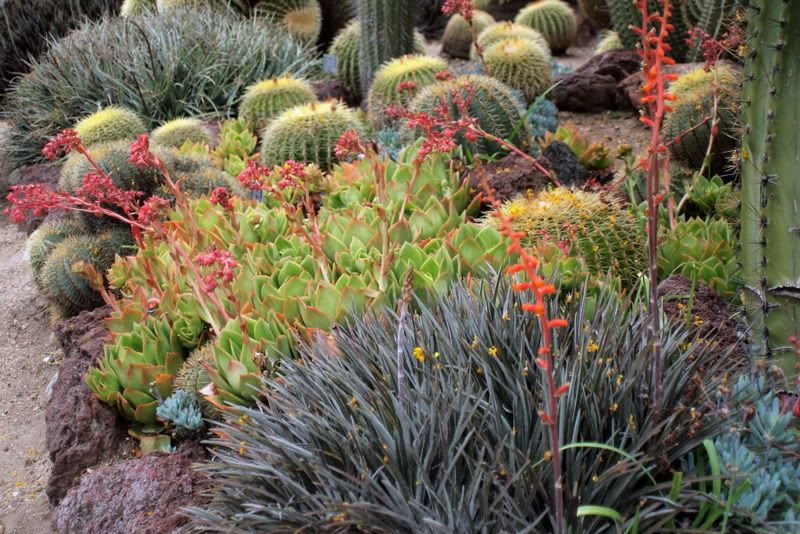 With dyckias and Echeveria agavoides at the Huntington's Desert Garden.
The same area stepping further back, when the Palo Verdes were in bloom, photo by Mitch.
A group of barrel cactus with the whale's tongue agave (A. ovatifolia) at the Sherman Gardens.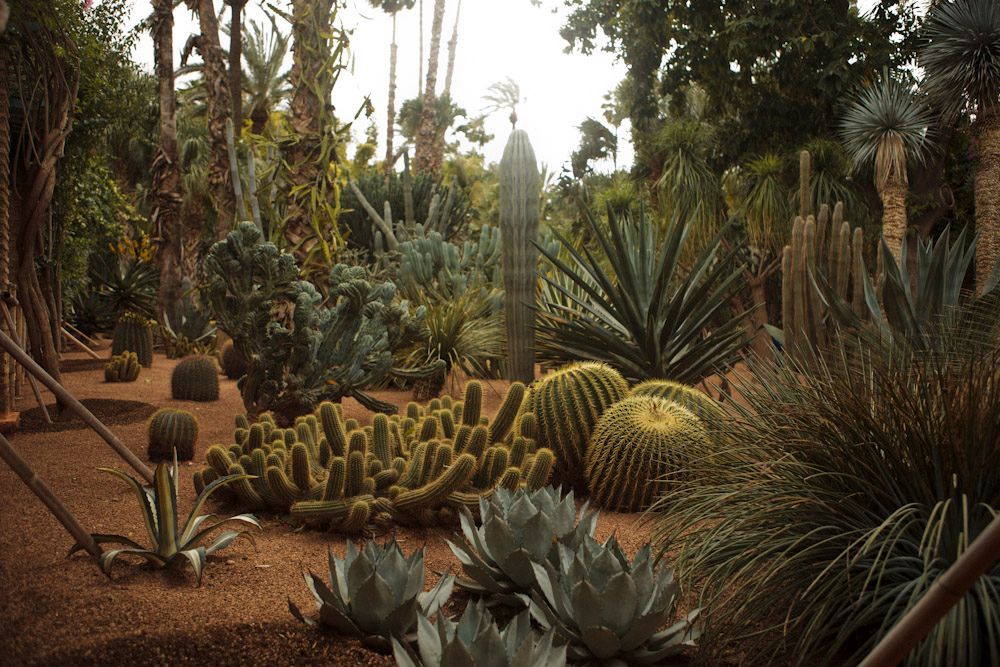 A small group as an accent in a complex planting at the Jardin Majorelle in Morocco, photo by Mitch Maher.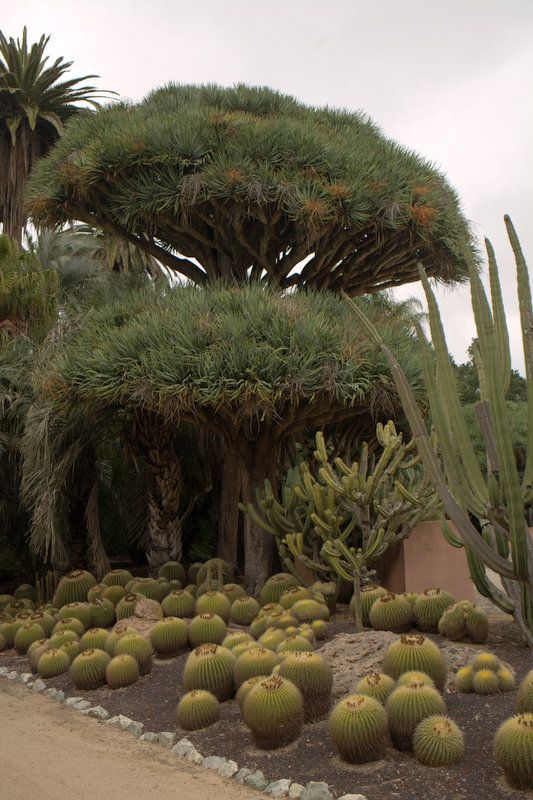 With Dragon Trees at Lotusland.
This cactus grows readily from seed, maturing to flowering size in roughly 15 years. The Getty in particular has a spectacular mass planting of this cactus.