This October the garden has already turned its back on summer, and all but the grasses have been cut back. I'm curious to find out how long the summer grasses can be supporting players to the winter-blooming aloes before the grasses are cut back in late winter. (Of course, if we get rain, the grasses might be cut back sooner, but I'm not holding my breath. In fact, I think I'll plan a rain vacation this fall/winter. Glasgow averages 4 inches in November, Amsterdam over 3 inches.)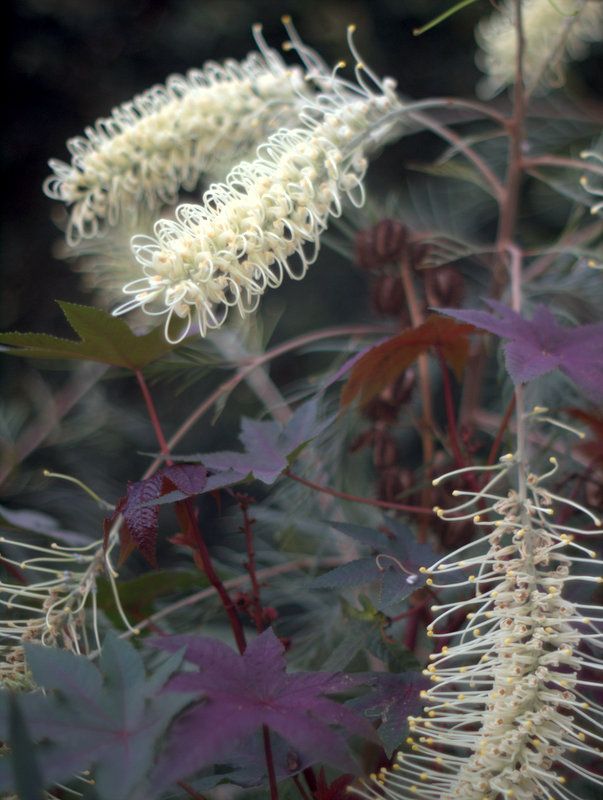 The 'New Zealand Purple' castor bean has a thick woody trunk and should be removed, because it's left plenty of seedlings to take its place. But it's playing so nicely with 'Moonlight' grevillea I keep putting it off.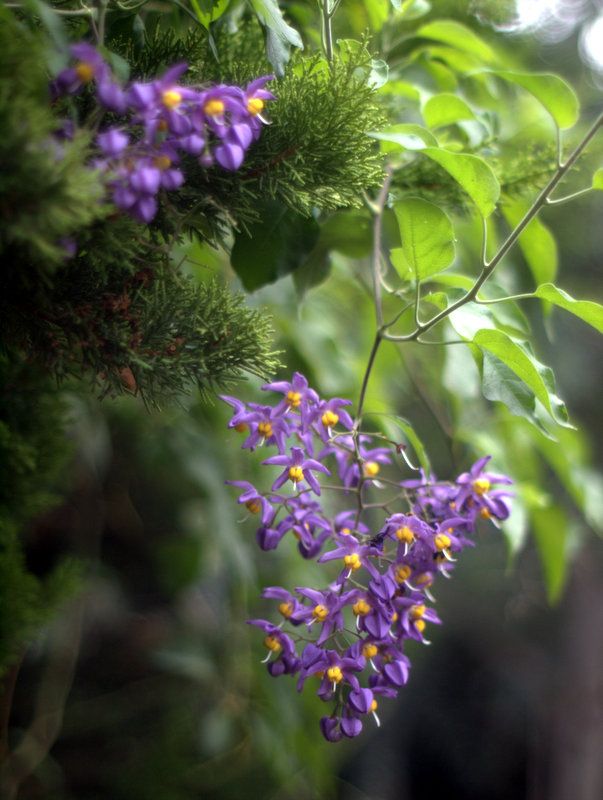 And the Solanum vine, 'Navidad Jalisco,' has had a lot cut back off the lemon cypresses and out of the Acacia baileyana 'Purpurea' but is still throwing new blooms.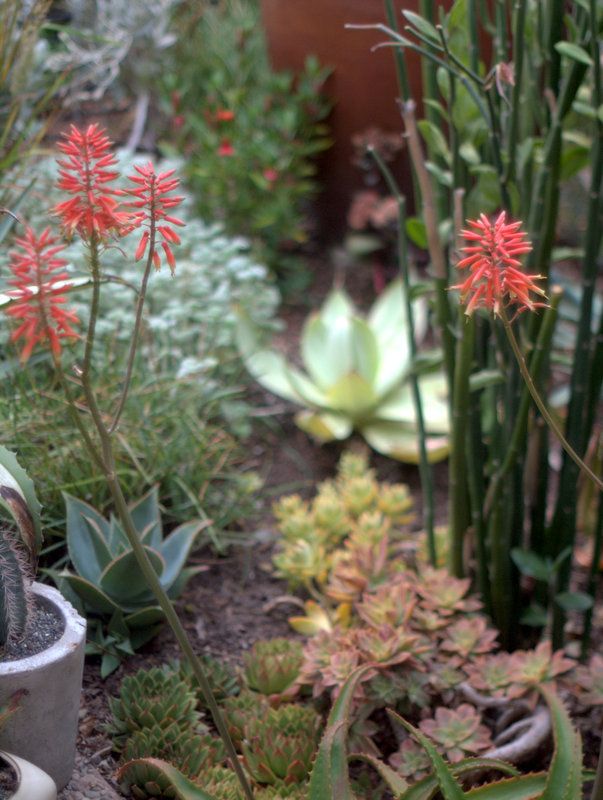 Among other low-lying succulents, the aloes like 'Cynthia Giddy' shine unobstructed, but the big pennisetum grasses might have to be switched out for grasses of smaller stature. Lomandras like 'Breeze' really would be preferable for size, although they lack the pennisetum's sexy blooms. (That 'Ghost' aloe on the lower left was recently added, a hybrid of Aloe striata that showed up at nurseries this fall. I love its almost agave-like chunkiness.)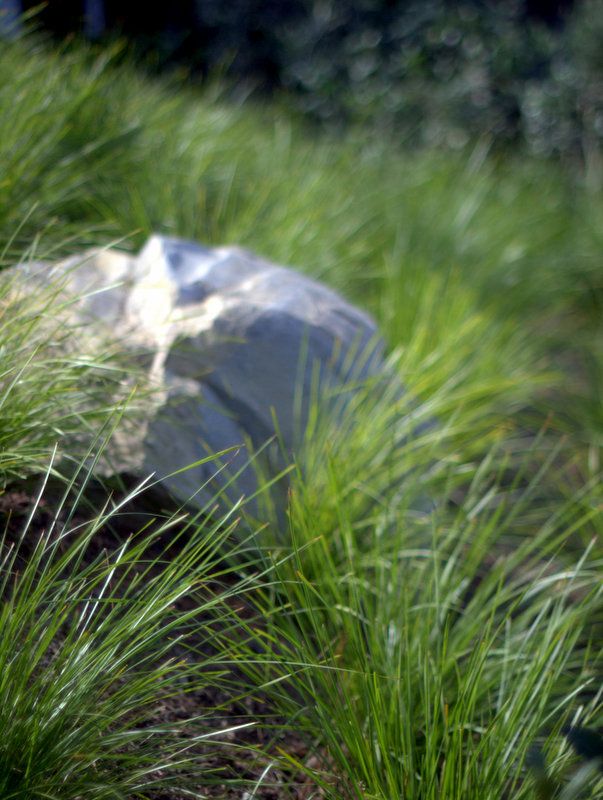 Here's a photo I took the other day of a mass planting of lomandra. The scale is perfect for interplanting aloes. Sun and water requirements are a good fit too.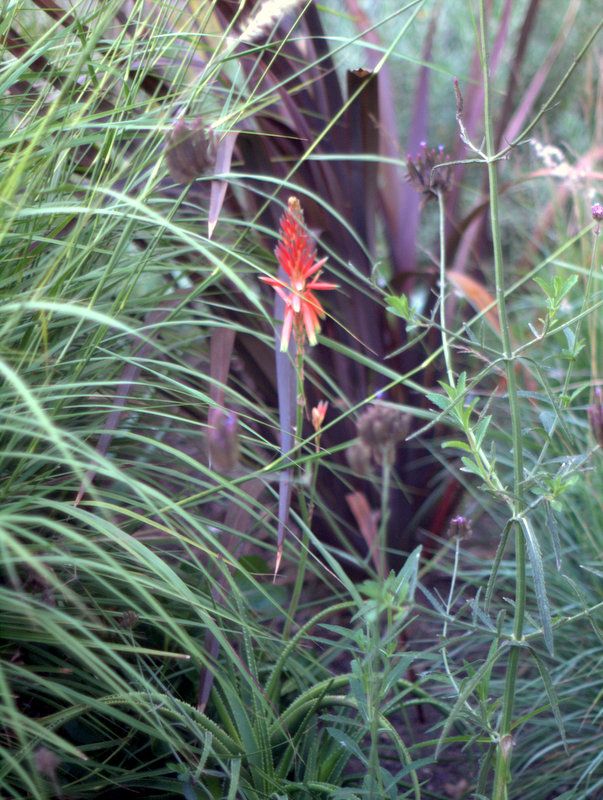 For example, Aloe 'Topaz' is struggling to be seen through Pennisetum 'Fairy Tails' and phormium. I need to cut back that Verbena bonariensis too.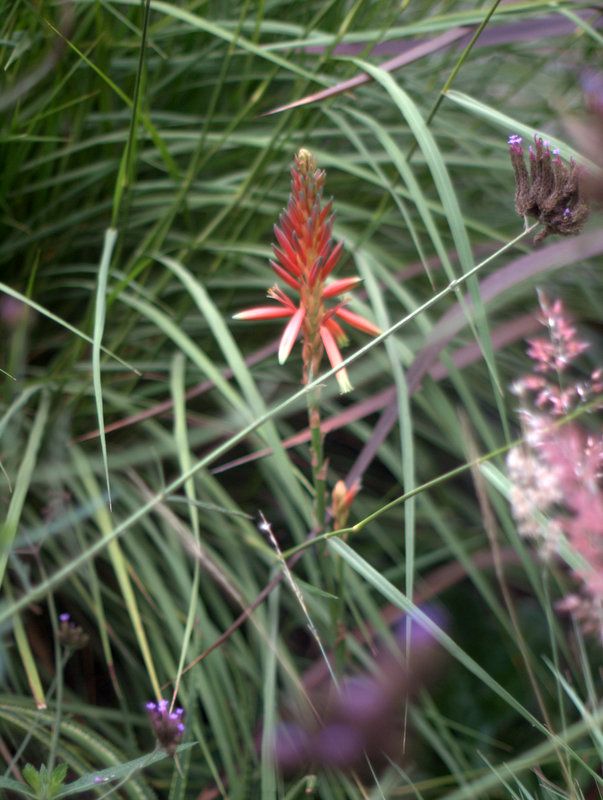 'Topaz' supposedly prefers/tolerates some summer irrigation so should work well among smaller grasses and shrubs.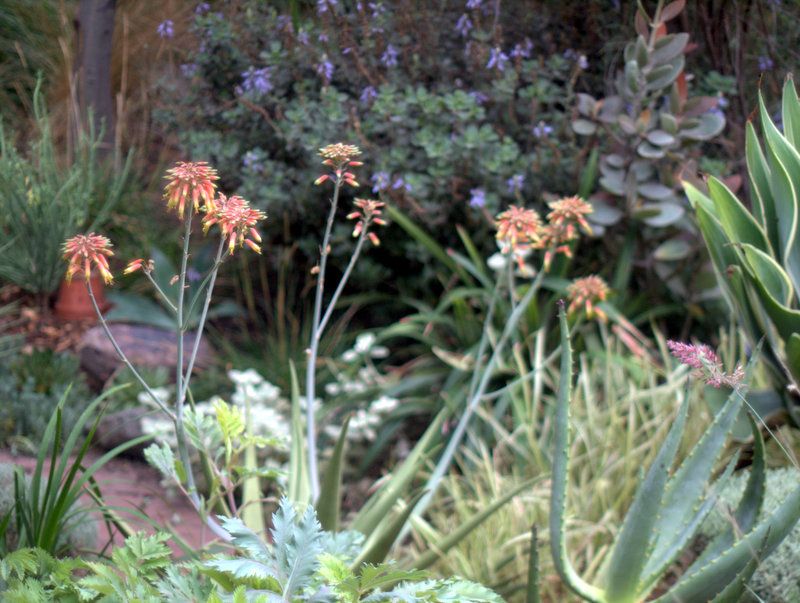 Aloe scobinifolia has bloomed in July in the past and is much later this year. One of its record number of five scapes was lost to a mishap with a cat. That's Plectranthus neochilus blooming in the background, as it's done all summer.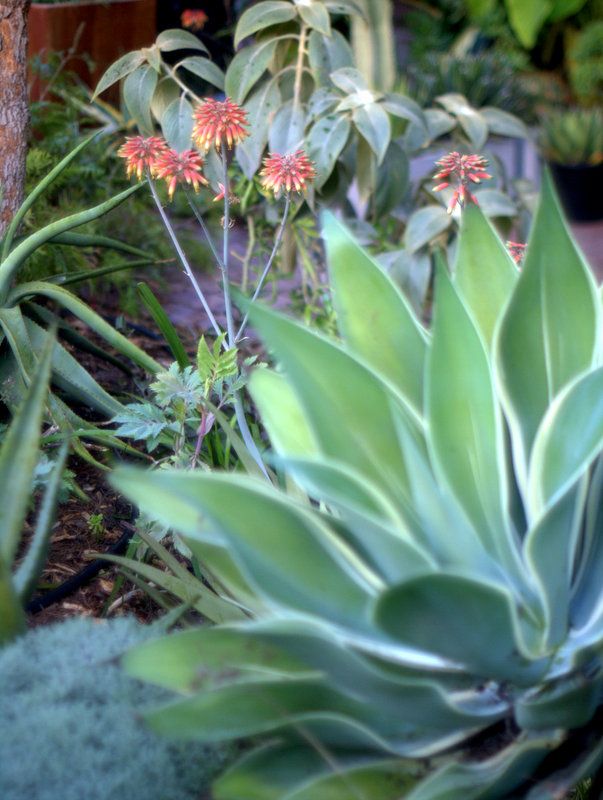 More and more, I find this time-share aspect to the garden so absorbing. Every plant on its game year-round with something to contribute, or at least get out of the way. I'm a firm believer that the emphasis on garden "style" is misplaced. If it doesn't make sense for your temperament, for your climate, ignore styles. (If you can even figure out what your climate is anymore.) In zone 10 there's no justification for the slow death and decay cycle so beloved by the New Perennial movement. (Not when there's winter-blooming aloes!) And it's a safe bet here in SoCal that we're looking at building dry gardens for the foreseeable future. So I can stop dreaming about thalictrums and veronicastrums for summer. Sigh…that 'Black Stockings' thalictrum is so cool. But Amicia zygomeris has the height and some of that purply, bruised coloration to its leaves. I should bring that back for next summer.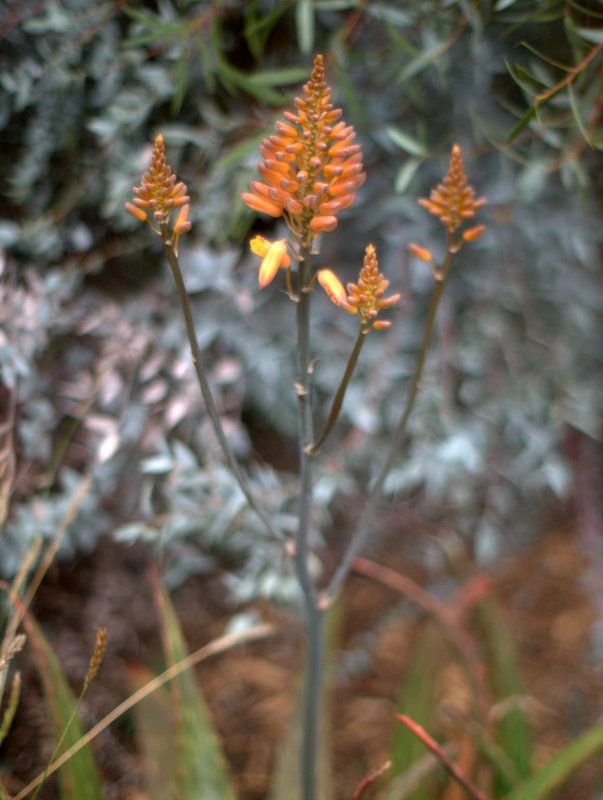 Aloe 'Kujo,' the Huntington hybrid. I lost a small plant so jumped at this big 2-gallon size already in bloom.
This plant caught my eye on a nursery bench recently too. With leaves and flower color so reminiscent of Lobelia tupa, I couldn't pass it up. Justicia sericea 'Inca Queen.'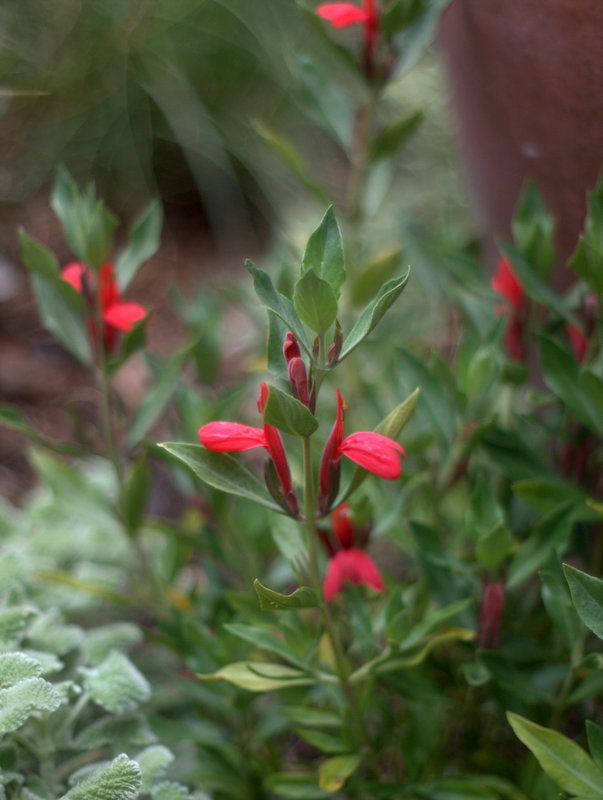 Said to bloom on and off all year, heaviest in early spring maybe. Drought tolerant when established. Might have a tendency for disheveled lankiness. We'll see. The hummingbirds are already thanking me.
This Kelly Griffin hybrid aloe has been blooming on and off all summer too.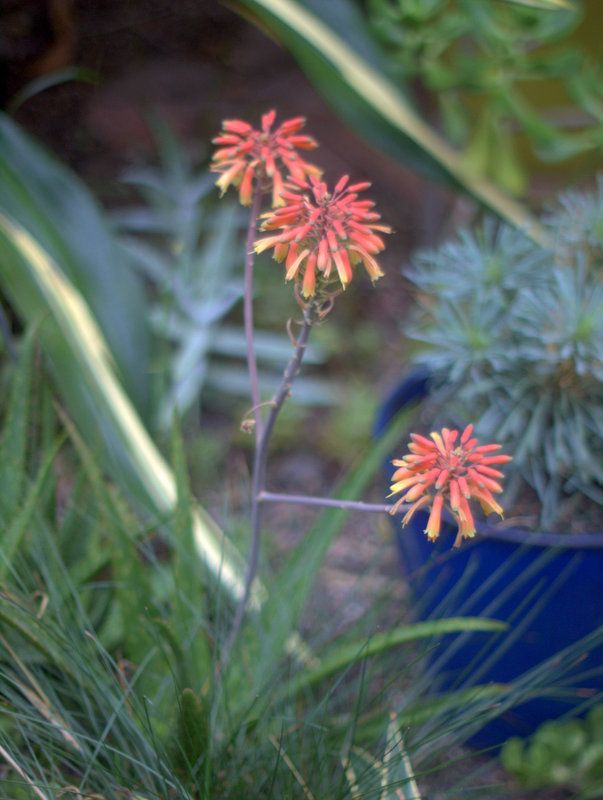 Aloe 'Rooikappie' is another year-round bloomer, heaviest in fall. My little plants are just getting going.
Carol at May Dreams Gardens collects Bloom Day posts from gardens all over the world, an invaluable learning tool for what's working where.