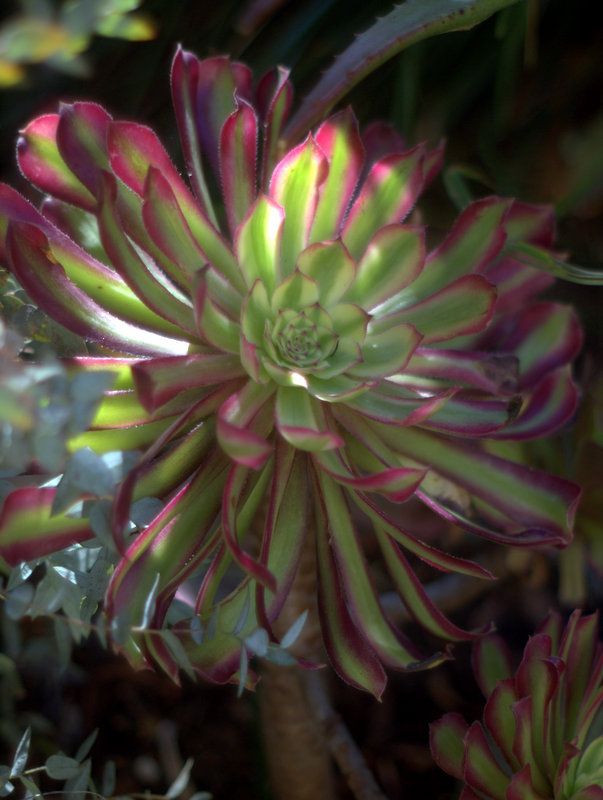 There. How's that for proof of some holiday spirit stirring? You can keep the poinsettias. I'll take my holiday colors in the form of Aeonium 'Mardi Gras.'
And then there was that very festive plant swap meetup this past week with Gail & Kris that helped start the thawing of my holiday-averse heart.
My offering was pups of this variegated Agave bracteosa 'Monterrey Frost.'
Gail (Piece of Eden) brought a sackload of rare plant treats, as did Kris (Late to the Garden Party).
Kris was also entrusted with the solemn duty of dispersing pups from Pam's whale agave Moby, who passed on in her Austin, TX garden in 2016.
(That's my very young whale agave also in the photo above, the selection 'Frosty Blue.')
This weekend I plan on getting some shopping done at some of the craft fairs that are popping up.
A sure bet looks like the Renegade Craft Fair, especially since it will be held at Grand Park this year. And this Sunday is perfect timing for the Rose Bowl Flea Market too.
If you're in Long Beach, the source of my 'Monterrey Frost' agave was Urban Americana, a great place, btw, for some holiday shopping.
Lots of Bauer and Gainey pottery, including this lust-inducing Bauer Hanging Indian Pot. Maybe Marty will check the blog before the 25th.
Long Beach harbor's twinkly boat parade this Saturday night always softens me up and gets me in a holiday mood.
And If I stream the semi-holiday-themed movie "About A Boy," maybe while baking some Molasses Crinkle cookies, I should be just about there.
Have a very merry weekend!