This summer issue of Pacific Horticulture is so much fun, filled as it is with lots of familiar faces and voices. All kinds of echoes and ripples from the virtual garden community spill over into this issue. Not only does beloved Portland blogger and PacHort board member Loree Bohl (Danger Garden) take us on a tour of a garden I actually visited when attending the Portland Garden Blogger's Fling in 2014, but revered local artist, garden designer, and personal hero Susanna Dadd, is profiled as well by garden writer Sandy Masuo in the article "Susanna's Folly."
And we don't even have to end the conversation just yet, not when there's more of Mitch's photos of Sue's work to share, some of it quite new and not fully "grown in," the perfect opportunity to discern Sue's unique design process.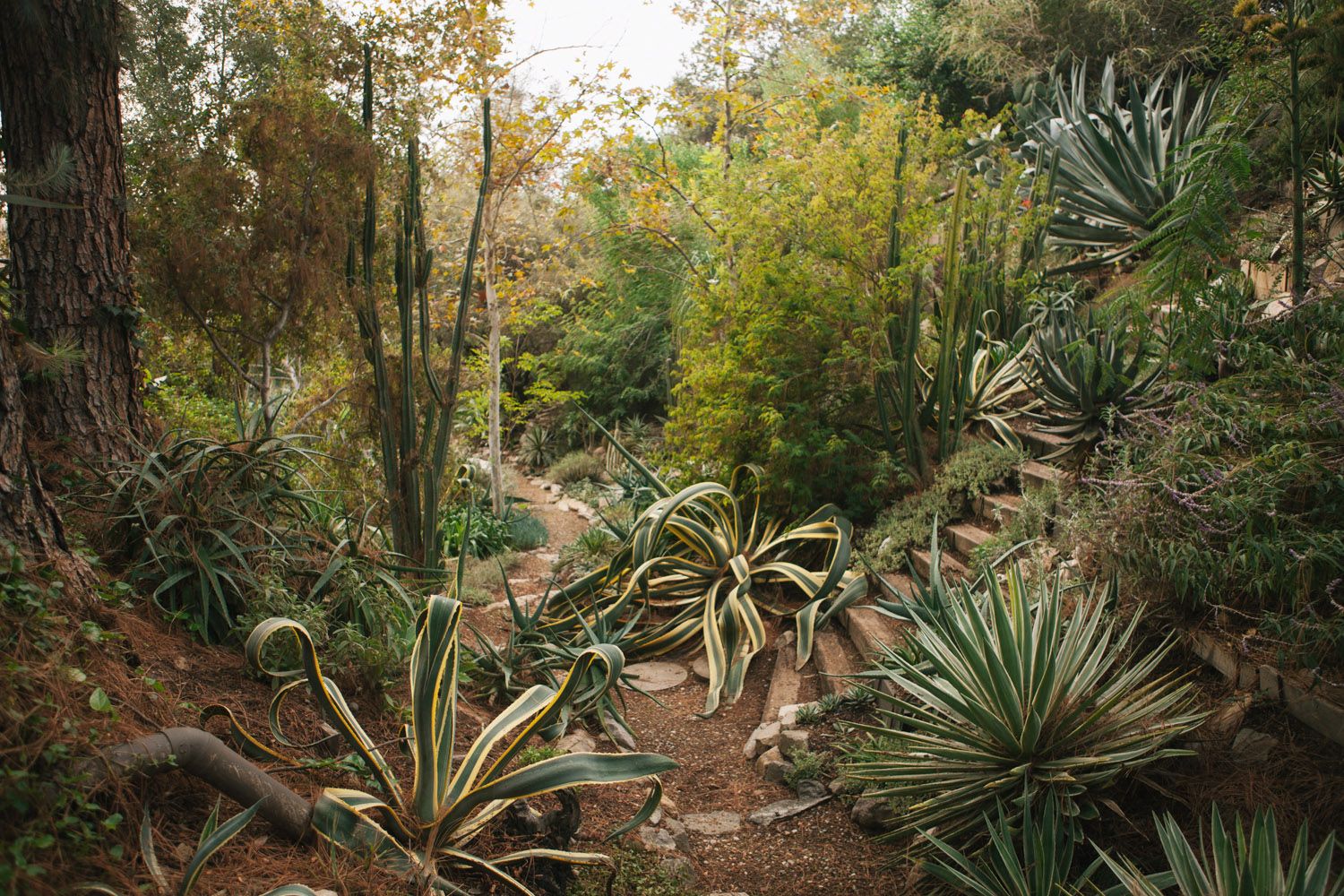 Ms. Masuo writes about how, to fully appreciate Sue's formidable earth-shaping skills, one must comprehend the challenges presented by the home and garden she shares with artist James Griffith in the foothills community of Altadena. On one side, steep ground falling away from the hilltop home was engineered by the couple into a magical canyon entered by the stairway on the right. Descend the stairs, and at ground level one feels lost in the wilds of the Yucatan, when in sober reality the surge and sprawl of Los Angeles laps up against the foothills just a few hundred feet down that path.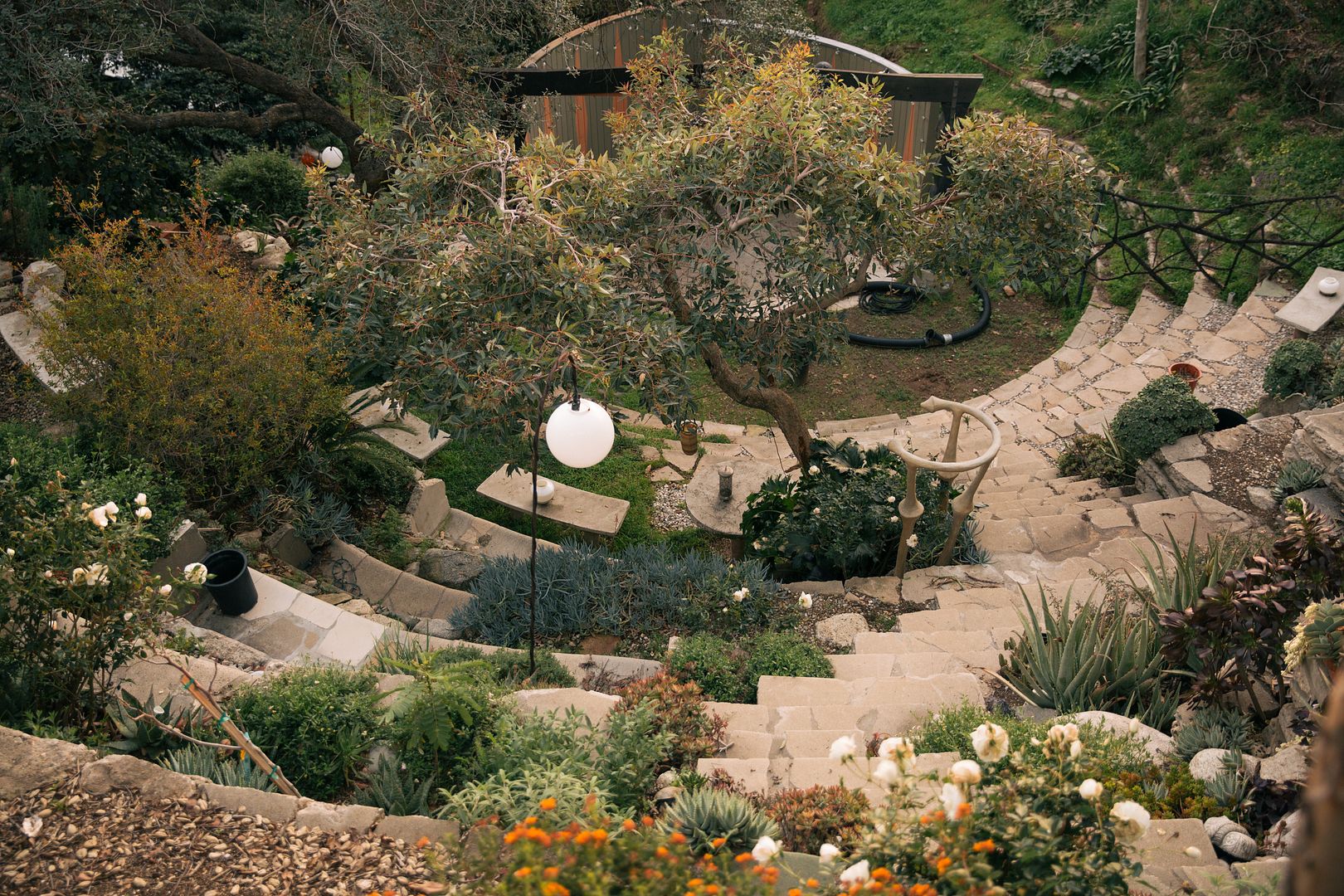 Elsewhere the steep lot has also been engineered into their justly famous, hand-built amphitheater they've dubbed the "Folly Bowl," which is now hosting its traditional summer concert series.
In the PacHort article, Sue recounts to Ms. Masuo in detail the evolution of the unorthodox idea of building the amphitheater in the rugged front yard of their foothills' home.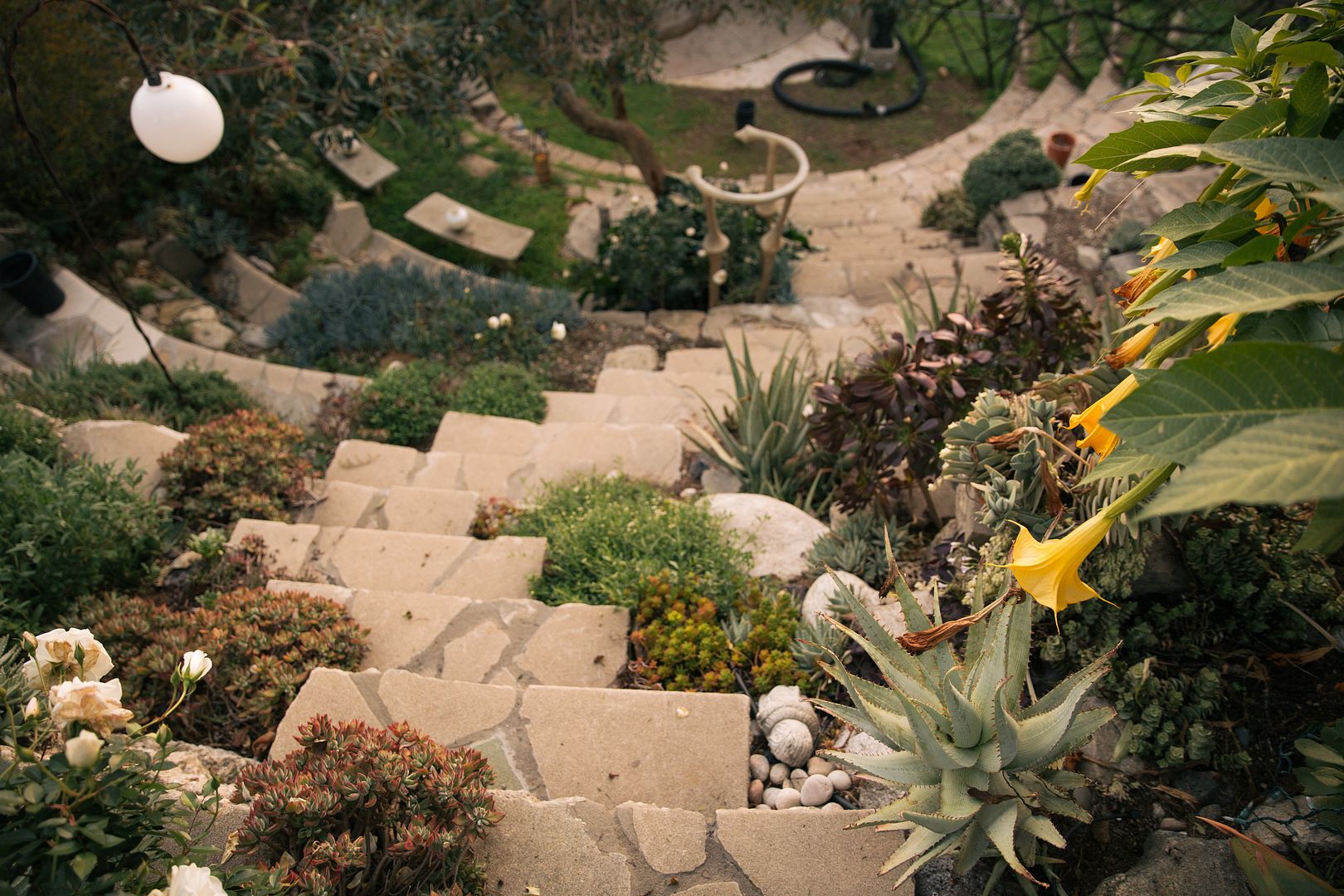 Because of its proximity to JPL, Caltech, and the Art Center College of Design in Pasadena, Altadena is filled with creative and "brainy" residents — Nobel Prize-winning physicist Richard Feynman lived here until his death in 1988 — and Sue has therefore been able to build an equally "brainy" landscape design practice in a community ready-made to be receptive to it. With complex design principles drawing on her fine arts background, an in-depth knowledge of native plants and wildlife habitat, and a firm commitment to using or repurposing as many pre-existing materials on site as possible, Sue never lacks for local, eager, and informed clients. From "Susanna's Folly," by Sandy Masuo:
"Here in Altadena I have fabulous clients — a lot of artists and scientists, and they want the kind of garden I want to build. I'm not going to do a Zen garden or an ego garden or anything like that. It's going to be a natural garden filled with birds and creatures."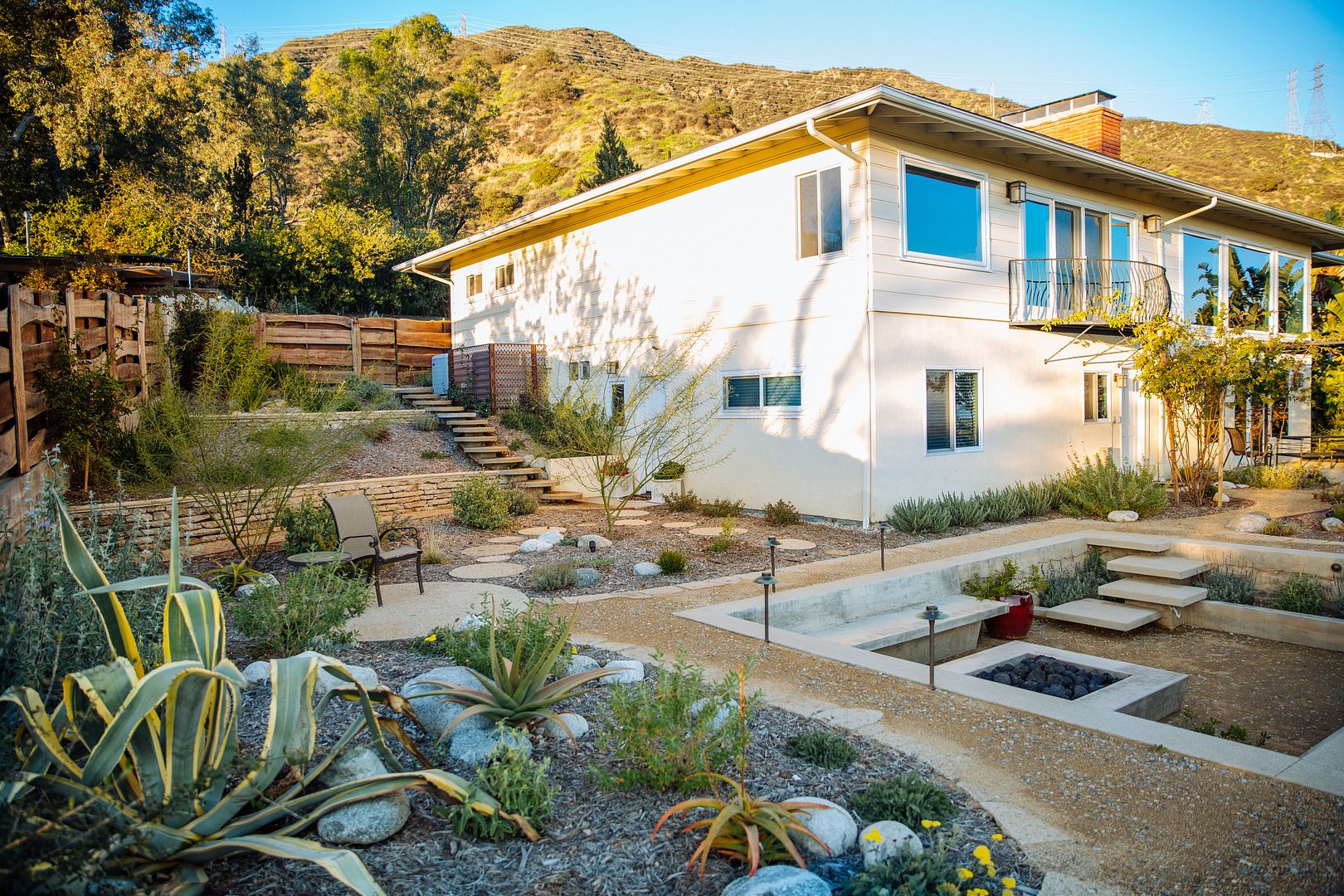 The PacHort article profiles a nearby client's garden where, among other exceptional features, an undesired swimming pool was converted into a sunken patio with firepit and built-in benches.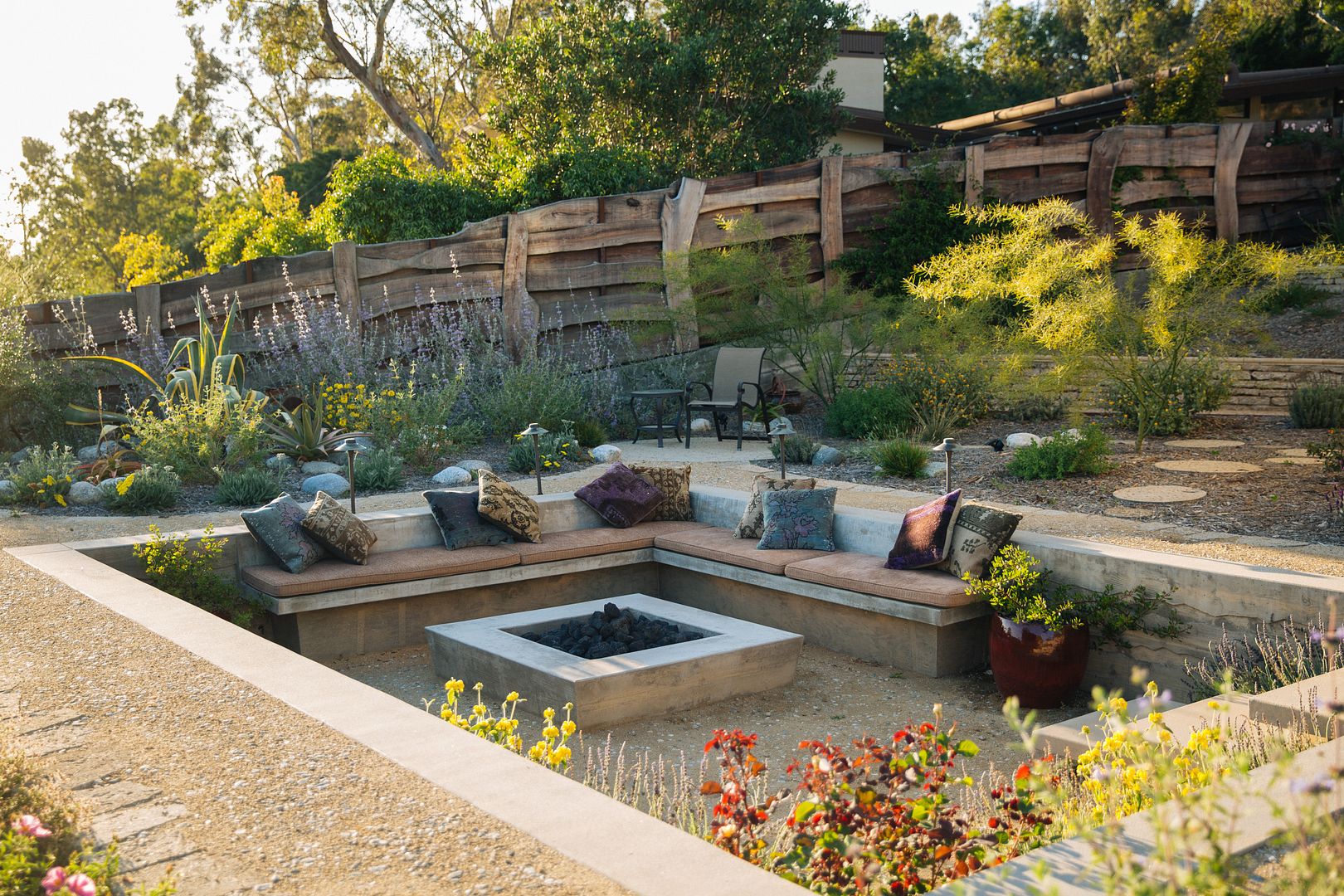 Sue is a fervent proponent of including native plants in her designs ("I like to use at least 50 percent native plants mixed with desert shrubs such as purple prairie clover (Dalea purpurea)…"). I think we've all seen well-meaning but incoherent native plant gardens, so Sue's sophisticated hardscape and modernist concrete handling prove good intentions don't preclude strong design, making landscaping with natives and using environmentally sound principles incredibly sexy.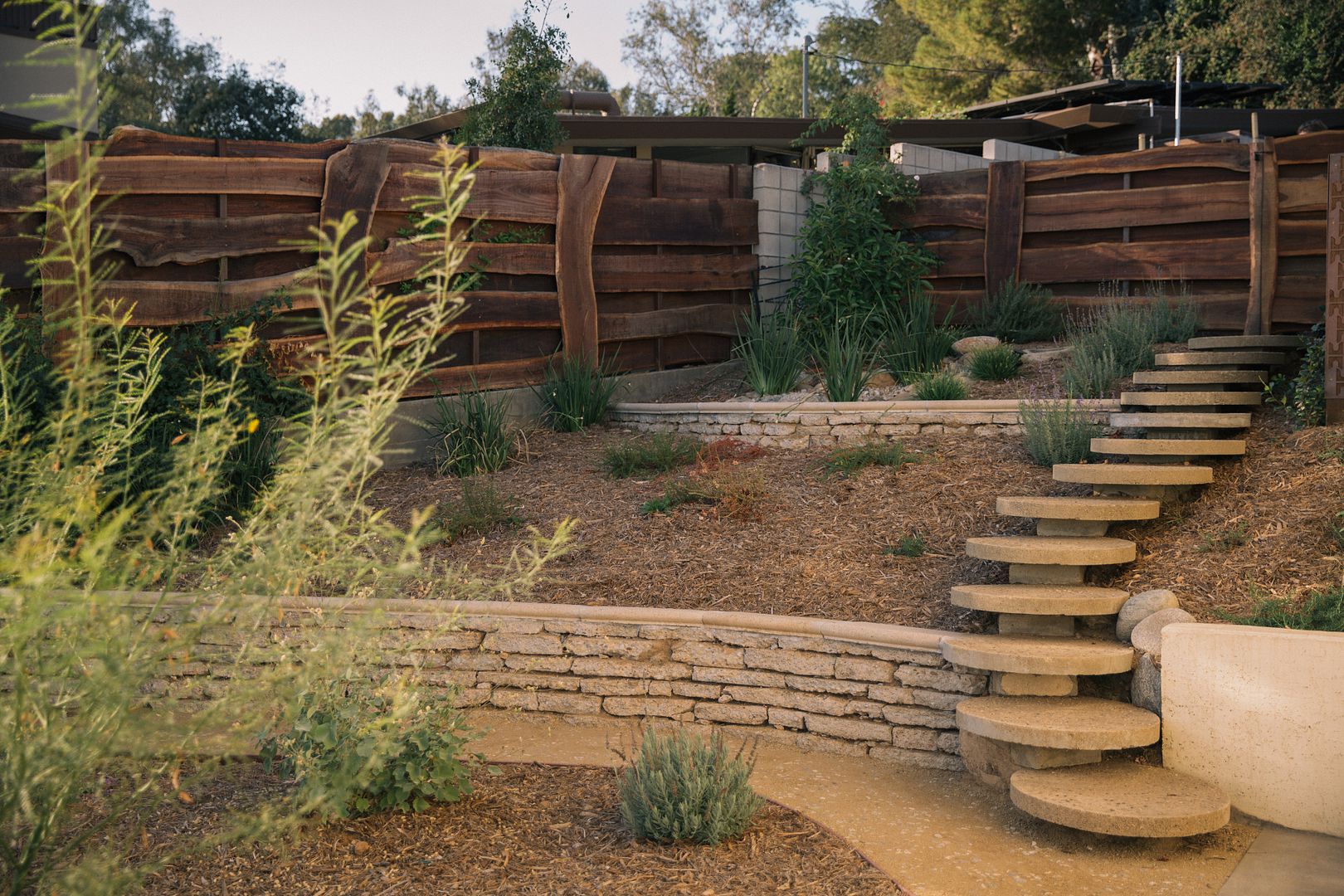 A vivid example of Sue's philosophy of repurposing: on-site eucalyptus trees were milled and reused for bespoke fencing.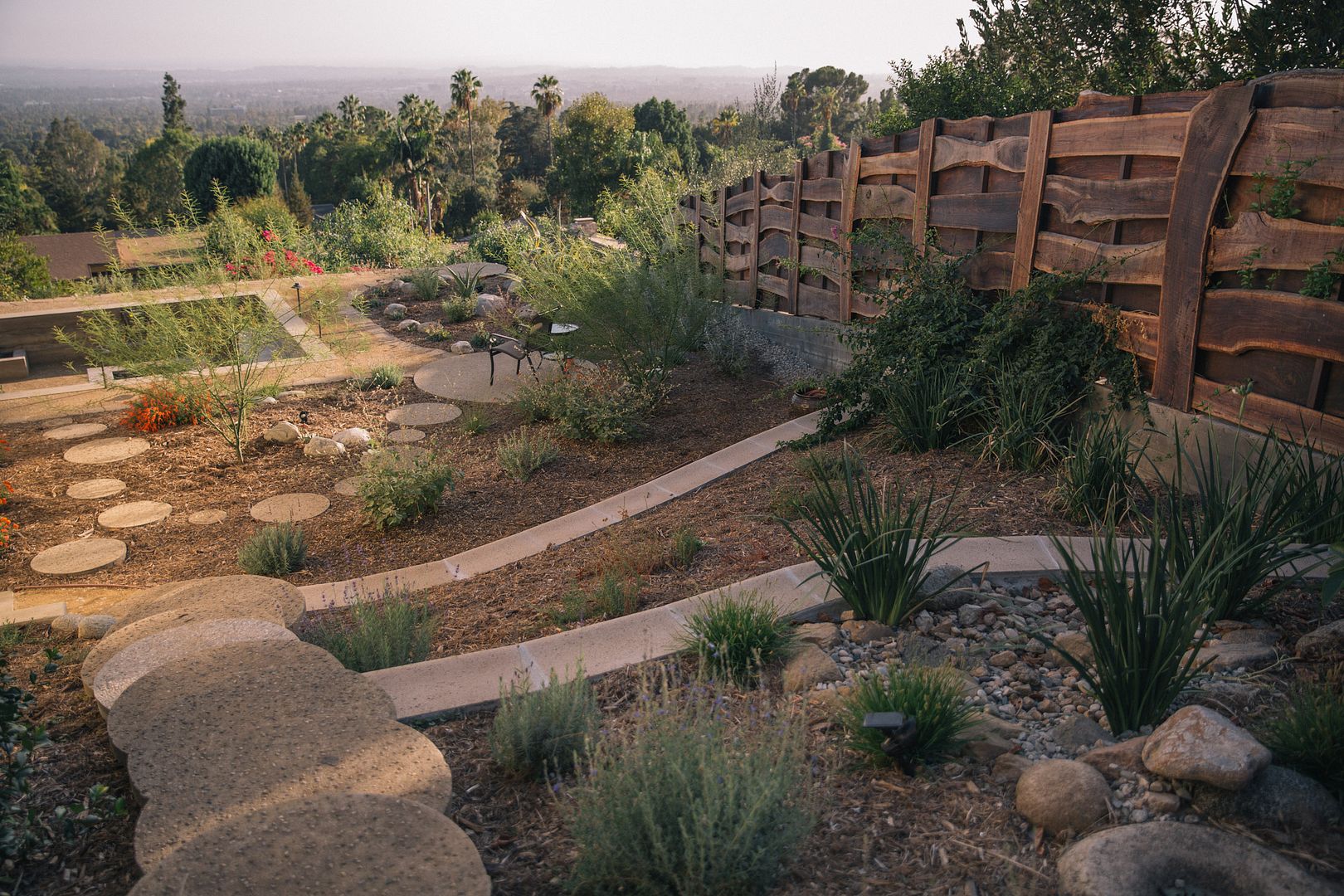 Planting that hasn't yet filled in throws into sculptural relief the stairway constructed of floating concrete pads.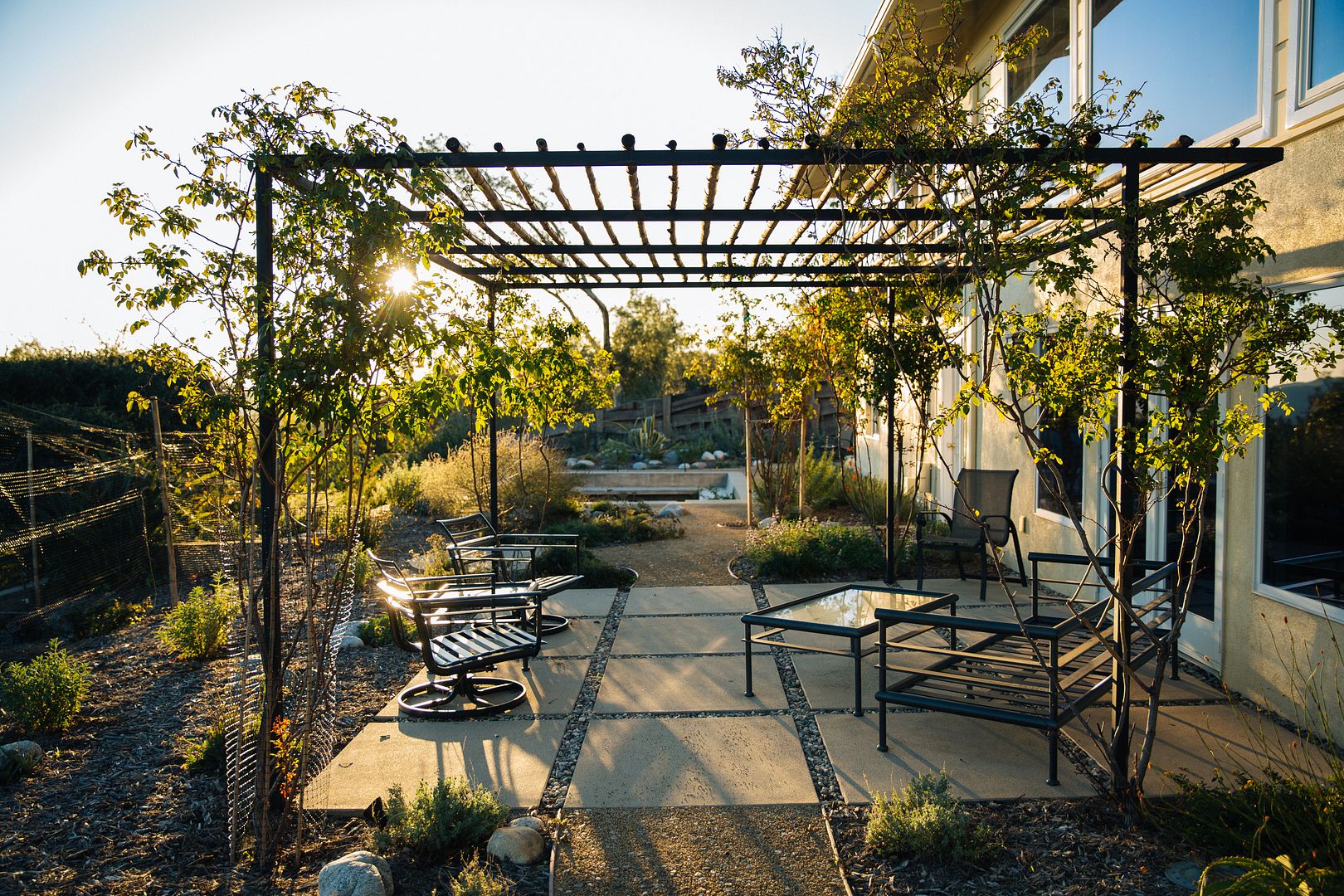 'Cecil Brunner' roses will eventually engulf the pergola and provide shade.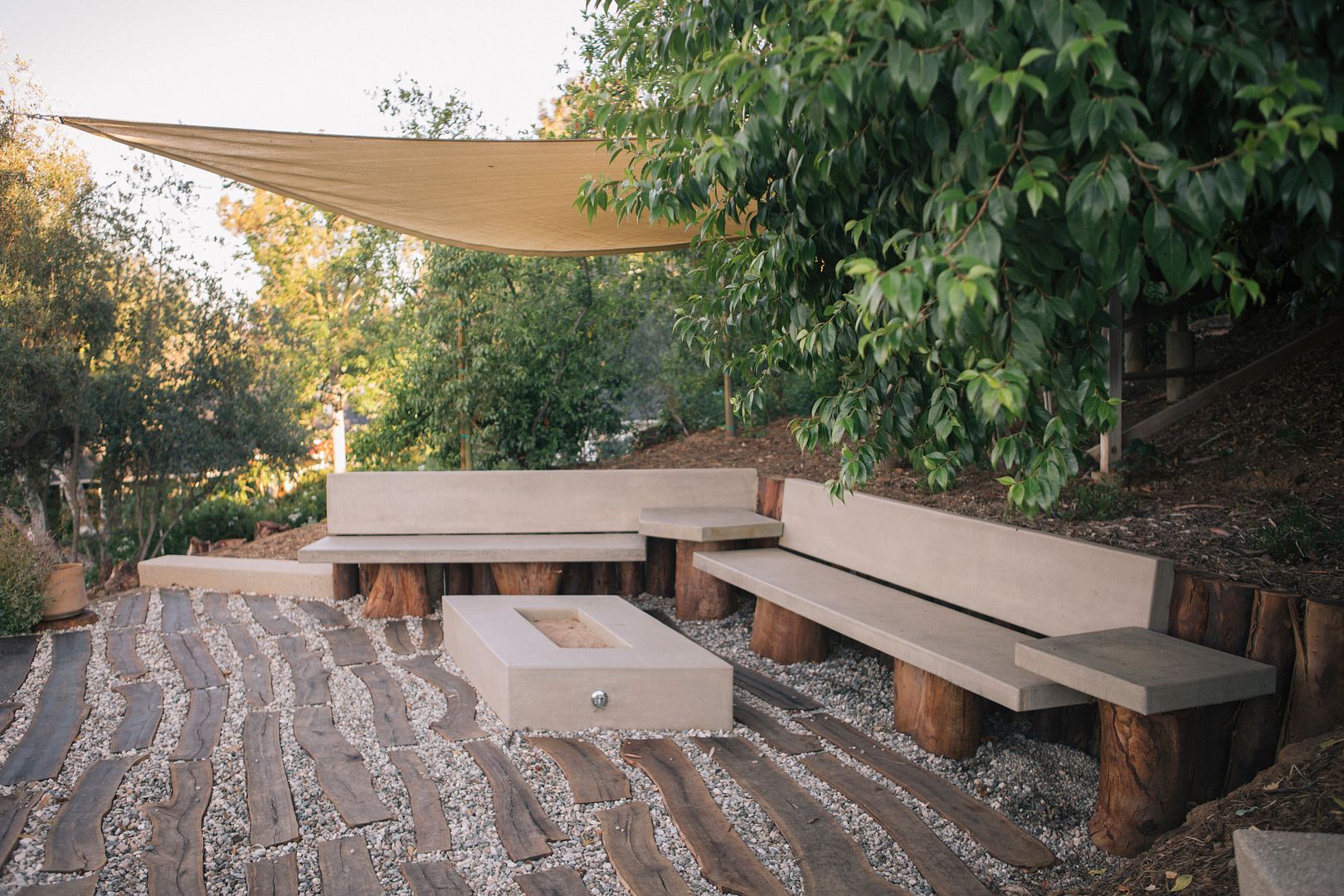 Another current project exemplifies Sue's principles, including her emphasis on generous gathering spaces.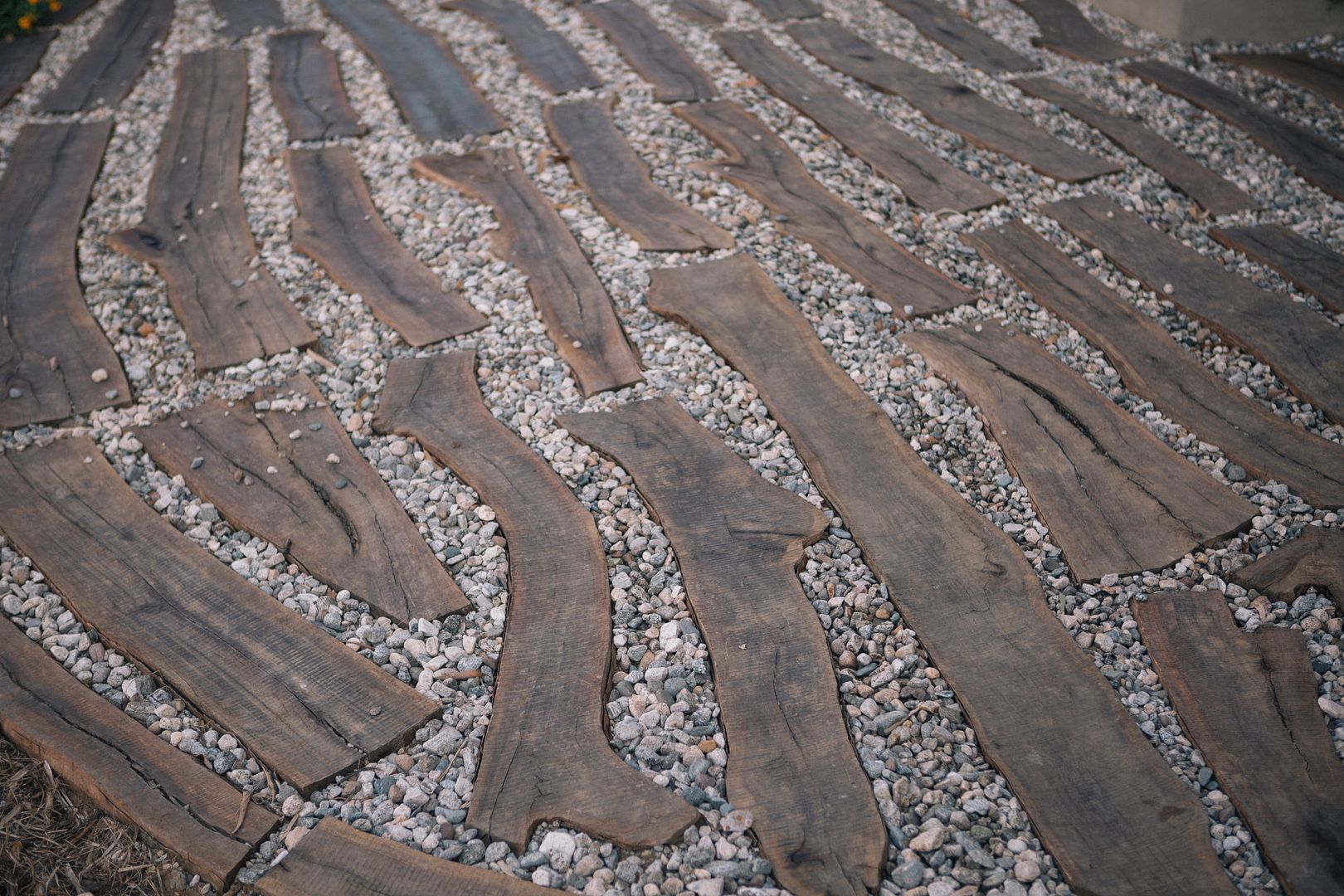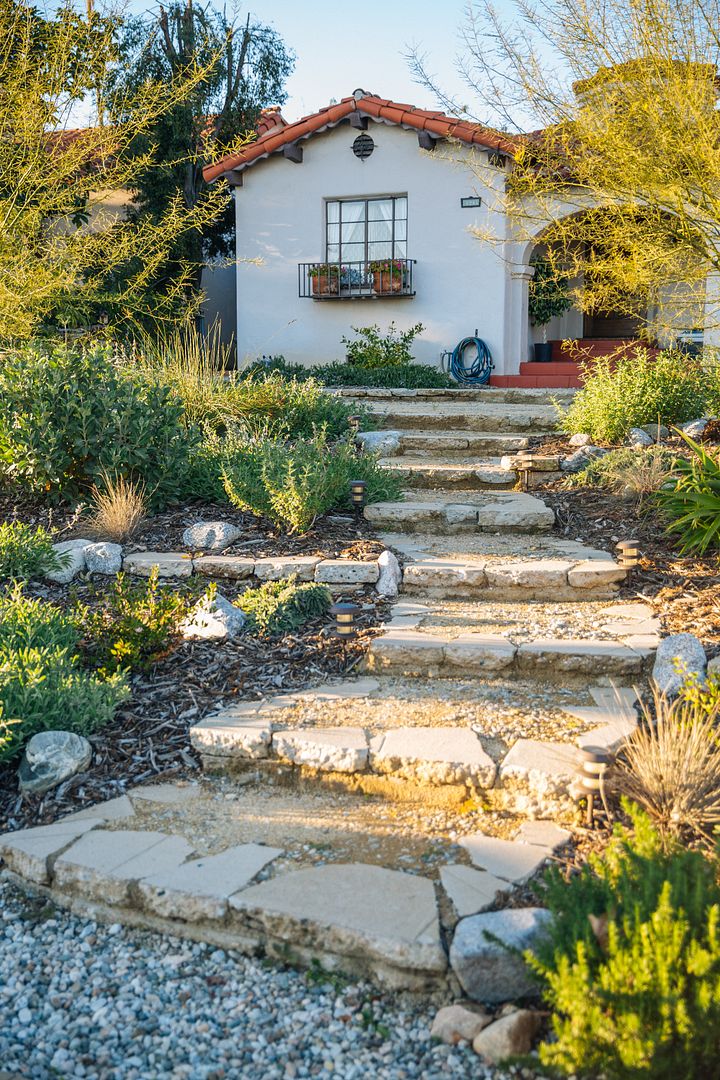 This Spanish-style home presented less complex design challenges, which surprisingly isn't necessarily preferred by the designer. Sue tells Ms Masuo that "The hardest gardens for me are the ones on a street in a row of houses with little lawns in front."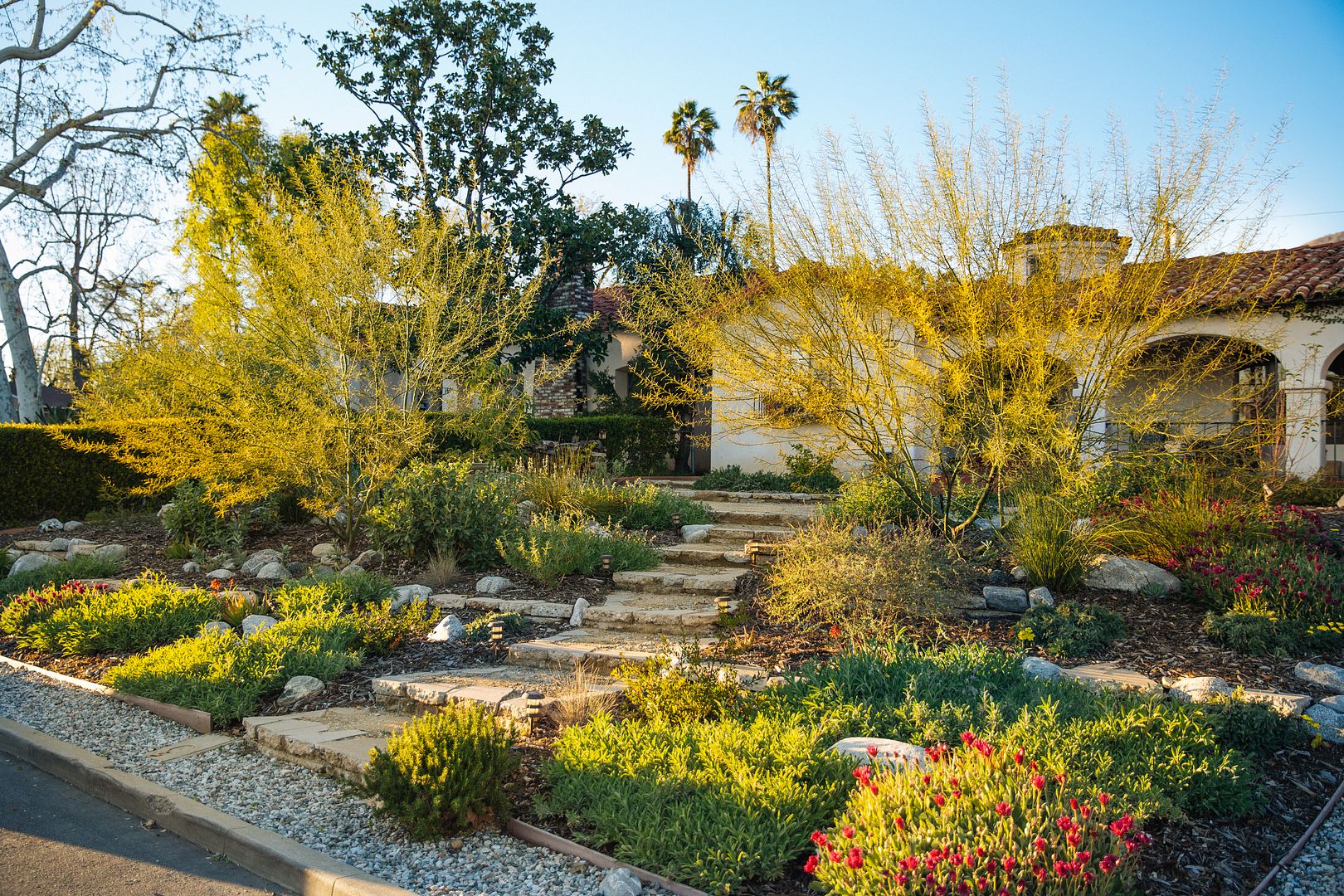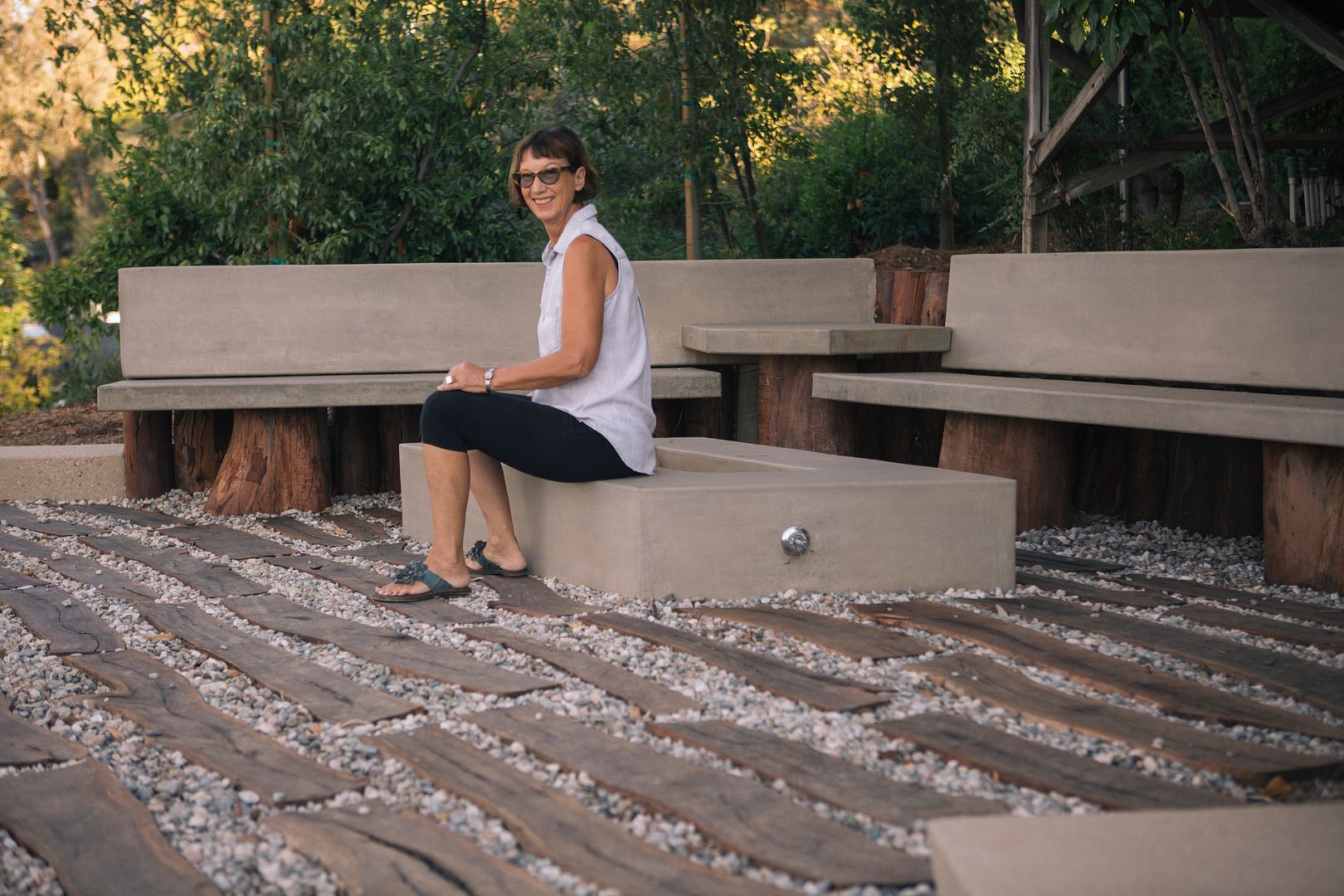 To read more of "Susanna's Folly," you can become a member of Pacific Horticulture here.
all photos by MB Maher.