If I named my home at this moment, something I've been mulling over for a while, Hotel Chaotica would be a good fit.
The big tent is coming next week under which death will be dealt to the termites chewing away at the ribs of this 100-year-old wooden house.
I find this photo of Manihot grahamii's little flowers so soothing.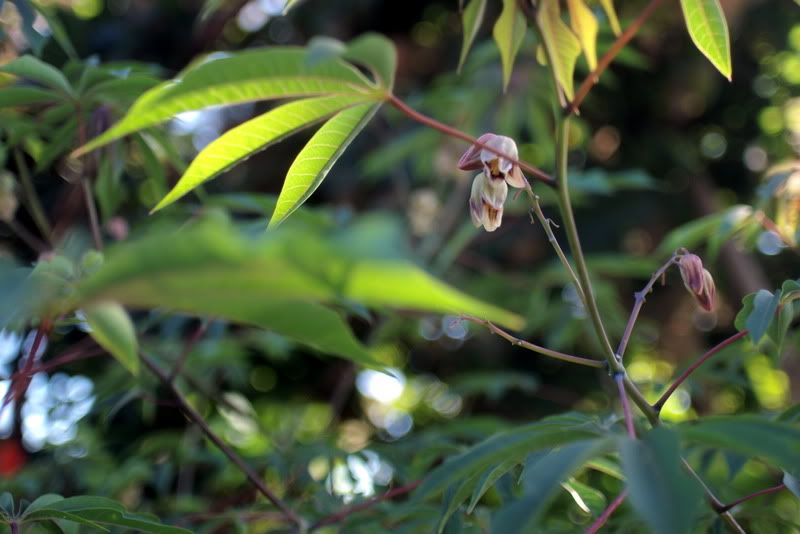 Maybe you didn't know, but it is very selfish to think of one's garden at such a moment. I read this in everyone's eyes and the errant comments they let slip about being accepting of the damage that might occur to plants, plus being cheerfully admonished to think of the big picture. Psychologically, the work is underway to thicken my hide. Plants are plants, whereas a house is your home. Priorities. Buck up, for goodness' sake.
But the garden is where I live.
I let that comment slip yesterday. The plaintive tone in that voice surprised me. It was my voice all right, but very thin in tone, lacking the adult timbre I've built up all these years.
Time for another soothing interlude. Blue is such a calming color.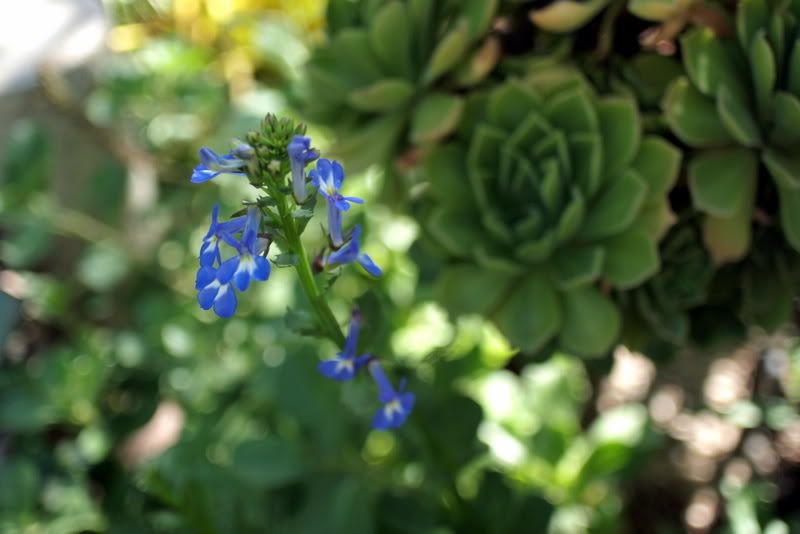 The biggest danger is to the 15-foot triangle palm, Dypsis decaryi, planted about two feet away from the foundations.
There's room enough between palm and house for the tenting tarp and sand bags, but I've read that the gas can leach into the soil and kill a plant two to four feet away.
Nothing to be done at this point but wait it out.
I briefly checked out of the Hotel Chaotica Saturday morning to attend the annual salvia sale at Fullerton Arboretum.
I was hoping to find a Salvia madrensis, a yellow-flowered sage with sexy red stems, and fortune smiled.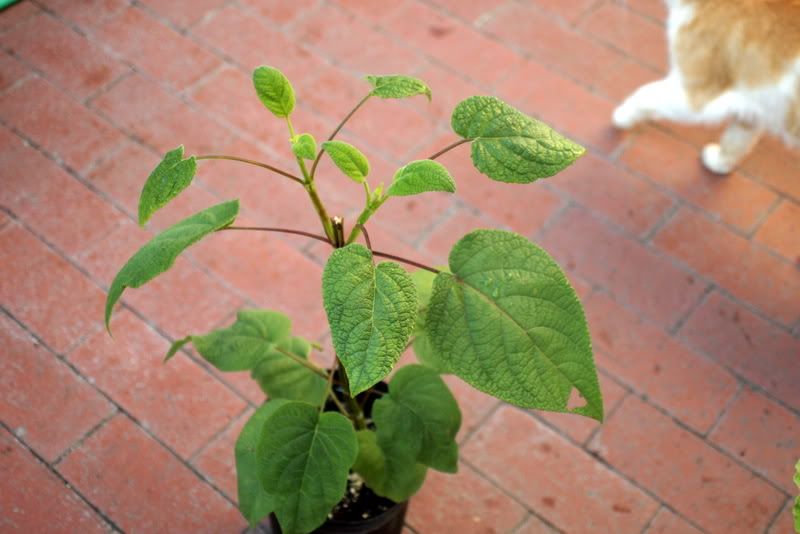 Fortune more than smiled, it laughed maniacally. Along with Salvia madrensis, I brought home S. karwinskii, S. macrophylla 'Upright Form,' and S. broussonetii, with a large leaf very similar to the clary sage. All but S. broussonetii will make enormous-sized shrubs. (At the arboretum, I looked up from the salvias long enough to note that quite a few of the salviaphiles' hair was matted to their head, probably in the same configuration as when they leapt out of bed that joyous morning of the sale, which made me nervously run fingers through my own hair, even though I was fairly certain I had remembered to comb it.)
Salvia macrophylla, more soothing blue.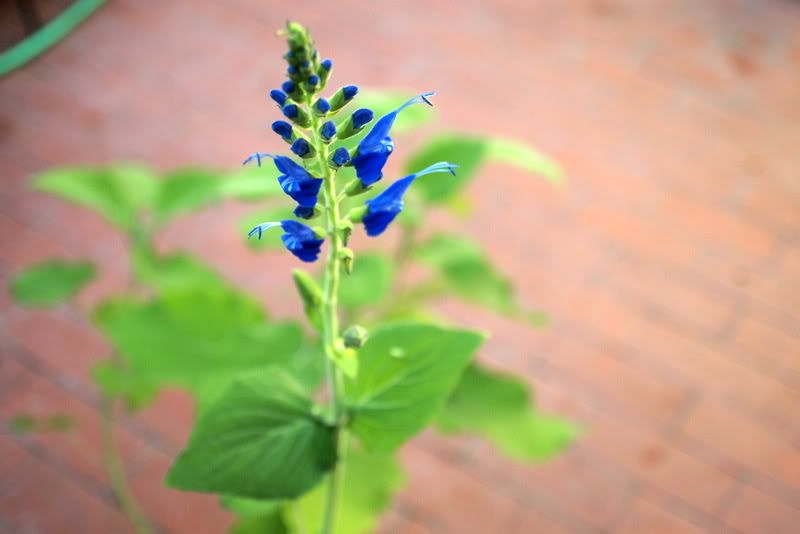 Salvia karwinskii's thick, felty leaves sold me on this very big salvia. No idea where to put it.
You think the cats know something is up? Joseph is usually skylarking on the roof by this time of the morning.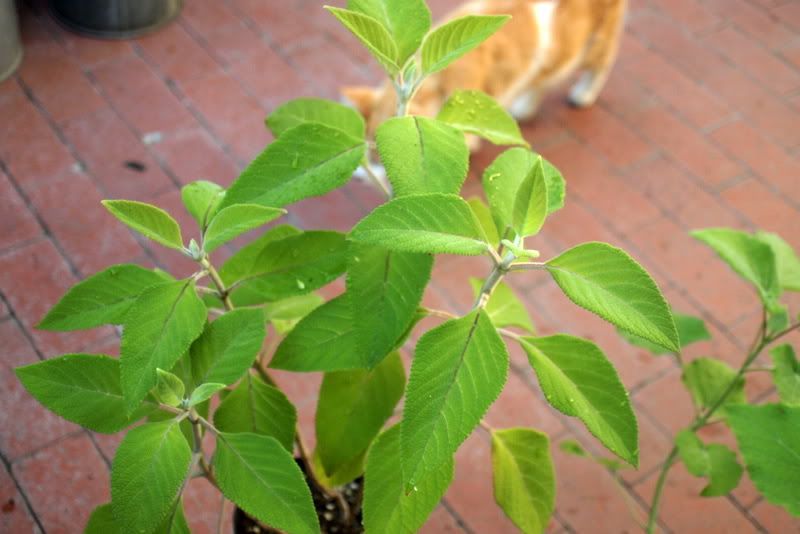 The salvias were added to the giant holding area where garden stuff has been herded to make ready for the tenting crew, all the potted plants, chairs, tables. It looks like the aftermath of a disaster movie about a garden, with all the props ready to be loaded into trucks.
Sunday's priority was moving some choice plants along the west side of the house about to have the curtain literally drop on them this Wednesday. An Agave bracteosa was moved with a good-sized ball of soil, a beschorneria had very little soil come away with its roots, and a large Aloe striata had to be stripped of most of its leaves, since very little root or soil was left to transplant.
In anticipation of the big tent, we've been juggling safety issues of people, animals, plants. Just when the plants' safety seems settled for a moment, down comes another ball of anxiety:
The cats, four of them.
This morning I have been offered a VW bus to keep the cats in for just the two nights. I'll probably sleep in the VW with them. A Hotel Chaotica on wheels.