What sets them apart is that they are monocarpic, they die after flowering once, and, they can take up to 30 years or better, depending on species and growing conditions, to flower…The demand for carbohydrate is high during this period. Once flowering is initiated enzymes rapidly convert the starches to sugars and draw on available moisture to form the more dilute nectar to successfully support the rapid growth of the structure of their inflorescence…

GardenRiots: Flowering and Its Trigger in Genus Agave
The burning question: If I dig up my blooming Agave pygmae 'Dragon Toes,' will the ongoing flowering and potential seed-forming process be interrupted, or have enough sugars been stored in the plant already to keep the process moving forward, even if it is wrenched from the ground?*
And let me helpfully anticipate your question: Why in heck would you want to do this anyway?
My answer to your question is — my answer always is there are new plants to grow and a finite amount of time and space in which to grow them. The once-in-its-lifetime blooming process of an agave can take months until completion. Maybe there will be successful pollination and seeds. Maybe there will be bulbils! And while I'm intensely interested in seeing this process through to the end, the agave happens to be growing in the perfect location for Leucospermum 'Tango,' the South African pincushion shrub which wants lots of air movement and full sun year round (like an agave). Shoehorning this winter-blooming shrub into a small, busy garden without seriously considering these requirements will end in tears. (Don't ask.) This is a highly desirable location that the agave will remain rooted to while slowly giving birth to its progeny over the coming months. And perhaps somewhat callously, I would really prefer it if the agave gave birth elsewhere, maybe in the back of the garden.
So I got busy looking for answers to my question regarding moving a blooming agave. My first search string "agave bloom stalk" produced this: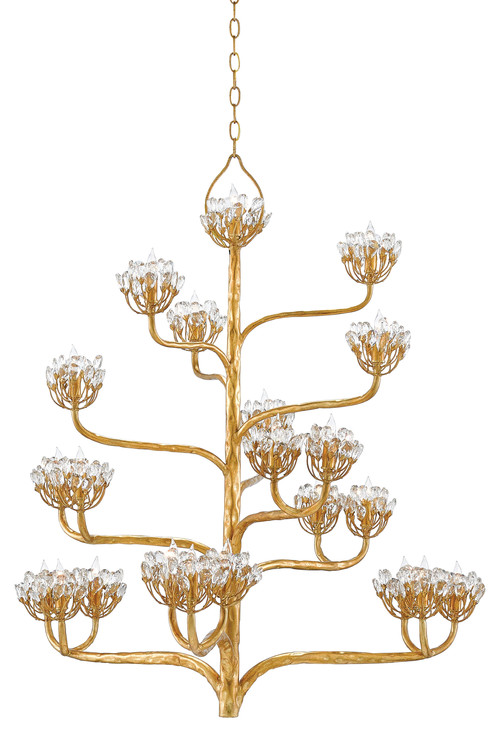 Fascinating but not strictly on point. (Designed by Marjorie Skouras who enthuses: "Let us make your real world a surreal world." She's obviously studied a blooming agave a time or two.) Subsequent searches produced nothing as exciting — or pertinent. And then I remembered that horticulturalist Lance Wright had thoroughly documented his blooming Agave montana (affectionately named "Monte"), a rare and celebratory event in the climate of Portland, Oregon. Lance wrote the article from which I'm quoting extensively, Flowering and Its Trigger in Genus Agave. It's an amazing piece of writing, both authoritative yet easy to absorb. Highly recommended.
Agave have 'chosen' to go down the monocarpic path, putting all of their resources into one flowering…Only a few Yucca species are monocarpic. Both Agave and Yuccas pursued different strategies and succeeded. Agaves found success storing energy in a 'gambit…'

(Flowering and Its Trigger in Genus Agave)
Lance cleverly uses the word "gambit" to describe the agave's monocarpic survival strategy, and I love his vocabulary choice. (I've recently become enthralled with "The Queen's Gambit" and young Elizabeth's ferocious single-mindedness to pursue her chess obsession even though surrounded by uncomprehending, obsession-less people — don't all childhoods feel this way?) But my specific and very narrow question remained unanswered, so I called local agave grandmasters, Rancho Soledad Nursery near San Diego, Calif., and asked them. Just like that. "I have a quick question about an agave in bloom." Surprisingly unfazed, the gentleman answering the phone jumped right into discussing possible outcomes. Ultimately he admitted that he wasn't sure what the agave would do if dug up — shut down or continue with flowering, that either outcome seemed possible.
Still undecided about this chess move in my little garden, at the end of the day I was inclining toward getting the pinchushion planted asap. Leucospermum checkmates agave!
And then overnight another possibility arose when late in the day Dustin Gimbel delivered "Euphorbia cooperi" ceramic towers for Mitch, which are temporarily being stored here. I hadn't thought of growing the leucospermum in front of the grevillea until I saw the space divided by the towers this morning.
The eventual size of the pincushion shrub will take a big bite out of this open area, but wouldn't it be cool to have both these members of the protea family, the leuceospermum and grevillea, in bloom simultaneously in close proximity? And the agave would be left alone to attend to its monocarpic gambit as planned. I think this is the right move!
To see leucospermum in bloom on the West Coast of Calif. check out UC Santa Cruz Arboretum & Botanic Garden. Also, the Taft Gardens & Nature Preserve near Ojai has extensive plantings. Commercial protea growers, Resendiz Brothers in Fallbrook, occasionally hold events to visit their growing fields or are available by appointment.
N.B. My tag for agaves as "woody lilies" is no longer accurate. Agave has been moved out of the lily family and into the asparagus family, the Asparagaceae…
*Edited 4/4/21: The agave was uprooted and moved, and the bloom spike has continued to open!