It's been such a pleasure to see what shape and expression each successive Natural Discourse has taken. Developed by Shirley Watts and Mary Anne Friel for the Berkeley Botanic Garden, a group of artists were invited to make site-specific work for the garden and then give talks about that work. ('Natural Discourse: Artists, Architects, Scientists & Poets in the Garden.') Shirley Watts has continued this series of talks and brought it to other venues and arboreta. I've loved them all.
Shirley's household as a child blended both art and science, with parents working in music and medicine.
As a result, she effortlessly moves between the two worlds and finds the intricate linkages between both, the overlap where science and art inform and enrich each other.
Working in gardens, we know how much science is involved in making that perfect moment on a warm June day.
Boundless romantic longing moderated by keen observation are what makes our gardens cause visitors to shrug, "Oh, you can grow anything. You have such a green thumb."
Artists and scientists are both filled with longing for their subjects, and both rely on thumbs and brains in their work.
Shirley doesn't feel the need to segregate them into separate symposia, recognizing the contributions each make to the other.
The physical collections of herbaria and natural history museums were a theme of this year's Natural Discourse.
To talk about these collections, you need to bring in explorers, adventurers, disaster, hubris, lack of funding, lost collections, redemption. All the really juicy stuff.
And the specimen of Liatris punctata collected by Custer two years before Little Big Horn with his handwritten tag that was nearly thrown in the trash.
As always, it was a great time.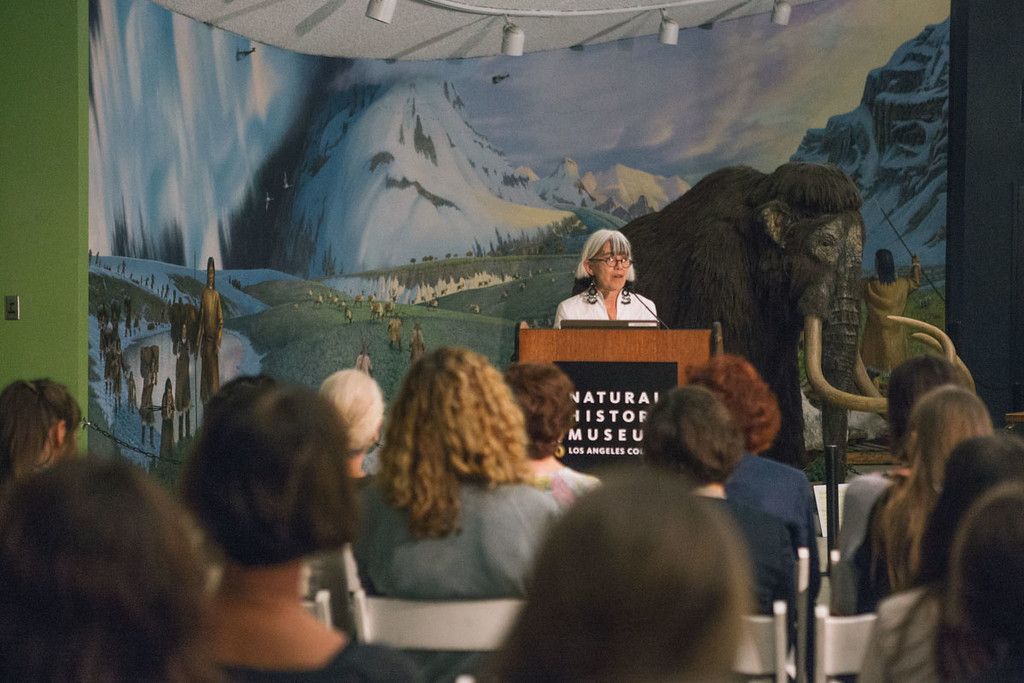 Shirley Watts on opening night at the La Brea Tar Pits
Continue reading postscript to Natural Discourse; Flora & Fauna →