Carol's hosting of Bloom Day is one of the highlights of the month in garden blogdom. Yes, blooms can be had year-round, but instead of scratching around to find them as we do some months, May delivers them by the truckload. With the the South African aloe blooms almost finished and now the stirring of the classic garden perennials, flowering trees and shrubs, along with the quicksilver appearance and departure of the woodland ephemerals, the California natives just about to tuck in before the onset of summer drought — apart from moving your garden into a different climate zone every few years, a May Bloom Day is the best alternative and one of the great virtual garden tour opportunities around.
Granted, there's a weird rhythm to spring in my own garden, where tulips appear in containers in February after six weeks of chilling in the fridge, and if you're not careful the year-round growing conditions can make it a challenge to remember to save a few spots for summer stuff. After leaning in a direction that was getting a bit evergreen-heavy, the garden's currently see-sawing toward leaving space for summer opportunities, a kind of Mediterranean Oudolf-lite. Umbellifers of any kind are an enduring favorite, and those that can squeeze into existing plantings are treasured most. Orlaya grandiflora has proven itself an ingenious self-sower, even if the most robust plant is the one seeded into dry paving.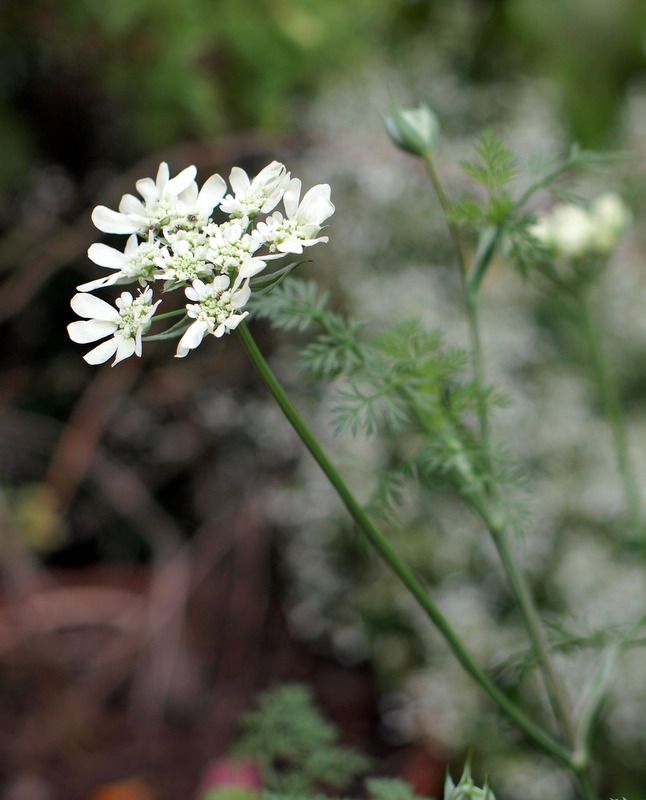 An umbellifer I searched for high and low last fall is a Queen Anne's Lace with more greenish flowers instead of white, the annual Ammi visagna. I ordered seed through
Derry Watkins
, but it can be found via other seed companies too. It comes down to a matter of what else is on the seed list in question, and Derry had tons of other seeds I was interested in.
Sown last fall, it became increasingly shaded by spring. Glad I tried it, but I wouldn't grow it again outside of a cutting garden.
Still on the subject of umbel love and greenish flowers, Athanasia acerosa is throwing a few flowers after a severe pruning last fall to curb its lankiness. I was worried that it might not take favorably to such harsh treatment, but something needed to be done.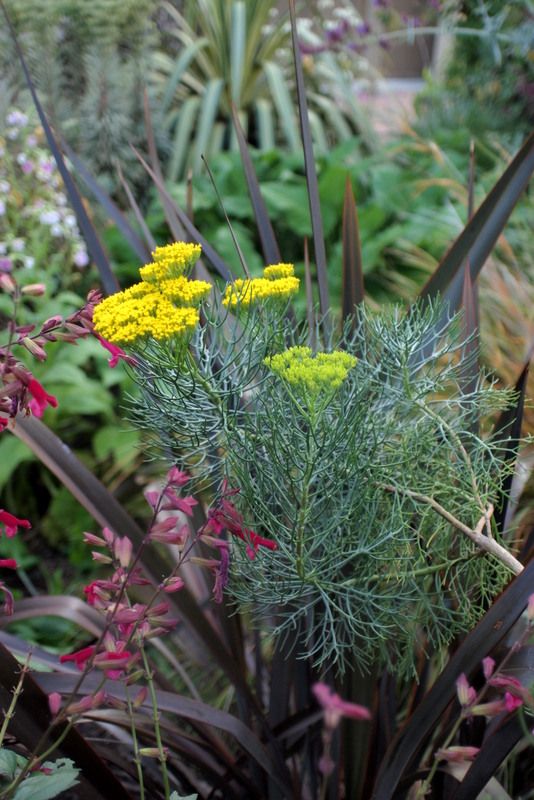 So it was gratifying to see the same treatment given to this South African shrub at the Huntington Botanical Garden while visiting in April for the plant sale this year. The last time I saw these shrubs in the Huntington's parking lot median they were gaunt and leggy.
Here they are now, compact and lush.
Nasturtiums are into everything, here weaving up the support for a coronilla that bloomed for the first time this winter.
Likewise, self-sowing annual grass, Briza maxima can easily get out of hand, but those quaking lockets are too charming to weed out all of it.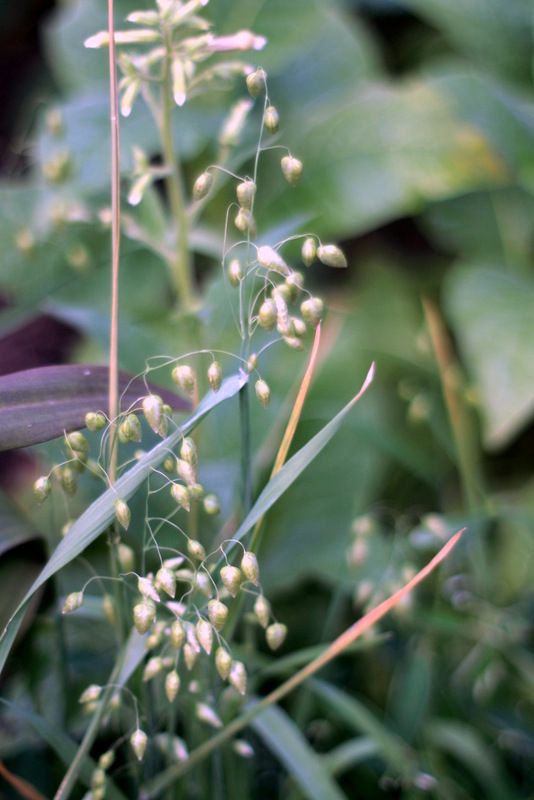 Verbascums are so short-lived, it seems I try a new one every year. This year's Verbascum 'Clementine'
Green leafy clump in back is Persicaria amplexicaulis. Grass is Pennisetum messiacum.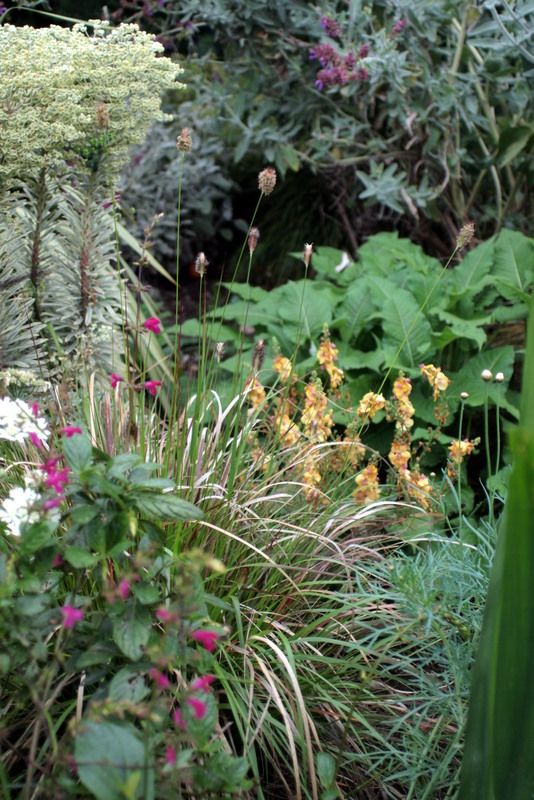 When planted in a tall container, the dwarf form of Verbena bonariensis 'Lollipop' still attains an impressive height.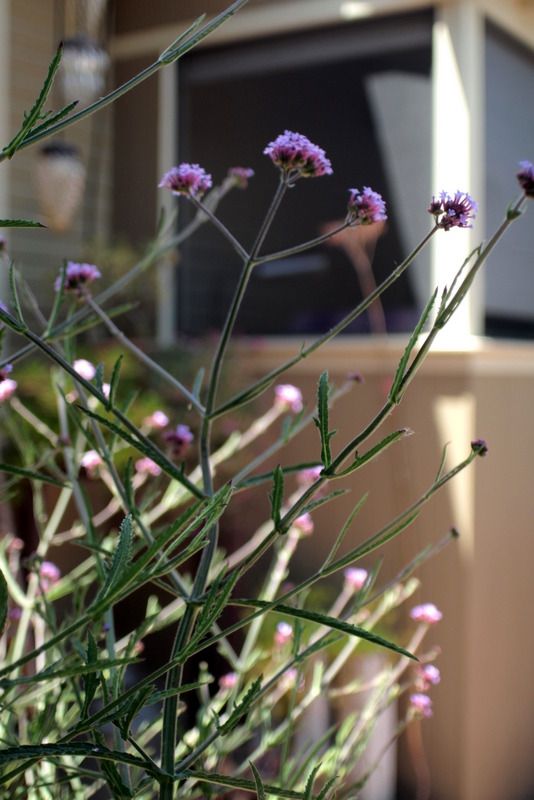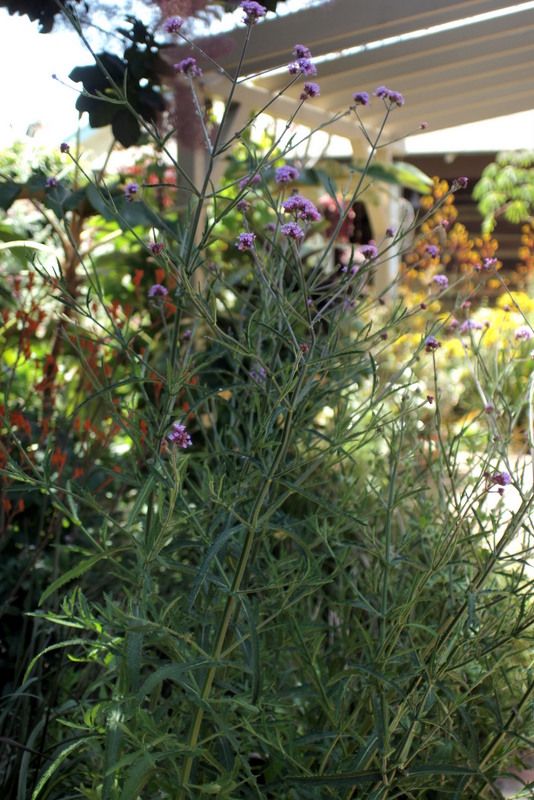 Rust-colored kangaroo paws grazing the chin of a tetrapanax leaf.
In the front of the house, Cotula lineariloba with this morning's sweepings of jacaranda petals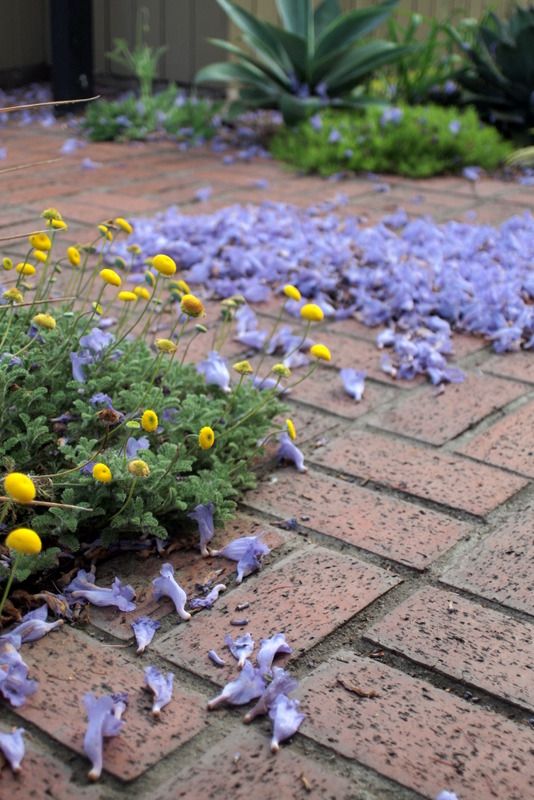 A young horned poppy, Glaucium flavum aurantiacum's second bloom. By July all falling debris from the jacarandas will have ceased until autumn.
Counting the days…
The small upside is, nobody parks in front of our house again until July.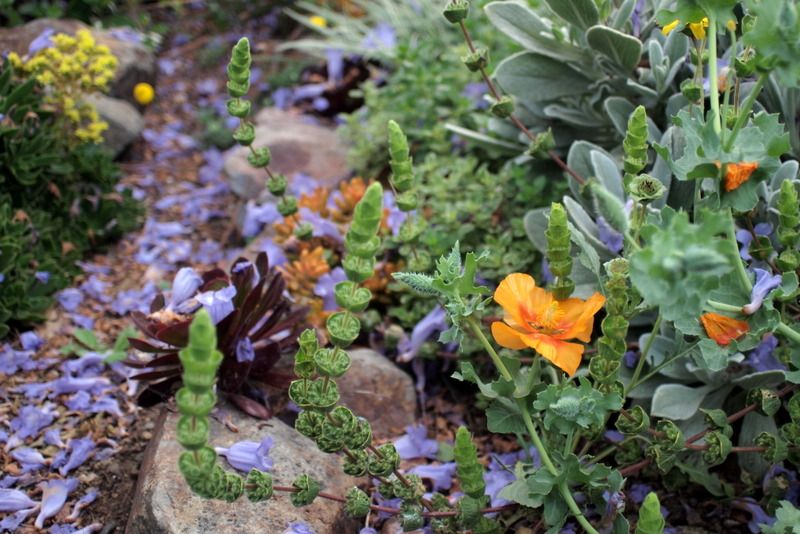 Stipa gigantea blooming against a busy, dense backdrop of spiky plants decorated with jacaranda blooms.
Worth mentioning again for endurance alone is this Gerbera 'Drakensberg Carmine,' in constant bloom since November, a cheap supply of long-lasting cut flowers. Tender South African perennial ubiquitous in the cut flower trade, this selection was bred for landscape use and comes in five other colors. I'd prefer orange to pink any day but haven't found a source yet. Even where not hardy, I'd try this as a summer annual.
On the subject of ubiquitous plants, I wish I had a dime for every time I hear someone say, "I don't usually like geraniums but…" or "I don't usually like begonias but…" when standing before an undeniably alluring representative of its genus.
A good example is this small-flowered pelargonium seen on the recent Venice Garden & Home Tour, its color and variegated crinkliness of leaf a good choice against a low, patterned concrete wall. And, yes, standing before it I again heard the comment, "I don't usually like geraniums but…" Modernism is all about using the old and familiar in new ways.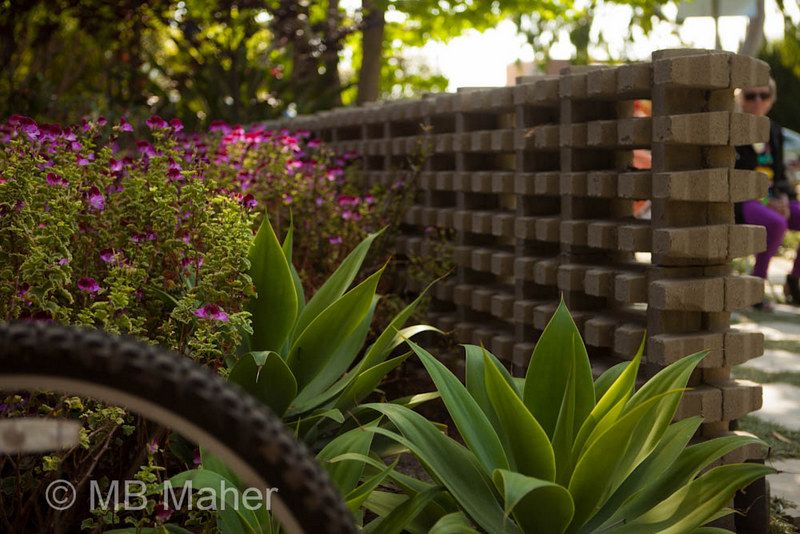 I never pass up an opportunity to try out new ones and picked up a couple pelargoniums at the recent Huntington Botanical Garden plant sale.
This one is 'Gary's Nebula' Tough little plants for summer containers.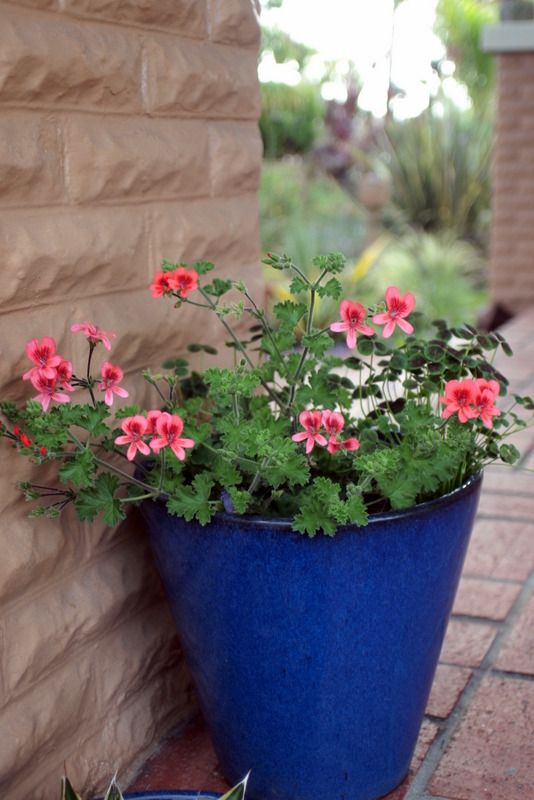 Begonias are unfairly despised too. It was for the big, chocolatey leaves, not the flowers, that I was persuaded to try this one from the recent Huntington sale, Begonia 'Gumdrops Coco Rose'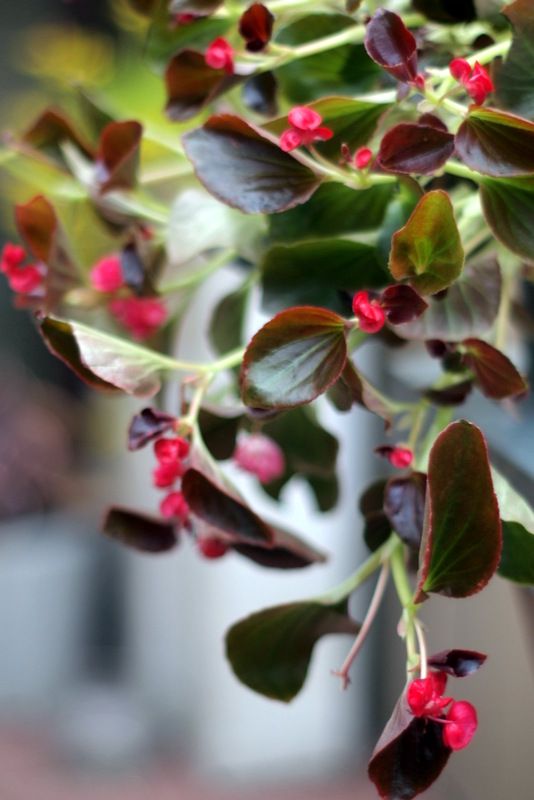 Begonia partita, a caudiciform (swollen trunk) type, kept dryish over winter.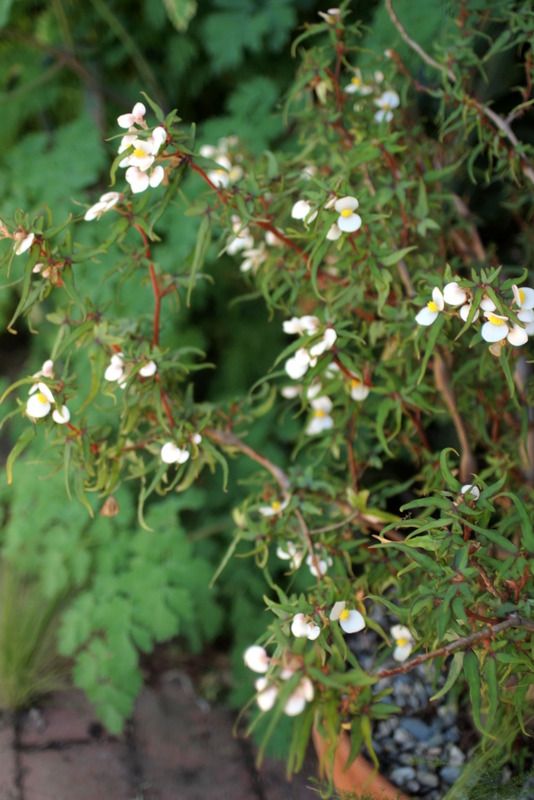 Possibly most despised of all, impatiens, which would be a terrible assumption to cling to if all you have for a garden is a shady balcony yet still crave something with a whiff of the exotic. Towering Impatiens glandulifera 'Policeman's Helmet.' Annie's Annuals & Perennials has a great selection of uncommon impatiens.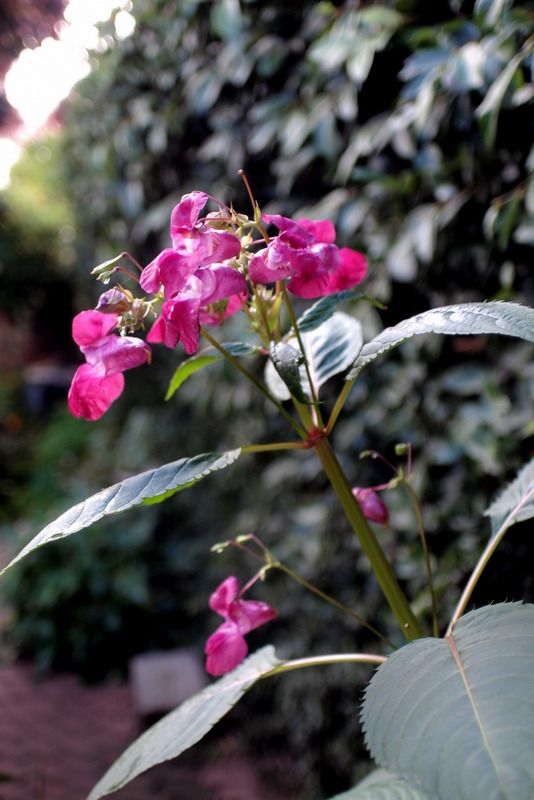 And just to show that "compacta" is not always a curse word when describing plants, Convolvulus sabatius 'Compact' is an improvement over the wide-ranging aspirations of the species, especially for containers.
New to me this year and blooming profusely already is a silver-leaved sundrop with bright red stems. I think it's Oenothera macrocarpa ssp. incana.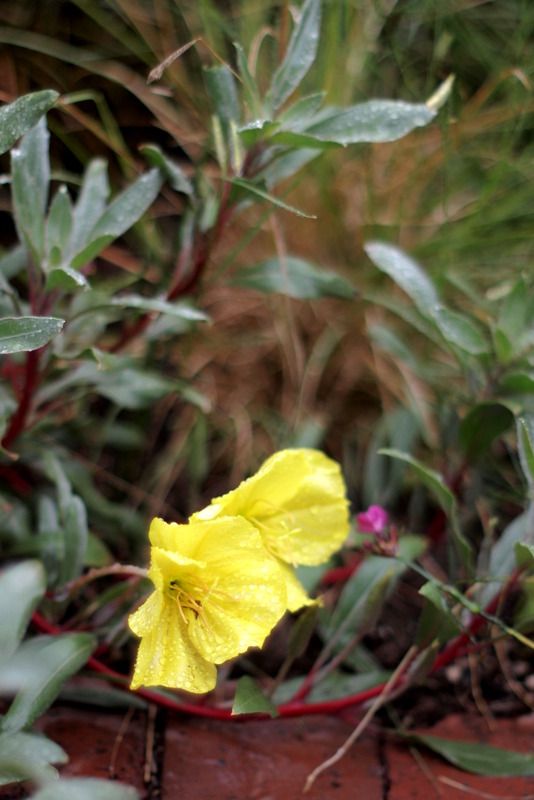 A bit lengthy perhaps, but Bloom Days are also a great way to keep a garden journal — I refer to mine constantly. Already looking forward to June's Bloom Day…