Since it's the last day of February, I suppose it's time to admit defeat and clear out all the drafts that never made it to proper posts. There's the draft post tying in to last night's Oscars, where I muse about how each spring in the garden seems like a new production, with brand-new plot lines and star turns. It's possible that's due to my background. Like one-half of all Angelenos, I've taken screenwriting courses and once worked for an Academy-Award winning screenwriter (Abby Mann, Judgment at Nuremberg). So my brain might be wired to see even gardens in a dramatic framework. To me even the smallest garden expresses themes about shelter, sanctuary, earth, sky and water, friendship, risk, yearning, fecundity, what it means to live a good life and really how minimal are the resources that actually requires. Light and space are big garden themes for me. Some garden productions are hardscape heavy, mine tend to be plant intensive. For me it's always the most exciting production in town. All on an indie budget, of course.
That draft was never developed, and now that the awards are over it's a bit stale. (I did love Spotlight, so hooray for its best picture award. George Miller's Mad Max: Fury Road was an awesome spectacle, deserving of all its technical awards. Marty saw The Revenant and loved it. I can't take that kind of punishment from a movie but admire the effort. Loved DiCaprio's acceptance speech on the urgency of climate change.)
I had a draft post on how the back garden is getting heavy with aloe & anigozanthos. Aloe for winter bloom, kangaroo paws for summer.
Little Aloe conifera's bloom continues to reveal more luscious, custardy color.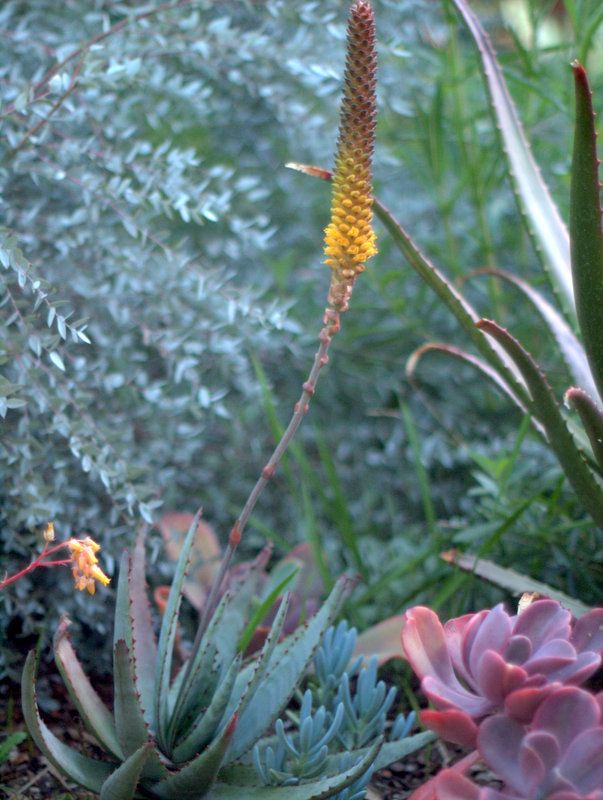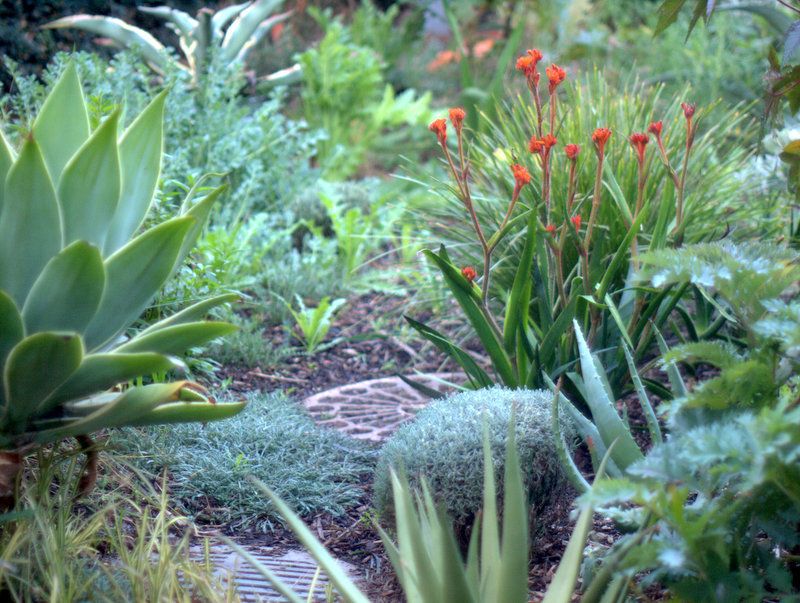 No, my garden kangaroo paws aren't showing bloom stalks yet. Feeling a little anigozanthos-starved, I promised myself if I saw any in bloom at a nursery, I'd bring it home. Meet 'Bush Tango,' medium in height, in comparison to a tall variety like 'Big Red' just a few feet away.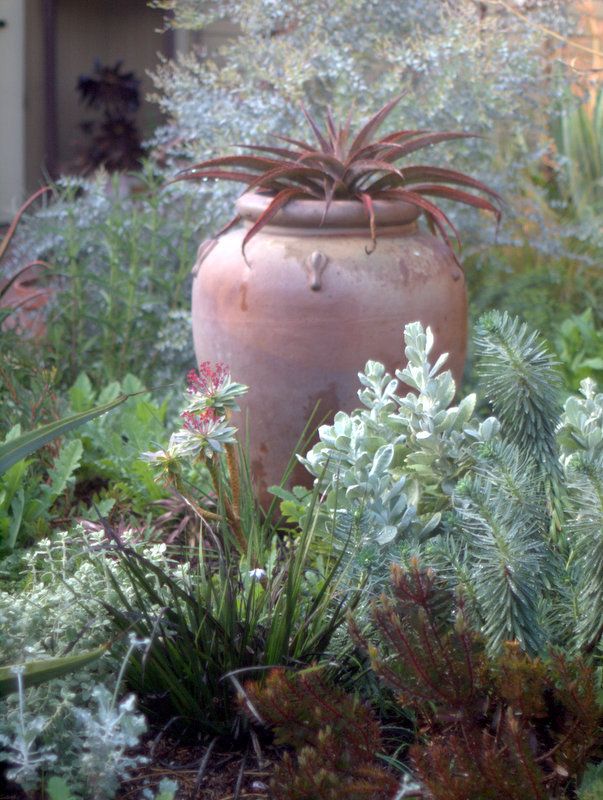 At least I think this is 'Big Red,' hopefully correctly labeled. I can't remember if I saw blooms on it last year. The dark green, strappy leaves of 'Big Red' are in the foreground to the left of Leucadendron 'Ebony'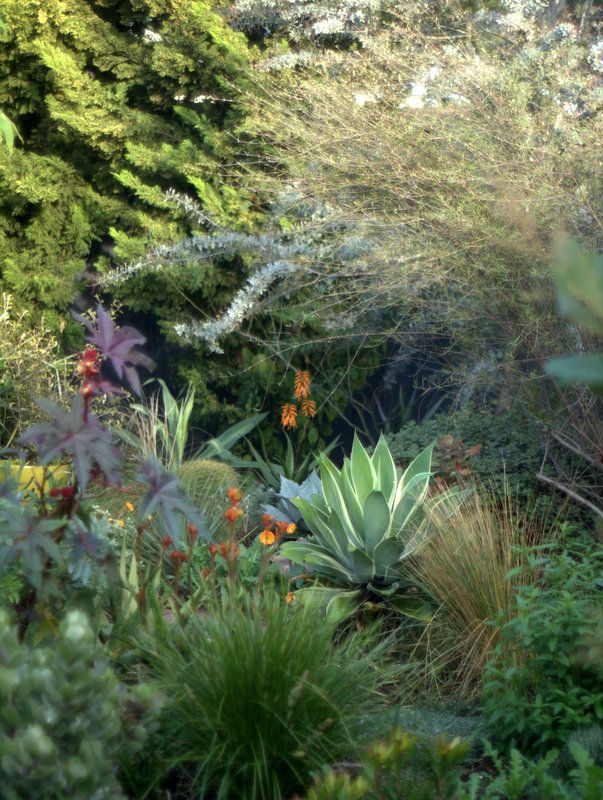 With a little bit of cheating, I can have a view with both anigozanthos and aloes in bloom. Aloe 'Jacob's Ladder' in the distance.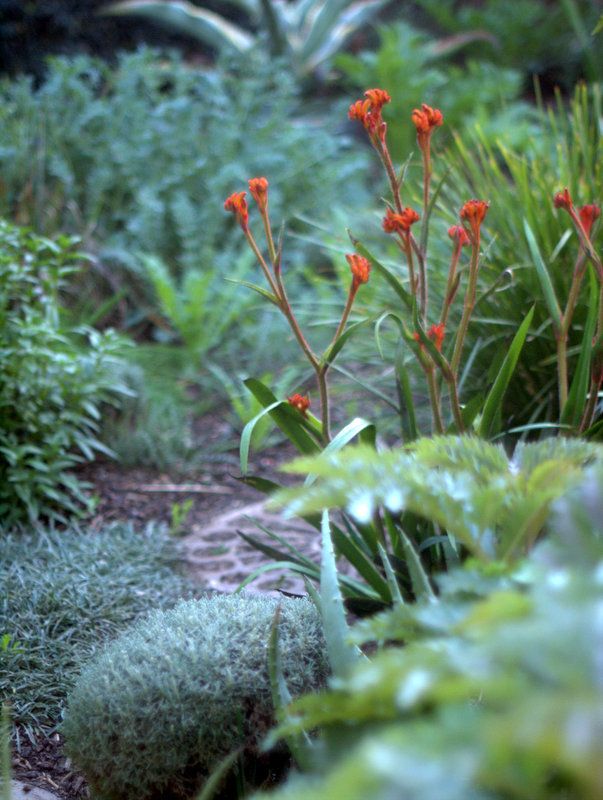 I wanted to write also on how well the santolina orbs are coming along. This summer they should really be…I don't know. Profoundly orbful maybe.
In that same mood of If I See It, I'm Buying It, I sprang for a big container of Phormium 'Black Adder.'
Fooling around with this phormium in small sizes was getting nowhere. Phormiums either become huge, unmanageable monsters or melt away after five leaves. No middle ground here.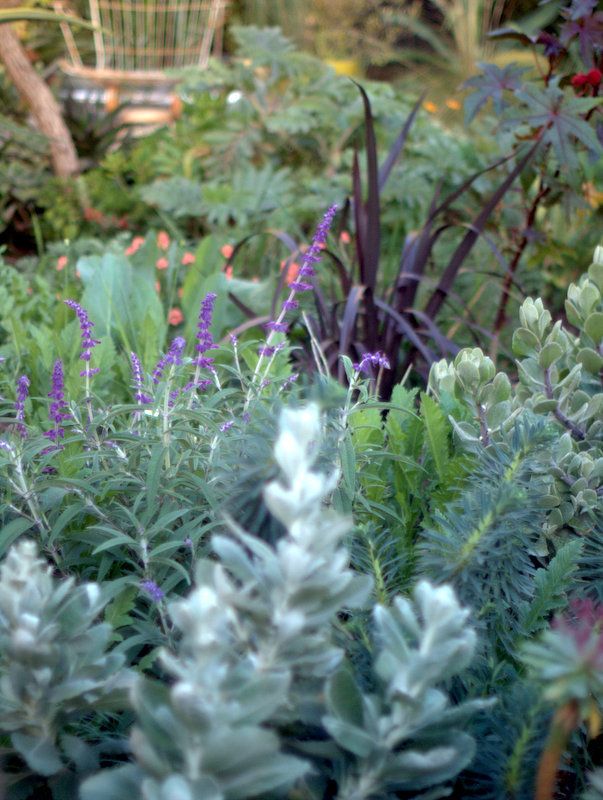 The phormium was planted into the spot held by a potted Agave 'Ivory Curls.'
I absent-mindedly left the hose trickling all day on this melianthus last week. First irrigation crime of the new year. Melianthus 'Purple Haze' slurped up every drop. This variety does appreciate more moisture than the species, in my experience.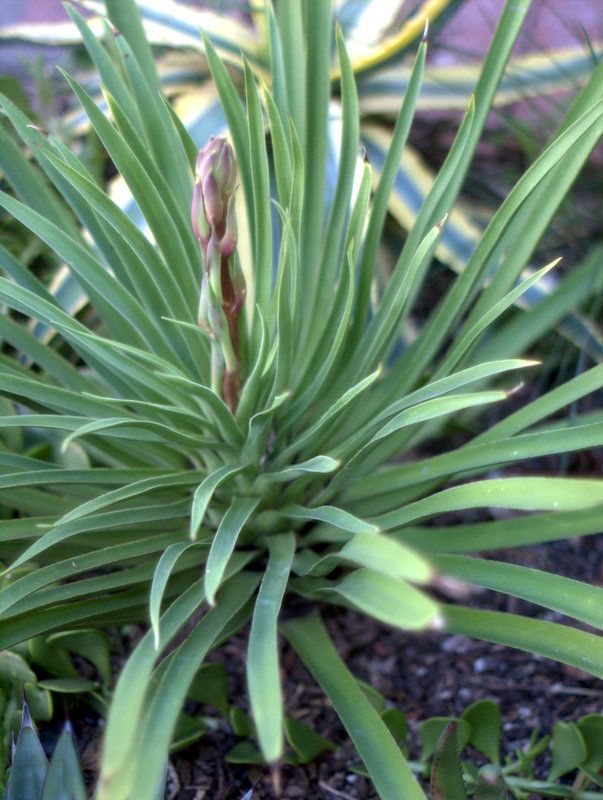 Then there was the post over the huge excitement of my first beschorneria coming into bloom.
I so rarely see them locally, I wasn't sure if they liked Los Angeles enough to bloom. And then I found these one day, here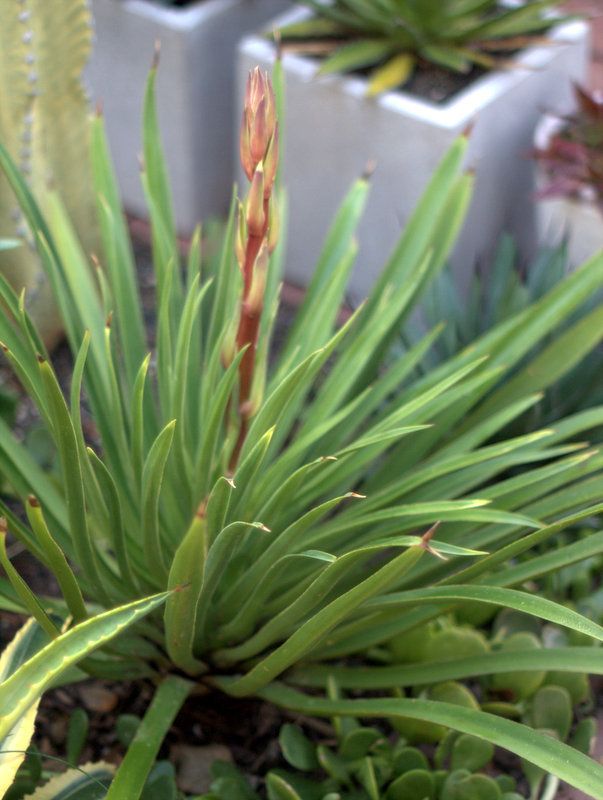 It's a little taller than this today. From Annie's Annuals 'Martin Grantham Hybrids.'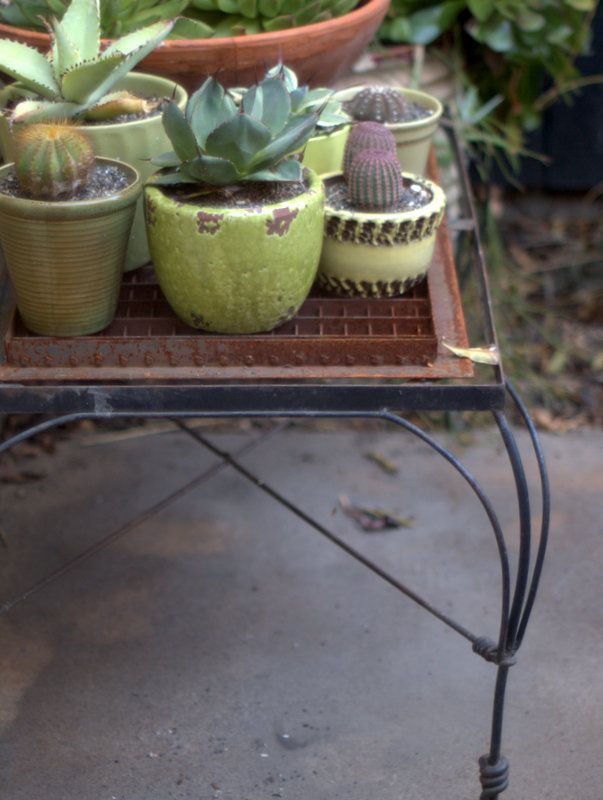 This old table base got a new salvage top I had stashed away. Its previous top was succulents (see here and here.)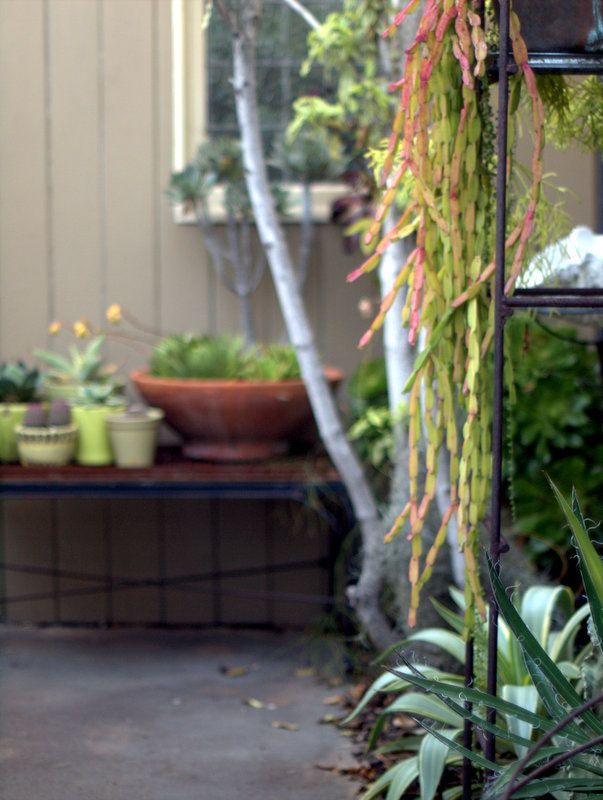 I took this photo of the rhipsalis, but you can see more of the table in the background. If I read myself right, I planted the table summer of 2013. Amazing how the succulents held on, with the table pushed out of the way between two cypresses at the fence. I moved the table out to clear the area for…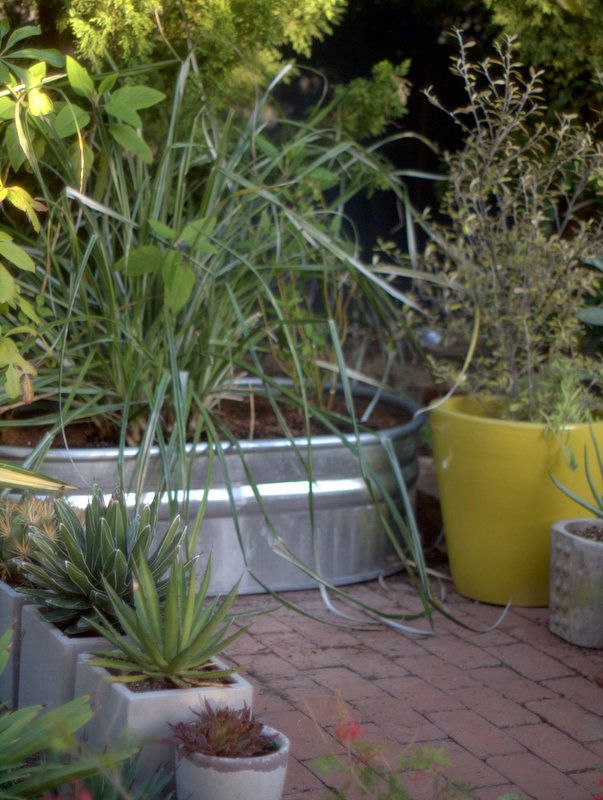 A stock tank I purchased last fall. It holds a couple salvias, an astelia and other things in pots as they show new growth. Like lilies, a dahlia. A catch-all this year. Maybe next year there'll be more of a plan. Another tank waits to be drilled.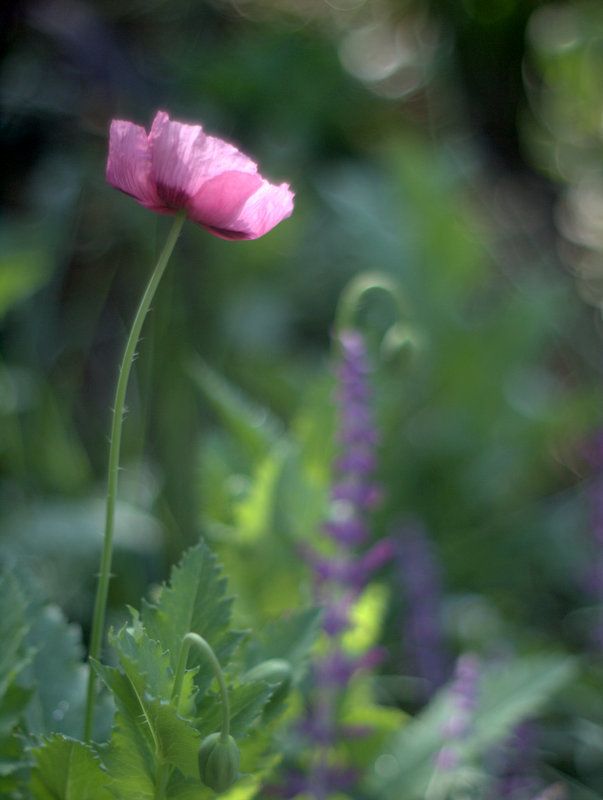 Poppy time continues into March.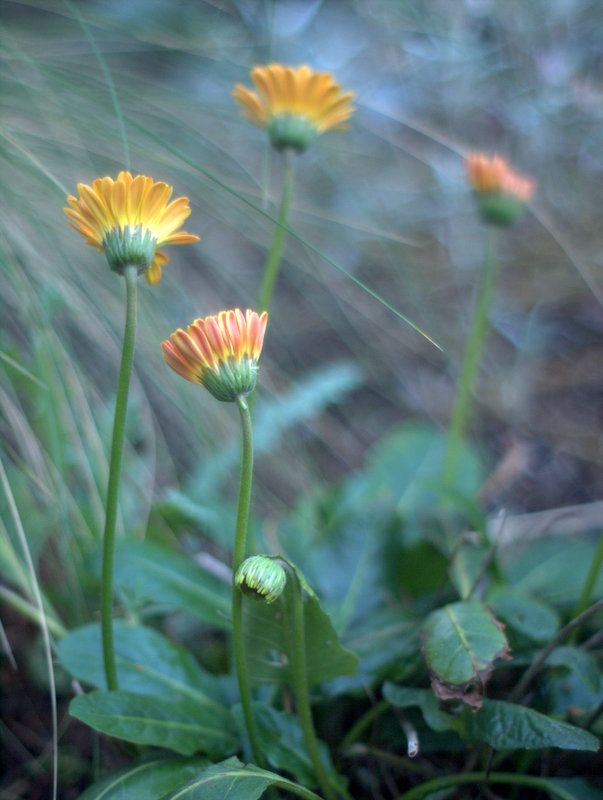 Gerberas too.
Onward into March!