A lot of my bromeliads swing from on high now.
And it all started with an act of generosity back in January of 2014. A gift from Reuben, after our joint flea market venture. (It'd be fun to plan another flea market escapade for winter, or maybe a pop-up shop. But these are plans for cooler weather.)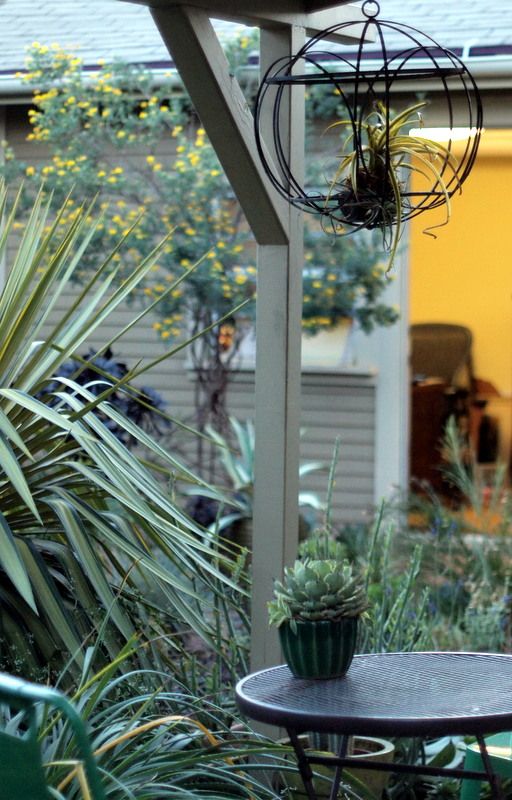 At first a single bromeliad, Aechmea recurvata 'Aztec Gold,' made its home here. (Nice to see that yucca and coronilla again, both plants that have moved on, leaving behind progeny that pop up from time to time.)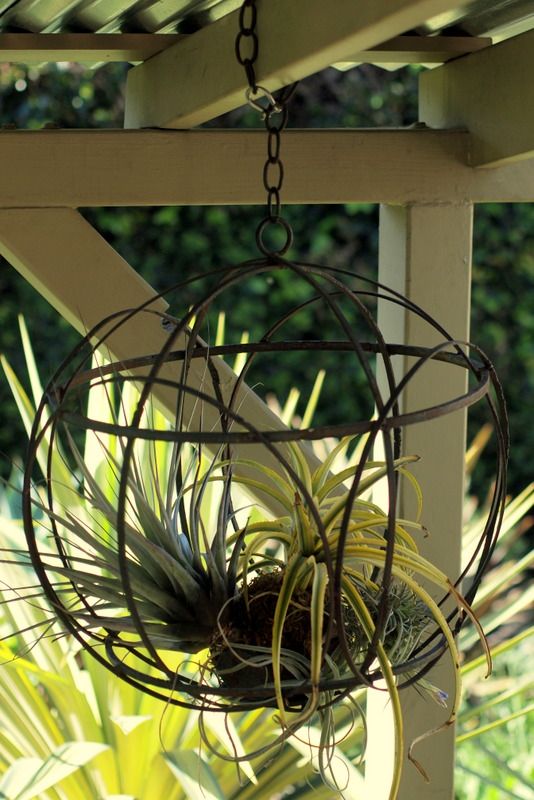 I bet you know where this is going. When have I ever left well enough alone, or been a one-bromeliad-per-sphere person, so to speak? By April 2014 there were two.
By June of 2015, there was lots of company.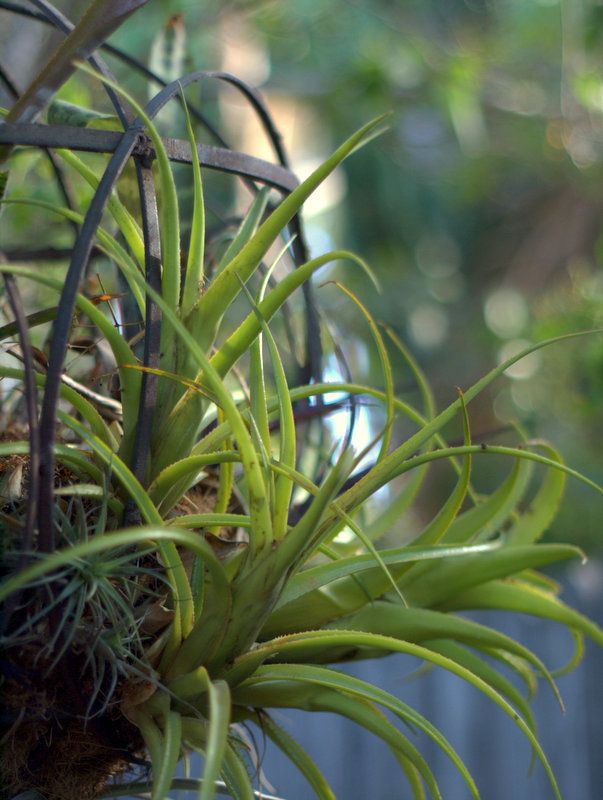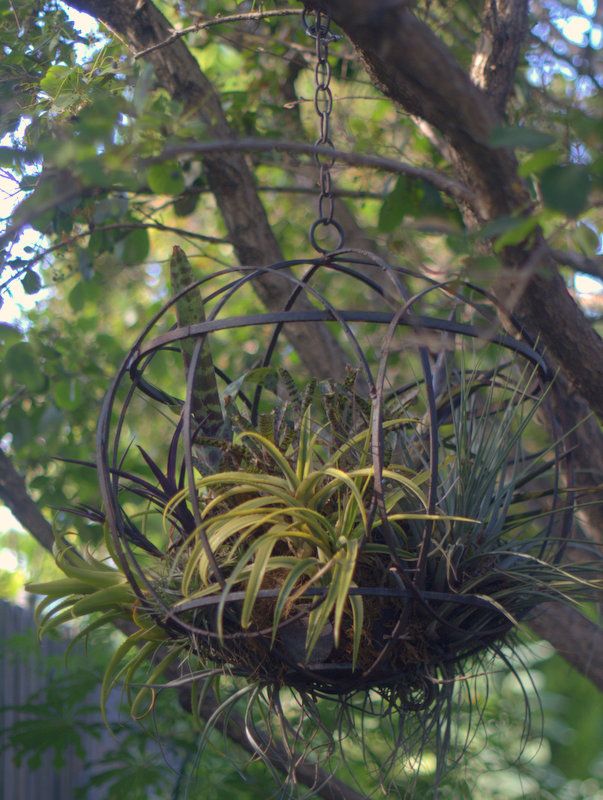 It's actually been thinned out a little since 2015. Some of the bromeliads grow too large and get moved out into pots.
There are terrestrial, ground-dwelling bromeliads, which can get enormous like the alcantareas, and epiphytic, tree-dwelling bromeliads. Although I didn't know it at the time, that first aechmea was a good choice, being an epiphytic bromeliad, with roots adapted to clinging to trees.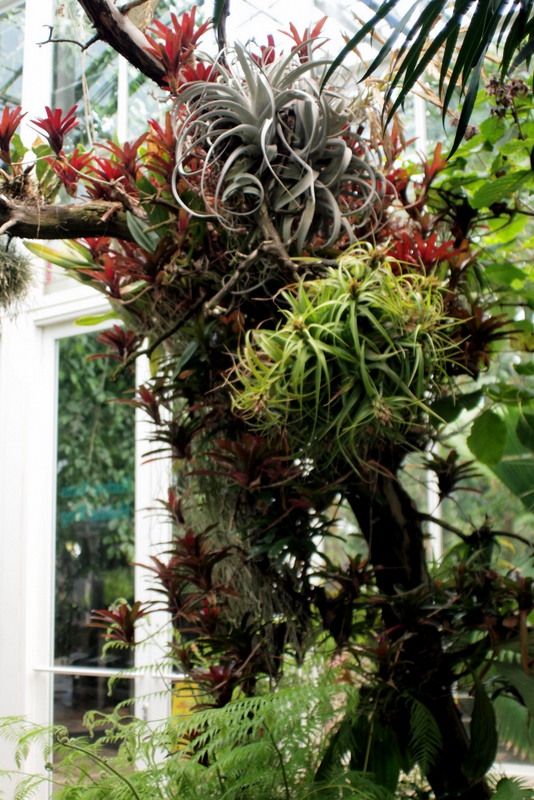 Now you know as much as I do about these plants with the fabulously plasticine, kaleidoscopic leaves and flowers as colorful as tropical birds. Like succulents, these are forgiving plants that don't punish ignorance. A more organic approach than my sphere is an option, as seen in this example in the cloud forest section of the Huntington Botanical Garden's conservatory. Bromeliads are mossed and fixed to the branch by florist wire or fishing line (further instructions here).
There are thousands of species of bromeliads, pretty much all of them native to Central and South America (the neotropic ecozone.) Some of the more familiar are the ones we make upside-down cakes with (pineapples) and the wildly popular air plants/tillandsias.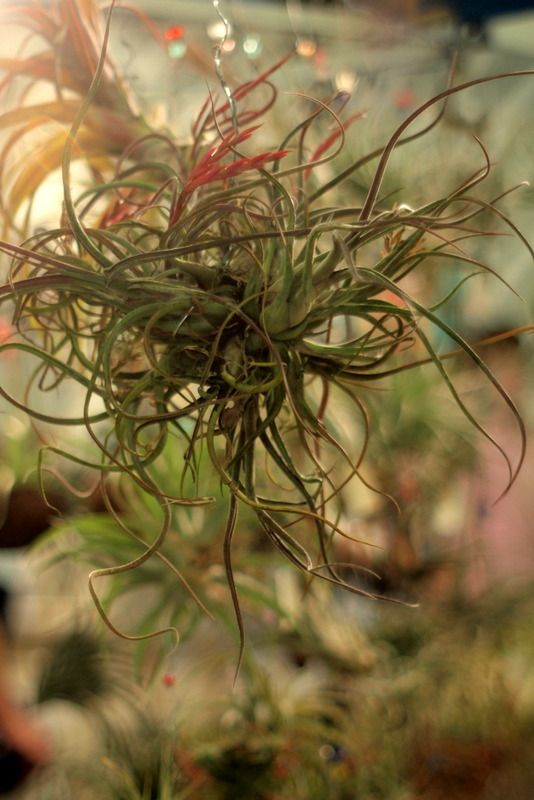 Some enthrallingly kinetic examples of tillandsias from local nurseries and plant shows.
Rest assured, there are great minds out there applying themselves to devising methods for displaying tillandsias. Above is the Airplantman Josh Rosen's Airplant Frame seen at Big Red Sun in Venice. Seth Boor in collaboration with Flora Grubb designed the Thigmotrope Satellite.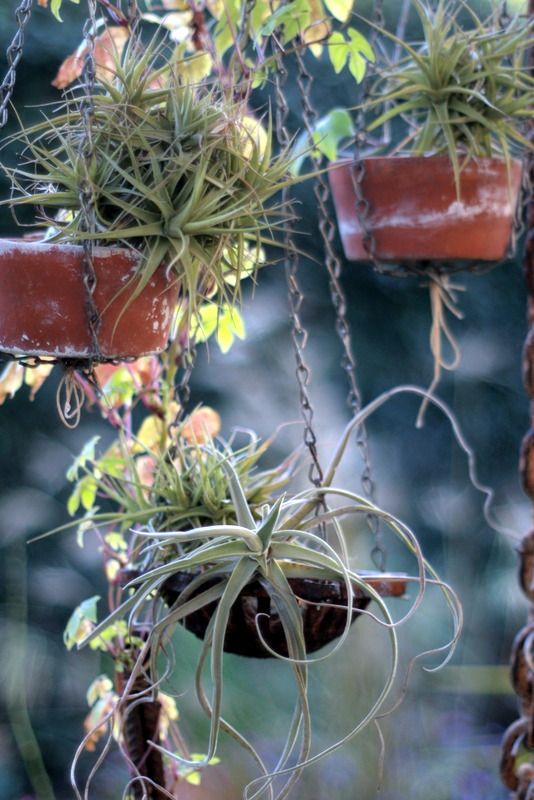 Another hanging arrangement with tillandsias from my garden. I incorporated most of these into the sphere.
The takeaway here is, this growing arrangement has legs. The plants thrive on very little input from me. For truth be told, for all my enthusiasm, I am not the most technically gifted plant caretaker. Requiring little soil, mostly just moss, tolerant of dryish conditions, appreciating a refreshing spritz with the hose once a week. And that's it.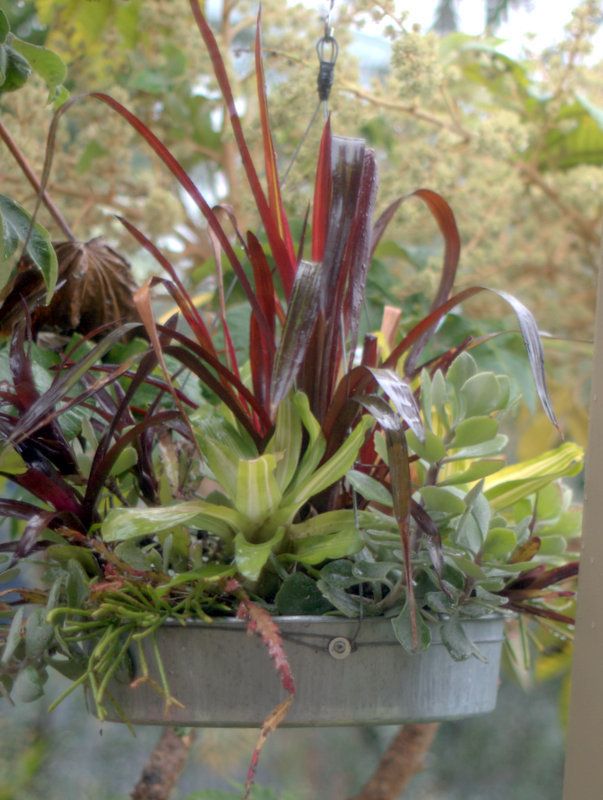 In fact, the care for shade-tolerant succulents and bromeliads is so similar that I combine them in shallow planters.
As rain forest understory plants that can absorb nutrients and moisture through their leaves, I've always assumed, for Los Angeles, shade is the safest best. But some bromeliads can tolerate a surprising amount of sunlight, as long as it's not strong afternoon sunshine. I'm trying out a few under an acacia tree with grasses. The best leaf color is obtained by exposure to as much sun as can be tolerated without leaf burn. There are surer ways of sorting out light requirements for the different species, of course, like consulting a reference book. "Bromeliads for the Contemporary Garden," which I haven't read, looks promising.
Nice-sized specimens, however, do not come cheap. I like looking for deals on small pups at bromeliad shows, like the upcoming show August 6th & 7th at Rain Forest Flora in Torrance.
You don't happen to have a sphere lying around? What the heck, it's mid summer. Go ahead and treat yourself. Salvage yards are full of interesting possibilities. And Terrain offers a very similar Hanging Planter here. Potted's Hedge Hanging Planter would work just as well. Or get to work with a branch and some fishing line. I've got an empty hayrack that I'd love to see overflowing with bromeliads. More images of bromeliads from AGO can be found here.