The Alstromeria isabellana that I brought home from Far Reaches Farm in Port Townsend, Washington, opened its first bloom in my garden in Southern California a couple days ago. Sean Hogan had pointed it out to me in a display garden at his wonderful nursery Cistus on Sauvie Island outside Portland, Oregon.

From the Pacific Bulb Society website: "A lovely species with a distribution from eastern/southern Brazil to northeastern Argentina. It has striking convergence in flower morphology with many Central/South American plants like Phaedranassa and Fuchsia elegans…Seeds planted in the fall sprouted in February. Plants go dormant in winter and return in spring."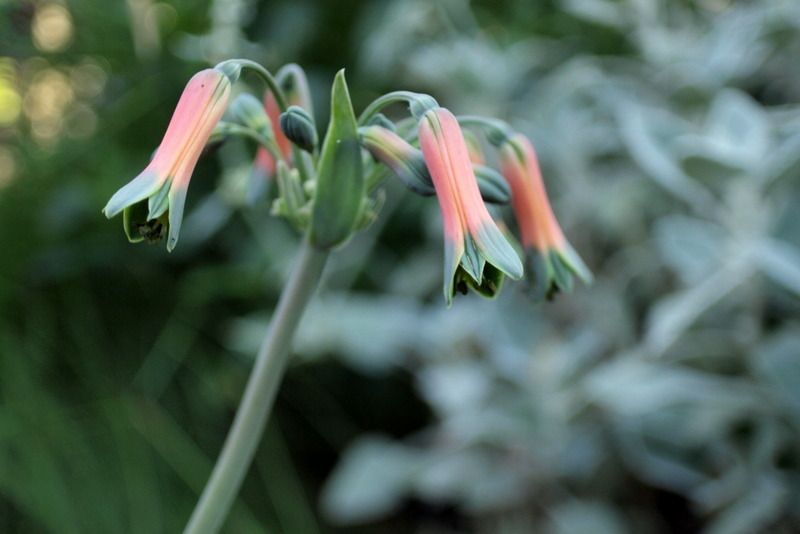 I'm feeling really optimistic about this one.
Dancing Oaks Nursery's
description is very reassuring: "
Exquisite pendulous flowers of orange, green and black on 2-3′ tall stems. Stiff narrow gray blue leaves. Slowly creates a colony
."
The emphasis on stiff leaves, medium height, and a slow-growing nature is mine, attributes I'm hoping will hold true in my zone 10 garden. My last encounter with an alstromeria, 'The Third Harmonic,' was a tempestuous, drama-laden affair that ended unhappily. (As unhappy as these encounters can end, as in complete eradication.) I wrote about 'The Third Harmonic' here and here. It's way too soon to tell, but this A. isabellana may just be the easy-going, well-mannered alstroemeria I've been looking for. And who knew an alstroemeria could possess such grace, character, and that rarest of attributes often lacking in hybrids, subtlety?