By now you're probably wondering will this blog ever stop dining out on the Portland garden bloggers meetup. Just one more for now on the plants that really had my number. Which is undeniably an odd number, but the heart wants what it wants. Many times I become infatuated with plants through magazines, online catalogues, or blogs, in a process I imagine is not dissimilar to online dating. Both have in common beautiful photos, seductive descriptions, but not necessarily the whole story. When plant and gardener finally meet and a trial period of compatibility is undertaken, disappointment can ensue on both sides, but there's always the tantalizing possibility of a lasting attachment.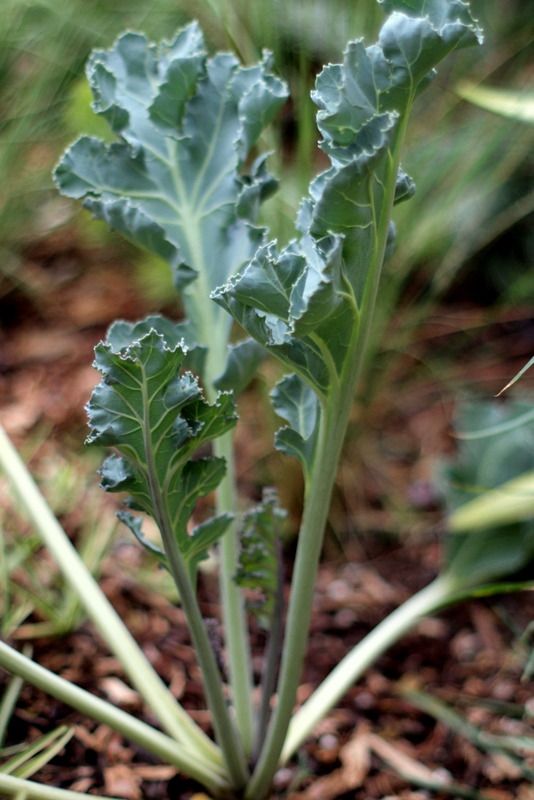 Earlier this year I finally made the acquaintance of long-time crush Crambe maritima, a European coastal plant with uncommonly beautiful leaves, thick and blue as an agave, curled and frilled at the margins. I think it was planted in my garden last fall. (Checking email records, I did purchase it last September via mail order from Oregon nursery Dancing Oaks.) Although impatient for the sea kale to thicken up, it's exactly as I imagined it. We're a good match, the sea kale and I, and all signs point to the beginning of a beautiful friendship.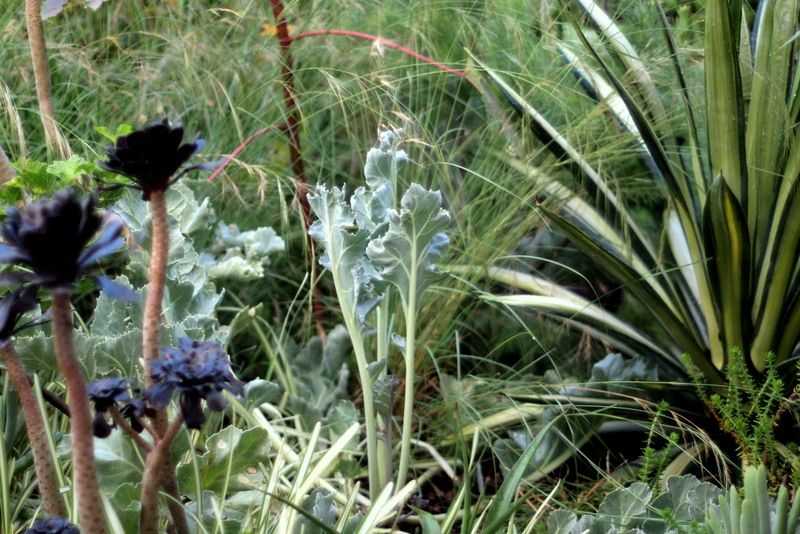 I thought I knew everything I needed to know about the sea kale, but I discovered in Portland an unexpected twist to this plant.
Crambe maritima, aka the sea kale, in the Floramagoria garden in Portland, Oregon this July. I had no idea its seedheads, like tiny white button mushrooms, would be as much of an attraction as its wavy, blue-green, cabbagey leaves. In Willy Wonka's garden, this would be labeled the wasabi pea plant. (By the way, the plant is edible.) This unexpectedly nubby, bubbly texture endears the sea kale to me even more.
Crambe maritima's pearly seedheads with pitcher plants and what looks like a gold-leaf Aechmea recurvata in bloom.
Then there's the equivalent of meeting an intriguing plant for the first time and not getting its phone number, so to speak. This rusty tumbleweed's name was given as Rumex 'Maori,' but I've had no luck finding any reference or additional information.
Here's a plant I've been stalking for some time, Asphodeline lutea. Two new ones planted this spring have withered away.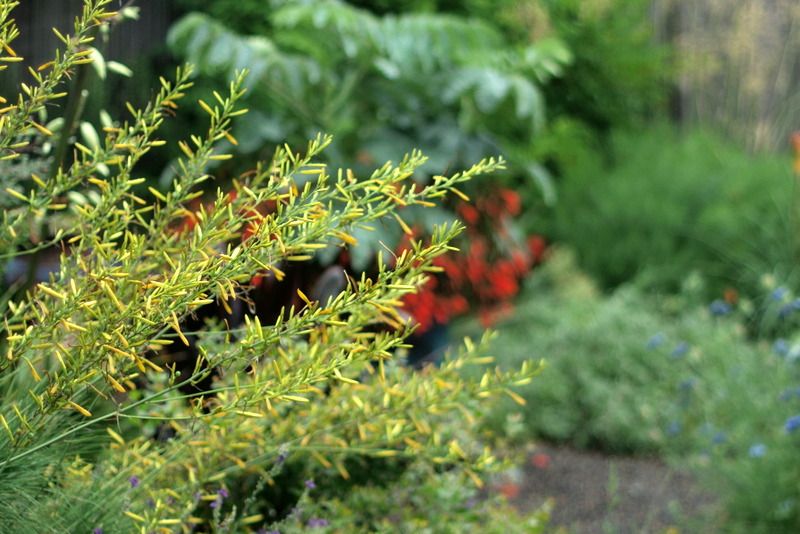 At least I'm fairly sure this is an asphodel, again, a plant with which I have little real-world experience.
On the tour I bumped into a plant that I purchased the first day of the tour at the nursery Cistus, Berkheya purpurea. A nice coincidence.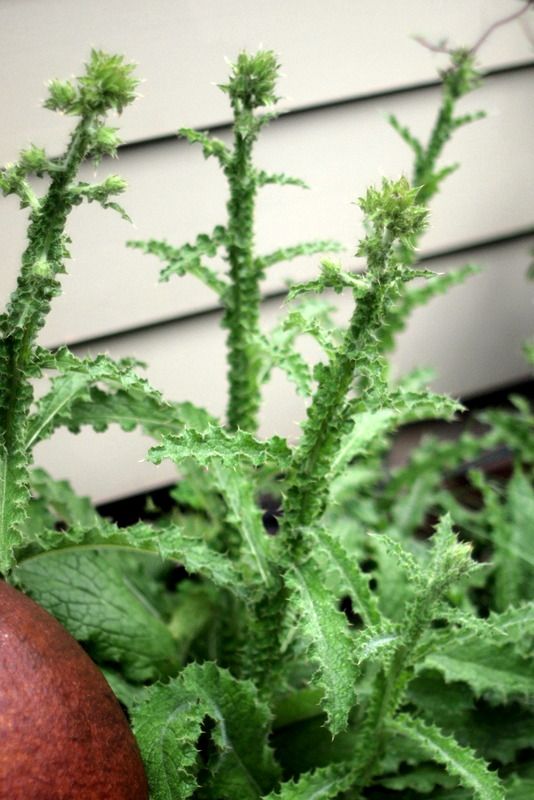 Fantastic stems, leaves and, when it blooms, large lavender daisies.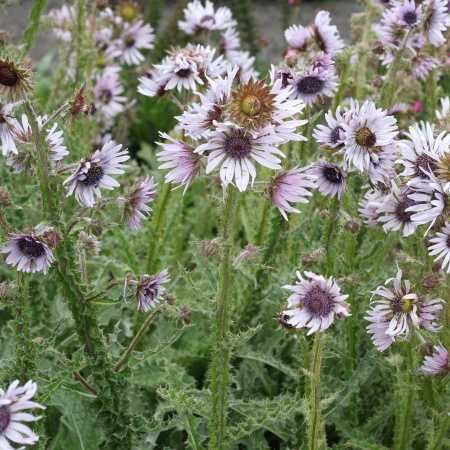 (photo of berkheya in bloom found here)
An acacia new to me in John Kuzma's garden, Acacia covenyi.
The same acacia seen here with a large clump of anigozanthos that overwinters in situ in the garden with protection
Possibly my favorite plant on the tour, Acanthus sennii. I've noticed I'm falling more for plants that have a chance of succeeding where I garden. I'm no longer throwing myself at every good-looking, high-maintenance type that comes along. A sign of maturity maybe?
Also in the Kuzma garden was this stunning velvety silver potentilla. Possibly Potentilla calabra or hippiana…or something else entirely. (P. gelida. thanks, Heather.)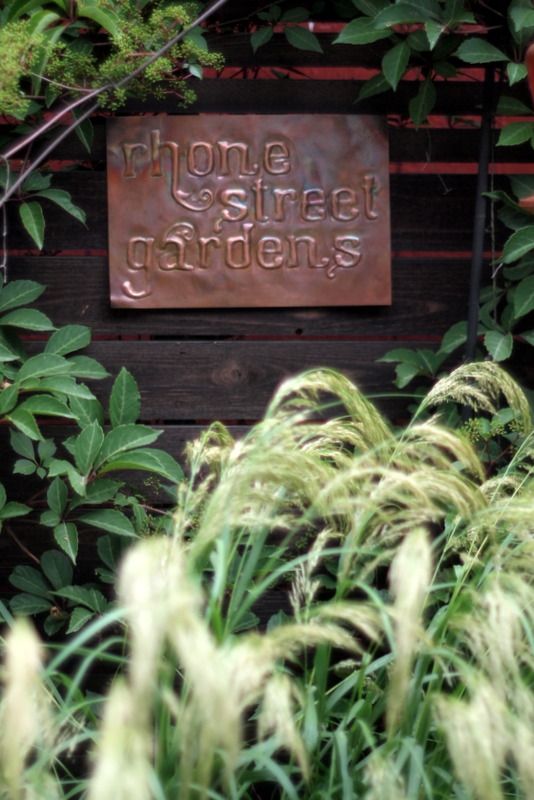 A beautiful grass, new to me, Achnatherum calamagrostis 'Silver Spike,' at the Grass Master's incredible garden.
Scott was also growing the native thistle Cirsium occidentale. I've already killed one but found two more locally.
A wiry, tough cushion that caught my notice at the McMenamins Kennedy School, Bupleurum spinosum. Very cool. The admirable evergreeen shrub, Bupleurum falcatum, was also seen on the tour, which blooms in chartreuse umbels in summer.
Eryngium maritimum in Loree's Danger Garden. I started seeds of this in spring. Zip germination so far.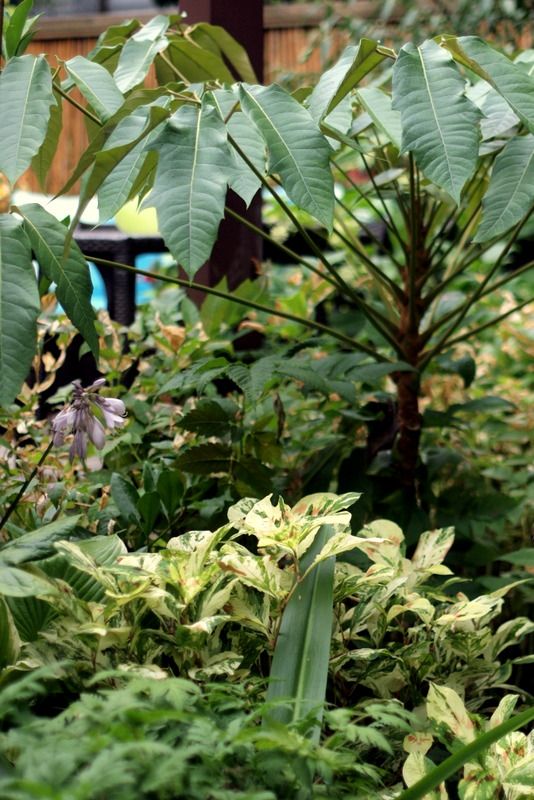 I'll close with the "It" plant of the moment, one of the hardy scheffleras. This visit to Portland was my first introduction to them, and they were everywhere. S. delavayi maybe. Beautiful, but not this zone 10 garden's type…