From the
Natural Discourse
event registration page
:
"Natural Discourse has been invited to explore the Natural History Museum! The Museum opens its doors for a day-long conversation about gardens, art, science, and collections.

Natural Discourse is an ongoing series of symposia, publications, and site-specific art installations that explores the connections between art, architecture, and science within the framework of botanical gardens and natural history museums."
<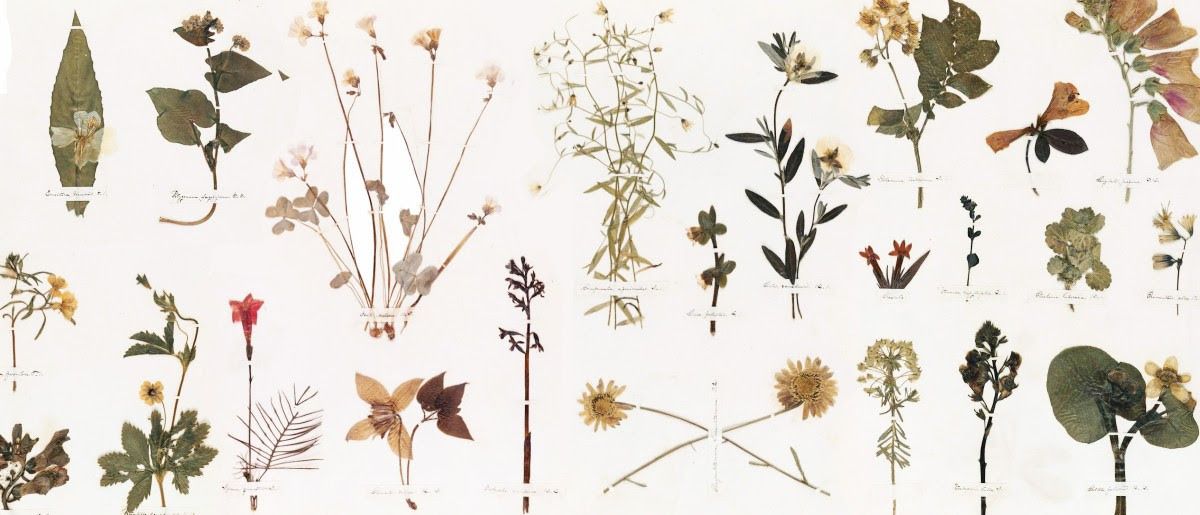 Image above from Emily Dickinson's Herbarium at Houghton Library at Harvard University. Maura C. Flannery, Professor of Biology at St John's University, will reveal the secret lives of herbarium specimens
Living (and suffering) as we do in a mostly plant-blind world, there are precious few opportunities to further our appreciation of plants as the real engine that drives our world. The Natural Discourse series of lectures has evolved into an invigorating and must-see event for plant lovers since its inception in 2012. Whether the theme is Form & Function, Culture & Cultivation, Light & Image, or 2015's Flora & Fauna, garden designer and symposium curator Shirley Watts unfailingly assembles a deep bench of artists, designers, writers, and scientists whose work, in surprising and brilliantly idiosyncratic ways, celebrates the primacy of plants. My geek love for plants not only finds a natural echo but is amplified and expanded in undreamt of ways. As well as being located in Southern California again, I appreciate the timing in the month of October as a kind of requiem to Los Angeles' long summer.
If you haven't attended a Natural Discourse before, there's so many reasons to make the event this year your first. The setting in Exposition Park means not only are there a number of other museums to visit and gardens to explore, but the strategic Metro stop at Exposition Park means you can leave the car home. In Los Angeles, that counts as an arms-raised-in-a-V triumph. The vast complex of museums means if a pal would rather ogle dinosaur bones or visit the California Science Center to view the majestic space shuttle Endeavour, you can easily part ways and reunite off and on throughout the day.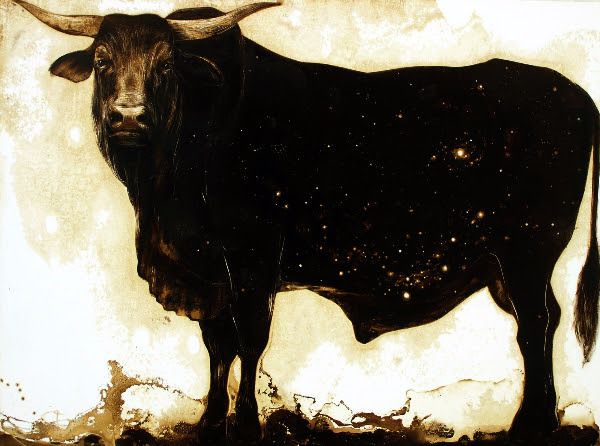 James Griffith, From the Infinite to the Particular 4, tar on panel. Image courtesy of Craig Krull Gallery
Personally, I'm wildly excited to hear the official "tar story." I've blogged several times on James Griffith's use of local tar as a medium for his current work. Due to Shirley's formidable persuasive powers, now we can all hear his remarkable account in person. (James' tar painting theme dovetails nicely with the Keynote Lecture given by Rosamond Purcell at La Brea Tar Pits and Museum on Friday, October 16, at 6:30 p.m.)
Long-standing champion of restoration of the cement-bottomed Los Angeles River, landscape architect Mia Lehrer is another speaker I won't want to miss. Ms. Lehrer recently converted a four-acre parking lot at Exposition Park into garden:
"We created a four-acre garden on what was once the parking lot for both staff and visitors on the side of the museum that faces Exposition Boulevard. There was an ambition to open up the museum to the community, and to the Metro that traverses Exposition Boulevard to become not just a museum of natural history but also become more relevant through its exploration into urban ecology by creating gardens that allow a better way to live in the city." – L.A. Designer: Mia Lehrer, Shaping The City Through Public Space
Jim Folsom, Director of the Huntington Botanical Gardens, will speak on plant exploration and collections. Another example of Shirley's curatorial genius, photographer Rosamond Purcell's resume includes work with comedian/magician/actor Ricky Jay as well as naturalist Stephen Jay Gould. These are not solemn, fidget-in-your-seat lectures but bracing, wide-ranging, wholly engrossing explorations of culture intersecting with plants from myriad vantage points. I promise you, for the price of a dinner for two, your plant-loving soul will be fed and nurtured enough to see you through winter and into spring. I'm going to try to remember to wear a name tag, so please grab my elbow and say hello.
The complete list of speakers:
JoAnne Northrup, Director of Contemporary Art Initiatives at the Nevada Museum of Art, on taxidermy, contemporary art, and 19th century wildlife painting
Maura C. Flannery, Professor of Biology at St John's University, on the secret lives of herbarium specimens
Jim Folsom, Director of the Huntington Botanical Gardens, on plant exploration and collections
James Griffith, Painter, on using tar from the LaBrea Tar Pits as an artistic medium
Mia Lehrer, Landscape Architect, on the creation of the Nature Gardens at the Natural History Museum
Rosamond Purcell, Photographer, on her images of Natural History collections around the world
Natania Meeker & Antonia Szabari, Associate Professors of French, Italian and Comparative Literature at USC, on animated plants and vegetal cinema.