If one morning I was presented with a list of the garden tasks I would ultimately end up accomplishing that day, I would probably consider it an absurd amount of work and pitch the list in the trash. That's the inherent paradox of puttering in a garden: it never seems like work at the time, yet you know something very similar to work must have taken place to have caused so much soreness to sweaty and dirt-coated limbs by the day's end. And this in a garden without frost deadlines, no vegetables, none of the usual labor-intensive gardening activities. Yesterday I wanted to get planted some of the winter-blooming salvias I purchased at the Fullerton Arboretum, which necessitated moving a Tradescantia 'Concord Grape,' a variegated symphytum, then finding homes for those two, digging, more digging, locating tools, losing them, hauling compost, and on it goes. Garden tasks always come in multiples of at least three, and some days the ripple effect can go on, unplanned, for an entire afternoon.
Mid-September provided unanticipated and unwelcome disruptions, causing me to have to, gasp, leave the garden for a few days. I've missed both Bloom Day, the 15th of every month, hosted by May Dreams Gardens, and Foliage Followup, the 16th of every month, hosted by Digging, and even though I'm late to the party I'm adding just a few photos to the collective blog record of what's in bloom and leaf mid-month.
Salvia broussonetii, of the Canary Islands, from the recent Fullerton Arboretum salvia sale. Nice crinkly leaves like S. sclarea. Amazing how many good plants hail from the Canary Islands, an archipelago off Spain named by the Romans "canaan," or "the ones who worship dogs," inspired by the early inhabitants' reverence for dogs. What sensible people.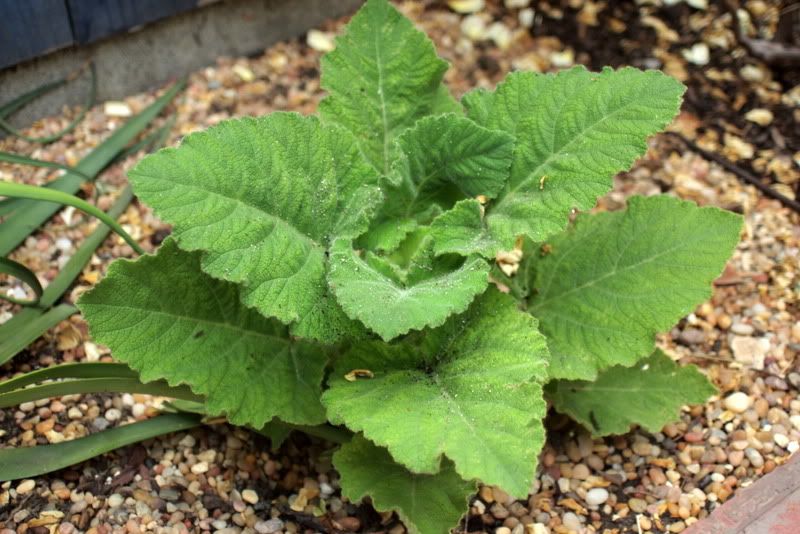 The Xanthosoma 'Lime Zinger' is getting that late summer, buttery thickness to its leaves.
Colocasia 'Diamond Head' has a distinctive shine to its leaves that sets it apart from other, mostly matte-leaved elephant ears.
The castor bean 'New Zealand Purple' is finally showing strong growth after a rude, early summer transplant. The chartreuse blur in the background lower left is a golden-leaved ceratostigma. (I"m pretty sure this cultivar is 'My Love.')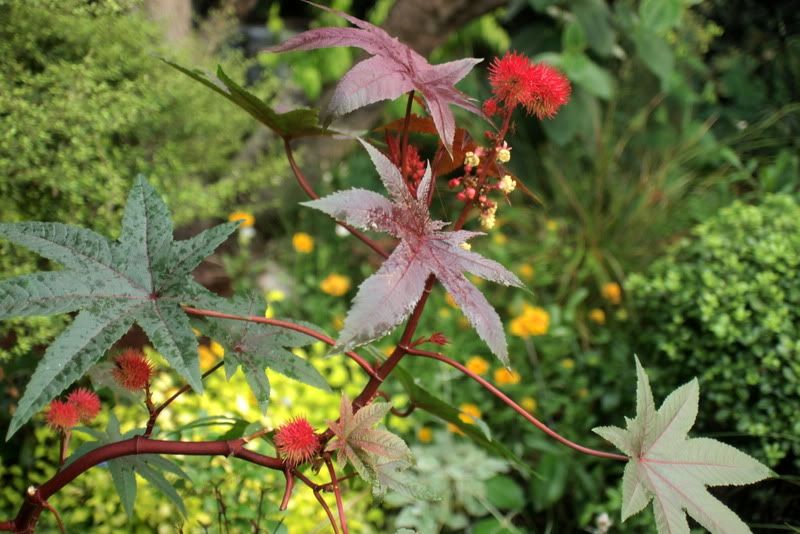 Salvia 'Limelight' opened its first blue bloom while I was away. I broke a branch of this very brittle salvia just leaning in to get a photo. If the fall Santa Ana winds hold off for a month, it should be a good show for me and a new source of nectar for the hummingbirds.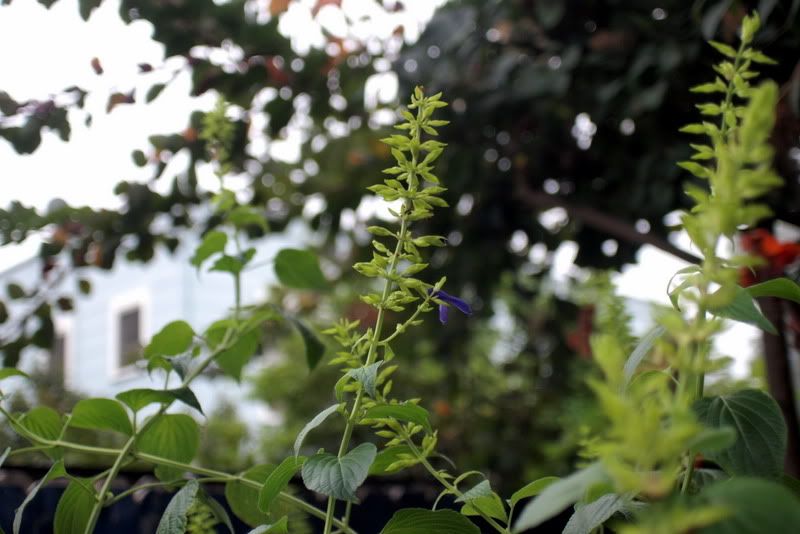 Pots filled with the little maple-leaved begonia, B. partita, the cordyline trademarked Festival Grass, fatshedera, pelargoniums, grown against a backdrop of Vitis vinifera 'Purpurea.'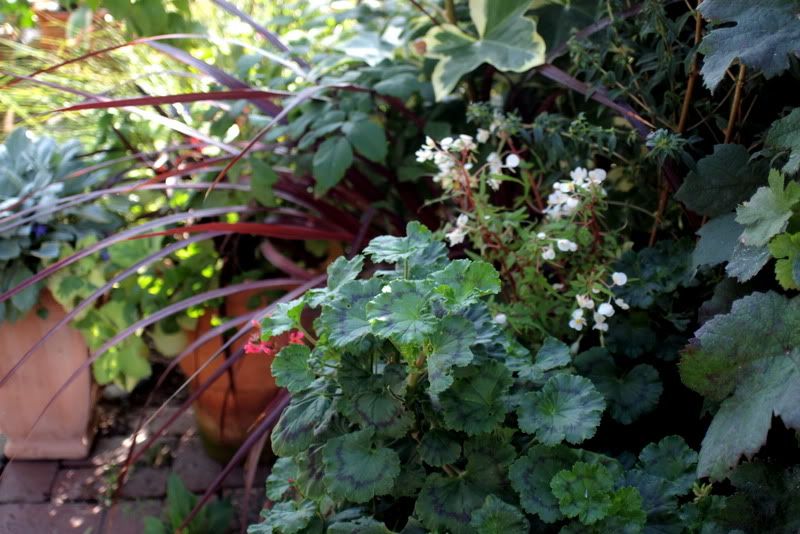 And a glimpse of the newly acquired elephant pot. My mom has recently downsized to a mobile home park, which is a charming blend of brand-new prefab homes alongside 1950s-era mobile homes. (The charm for me was in the older mobile homes.) We stayed in this mobile home park on Alamitos Bay during the termite tenting, when I had ample opportunity to explore while walking the corgi. A good amount of succulents are grown in what little space there is available to garden, mostly in pots. It was one of the older mobile homes, what I'd call a "trailer," that had been hastily evacuated, whether due to illness or some other misfortune, that had a handwritten sign taped to the siding indicating "Free stuff." Most of it was animal and travel themed, a collection of an adventurous spirit, now shoved into meaningless disarray on the porch. I hope this elephant pot brought its owner good luck for as long as he needed it. I had left my own disordered mess behind at home but, unlike the owner of the elephant pot, was fortunate in being able to push it all back into some semblance of order and meaning once again.