Creating a small, plant-rich garden in zone 8 can be a brutal business. Faced with so many tempting choices in such an agreeable climate, a small garden runs the danger of sinking into visual chaos. Wielding the power of refusal, the ability to say no more often than yes, is probably the most useful tool in the garden shed. It's no surprise that some of the most visually impactful gardens are made by people that put their foot down, people with strong, angular ideas and sharp-elbowed opinions. Many of us with a tinge of the collector mania gladly put up with the chaos. What's rare is finding a garden that manages to incorporate a strong love of disparate plants into a seamless design whole. Plant collecting and its byproduct, containers, are usually the enemy of clean, uncluttered design. Pots and containers often fill the porches, stairs, and patios of a more relaxed style of garden. That they can be deployed to create a rigorous, crisp picture can come as a surprise.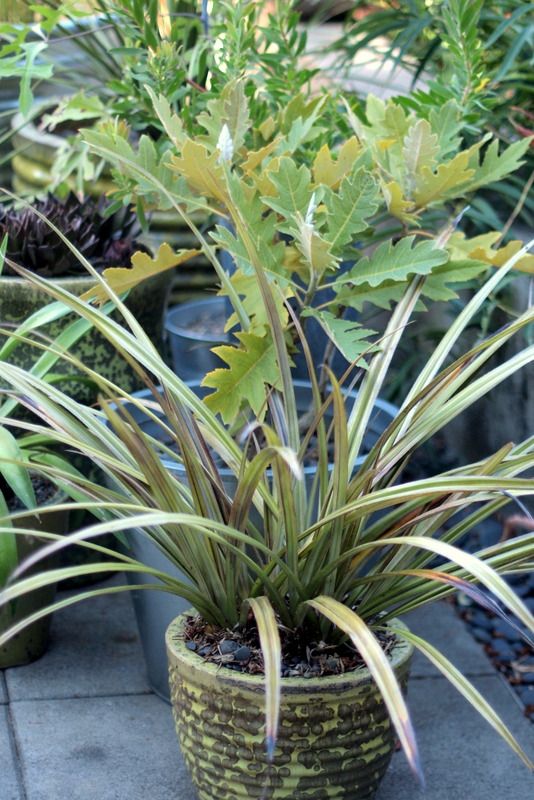 Astelia and bocconia on square concrete pavers in Loree Bohl's Danger Garden
The pot and the 'Red Devil' astelia were meant to be together.

In the Portland, Oregon gardens of good friends
Loree Bohl
and
JJ Sousa
, there's obviously a similar love of pottery, matched with a love of architectural plants, some of which cannot survive year-round outdoors, and temperaments that will not compromise on good design. I love how both these gardens turn the old design axiom, to plant in multiples, on its head. In a small garden, such advice would result in a boring monoculture and leave the collector unsatisfied. (Horrors!) Loree and JJ flip the axiom around. Instead of multiplying plants for a strong impact,
make multiples of containers
, use repetition in their color and shape, and the result will also be a concentrated, heady experience that confidently leads the eye and rhythmically builds into a densely rich mise-en-scène, to borrow a theatrical phrase. Both gardens riff on a timelessly effective formula: the tension of nature's most outlandishly gorgeous patterns and textures contained within well-defined boundaries. Edges aren't softened or hidden, they're accentuated and celebrated. The Portland gardens of Loree Bohl and JJ Sousa organize space like neat bento boxes, with sharp lines and angles providing contrast and staging opportunities for an extravagant collection of in-ground and potted plants that becomes much more than the sum of its parts. The strong lines frame the many containers as well as the lush, in-ground plantings, and there is frequent intentional interplay between the planted and the potted. Plants are shown to wonderful advantage in this disciplined approach, which shows that minimalism isn't the only answer for a small garden that is asked to absorb a collector's ongoing enthusiasm for plants and also read as a coherent design.